'American Idol': Where even the losers were winners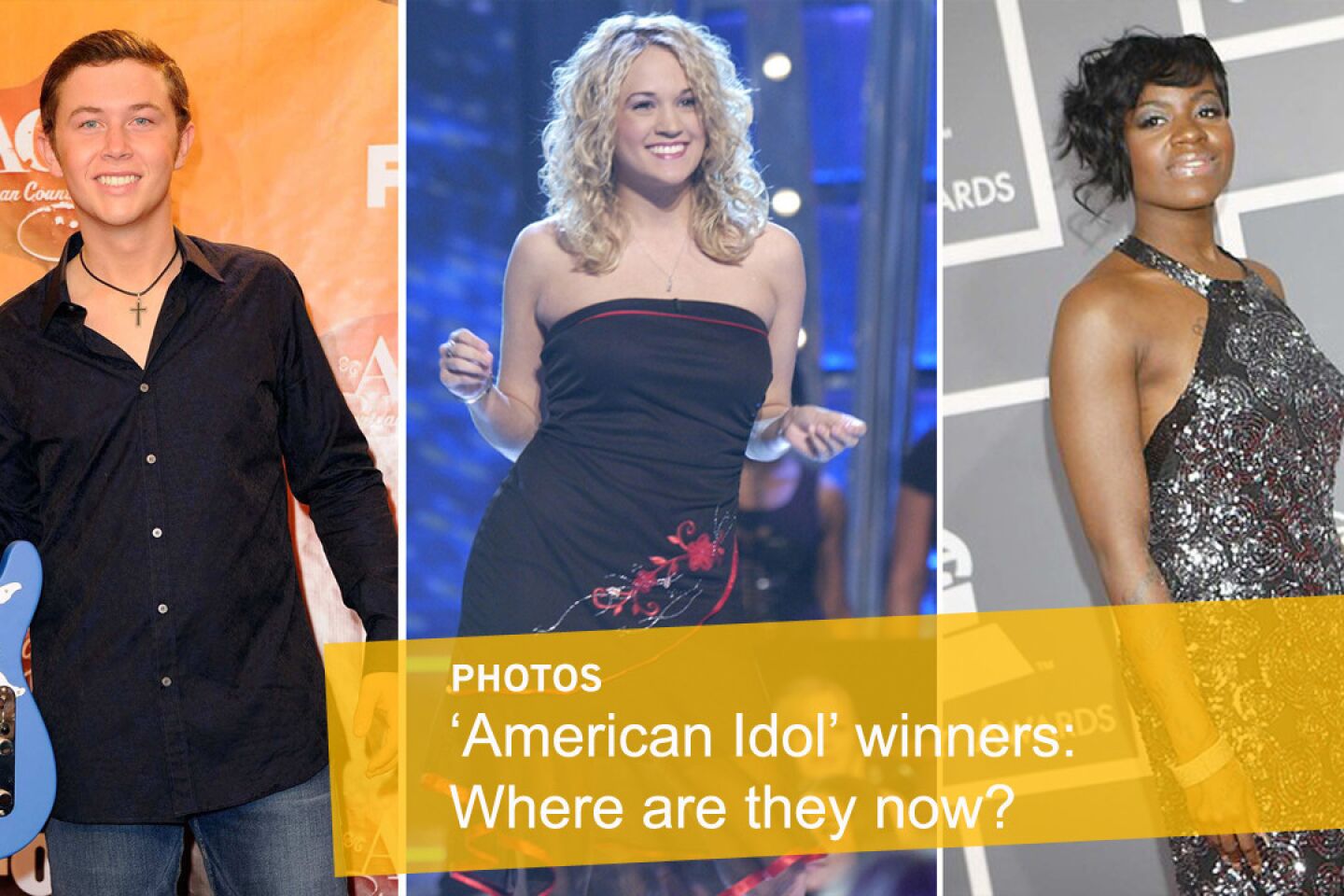 Fox has announced that "American Idol" will go off the air after its 15th season next spring. Here's a look back at the "Idol" winners over the years and what they're up to now.
Shown from left: Scotty McCreery, Carrie Underwood, Fantasia Barrino
(From left: Frazer Harrison / Getty Images; Ray Mickshaw / WireImage; Jay L. Clendenin / Los Angeles Times )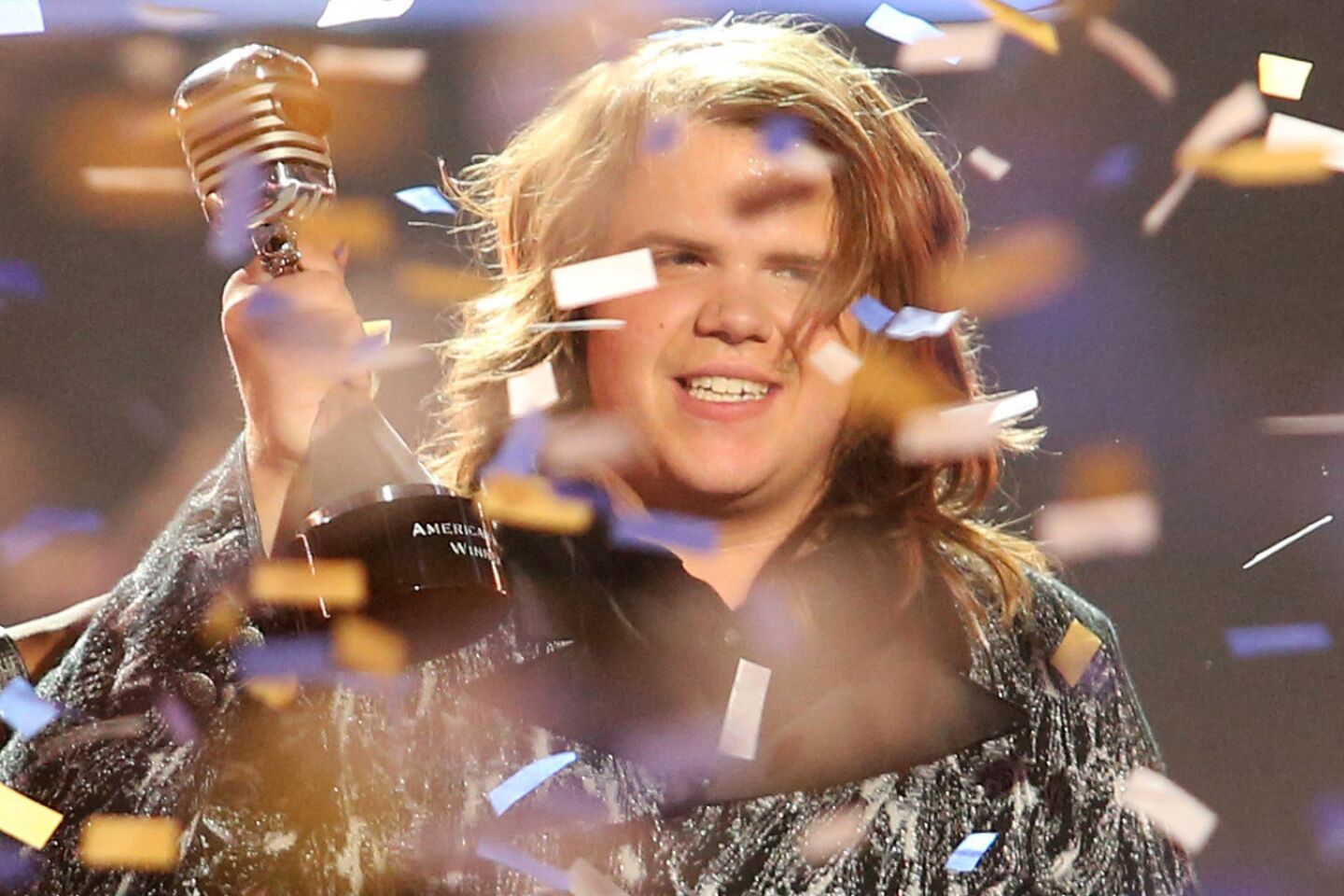 Caleb Johnson auditioned three times for "American Idol," finally making it into Season 13 and eventually being declared the winner. Right after his triumph, he began working on his debut post-"Idol" album, collaborating with several musicians over three weeks. "Testify" was released on Aug. 12, 2014, making it the quickest album to be released by an "American Idol" winner. He had his first headlining show since "Idol" in October, and has gone on to perform in Vegas. A new music video for his song "Fighting Gravity" was released in March.
(Paul A. Hebert / Invision / AP)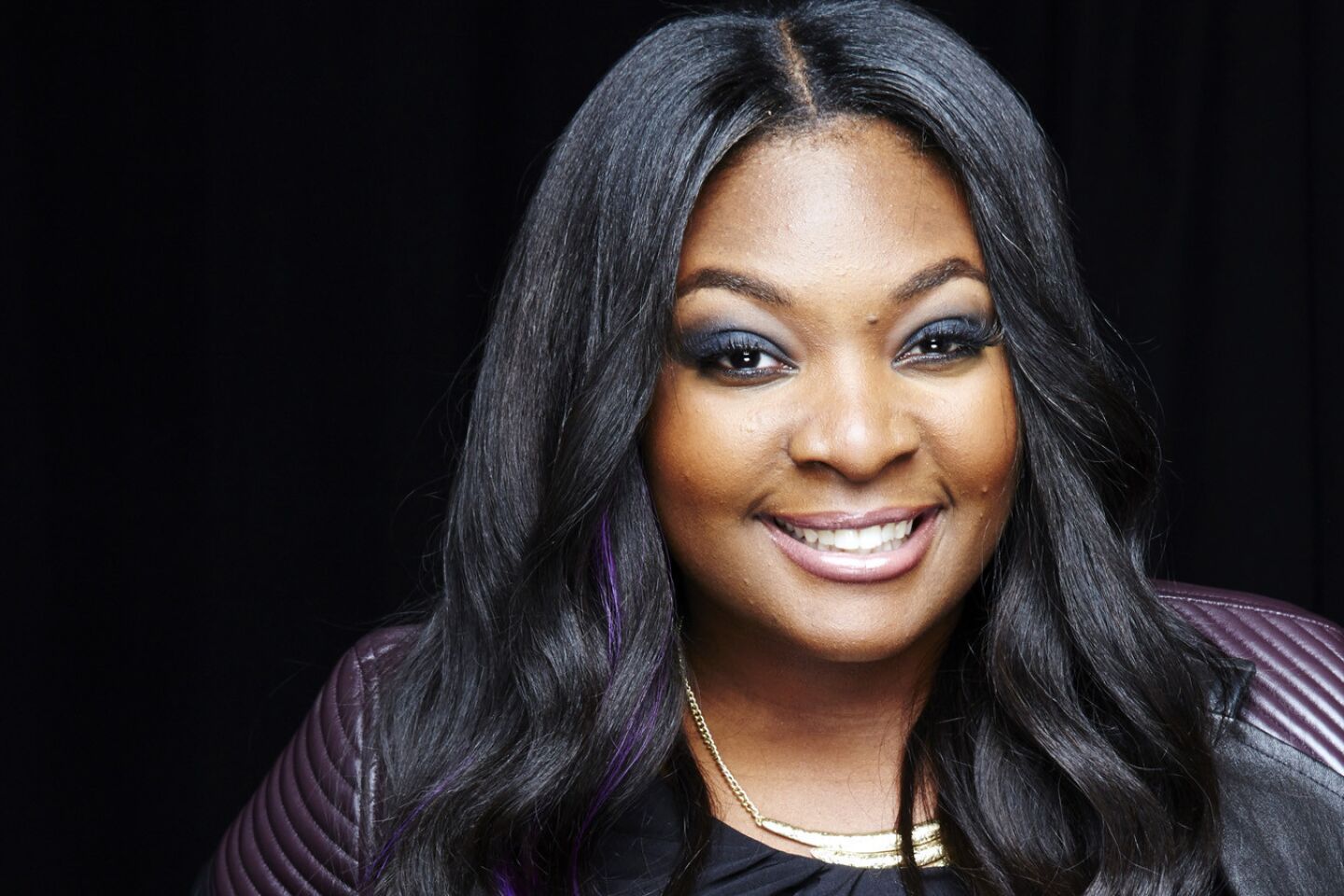 On May 16, 2013, Candice Glover won the 12th season of "American Idol." Her debut album, "Music Speaks," along with her debut single, "I am Beautiful," were immediately available for pre-order — a first for the "Idol" franchise. The album was released on Feb. 18, 2014. In its first week "I Am Beautiful" made it to No. 93 on the Billboard Hot 100. Glover performed on "The Tonight Show With Jay Leno," toured with "American Idols Live" and is reported to be working on a second album for 2015.
(Dan Hallman / Invision / AP)
Scotty McCreery took home the "Idol" win in 2011, and the country crooner hit the road with his fellow contestants before releasing "Clear as Day" in October. The album was an instant hit, going to No. 1 on the Billboard 200. His second album, "Christmas With Scotty McCreery," was released on Oct. 16, 2012, and debuted at No. 4 on the Billboard 200, selling 41,000 copies in the first week. His third album, "See You Tonight," was released in 2013 and its title single was in the top 10 on Billboard's Hot Country Songs chart. An avid sports fan, McCreery began blogging for Major League Baseball. He is scheduled as one of several opening acts on Rascal Flatts' 2015 Riot Tour.
(Frazer Harrison / Getty Images)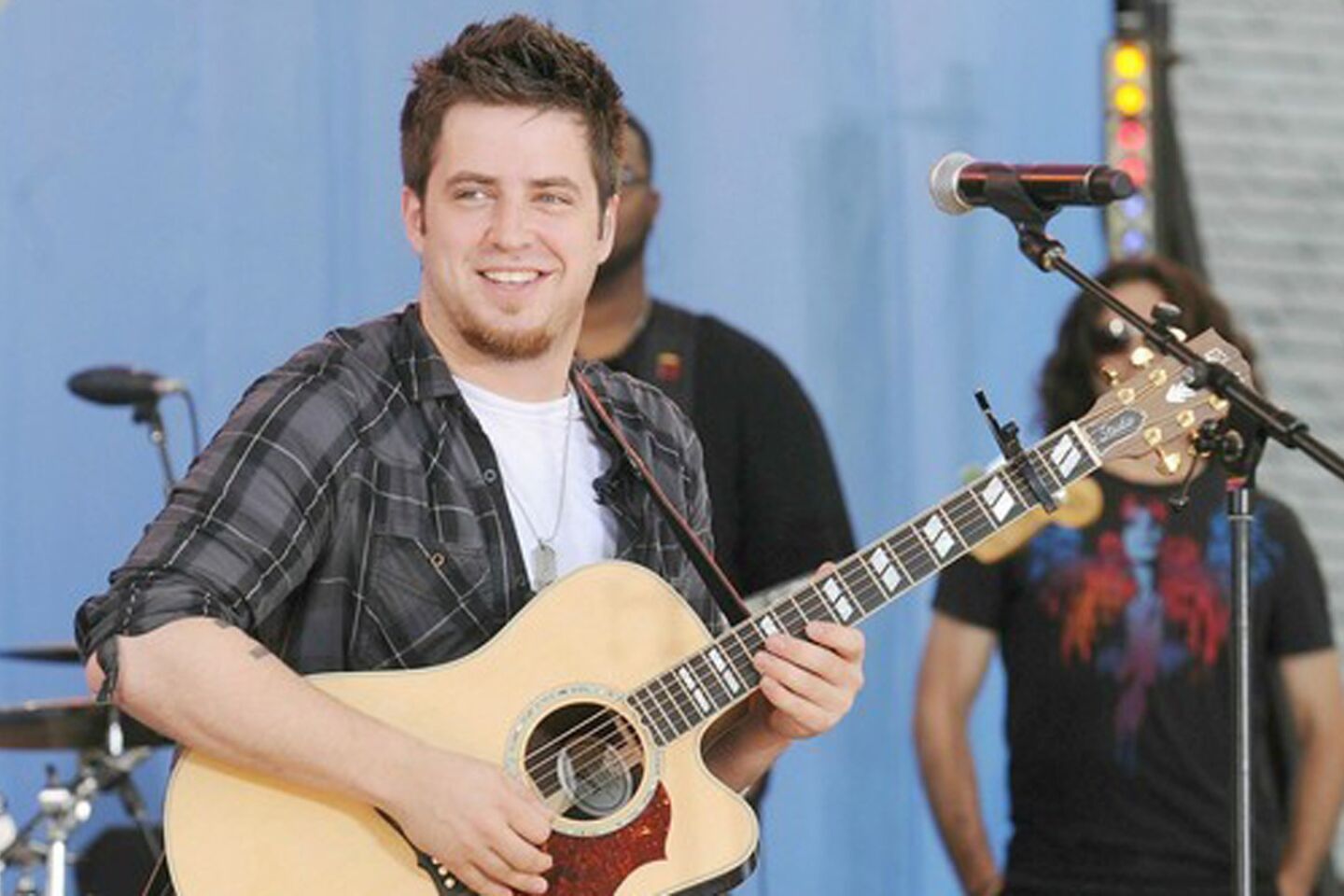 Lee DeWyze has suffered a few blows since his first album, "Live It Up," was released in 2010. He landed in a heated Twitter feud with "American Idol" producer Nigel Lythgoe after he passed on the chance to present Scotty McCreery as the winner on the Season 10 finale. A few months later he was dropped by his record label, RCA Records. On the bright side, he spent much of 2011 touring internationally, and the Illinois native got engaged to girlfriend Jonna Walsh in July 2011. The couple married in fall 2012. He released "What Once Was" in 2012 and his most recent album, "Frames" in 2013.
(Stephen Lovekin / Getty Images)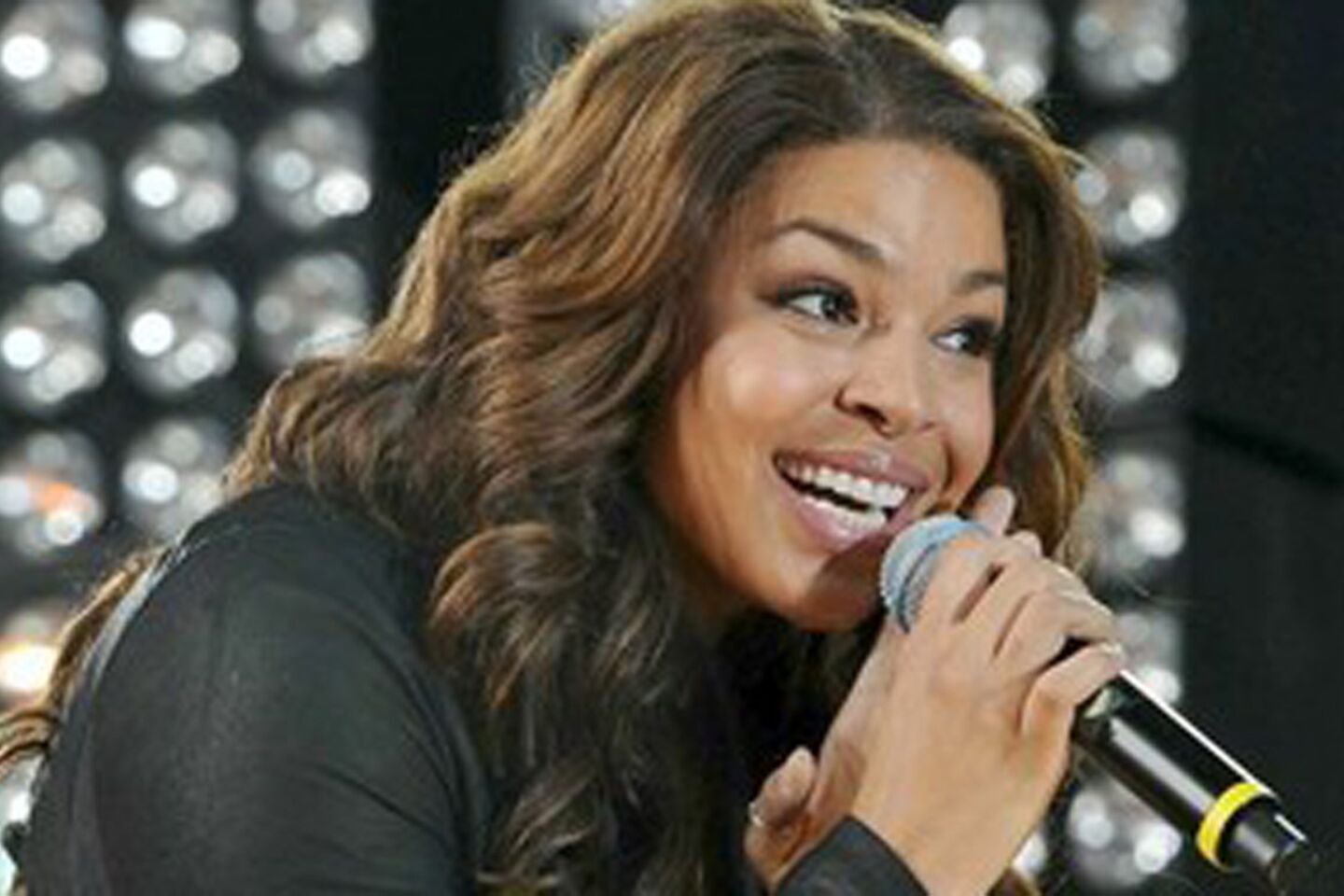 After releasing her sophomore album "Battlefield" in 2009, Sparks toured with the Jonas Brothers and Britney Spears before launching her first headlining tour in summer 2010. She got acting gigs on "The Suite Life of Zack and Cody" and "Big Time Rush" as well as a 12-week run in Broadway's "In the Heights." The singer even recorded "The World I Knew" for Disney's "African Cats" and opened for the new super-group NKOTBSB (New Kids on the Block and Back Street Boys). Her 2011 song/album "I Am Woman" became the theme song of the Women's National Basketball Assn. (WNBA). In 2012, she made her big-screen debut in Sony Pictures' "Sparkle." In 2013 Sparks was featured on Jason Derulo's third studio album, "Tattoos." Her upcoming third album, "Right Here, Right Now," is planned for release May 2015.
(Larry Busacca / Getty Images for Nickelodeon)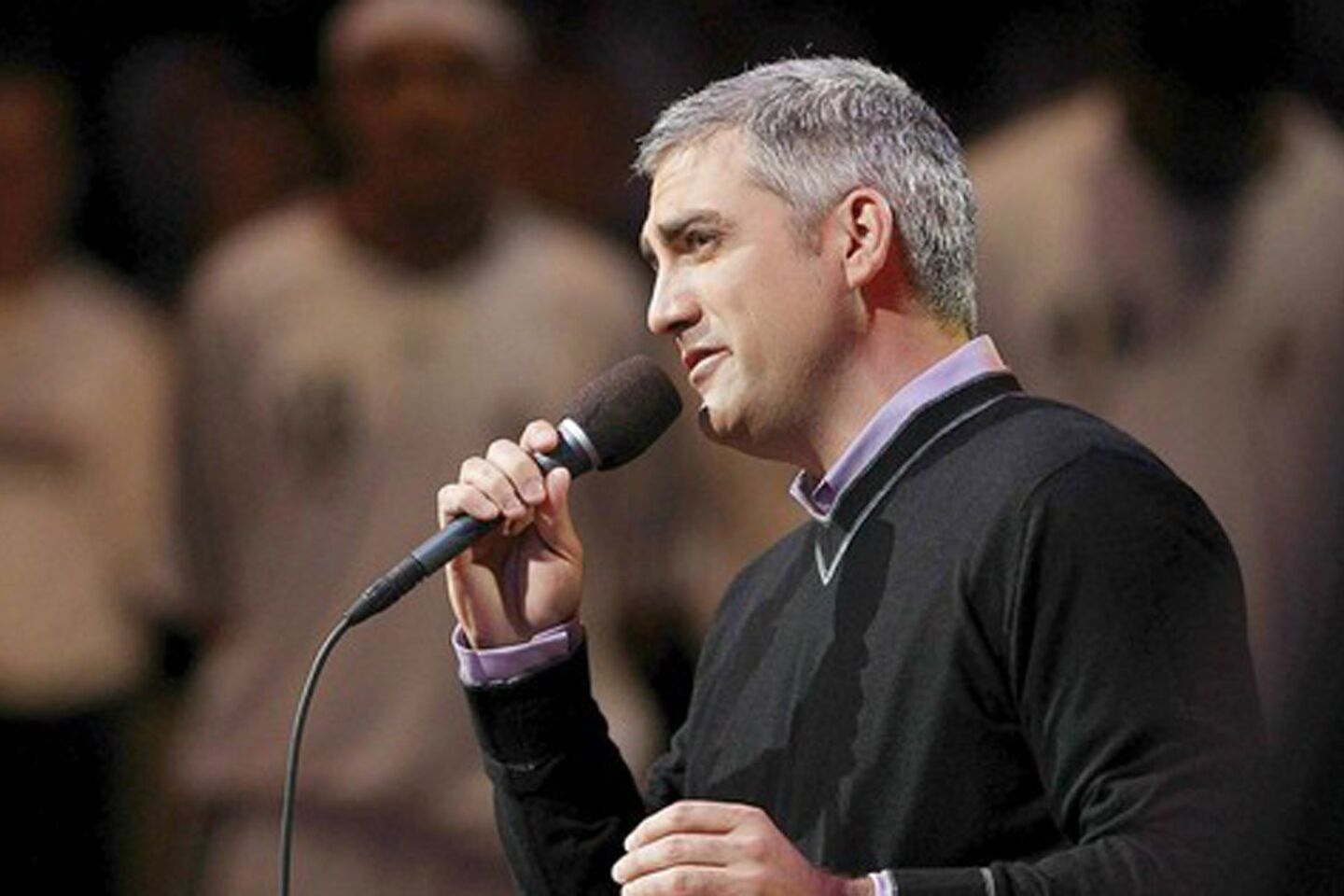 Taylor Hicks realeased his first album "Taylor Hicks" in 2006, and his second, "Early Works," in 2008. Arista Records dropped Hicks in January 2008, and he released his 2009 album, "The Distance," under his own label, Modern Whomp. He also hit the road in 2008 as part of the "Grease" cast. The Soul Patrol superstar reportedly raked in millions thanks to the tour, album sales and appearance fees. He continued touring the country and keeping fans in the loop with his "Riding Shotgun With Taylor Hicks" videos on his blog. In 2012 he began a residency as a performer in Las Vegas. These days, he performs around the U.S. and has a country album in the works.
(Gregory Shamus / Getty Images)
After her big "Idol" win in 2005, Carrie Underwood released her debut album, "Some Hearts," in 2005, which won her three Grammy Awards, including best new artist. She continued her success with three more albums, earning a total of seven Grammy Awards. Forbes estimates her net worth as over $110 million, making her the highest-earning "Idol" winner, and Time magazine lists her as one of the 100 most influential people in the world.
(Ray Mickshaw / WireImage)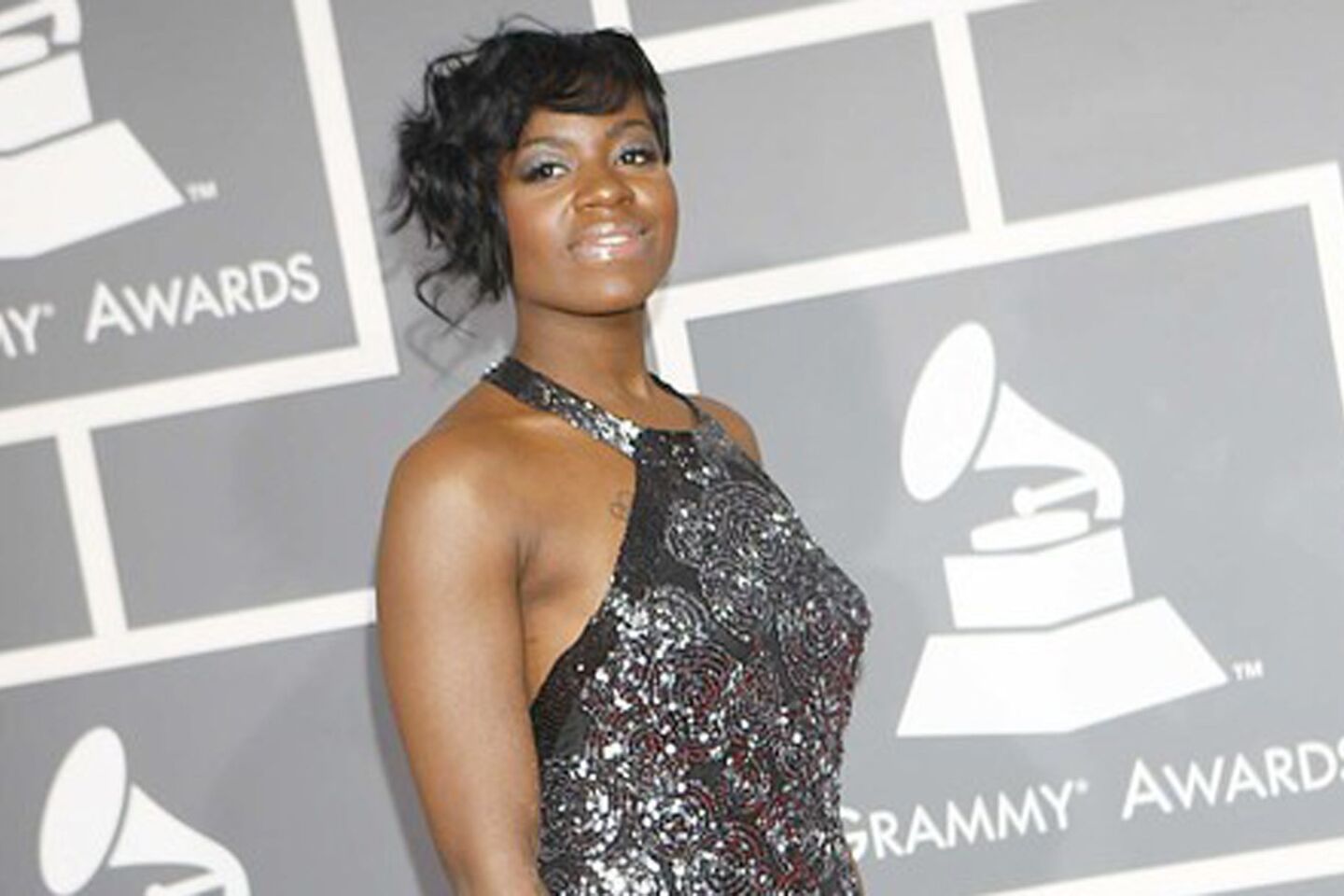 It hasn't been easy for Barrino since her "Idol" win back in 2004. Financial woes, health issues and a reported suicide attempt have followed. Despite the drama, she appeared on Season 10 of "Idol" and won a female R&B vocal performance Grammy for her song "Bittersweet." She performed at the 2012 Essence Festival and was named 32nd out of the 100 Greatest Women in Music by VH1. Barrino starred in the musical revue "After Midnight" in 2013, and recorded and co-wrote the song "In the Middle of the Night" for the film "The Butler." She is reportedly at work on a fifth studio album.
(Jay L. Clendenin / Los Angeles Times)
For a while, there was no greater prize on TV than the title of the next "American Idol." With the series ending next year, that title doesn't carry with it quite the heft and import it once did, but for a time in the early part of the 21st century, Fox's reality singing competition was so popular, it didn't even matter if you didn't win -- just being on the show afforded a level of fame and success most can only dream of.
FULL COVERAGE: Saying farewell to 'American Idol'
Although seemingly everyone remembers the first "Idol" winner, Kelly Clarkson, many might not realize that Clay Aiken, though famous, didn't actually win. Nor did top singer Adam Lambert.
As we collectively prepare to bid adieu to Ryan Seacrest and the "Idoldome," here are four talents that never quite reached the mountaintop but have made out like musical royalty anyway.
Clay Aiken (2003 "Idol" alum): Aiken came in second place to Ruben Studdard in the show's second season. His first post-"Idol" album, "Measure of a Man" went double platinum. He's since released five other full-length albums. Aiken also starred on Broadway in a production of "Monty Python's Spamalot." In 2014, he was the Democratic candidate for North Carolina's 2nd Congressional District but lost.
Jennifer Hudson (2004 "Idol" alum): The affectionately nicknamed J-Hud finished in seventh place in the show's third season. But she went on to star in the film "Dreamgirls," for which she won an Oscar, a Golden Globe, a SAG Award and an NAACP Image Award. Her debut self-titled album was released in 2008, becoming a gold-seller and earning her a Grammy.
Chris Daughtry (2006 "Idol" alum): The lead singer of his self-titled band, Daughtry was a fourth-place finisher in "Idol's" fifth season, but that was enough for the North Carolina native to land a record deal and release his first album, "Daughtry" in 2006. In 2007, the debut album was nominated for four Grammys, including best rock album. The album went quadruple platinum. To date, the band has put out four albums, the most recent in 2013.
Adam Lambert (2009 "Idol" alum): The theatrical Lambert was runner-up to Kris Allen in the show's eighth season, but his flair for stage presence paid off after the show ended. His first album, released in 2009, went gold. He's released three albums total, and in 2012 he announced he was embarking on a world tour with the surviving members of Queen, replacing singer Freddie Mercury. That successful tour spawned another one with Queen, which is going across Europe.
Follow me on Twitter: @patrickkevinday
MORE:
'American Idol': The slow fade of an instant hit
Our first review of 'American Idol': This show could use a gong for everyone
From the Archives: Some 'American Idol' thoughts from Simon Cowell in 2002
Get our L.A. Goes Out newsletter, with the week's best events, to help you explore and experience our city.
You may occasionally receive promotional content from the Los Angeles Times.