'American Idol': The slow fade of an instant hit
Not long ago, "American Idol" was such a ratings juggernaut that a rival TV executive dubbed it a "monster" that should be killed. That wish has now been granted, with Fox executives announcing Monday that they will end the record-breaking singing contest after it finishes its 2016 season.
Fox executives had long vowed that "Idol" could run for years past its peak, like "Survivor" or "The Amazing Race." "Idol" was the top-ranked show for eight years, with audiences in its heyday regularly topping the 30-million-viewers mark.
FULL COVERAGE: Saying farewell to 'American Idol'
But the show has been staggering for years. This season, the viewership has shrunk to barely 10 million, and the show — once a virtual mint for Fox — has seen its huge profits disappear, industry experts say.
It's a humble end to a show that changed television during the first decade of the 21st century, proving that broadcasters could still be relevant in an age of media fragmentation and helping spawn a wave of hit talent shows, including "Dancing With the Stars" and "America's Got Talent."
"This was the biggest show on television by a mile, not like the normal 'biggest show,' " said Mike Darnell, a veteran reality TV executive who helped oversee "Idol" for years at Fox and now works in a top role for Warner Bros. "For about six years there, it was 30% or 40% above the next biggest thing on TV. An absolute phenomenon.''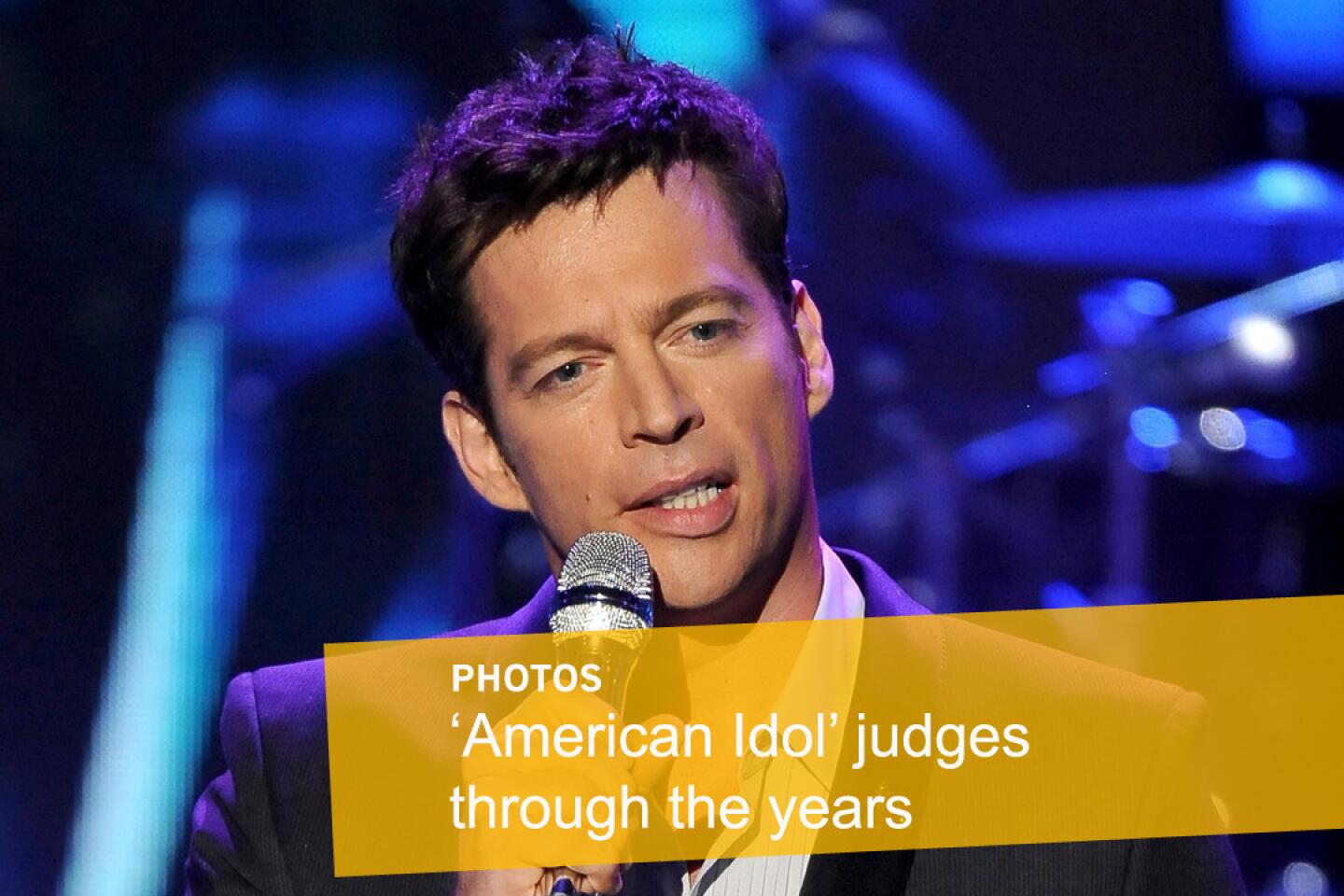 Singer Harry Connick Jr., who acted as a mentor for the top 5 finalists in 2010, joined the judging panel of "American Idol" in 2014. Connick, along with Jennifer Lopez and Keith Urban, will make up the panel on Season 15 of "American Idol."
(Frank Micelotta / Associated Press)
Pop star Jennifer Lopez joined the judging panel for Season 10, left two years later, then returned for Season 13 and will be there to see the show through its final season.
(Genaro Molina / Los Angeles Times)
Keith Urban first appeared on "Idol" during the Season 8 finale to perform his 2009 hit "Kiss a Girl" as a duet with eventual winner Kris Allen.

As a judge, the country star's quiet and kind demeanor has made him a fan favorite. He'll be a judge for the show's final season.
(Evan Agostini / Invision / Associated Press)
Years on the show: 12.
Musician-producer Randy Jackson was the longest-lasting judge on the show, ending his run after Season 12.
(Allen J. Schaben / Los Angeles Times)
Years on the show: 1.

While Carey was initially excited to land a seat at the judges' table, "Idol" fans criticized her bland presence and on-screen spats with Nicki Minaj.
(Michael Buckner / Getty Images For BET)
Years on the show: 1.

Nicki Minaj stood out on the panel for her flamboyant personality -- and for her ongoing feud with fellow judge Mariah Carey, which sometimes overshadowed the talent competition.

The rapper-singer also flaired tempers by showing up nearly 15 minutes late to "Idol's" first live show of the season.
(Ben Gabbe / Getty Images)
Years on the show: 8.
Paula Abdul chose to leave the top-rated show rather than accept a salary below her asking price. Though Abdul later reunited with Simon Cowell briefly on "X Factor," she was overhauled in yet another reality judge shakeup.
(Barbara Davidson / Los Angeles Times)
Years on the show: 2.
Kara DioGuardi joined the judges' panel in Season 8 of the Fox juggernaut. She departed from the show in 2010 when her contract wasn't renewed, leaving Randy Jackson as the only returning judge for the following season.
(Chris Pizzello / Associated Press)
Years on the show: 1.
Ellen DeGeneres, second from left, was brought on for the ninth season as a replacement for Paula Abdul, who exited in a contract dispute. Some fans enjoyed DeGeneres' lighthearted quips, but she was attacked by many "Idol" fans for having no background in the music industry and adding little to the show. She announced her departure in July 2010.
(Michael Becker / Associated Press)
Guest judge: Lionel Richie was a guest judge during Season 2.
(Allen J. Schaben / Los Angeles Times)
Guest judge: Filmmaker Quentin Tarantino was on the show as a mentor and guest judge in Season 3.
(Spencer Weiner / Los Angeles Times )
Guest judge: "How I Met Your Mother" star and Tony Awards host Neil Patrick Harris sat at the judges' table to help weigh in on the singers during the Season 9 Dallas auditions. Harris was part of a slew of guest judges who included Victoria Beckham, Mary J. Blige, Shania Twain, Joe Jonas and Kelly Clarkson.
(Kirk McKoy / Los Angeles Times)
Mary J. Blige was a guest judge during the selection phase of Season 9 in Los Angeles.
(Kirk McKoy / Los Angeles Times)
"But eventually, any show is going to start to erode. Nothing lasts forever," Darnell added. "It's sad. It feels like the end of an era. … I don't honestly believe anything will ever approach the numbers it was getting at its peak."
The first decade of the new millennium was a golden age for reality TV, with shows such as "Survivor" and "The Apprentice" dominating the headlines. But no show so eclipsed its competitors like "Idol," which started unassumingly as a limited summer series on Fox in 2002. It was an Americanized version of "Pop Idol," a British series that ran for two seasons on ITV.
"American Idol" proved an instant hit. The trio of original judges — the British-born music executive Simon Cowell along with former '80s pop queen Paula Abdul and bassist and record producer Randy Jackson — blended with an appealing on-screen chemistry. Cowell became a star with his wisecracks and sometimes nasty put-downs of aspiring singers.
Audiences turned up to see an ingenious two-part process in which a wide variety of contestants — some great, some terrible — turned up for open auditions, followed by a grueling winnowing process down to the finals, telecast live.
"It established a format that is everywhere now," said Robert J. Thompson, a TV expert and director of the Bleier Center for Television & Popular Culture at Syracuse University. "It didn't invent the talent competition … this format of the three judges, the potentially snarky comments, allowing lots of people in who may not be very good — we see that everywhere now. It's not just singing competitions."
Rivals found "Idol" in its zenith nearly impossible to compete with.
"If somebody would kill that show, I'd appreciate it," CBS boss Leslie Moonves said at a media conference in 2008.
See more of Entertainment's top stories on Facebook >>
As it turned out, "Idol's" slow fade had already started by that time. The median age of "Idol" viewers crept higher as teenagers and young adults began to drift away.
Then competition exacerbated the problem. NBC premiered "The Voice," a rival singing-competition show, in April 2011, and it quickly became a hit. Fox contributed to the problem itself by scheduling Cowell's own "Idol" rival, "The X Factor," starting in fall 2011. The glut of such shows split the fan base and resulted in audience fatigue.
As viewers drifted away, advertisers began to lose interest too. In 2009, "Idol" was the No. 1 ad buy on TV, with 30-second commercials fetching more than $600,000, helping offset a per-episode cost of more than $2 million, which was high for a reality series. There were also lucrative partnerships with big sponsors such as Ford and Coca-Cola.
But Coke announced in December that it was pulling out of the show after years of having its branded cups featured prominently on the judges' table.
Producers have in recent years played musical chairs with the judges. Cowell fled to start "The X Factor," which lasted briefly on Fox. Ellen DeGeneres was hired for one season, with critics charging that she made an awkward fit. Aerosmith rocker Steven Tyler came and went; Jennifer Lopez was hired, left and came back.
Reality TV also isn't as popular as it once was. Viewers have begun devoting far more attention to dramas such as "The Walking Dead," making the weekly hand-wringing over who might get voted off a reality show seem passé. Viewers increasingly prefer the ability to tune into shows when they want, on demand, rather than being beholden to a network schedule for events such as "Idol's" results shows.
But by announcing a swan song to "Idol," Fox might be able to get one nice last ride.
"It will allow them to market the show better for the last year," said Brad Adgate, an analyst for Horizon Media in New York. "Bring back for
mer contestants, old judges, etc. Which they couldn't do if they decided to suddenly cancel it."
MORE:
'American Idol': Where even the losers were winners
Our first review of 'American Idol': This show could use a gong for everyone
From the Archives: Some 'American Idol' thoughts from Simon Cowell in 2002
Get our L.A. Goes Out newsletter, with the week's best events, to help you explore and experience our city.
You may occasionally receive promotional content from the Los Angeles Times.