2013 TV upfronts: ABC's Jimmy Kimmel takes shots at the networks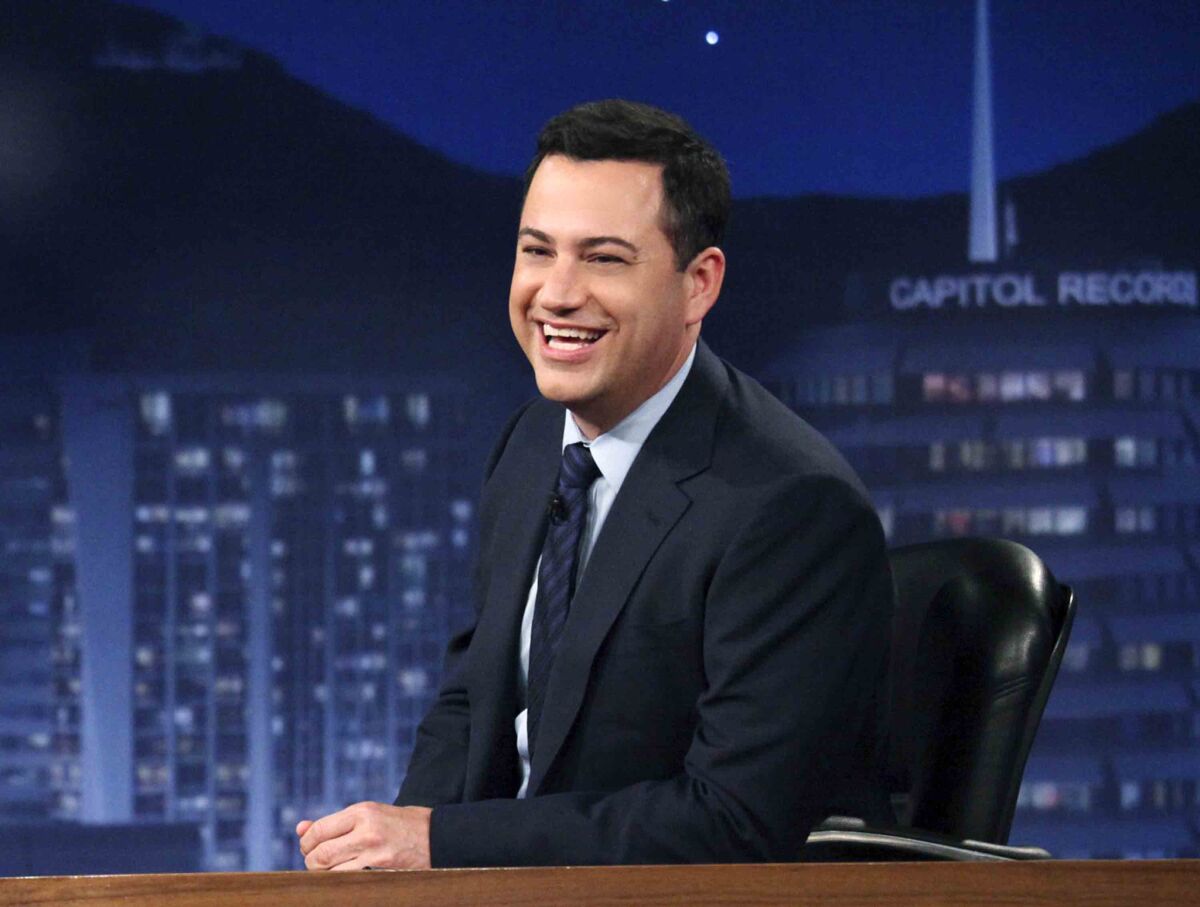 Jimmy Kimmel took to the stage Tuesday at ABC's upfront presentation at New York City's Avery Fisher Hall and delivered a monologue peppered with jokes aimed at the ratings and demographic woes of rival networks — and poor old Matthew Perry.
Kimmel's annual monologue at the ABC upfronts has become something of a rite of spring for the thousands of media buyers, advertising executives and journalists who attend the network presentations each year.
On Tuesday, he took to the stage for the 11th time and delivered a set peppered with jokes aimed at the flailing broadcast networks (his own included), as well as the aforementioned "Friends" alum.
PHOTOS: Cable vs. broadcast ratings
After the subdued mood at NBC and Fox on Monday, ABC's upbeat presentation — and Kimmel's appearance in particular — came as a welcome break.
Here are a few of his best zingers — or at least the ones fit for sharing in a family newspaper.
On NBC's decision to replace Jay Leno: "They found that by being No. 1 in his time slot, he was embarrassing their other shows."
On the difficulty of forging a successful career after "Friends": "When you cancel one Matthew Perry show, three more rise in its place."
On Fox's ratings woes: "Except for the problems with 'American Idol,' there's a lot to like about their new schedule. Except for the hole in the side of the boat, there was a lot to like about Titanic."
On NBC's ratings woes: "They came in behind Univision this year. They have an interesting strategy next year — they're going to oppose immigration reform."
On ABC's ratings woes: "You are about to invest $4 billion in a network that rolled a 400-pound comedian off a diving board last week."
On CBS' demographic woes: "Les Moonves told CNBC that jokes about CBS skewing old are over. Those jokes aren't over until my grandmother throws away her 'Mentalist' hemorrhoid doughnut."
On the decline in ratings for broadcast TV as a whole: "Every year Apple products get smaller and no one has a problem with that."
On the imperfection of the upfronts process: "Let's call the upfronts what it is: Throwing a bunch of [stuff] at a wall to see what sticks. And guess what? You guys are the wall."
On putting a positive spin on sub-par programming: "You can't polish a turd, but you can buy a hundred-million [dollars] in advertising on it."
---
Get our L.A. Goes Out newsletter, with the week's best events, to help you explore and experience our city.
You may occasionally receive promotional content from the Los Angeles Times.