With David Letterman retiring, all eyes on CBS' next move
Actress Julia Roberts laughs away in 2009.
(John Paul Filo / CBS )
Former New York City Mayor Rudolph Giuliani shares a laugh with Letterman.
(AP)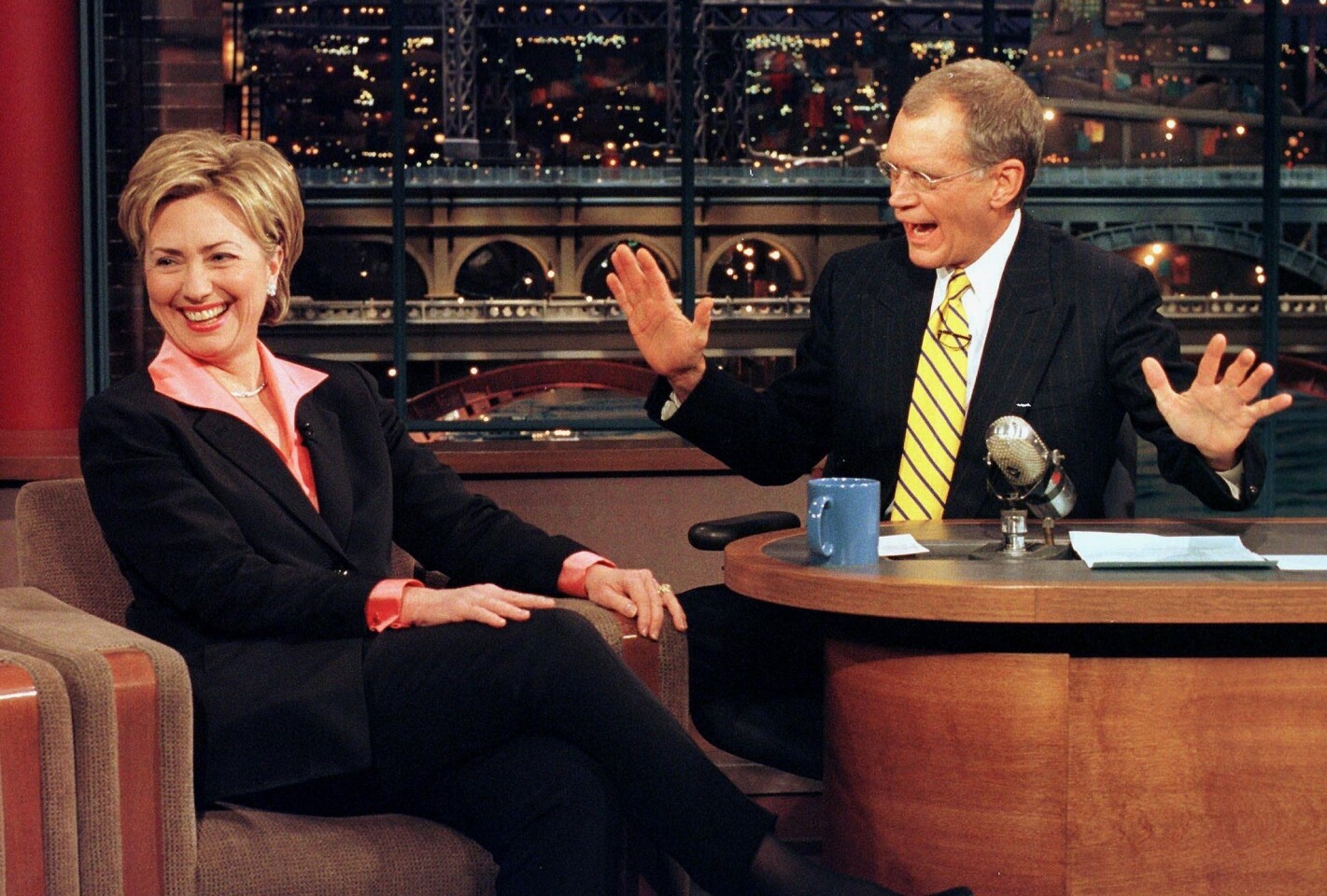 Then-U.S. First Lady Hillary Rodham Clinton talks with Letterman in 2000.
(BARBARA NITKE, AFP)
Letterman reacts to a bikini-clad Demi Moore in 1995. The actress starred in the film "Striptease" and helped David with his Top Ten list by removing index cards, one by one, revealing the bikini.
(TONY ESPARZA / AP)
Letterman kisses the hand of actress Elle MacPherson.
(Patrick Pagnano / CBS)
Baltimore Ravens defensive tackle Tony Siragusa goes all out with Letterman in 2001.
(BARBARA NITKE / AP)
Singer Janet Jackson points her finger to Letterman in 2004.
(JOHN PAUL FILO / AP)
Comedian Jerry Seinfeld shares a moment with Letterman in 2001.
(BARBARA NIKTE, AP)
Actress Lindsay Lohan talks her latest adventures with Letterman in 2005.
(David M. Russell / CBS)
Pop star Ricky Martin gestures while talking with Letterman in 1999.
(Patrick D Pagnano / AP )
Former Beatle Paul McCartney makes an appearance in 2009.
(John Paul Filo / AP)
First Lady Michelle Obama stops by in 2012.
(Jeffrey R. Staab / AP)
Then-Vice President Al Gore visits Letterman in 1993.
(cbs)
Musician Taylor Swift goes fist to fist with Letterman in 2012.
(Jeffrey R. Staab / CBS)
Actress Lupita Nyong'o giggles with the audience in 2014.
(Jeffrey R. Staab / AP)
Regis Philbin, former co-host of of the talk show "Regis and Kathy Lee" as well as former host of the game show "Who Wants to Be a Millionaire," shares a laugh with Letterman in 2000.
(BARBARA NITKE, AP)
Then-Democratic presidential nominee Sen. Barack Obama visits Letterman in 2008.
(Jeffrey R. Staab / AP)
U.S. Olympic men's slopestyle gold medalist Sage Kotsenburg interviews with Letterman in 2014.
(Jeffrey R. Staab / AP)
U.S. Women's Snowboarding Halfpipe gold medalist, Kaitlyn Farrington, joins Letterman.
(Jeffrey R. Staab, AP)
Democratic presidential nominee and Vice President Al Gore takes a crack at Letterman in 2000.
(BARBARA NITKE / AP)
Bill Murray takes a "selfie" with singer Lady Gaga and Letterman in 2014.
(Jeffrey R. Staab / AP)
Letterman welcomes his mother, Dorothy.
(Alan Singer / CBS)
Dan Rather, anchor of the CBS Evening News, is overcome with emotion as he talks with Letterman shortly after the terrorist attacks of Sept. 11, 2001.
(JF Filo / AP)
Actor Bruce Willis, left, laughs along with then-New Jersey Gov. Christine Todd Whitman and Letterman in 1996.
(ALAN SINGER / AP)
Screenwriter Diablo Cody has a chat with Letterman in 2008.
(J.P. Filo / AP)
Republican presidental candidate and Texas Governor George W. Bush poses for photographers with Letterman after concluding taping of a 2000 showing.
(PAUL J. RICHARDS / AFP)
Former exotic dancer and "Big Brother" house guest Jean Jordan tells a story to Letterman in 2000.
(BARBARA NITKE / AP)
Comedian Jerry Seinfeld promotes his stand-up comedy tour in 1998.
(ALAN SINGER, AP)
Actor Joaquin Phoenix waves to the audience in 2009.
(J.P. Filo / AP)
2008 Republican presidential nominee Sen. John McCain gets comfortable with Letterman.
(J.P. Filo / AP)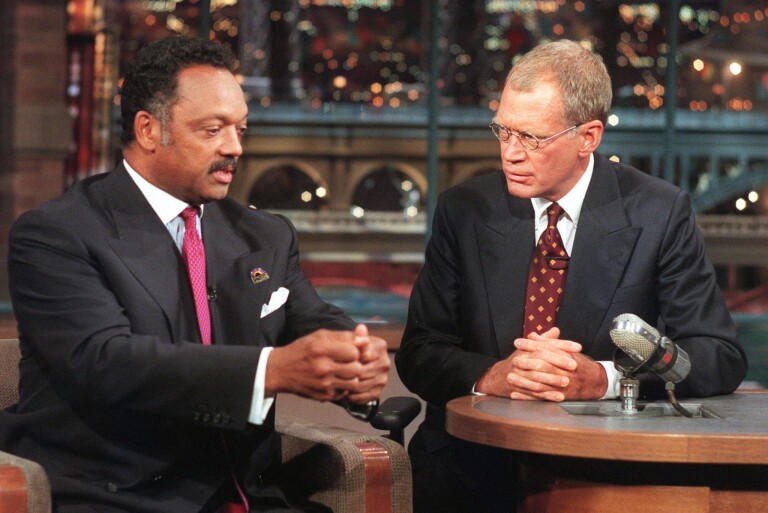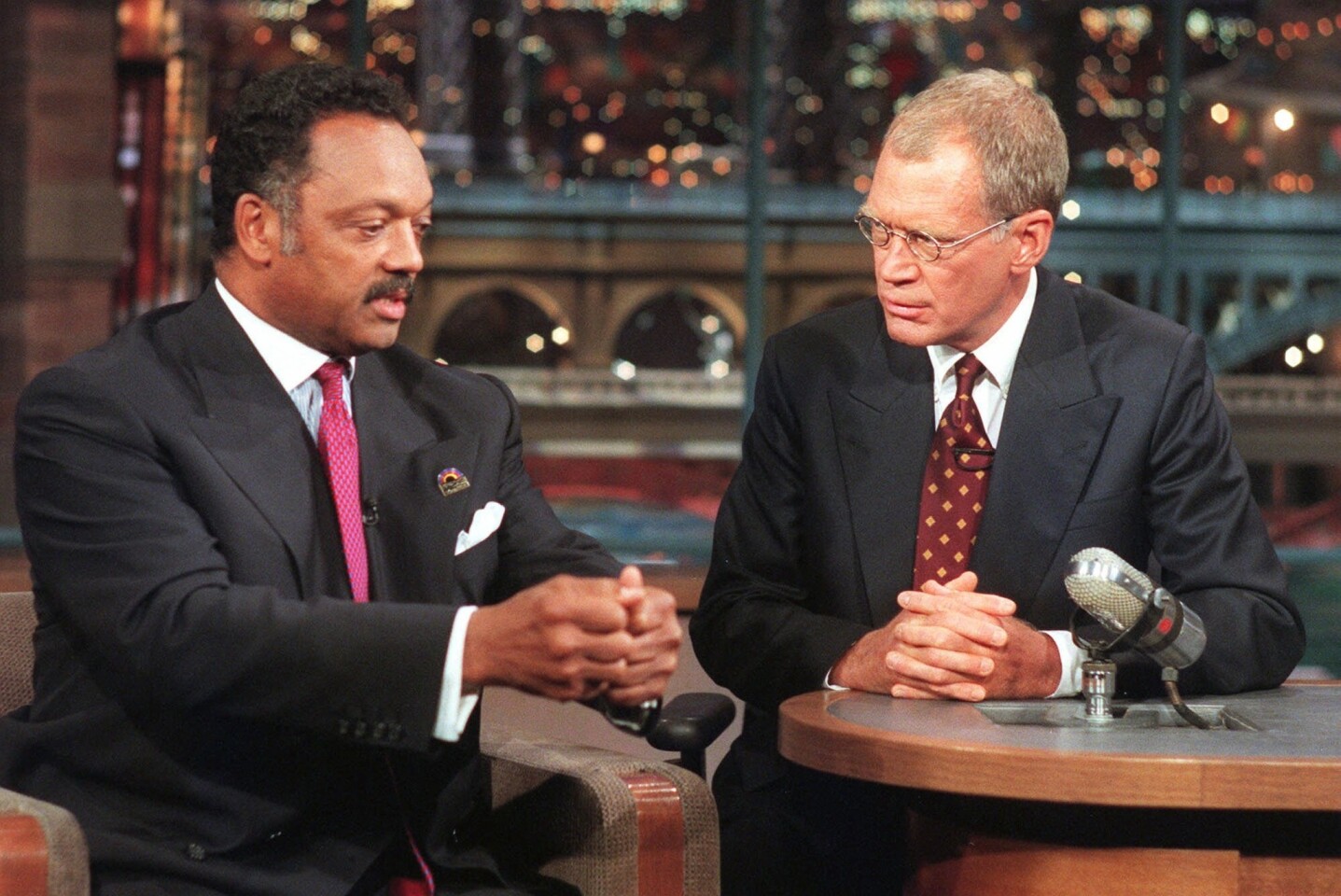 The Rev. Jesse Jackson gets serious with Letterman in 1999.
(BARBARA NITKE / AP)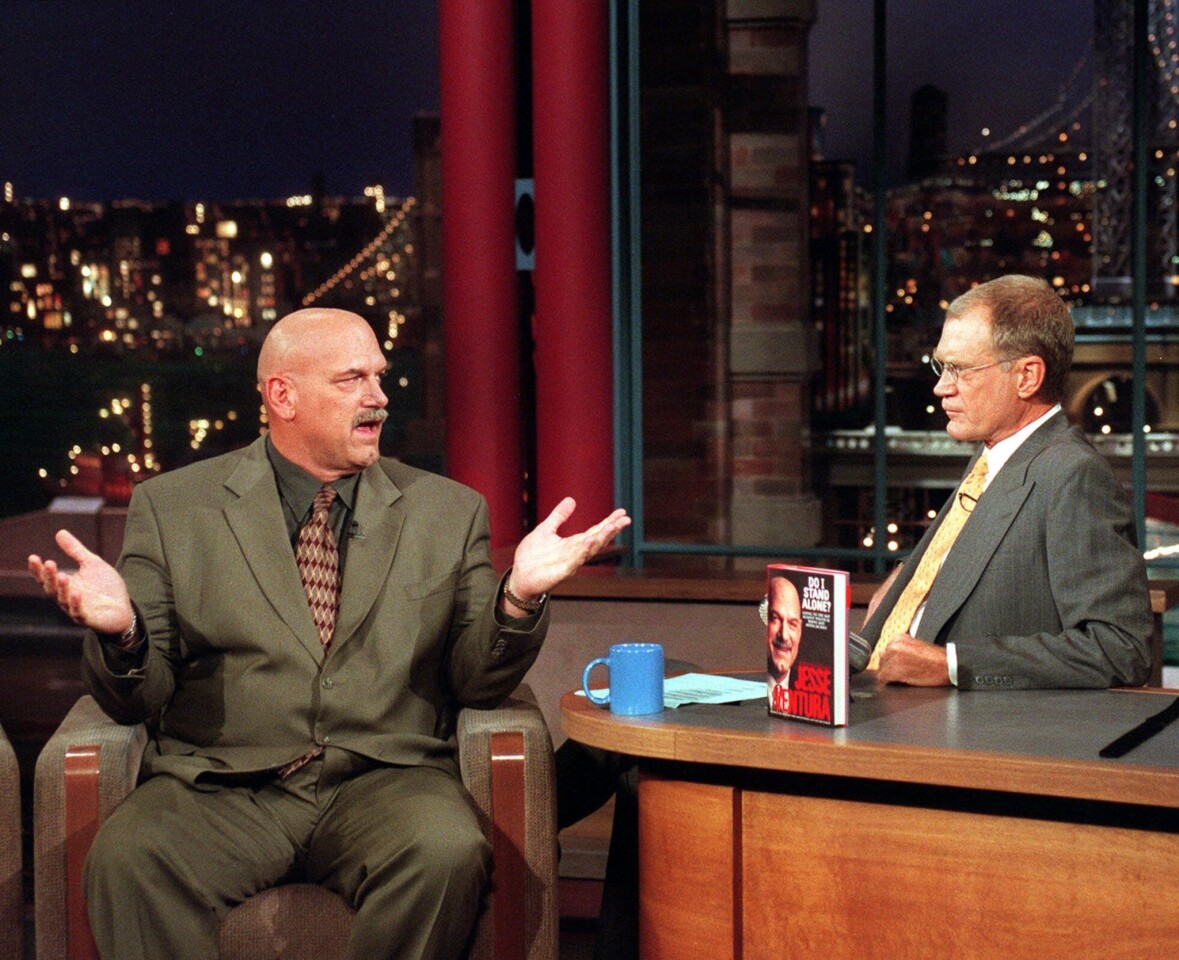 Then-Minnesota Gov. Jesse Ventura visits Letterman in 2000.
(CRAIG BLANKENHORN, AP)
Actor Robin Williams chats with a bearded Letterman in 2008.
(J.P. Filo / AP)
Sportscaster Marv Albert visits Letterman in 1998.
(ALAN SINGER, AP)
The scramble to succeed late-night host David Letterman has talent handlers and Las Vegas oddsmakers shouting their picks from the sidelines. Politicians are squabbling over whether his replacement should be based in Los Angeles or New York.
But those issues may be the least of the worries for CBS, which must program for a vastly different TV landscape than when it hired Letterman away from NBC 21 years ago to launch its "Late Show" franchise.
The late-night field is more crowded, profits aren't what they used to be, and the audience is now a lot older. All that could lead CBS to take a gamble and try something besides another show featuring a stand-up comic and celebrity interviews, analysts say.
DAVID LETTERMAN: Career in pictures | Memorable guests | Top 10 moments
"CBS will look at a lot of possibilities post-'Late Show,'" said Brad Adgate, analyst for ad firm Horizon Media. "They took that approach when Dan Rather left as anchor of the 'Evening News' before picking Katie Couric."
He and other analysts believe a priority will be attracting younger viewers, who are prized by advertisers but in increasingly short supply.
The median age of the Letterman viewer is now a relatively hoary 58, while young adults raised on the Internet often don't even watch TV, choosing instead to snack on video outtakes on YouTube and other online platforms.
Then too, Letterman's ironic mockery, groundbreaking when he started on NBC's "Late Night" in 1982, now seems like just another voice in the vast media echo chamber. Letterman inspired so many imitators that the wee hours are now choking on more than 20 talk shows, with his chief rivals including Jimmy Fallon, Jimmy Kimmel, Conan O'Brien and Stephen Colbert.
All that competition has softened the numbers. The longest-running late-night host in the history of television could once count on bringing in around 4 million viewers per night but has lately sunk to less than 2.5 million, according to Nielsen.
RELATED: David Letterman's possible successors | Twitter reactions
"Late night is not what it was," said Gary Edgerton, professor at Butler University and author of "The Columbia History of American Television." "It's overpopulated; the number of viewers is so much lower."
Indeed, though CBS has yet to announce a successor, it's clear that the potential jackpot in late night is much smaller than it was when Letterman brought his Stupid Pet Tricks to CBS. At that time, Jay Leno had just taken over NBC's "The Tonight Show" after Johnny Carson, the undisputed king of late-night TV, retired.
Last year, "Late Show" brought in about $130 million in ad revenue for CBS, according to a top rival producer and trade reports (a CBS spokesman declined to comment). That's down from more than $200 million as recently as 2007, according to Kantar Media.
"Ad revenue has been going down in the [late-night TV] category, but it remains really profitable for the networks," said Deana Myers, principal analyst for media research firm SNL Kagan.
Even so, the classic late-night format isn't cheap, with costs that include a live band, a large writing staff and richly compensated hosts. Letterman himself once earned a reported $30 million annually.
RELATED: Mayor Garcetti urges CBS to bring next 'Late Show' to L.A.
But the downturn in late-night ad revenue forced Letterman to take cuts in salary and staff recently, just as they did for Jay Leno before he left "Tonight." The NBC show was forced to lay off 20 staffers in an unprecedented move in 2012 as a new economic reality settled in.
In assessing their prospects, CBS executives could decide to ditch the crowded talk format. Adult Swim — the late-night animated block from Cartoon Network — draws big ratings, especially among hard-to-reach young men.
Then there is the succession problem.
Unlike NBC, which tapped its deep talent pool on "Saturday Night Live" to find hosts Fallon and Seth Meyers, CBS has no bench to speak of, aside from Craig Ferguson, the Scottish-born host of the off-kilter "Late Late Show" that follows Letterman. However, Ferguson is widely deemed too eccentric to appeal to a broader audience at 11:35 p.m.
Instead, popular speculation has centered on such names as Colbert (3-to-1 odds, according to one bookmaker), Chelsea Handler (who looks unlikely to return to her E! talk show) and even the Golden Globes hosting duo of Tina Fey and Amy Poehler (both have development deals with NBC).
CRITIC: Letterman's retirement news really is no surprise
"I think they'll have to look outside the network," Adgate said. "I don't know if anyone [at CBS] can take on the two Jimmys and Conan."
But in one telling sign of the odds facing CBS — America's most-watched network but also its oldest-skewing — consider the number of YouTube subscribers. Fallon's "Tonight Show" feasts on skits and games that translate well online and has been rewarded with nearly 3 million subscribers on the online video platform. Letterman's "Late Show," by contrast, posts only brief snippets from interviews and monologues and is just over 40,000.
Such a gulf creates obvious problems in today's media market.
"When the smoke cleared after Fallon's first couple of weeks, CBS realized it now had these two really strong competitors" in Fallon and ABC's Kimmel, said Robert Thompson, a media professor at Syracuse University. "CBS was going to want to get a little bit of that energy."
Letterman lost the "Tonight Show" succession battle to Leno, then slid behind him in the ratings race for most of their rivalry. But in a certain sense, Letterman may have emerged triumphant. Late-night TV is now filled with an approach he pioneered.
"Now everybody out there … the two Jimmys and Conan and Ferguson and even Colbert and [Jon] Stewart, are doing what Letterman did," Thompson said. "He is the crown prince of the new age of irony. He did more of a parody of a talk show than a talk show itself, and that's what they're all doing now."
And the crown prince is ending his reign with jokes.
On Friday, Letterman cracked on his show: "A year from now, I'll be on the beach with a metal detector."
Collins reported from Los Angeles and Blake from New York.
---
The complete guide to home viewing
Get Screen Gab for weekly recommendations, analysis, interviews and irreverent discussion of the TV and streaming movies everyone's talking about.
You may occasionally receive promotional content from the Los Angeles Times.