'Arrested Development' is back. Now how about 'Freaks and Geeks'?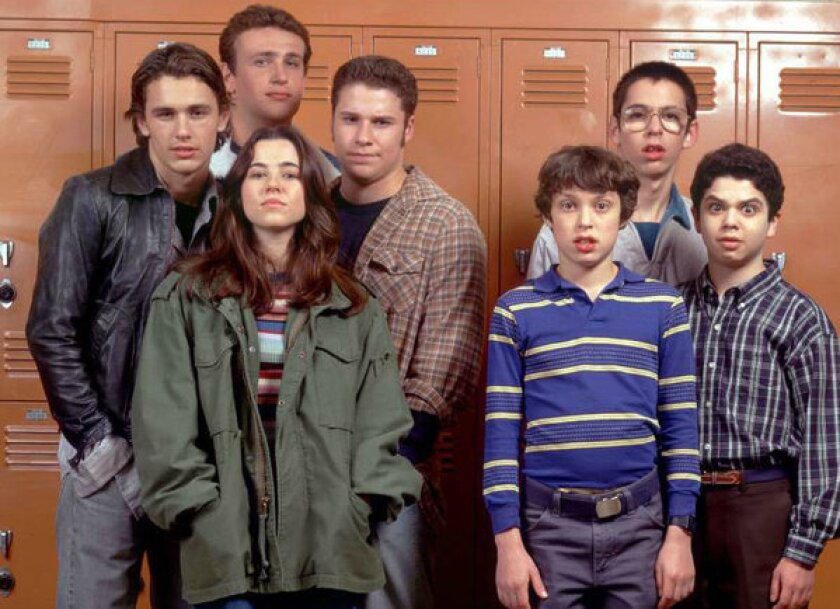 Now that we've raised the "mission accomplished" banner on the "Arrested Development" reunion, can we get the wheels in motion and reassemble the cast of another dearly departed cult TV favorite -- "Freaks and Geeks"?
"Oh, we couldn't afford them," "Freaks" creator Paul Feig says. "It'd be the most expensive cast ever."
We think Feig, who's following up his acclaimed directing work on "Bridesmaids" with the upcoming female buddy cop flick "The Heat," is being a bit disingenuous. Yes, we know "Freaks" cast members James Franco, Seth Rogen, Jason Segel and Linda Cardellini (was this a great ensemble or what?) have made it big since Feig's astutely observed high school comedy-drama ended in 2000. But you have to figure they'd take a pay cut just as a way of thanking Feig and executive producer Judd Apatow for jump-starting their careers.
PHOTOS: Memorable TV series finales
"You know, Mitch Hurwitz is just braver than I am," Feig says, referring to the "Arrested Development" creator. "I've never seen a good reunion -- in real life or on film. There's always something that's wrong. Half the time, you're just thinking, 'Oh, look how old they are.'"
Fine. But it's not as if the "Freaks" ensemble has aged badly. If anything, they might even look better. That Franco guy can even pull the cornrow 'do off with a modicum of style. So let's stop the hedging, Mr. Feig. You've already told us what the gang at William McKinley High would have been doing had the show made it to a second season. What say we move the clock forward another 10 or 15 years?
"My brain goes almost kind of blank when I go, 'OK, what would it be?'" Feig says, laughing. "It's just fear. Plain and simple fear. Too many pitfalls. Never say never. I love them all. But we're probably best served leaving the past behind."
ALSO:
Paul Feig puts 'The Heat' on funny women
'Arrested Development's' return a Bluth saga in itself
'Arrested Development' Netflix road could lead to a movie
---
The complete guide to home viewing
Get Screen Gab for weekly recommendations, analysis, interviews and irreverent discussion of the TV and streaming movies everyone's talking about.
You may occasionally receive promotional content from the Los Angeles Times.