At GLAAD Media Awards, Hollywood vows to continue fight against anti-LGBT laws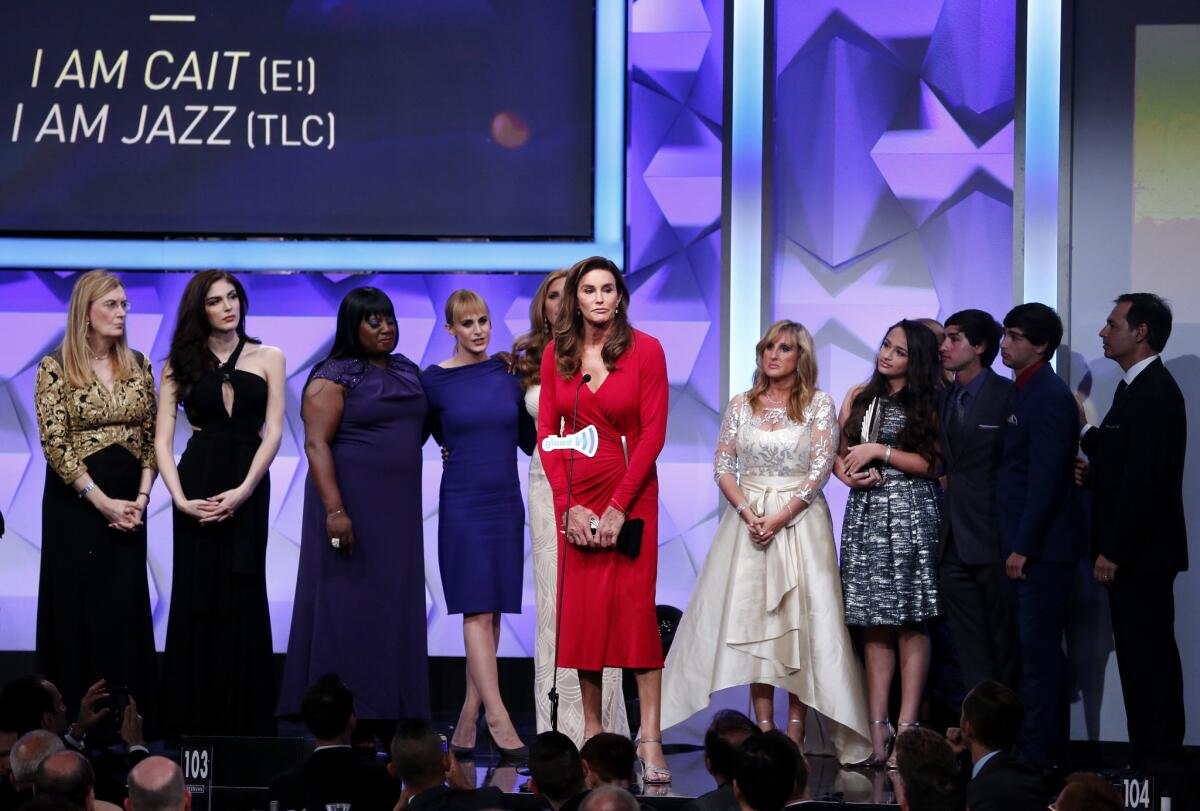 The last year has been historic for the visibility of transgender people in the media, from the continued rise of "Orange Is the New Black's" Laverne Cox to the coming out and reality show helmed by former Olympian Caitlyn Jenner to the Oscar-winning theatrical adaptation of trans icon Lili Elbe's life in "The Danish Girl." Additionally, gay, lesbian and bisexual men and women find themselves represented on screens large and small in "Empire," "How to Get Away With Murder," "Dope" and "Carol." To celebrate such progress, GLAAD hosted its 27th annual media awards Saturday night at the Beverly Hilton.
But with progress comes a fierce backlash, and GLAAD and its supporters remain ready to fight.
"There are walls everywhere," said Sarah Kate Ellis, GLAAD CEO and president, from the event's stage. "The current backlash we are seeing is over 100 anti-LGBT bills. Each one reverses the achievements we have made over the years. [But] at GLAAD, if somebody builds a 10-foot wall, we build an 11-foot ladder."
GLAAD is an advocacy group aiming to accelerate the acceptance of LGBT people by holding media accountable for their representations of the community in TV, film and other disciplines. Each year, the best, most inclusive and nuanced portrayals are recognized with a nomination at its media awards. This year's ceremony, sponsored by Ketel One, was attended by Nene Leakes, Paula Abdul, Zendaya and Oscar-winning actress Patricia Arquette among others. The purpose was to celebrate the community's progress, but on the minds of all were the latest political attempts to stunt the very reason they all gathered.
Recent legislation has popped up across the nation aiming to limit the rights of LGBT people. In North Carolina, for example, a law mandated anti-discrimination statewide, but did not include specific protections based on sexual orientation or gender identity. Additionally, it restricts the bathrooms that transgender people can use to the sex they were at birth. In Georgia, though vetoed by the governor following pressure from Hollywood as coalesced by GLAAD, a bill touting "religious liberty" would have discriminated against LGBT people. And there is other legislation across the country.
"We have always believed that visibility brings about acceptance, that telling stories will open people's hearts. Over the past few years, we've seen an increase in that," said Jenny Boylan, a star of "I am Cait." "With that visibility, however, is coming a lot of blowback."
But as evidenced by the multiple rounds of applause when folks on stage spoke about fighting said blowback, LGBT progress won't be stunted for long, Boylan said.
"Though we may not win everything this week, we're going to win everything in the end," said Boylan.
The night also saw two major honors bestowed on Demi Lovato and Ruby Rose, the Vanguard Award and Stephen F. Kolzak Award, respectively.
The Vanguard Award, given to media professionals who have made a significant difference in promoting equality and acceptance, was presented to Lovato by singer and actor Nick Jonas. Lovato also performed. Previous Vanguard Award honorees include Kerry Washington, Jennifer Lopez, Kristin Chenoweth, Antonio Banderas and Janet Jackson.
(Warning: The following video contains vulgarities.)
Rose, known for her role on "Orange Is the New Black," received the Kolzak Award for her visibility as a lesbian woman. She was presented her honor by surprise guest Taylor Swift.
The night also served as a fundraiser for the organization to continue its advocacy. It raised more than $380,000, $300,000 of which was matched by Wells Fargo.
The event will air on LGBT network Logo on Monday at 10 p.m. EST/PST.
Check out the full list of honorees and award winners below:
Vanguard Award
Demi Lovato (presented by Nick Jonas)
Stephen F. Kolzak Award
Ruby Rose (presented by Taylor Swift)
Outstanding Reality Program
"I Am Cait" and "I Am Jazz" [accepted by Caitlyn Jenner and Jazz Jennings]
Outstanding TV Movie or Limited Series
"Bessie" [accepted by Queen Latifah]
Outstanding Drama Series
"Sense8" [accepted by Lilly Wachowski, co-creator of "Sense8"]
Outstanding Spanish-Language Television Interview
"Orientación sexual y acoso escolar," "Realidades en Contexto" [accepted by CNN en Español anchor Mercedes Soler and Marcos Saldivar]
Outstanding Film – Wide Release
"Carol"
Outstanding Comedy Series
"Transparent"
Outstanding Documentary
"Kumu Hina"
Outstanding Daily Drama
"The Bold and the Beautiful"
Outstanding Music Artist
Troye Sivan, "Blue Neighbourhood"
Outstanding Comic Book
"Lumberjanes," written by Noelle Stevenson, Shannon Watters, Kat Leyh
Outstanding Talk Show Episode
"Janet Mock," "Super Soul Sunday" on OWN
Special Recognition
"Beautiful As I Want to Be" (Logotv.com) and "This Is Me" (Amazon Instant Video)
Spanish-Language Winners
Outstanding Novela
"Rastros de mentiras"
Outstanding Music Artist
Ricky Martin, "A quien quiera escuchar"
Outstanding Local Television Interview
"La nueva transgeneración," "Enfoque Los Ángeles"
Outstanding Local TV Journalism
"Cada 29 horas," "Noticias 19"
Outstanding Newspaper Article
"Padres transgénero - El único requisito para ser papá es el amor por los hijos" by Virginia Gaglianone of "La Opinión"
Outstanding Digital Journalism Article
"Perú: violaciones correctivas: El terrible método para 'curar' a las lesbianas" by Leire Ventas of BBCMundo.com
Get your life! Follow me on Twitter: @TrevellAnderson.
Get our L.A. Goes Out newsletter, with the week's best events, to help you explore and experience our city.
You may occasionally receive promotional content from the Los Angeles Times.