Johnny Carson's vintage interviews will air on TCM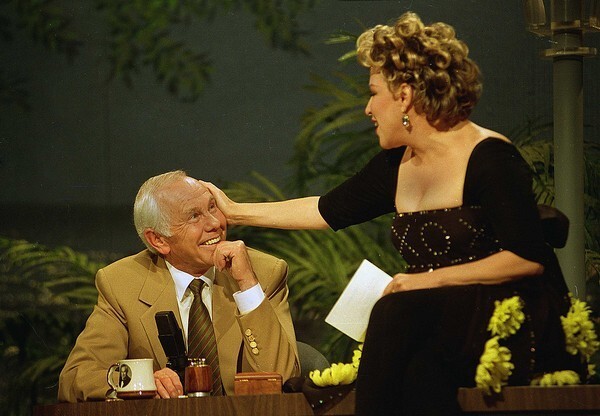 Carson had no guests on his final show, but on the Thursday night program he had
Robin Williams
, who did his usual manic shtick, and
Bette Midler
, who tapped a rare emotional vein on the show when she performed "One for My Baby (and One More for the Road)," which brought a tear to Carson's eye.
(Douglas C. Pizac / Associated Press)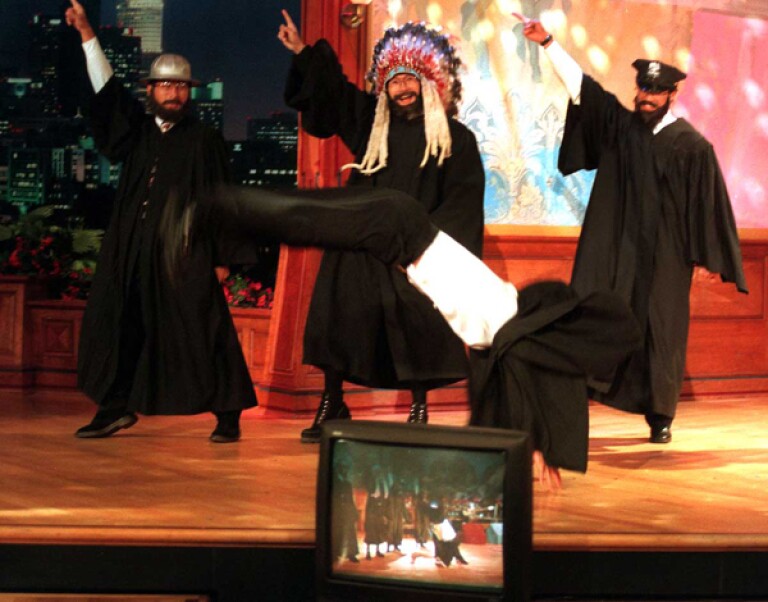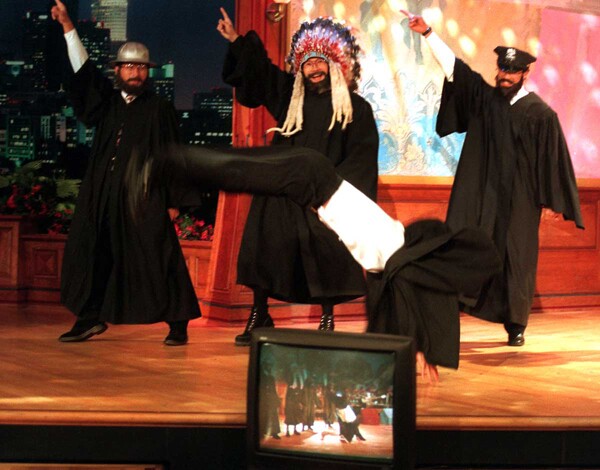 As if the
O.J. Simpson
murder trial weren't enough of a circus,
Jay Leno
added his own bit of spectacle with his group of dancers dressed like Judge Lance Ito. Their routines eventually incorporated a female dancer to play prosecutor Marcia Clark.
(Con Keyes / Los Angeles Times)
Jay Leno
is known to be pals with many of
Hollywood
's powerful people, one of them being
Gov. Arnold Schwarzenegger
. Their friendship started long before the "Terminator" star regularly mangled "Kahlifournia" in official speeches -- though the phrase became a constant for Jay in his Schwarzenegger impersonation -- and has lasted throughout his tenure. It was on display as the governator visited the show despite being under fire to straighten out
California
's financial woes.
(Paul Drinkwater / Associated Press)
After just 59 days in office, President Obama stopped by "The Tonight Show" for a casual chat about the state of the union. The March 19, 2009, event marked the first late-night visit by a sitting president, and the leader of the free world kept things light saying, "I do think in
Washington
it is a little bit like 'American Idol,' except everybody is
Simon Cowell
. Everybody's got an opinion."
(Gerald Herbert / Associated Press)
Jay Leno returned to the "Tonight Show" perch, but his latest tenure hasn't been stellar. Adding to that, he has recently been
feuding with NBC executives
, and talk has turned to the possibility of moving on to heir-apparent Jimmy Fallon.
(Lawrence K. Ho / Los Angeles Times)
Twenty-one years after the King of Late Night retired from NBC's "The Tonight Show," Johnny Carson is back on television, thanks to Turner Classic Movies' new weekly series, "Carson on TCM," which premieres at 5 p.m. Monday.
TCM will air selected interviews this month featuring some of the biggest stars who appeared during Carson's 30 years behind the desk at "The Tonight Show." Most of these interviews have not been seen in their entirety since they originally aired.
Unabashed Carson fan Conan O'Brien, the host of TBS' late-night "Conan" series whose short-lived stint as the host of "The Tonight Show" ended in 2010, emcees the 25 interviews that will be shown. They include a debonair Fred Astaire in a 1979 chat, one of Henry Fonda's last TV interviews from 1980, a wild 1981 encounter with Robin Williams, and a flirtatious Elizabeth Taylor, who made her only appearance on the show in 1992.
PHOTOS: Johnny Carson's interviews - The Legends
The highlights of Monday's premiere episode feature Carson making 7-year-old Drew Barrymore feel so at home in a 1982 interview that she takes out her bridge to reveal her missing front teeth. Tough guy Kirk Douglas lets down his guard when Carson asks him about his affairs in a freewheeling 1988 interview.
Though there have been many successful late-night hosts since Carson's era — including Jay Leno, who took over the reins from Carson and will be relinquishing them next year to Jimmy Fallon — nobody has really duplicated the magic that made Carson, who died in 2005 at age 79, so special.
"The thing about Carson is that he had all the exemplary skills needed for a late-night host," said Ron Simon, curator of the Paley Center for Media in New York City. "Everyone who has followed has skills, but they don't have every skill. Probably the most difficult skill is the ability to interview someone and be passionate about it and elicit responses you haven't heard before. Carson was a master of that."
Charlie Tabesh, TCM's senior vice president of programming, who grew up watching Carson, said that he's developed a mythical aura.
"Nobody could touch him," he said. "He was the only late-night game in town."
PHOTOS - From Steve Allen to Conan O'Brien: Classic 'Tonight Show' moments
One of Tabesh's favorite interviews, airing July 15, is a 1975 visit with Ronald Reagan, who had just completed his two terms as governor of California.
"He's obviously a movie star — we feature him on TCM — but he doesn't talk about movies at all," said Tabesh. "He talks about politics. He's sort of laying his platform [for the presidency] out there. It's interesting to see that as a time capsule."
Peter Jones, who produced the 2012 "American Masters" documentary "Johnny Carson: King of Late Night," approached TCM about doing a series of extended Carson interviews.
"Johnny Carson was a big fan of TCM," Jones said.
"After watching so many of the interviews [for the documentary], I thought people needed to see Johnny doing what he did best," he said.
"What came out of Johnny Carson's mouth was truly a reaction to what he had just heard," Jones said. "He was absolutely in the moment with the person he was talking to. Over and over, people told me when I interviewed them they did forget about the camera, the audience of 500 and the audience of 15 million on TV when they were talking to this guy who made them feel so comfortable."
The series is a joint effort between Jones and Jeff Sotzing, Carson's nephew, who is the president of Carson Entertainment Group, which controls Carson's archive.
PHOTOS: Behind-the-scenes Classic Hollywood
Carson, said Sotzing, never thought his legacy would endure.
"We used to talk about how we could preserve the library, and he told me once, 'Make guitar picks out of it. Nobody is going to watch it.' I said, 'No, they will.' "
After the series concludes, the interviews will be used as interstitial programming on the cable network. And next year, Tabesh promises, "we are going to premiere a new batch of 25."
"Carson on TCM" airs at 5 p.m. Mondays in July on TCM.
Are you an aficionado of iconic Hollywood? Like us on Facebook and go to the Classic Hollywood landing page to get more Times coverage.
---
The complete guide to home viewing
Get Screen Gab for everything about the TV shows and streaming movies everyone's talking about.
You may occasionally receive promotional content from the Los Angeles Times.