Netflix renews 'Orange Is the New Black' for season five. And six. And seven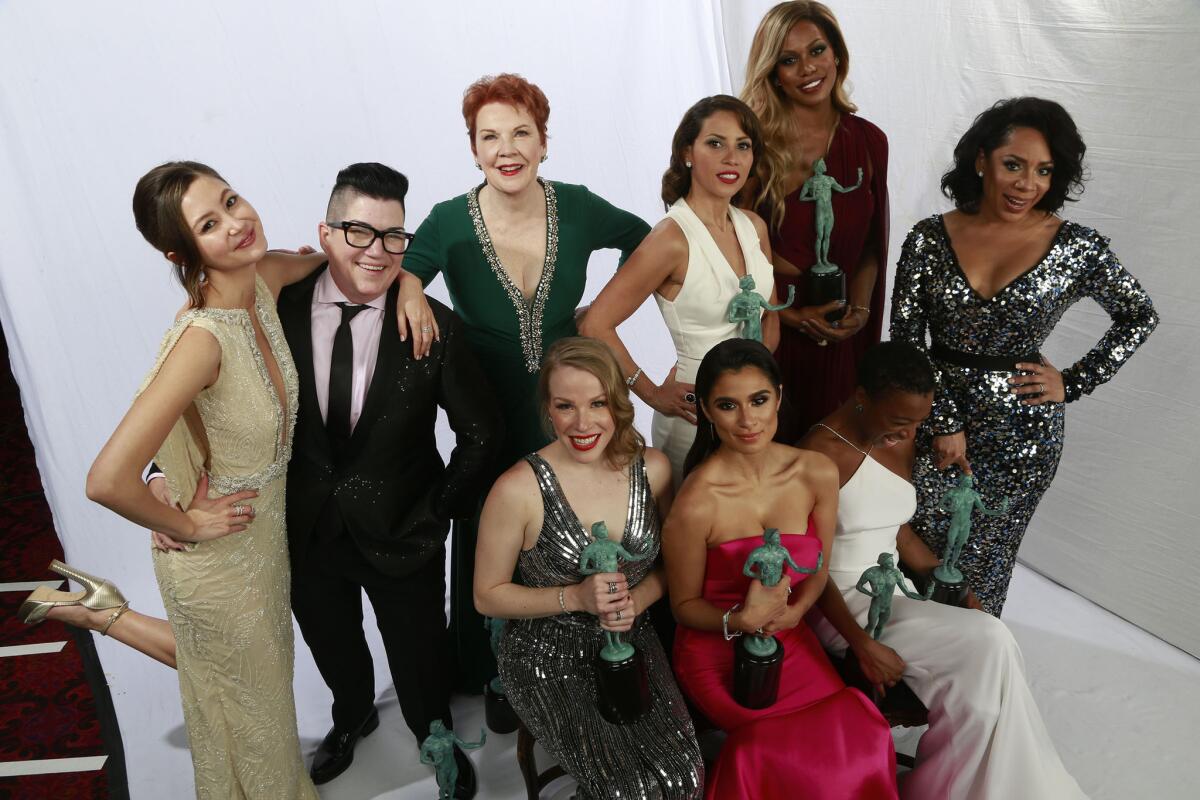 On the heels of the show's second consecutive SAG award for comedy ensemble, Netflix announced Friday that "Orange is the New Black" has been renewed for an additional three seasons.
The series, centered around a fictional Litchfield, Conn., federal women's prison and the inmates therein, has met with great critical acclaim for its first three seasons (with a fourth to debut in June), often held up as a symbol of how beautifully diverse television can be.
The brainchild of creator Jenji Kohan ("Weeds"), as adapted from Piper Kerman's memoir of the same name, "Orange" has garnered Emmy Award nominations for both comedy and drama series, the first series to do so in the history of the awards.
Also announced Friday was the extension of Kohan's commitment with the show, with Kohan staying on as executive producer and showrunner for seasons five, six and seven.
"Three more years! Not quite a political term, but still plenty of time to do some interesting things. In some cultures, 'May you lead an interesting life,' is a curse, but I don't live in those cultures," Kohan remarked in a statement released by Netflix. Kohan went on to express gratitude to both Netflix and Lionsgate before turning her attention to the cast and crew of the series.
"And kudos and gratitude to the stellar cast and crew and writers and producers and editors and musicians and mixers and shleppers... with whom I have the pride and honor of crafting this show. Three more years! Three more years!"
Kohan was not the only one expressing her thanks in the wake of the announcement, with Cindy Holland, vice president of original content at Netflix, saying, "Jenji and her team have produced a phenomenal and impactful series that is both funny and dramatic, outrageous and heartfelt. Audiences around the world have come to love the ladies and men of 'Orange is the New Black,' and we are eager to see where three more seasons will take them."
As heartening as this news is for fans of the series, what remains unclear is what the show will look like as it proceeds. With contract commitments largely kept under wraps for the expansive cast, it's unclear how many familiar faces will remain on the show come season seven.
For other shows this might serve as more of an issue than it does for "Orange." With a regular and recurring cast of dozens, including Taylor Schilling, Uzo Aduba, Kate Mulgrew, Laverne Cox, Selenis Leyva, characters shift in and out of focus with each season, allowing for the series to fold in new cast members or elevate old ones, in a less fraught fashion than other shows might face. The Adjustments are not dissimilar from those of long-running medical dramas such "ER" or "Grey's Anatomy."
Though who will populate Litchfield in the years to come remains a question, the knowledge that "Orange is the New Black" will continue for the immediate future (and beyond) should comfort its audience.
Season four of "Orange is the New Black" will premiere June 17 on Netflix.
Follow me @midwestspitfire
MORE
Super Bowl 2016 commercial challenge: Amy Schumer vs. Helen Mirren, Doritos vs. Mountain Dew
Samantha Bee goes 'Full Frontal' after long 'Daily Show' run
Get our L.A. Goes Out newsletter, with the week's best events, to help you explore and experience our city.
You may occasionally receive promotional content from the Los Angeles Times.