'The People v. OJ Simpson': Cuba Gooding Jr. says 'there's so much that trial shed a light on'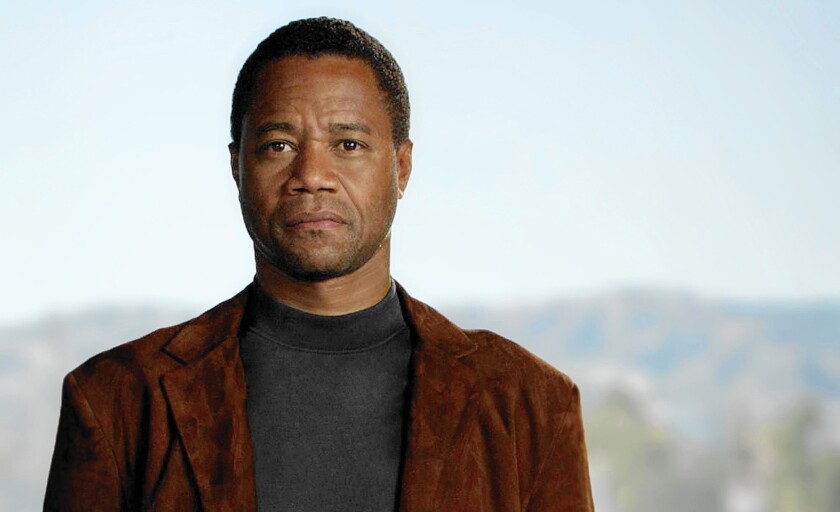 "American Crime Story: The People v. O.J. Simpson" ended its 10-episode season Tuesday night on FX with the polarizing verdict in the "Trial of the Century," in which O.J. Simpson was acquitted of murder. It was a verdict the nation had collectively watched on TV 20 years prior — even the outliers who hadn't tuned in at least knew about it from the around-the-clock coverage due to the media's infatuation with the trial.
And Cuba Gooding Jr., who portrayed Simpson in the drama, isn't surprised by the unsullied interest.
"There's so much that trial shed a light on," Gooding said in a conversation with the Los Angeles Times, alongside costars Sarah Paulson (Marcia Clark), John Travolta (Robert Shapiro) and Courtney B. Vance (Johnnie Cochran). "Seeing all that went into it — how could you not be fascinated?"
Gooding said he had a gathering of people at his home in October 1995 when the verdict was rendered. "We were excited, screaming," he said. "We didn't care if he did it or not. It felt like a victory for us."
Vance said he was in Toronto that morning filming the Hallmark TV movie "The Boys Next Door," alongside Tony Goldwyn ("Scandal"), and experienced the mixed emotions of the verdict firsthand.
"I was in Tony's trailer or his apartment, I can't remember which, when the verdict came down, and I screamed," Vance said. "I was very happy. He screamed, for a different reason. And we looked at each other in horror, and we started talking it out. I really feel like there needed to be forums for people to go to and talk it out. I mean, I've been watching for a year and a half — what do I do know? What does this all mean?"
Appropriately titled "The Verdict," Tuesday's season ender delivered the jury's decision 30 minutes into the episode. The next hour delved into the crushed emotions of the prosecution team, the doubt that was taking over Simpson pal Robert Kardashian, the conflicting views on what the outcome really meant for the black community, and the realities Simpson would face as a free man.
"I was happy when it was all over," Vance recalled. "It was a lot for us all to go through. But I just felt like I had nothing else to give. I had given my all. I had done it all."
Paulson, whose last day of filming was the scene in which Marcia reveals to Christopher Darden (Sterling K. Cooper) that she was raped as a teenager, said saying goodbye to the role and the show was more emotionally devastating than she anticipated.
"When I finished that scene, I cried and cried," she said. "I had a good friend talk to me on the phone that day who said, 'Why don't you say goodbye to everything?' Because I have a very big-time feeling about playing this part and knowing it was the kind of part that I was maybe not going to have again. I didn't want it to be over. I didn't want to not be playing her anymore. I didn't want to say goodbye to her. I didn't want it to be done."
She continued: "I had just finished filming an hour before. I had walked out of my trailer into her office, and everything had been taken down because the next day they were going to start shooting something for 'American Horror Story.' The Jim Morrison picture in the office was now on the ground. All the files, gone. The name on my door, gone. I went in the courtroom, too, and everything had been piled up by our prop master with tags all going back. I got this feeling that I hadn't really been aware of before, which is that it wasn't real. Even to this day, I'll have a conversation with a friend where we'll start talking about the case and I'll go, 'Well, what you don't understand is we didn't have …' WE! I'm like wait a second, we didn't do anything. I'm not actually Marcia Clark. I actually didn't experience this. I was not on the prosecution team. But somehow, molecularly, I had a weird connection."
The verdict scene was the final one Gooding filmed. And a tradition he has long rebuffed became something he regretted not partaking in: applause from the crew when an actor wraps their time on a show.
"I usually hate when they applaud — I don't want to do that because then it really feels like work, and when I perform, I want it to be like real life," Gooding said. "I got my wish that day because my driver was like, 'Cuba, I'm here to pick you up.' I was like, 'OK, let's meet at my trailer.' My driver called and said he was there and I got in the car and drove away. And then I was like, 'Wait!!!! I didn't get an applause. This is it. It's over.'"
Travolta, who surprised many with his bold portrayal of Simpson defense attorney Robert Shapiro, said all he can remember about the final day of filming was "'Wow, it's over. I can't quite believe it.' I mean, it had been such a jolt for me. A true highlight. I had never had more pleasure acting with people in my life. These are people who love to act. The satisfaction of this experience was truly a gift."
MORE:
The O.J. Simpson murder trial, by the numbers
Simpson Not Guilty: Drama Ends 474 Days After Arrest
The essential 'The People v. O.J. Simpson' FAQ: Inside the L.A. Times Archive
---
The complete guide to home viewing
Get Screen Gab for weekly recommendations, analysis, interviews and irreverent discussion of the TV and streaming movies everyone's talking about.
You may occasionally receive promotional content from the Los Angeles Times.