Queen Latifah returns to daytime talk-show arena, intends to stay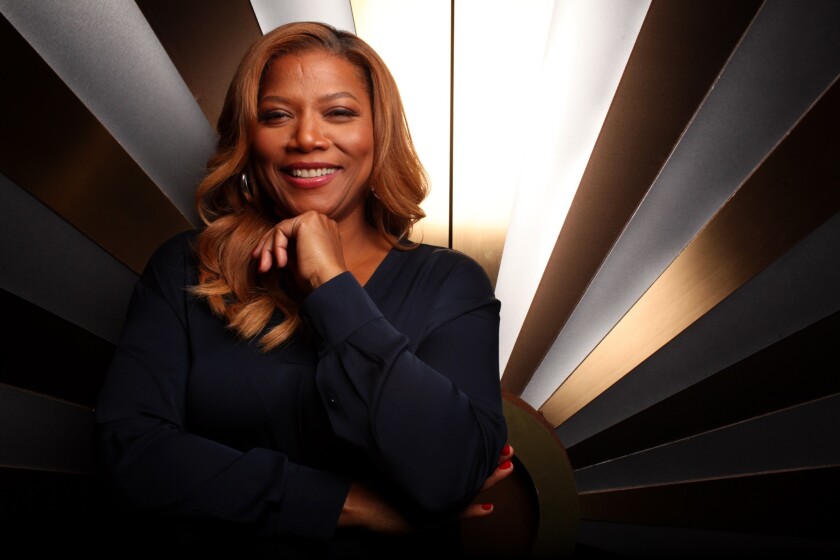 Queen Latifah's resume includes rapping, singing, acting, and now, daytime talk show host. We look back at the multi-talented entertainer's 20-year career.
(Francine Orr / Los Angeles Times)
Queen Latifah on "The Queen Latifah Show" with actor Will Smith, who also serves as the show's executive producer. The daytime talk show debuts Monday, Sept. 16, 2013.
(Associated Press)
Latifah performed a blend of soul and jazz when she headlined the Hollywood Bowl in July.
(Lawrence K. Ho / Los Angeles Times)
Latifah starred alongside Dolly Parton, left, in the musical film "Joyful Noise."
(Van Redin / Warner Bros.)
Latifah starred with fellow rapper-turned-actor, Common, in the romantic comedy "Just Wright."
(David Lee / Fox Searchlight Pictures)
Latifah, left, Diane Keaton and Katie Holmes starred in the comedy-crime film "Mad Money."
(Melissa Moseley / Overture Films)
Latifah, left, and fellow singers-turned-actors Jennifer Hudson and Alicia Keys appeared in the drama "The Secret Life of Bees," based on the bestselling novel of the same name.
(Sidney Baldwin / Associated Press)
Emma Thompson, left, and Latifah appeared in the quirky fantasy comedy "Stranger Than Fiction."
(Ralph Nelson / Columbia Pictures)
Latifah starred in the "Barbershop" film franchise, and the 2005 spinoff "Beauty Shop" with Mena Suvari, center, and Andie MacDowell.
(Sam Emerson / MGM Pictures)
Latifah performed "Lush Life" and "Baby Get Lost" off her 2004 pop and jazz record, "The Dana Owens Album," at the 47th Grammy Awards.
(Robert Gauthier / Los Angeles Times)
Latifah earned a BET Award for her performance in "Bringing Down the House," which also starred Steve Martin.
(Sam Emerson / Touchstone Pictures)
Latifah earned an Oscar nomination for her supporting role as "Mama" Morton in Rob Marshall's on-screen adaptation of the musical "Chicago."
(David James)
Latifah, top left, starred in the Fox comedy series "Living Single."
(Fox)
Latifah earned critical praise -- and an Independent Spirit Award -- for her role as a bank robber in the crime-thriller "Set It Off."
( D.Stevens / New Line)
Latifah released her first album, "All Hail the Queen" in 1989 when she was 19.
(File photo)
Since bursting on the showbiz scene in 1989 with a no-nonsense attitude and a fiery rap delivery, Queen Latifah has demonstrated a knack for versatility and self-transformation.
The 43-year-old has landed in the winners' circle as a singer, hip-hop artist, producer and actress — even scoring an Oscar acting nomination for "Chicago" — while simultaneously pursuing her off-screen interests as an entrepreneur, including a clothing and cosmetics line.
One of her few career blemishes was a 1999 stab at hosting a talk show. The syndicated daytime series lasted only two years, putting Latifah on a long list of celebrities with failed gabfests, including Martin Short, John McEnroe, Magic Johnson, Tony Danza and Megan Mullally.
But in the world of "Queen La," if at first you don't succeed, talk, talk again.
CRITIC'S PICKS: What to see, hear, do and more
Entering a highly competitive arena dominated by Ellen DeGeneres, Steve Harvey and Wendy Williams, the entertainer launched a new syndicated talk show Monday that is a total makeover of her previous effort. "The Queen Latifah Show" is being trumpeted as one of the new season's brightest hopes and boasts a well-heeled support group.
Will Smith and Jada Pinkett Smith are among the show's executive producers. Its massively elaborate, inviting set is designed by rocker Lenny Kravitz. And the show is being produced by Sony Pictures Television, which is behind such hits as "Jeopardy" and "Wheel of Fortune."
Most important, Latifah says she is not approaching the show as a "been there, talked that" venture, something to fill her time between films or concert performances (she recently headlined at the Hollywood Bowl). The new enterprise, to be a mix of celebrity interviews with inspiring non-celebrity segments, is her central focus.
The producers along with her team are "the right combination to make a show that I want to do for the next 10 or 15 years or so," said Latifah, whose real name is Dana Owens. "That's how I had to look at it, because I'm not really coming into this arena to just do it for a year or two and move on. This is something I really want to do."
Displaying a disarming warmth and openness as she sat in a director's chair outside the huge soundstage on the Sony Pictures lot, Latifah said that diving back into the talk-show field is the right move. The previous show was too taxing and not light enough for her sensibilities, she said.
"I've grown, I'm more mature," she said. "Unlike before, now it's a set intention of what I really want to do. I'm in a different place in my life. I had a lot more zipping around the globe to do back then. I'm a bit more settled now, and I've learned a lot in life that has brought me to a place where I feel more comfortable in my skin."
However, don't expect the entertainer to be as open as other hosts who share the most intimate details of their private lives with the audience.
BUZZMETER: Pundits make their Emmy picks
"I've gotten used to the fact that people are always going to be fascinated by that kind of stuff, especially if you're famous," she said. "I live actual life, and I don't feel the need to throw my life out there like other people. You have to decide what's comfortable for you. With this show, I want to laugh every day, create a rapport with the audience and be on long enough so that we really get to know each other."
Her show, Latifah said, will be more of a variety show than a straight-up talk show: "I am different from those other hosts who come from comedy or radio. I can sing on this show, I can act and do some of the sketches, bring on talent to talk about everyday stuff that people want to talk about, ladies in particular. The most important part is to have some fun at the end of the day."
She is more than aware of the challenges ahead. The battle for daytime viewers has become more fierce than ever since Oprah Winfrey's show departed two years ago. DeGeneres has established a solid foothold, while shows hosted by Wendy Williams, Steve Harvey and Maury Povich have also connected with a large and loyal viewership, especially among African Americans.
PHOTOS: Hollywood Backlot moments
On the other hand, Katie Couric, who entered the arena last year with a huge promotional push, has had a rougher time maintaining momentum with her self-titled show.
Pinkett Smith, who co-starred with Latifah in 1996's "Set It Off," said, "Latifah is so accessible and so warm. I don't really see the competition being an issue at this point. What we're doing is not what everyone else is doing. We're developing a warm and inviting place that I don't think you see on daytime."
With a demographically desirable fan base that overlaps between mainstream, rap and hip-hop audiences, Latifah had been pursued by programmers to return to daytime ever since Winfrey left to start her own network. But at that time, memories of the less-than-pleasurable experience of her previous effort were still too fresh.
"For me, it really wasn't where I was at the time," she said. "I didn't think the right people were involved for it to be really appetizing. It was really just money, money, money talk. And I don't want to be compared to Oprah. I'm not her, and she's still her. I needed to know that if I were to do a show like this, people were able to look at Queen Latifah, who I am, my uniqueness.
"I would love to be the No. 1 talk show on television, absolutely," she added. "But I want to do it being myself."
---
Inside the business of entertainment
The Wide Shot brings you news, analysis and insights on everything from streaming wars to production — and what it all means for the future.
You may occasionally receive promotional content from the Los Angeles Times.