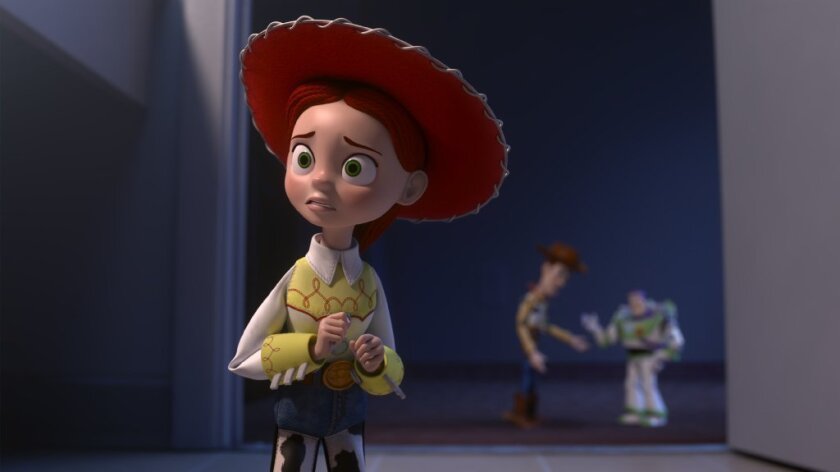 And so the three-headed holiday season begins, with "Toy Story of Terror," a Halloween special wrought from the well-known Pixar-ahem-Disney franchise -- a franchise, it hurts my brain to realize, that is nearly 20 years old. It premieres Wednesday at 8 p.m. on ABC, another region of the Magic Empire.
No expense, horses or gigabytes have been spared in the making for its being merely a TV show -- though I assume all the relevant codes reside on a supercomputer somewhere, waiting to bring the characters somewhat economically back to life.
Tom Hanks and Tim Allen and Joan Cusack and Don Rickles and Wallace Shawn and Timothy Dalton and Kristen Schaal return as Woody and Buzz and Jessie and Potato Head and Rex and Pricklepants and Trixie, joined by new-to-the-series Pez Cat (Kate McKinnon), Pocketeer (Ken Marino) and Combat Carl (Carl Weathers), whose characteristics are encoded in his name. (It's a name you will hear a lot, as he refers to himself in the third person.)
PHOTOS: Hollywood backlot moments
A relatively gentle riffling through the Big Book of Horror Tropes, it begins in the classic way: a road trip on a rainy night -- Woody and the gang, now the beloved property of Bonnie, are along for the ride -- a flat tire, an unexpected stop at a presumably welcoming place. ("A roadside motel is one of the most common locales for a horror film," says pedantic stuffed hedgehog Pricklepants, who keeps up a meta-commentary throughout, in the manner of "Scream.") Stephen Tobolowsky plays the desk clerk; did a chill just run down your spine?
When Mr. Potato Head -- foolish plastic potato! -- leaves the safety of their motel closet to check out the "amenities" (free shampoo, etc.) in the dead of night, he kick-starts a genre-familiar sequence of separation and disappearance and things moving about in the dark. Themes from earlier "Toy Story" movies are also recycled, which should bother no one.
Although Woody and Buzz get their screen time -- with Jessie, they are the "Jules et Jim" of computer-animated cartoons about sentient playthings -- it is the plucky cowgirl, facing her fears, whose story this is.
---