Critic's Pick: Thu Tran, 'Bad Moon,' Whistler, Tim & Eric, 'The Roosevelts'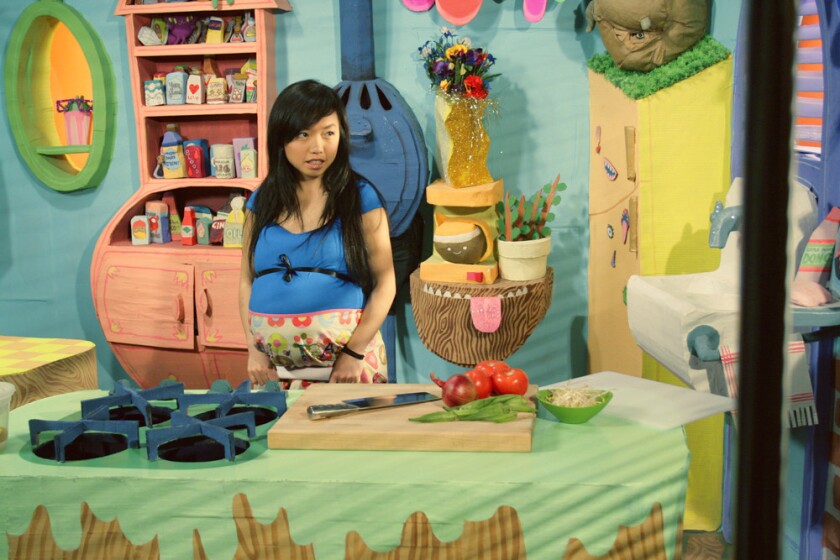 Thu Tran (slight return) (The Internet, mostly). Thu Tran, the mistress and co-architect of IFC's "Food Party," a cardboard-and-glitter, puppets-and-grub series at the top of my top list back when it was running in 2009 and 2010 -- and still is, whenever I see it again -- fell off my radar after she left the conventional "air." But as things transpire in the Webbed world, I happened to catch a glimpse of her on Twitter the other day -- mentioned as the upcoming guest presenter of Barfcade, a food-themed game jam culminating in a streaming live event Sept. 21 -- and now, via various channels and sites I could have been looking at all along, sensibly including thutran.com, I have caught up a little. She has been busy making things -- her own art videos, music videos for others, a just-finished interactive video wall for Case Western Reserve University. Let's take a look.
Earlier this year, MTV Other, an impolite Internet iteration of the Viacomathon, posted six episodes of her Web series "Late Night Munchies," whose title is a clue to its general air of derangement. If you are not already a fan, I wouldn't recommend you start here; it has something of the substance and flavor of "Food Party," if not its discipline, ambition, budget, magic or puppets, but it is far more visually and viscerally disturbing. (The images are manhandled in post-production.) As in "Food Party," Thu hosts in her happy, stilted style ("Hello, people who are ages teen through grandma" she says at the outset of one episode); prepares or seems to prepare strange, unpalatable dishes; welcomes guests onto a colorful set; and every so often loses her mind. There are also whimsical, semi-coherent fake commercials (an ice cream deodorant, a "shellphone," some sort of reflective potato chip) and "food dares," none of which I have it in me to describe here, though one involves violating the "five-second rule." There are crafts: Thu and Har Mar Superstar -- the guests are all out-of-the-mainstream musicians -- make cigarette holders from hot dogs; Thu and Nimai Larson give each other makeovers with food: "We're going to the club, we want to look hot for the guys there."
The more exciting discovery, to me, are the 17 videos (18, counting the trailer) that make up the wonderful "The Misguided Guide to the Origin of Everything." These cartoons, mostly from 2012 and in Thu's own lovely, storybook hand, combine a little bit of animation with a lot of two-dimensional puppetry and purport to answer questions scientific, practical and metaphysical, including "What Is Time?," "Why Do Feet Have Arches?" "How Do You Tie Your Shoes?" and "Who Am I?" The answers are complicated and fabulous, personal and unpredictable. Thu appears on camera to introduce some of them. Though it is superficially less like "Food Party," it is spiritually and aesthetically closer to it than "Munchies." I'd say that, as a group, they're fine for children of a not overly sensitive nature, and most don't require even that caveat. The same would apply to their parents.
"High Moon" (Syfy, Monday). You can't sell 'em all. Bryan Fuller ("Hannibal") is the producer and co-writer, with Jim Danger Gray, of this feature-length pilot, not picked up for series by Syfy but airing this week as a TV movie or "event." In 2012, a similar end befell "Mockingbird Lane," Fuller's reboot of "The Munsters," made for Syfy's corporate cousin NBC, and while it's too bad that there won't be a series based on this sample -- because I WOULD WATCH IT -- it's better to share these things, even with a near total lack of promotion, than to bury them under a papier-mache rock on the Universal back lot. I haven't made "Hannibal" a habit, but Fuller's "Pushing Daisies" and "Wonderfalls" are among my favorite shows ever, and "High Moon" has something of their mix of surreality, theatricality and real human feeling.
Based on "The Lotus Caves," a 1969 juvenile sci-fi novel by John Christopher, it has been refitted for grown-ups while keeping the central figure of a moon flower and making certain stylistic nods to the novel's era of origin: It's a bit of a future-mod psychedelic pop pastiche, a little bit "Modesty Blaise," a little bit "Mr. Freedom," tricked up with emphatic inelegant metaphors: "My job is to separate the chaff of deceit from the wheat of truth and that man is a bushel of unshucked grain"; "Even if he has a little bacon on the side that doesn't make him Eggs Benedict Arnold"; "Trees don't grow on the moon so whatever you're barking up is wrong." On Fuller and Gray's moon, different countries have set up their own moon bases/proxy nations to mine the stuff that now powers everything back home; and tourists are expected soon to a new moon resort. (They will never get there now.) There are Indian temples, Russian spies, Japanese mecha, floating eyeballs, detachable hands, a brain bomb, John Philip Sousa and the cutest camouflage fabric you've ever seen. Fuller is one of a relatively small number of television producers with a recognizable aesthetic, a vision; what he does is at least worth a look, whatever the industry makes of it. And it does kind of work as a stand-alone film, if you squint a little.
"James McNeill Whistler and the Case for Beauty" (PBS, Friday). No review copy has made it to me, and the dramatic re-creations in the trailer frighten me, as dramatic re-creations in documentary films tend to do -- it's like you being afraid of spiders, if that's your bad thing. But I will still go ahead and recommend this documentary on the American expatriate painter, wit, troublemaker, artist for art's sake -- and, if we are to side with John Ruskin (whom Whistler sued claiming libel) "coxcomb" -- just on the likely chance that they will show you his work, which I love in its more naturalistic and more abstract modes, and because he's worth knowing about. Whistler goes way beyond that super-iconic portrait of his mother, whose more revealing main title is "Arrangement in Grey and Black, No. 1." (The painting at issue with Ruskin was called "Nocturne in Black and Gold: The Falling Rocket"; his musical titles foreshadowed naming conventions of the coming century.) Meanwhile, I direct you to this friendly guided tour of a recent exhibition, "An American in London: Whistler and the Thames," and a Monty Python sketch in which the artist, played by John Cleese, trades quips with Oscar Wilde (Graham Chapman) and George Bernard Shaw (Michael Palin). It does not count as dramatic re-creation.
"Tim and Eric's Bedtime Stories" (Adult Swim, Fridays). Bedtime stories to keep you up. Tim as in Heidecker and Eric as in Wareheim, who earlier left the gifts of "Great Show, Awesome Job" and "Tom Goes to the Mayor" on your TV doorstep, return with an anthology of stories calculated to leave you … pretty messed up, really. The two I've seen, while clearly comedies, are also actually disturbing. (They are slickly made; this is not in the low-fi tradition of their earlier shows.) In "Hole," family-man Heidecker plays the fatally pliable new neighbor of self-appointed cul-de-sac king Wareheim. "Toes" is set in a world, otherwise like ours, where people routinely have their toes removed. Bob Odenkirk, the most valuable man in basic cable, is a doctor who specializes in it, clumsily; Gillian Jacobs is a patient; M. Emmet Walsh, in a kind of tribute to M. Emmet Walsh, is a "very old detective" (named Emmet). The show airs just after midnight Fridays, which is to say, before you go to bed on Thursday.
"The Roosevelts" (PBS, Sunday to Saturday). Ken Burns' seven-part,14-hour ramble through the connected lives of Theodore, Eleanor and Franklin Roosevelt, the second being the niece of the first and the wife (and cousin) of the third, who is also the cousin of the first. Two of them were wildly popular presidents unafraid to make enemies; the third, as first lady and later, a beloved force for social good, who also brooked no nonsense. My long review is here.
Robert Lloyd Tweets just for @LATimesTVLloyd
---
From the Emmys to the Oscars.
Get our revamped Envelope newsletter, sent twice a week, for exclusive awards season coverage, behind-the-scenes insights and columnist Glenn Whipp's commentary.
You may occasionally receive promotional content from the Los Angeles Times.