From the Archives: Tim Conway's life off script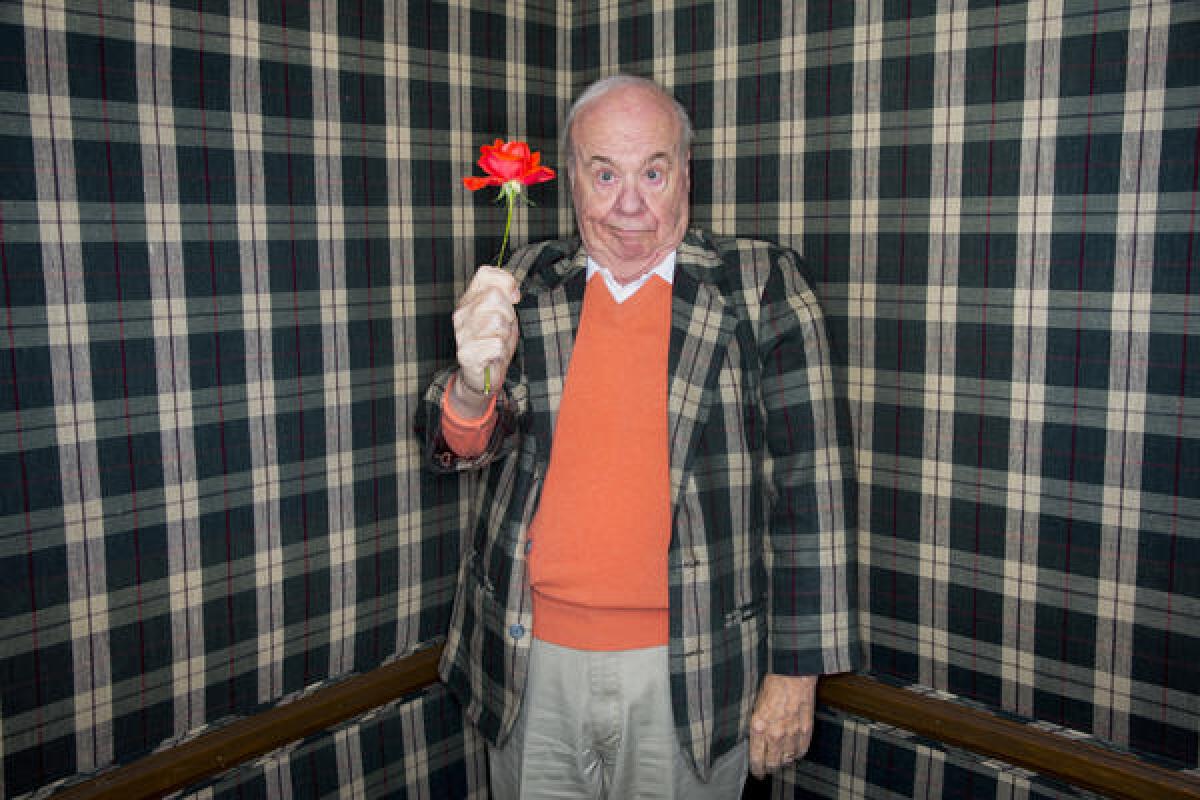 Tim Conway, the comedian best known for his time on "The Carol Burnett Show," died Tuesday at 85. He sat down with The Times' Susan King in 2013 to discuss his early career and his work on "Carol Burnett." This interview originally ran on Nov. 11, 2013.
Most celebrity autobiographies are filled with drama, tragedy and pathos. But Tim Conway's memoir "What's So Funny? My Hilarious Life," which he co-wrote with Jane Scovell, is warm, witty and often laugh-out-loud funny.
It's what you would expect from the six-time Emmy-winner who came to fame in the early 1960s on ABC's "McHale's Navy." He became a star on CBS' "The Carol Burnett Show," creating such memorable characters as Mr. Tudball and the Old Man, while making the cast — especially Harvey Korman — melt into hysterics with his antics.
Conway, 79, was born funny. "I am not really qualified to do anything but screw up," he notes.
An only child, he grew up during the Depression in the small town of Chagrin Falls, Ohio. His parents, Dan and Sophia, were eccentric but loving. Though shy, Conway began making his classmates laugh and that continued in college and the Army. Eventually his quirky, off-the-wall humor found a home on Cleveland television in the late 1950s.
He became a regular in the early 1960s on ABC's "The Steve Allen Plymouth Show" and "The New Steve Allen Show" before being cast as Ensign Charles Parker on the 1962-66 slapstick series, "McHale's Navy" with Ernest Borgnine.
Conway guest starred several times on "The Carol Burnett Show" before becoming a regular in 1975. He won four Emmys for his work as a writer and performer on the show.
He's also picked up guest star Emmys for his 1996 appearance on ABC's "Coach" and his 2008 turn as Bucky Bright on "30 Rock."
Conway and Burnett are reuniting Tuesday evening for a Writers Bloc conversation at the Saban Theatre in Beverly Hills and on Wednesday, he will be signing his book at Barnes & Noble at the Grove.
Conway, who lives in Encino, recently talked about his book and memoir.
Your mother was Romanian. And in fact, you used her accent for your character of Mr. Tudball on "The Carol Burnett Show."
She made slipcovers. I guess in Romania the first thing you learn to do is sew. You make your own clothes and cover your couch. I used to follow her around. I can actually make slipcovers.
You were married and having a great success on "McHale's Navy," but still your mother thought you needed security and wanted you to return home and get a job in a hardware store.
Yes. She said why don't you come back and see if you qualify for that job. I said to her have you been watching television for the past two or three years?
Then there was your father's sister, Madge, who lived in New York. She wasn't very receptive when you and your wife came to visit her.
We knocked on the door and I said, "Madge, I am Sophia and Dan's kid and I would like to say hello to you from my father." She said, "OK, you did. Thanks for showing up." I also bought her a small TV, which she took back to Sears and said she didn't want a TV because somebody would steal it.
When you were in the Army in the early 1950s stationed in Seattle you ran into trouble one night on guard duty.
When the Army gives you a rifle, they expect you to take care of it and go to bed with it! I was on guard duty one night and I decided to take a little nap on the back of the car. So I got into the car and fell asleep. I woke up and I thought, "Oh my God. It's 4 in the morning and the lieutenant is going to be coming around to check." I ran to my post and I realized I had forgotten my rifle in the car. So I looked in the garbage and there was this long neon tube. So I took that. As the lieutenant came around the corner. I said, "Halt." I am pointing this bulb at him and he said "What is that?" I said, "It's a light bulb and if you come any closer, I'll turn it on." He had very little sense of humor. I spent an extra two weeks [in the service] painting rocks in Seattle.
You guest starred on "The Carol Burnett Show" for years before you became a regular.
They used to do 33 shows a year on Burnett. She said why don't you just be a regular on the show? I said I will tell you what. I will do 32 shows and leave one week open at the end, so I can guest on somebody's show. I always guested on her show, but I did have the right to go somewhere else. My job on every show was to break everybody up.
Viewers would turn in every week just to see how you would break up Harvey Korman. Did you know him prior to working on the show?
Not really. That is where I met him. Carol said you are going to be working with Harvey. She took me down to the basement where he was handcuffed to a pipe down there! I said I am going to be working with you. And he said, "Oh great, a nobody is going to be working with me." We remained friends until he left us.
Isn't it true that you would perform your sketches as written when you did the dress rehearsal, but then ad-libbed when you taped the actual episode in front of the studio audience.
I would save everything for the air show.
So Korman had no idea on the infamous "Dentist" sketch that your character was going to accidentally shoot his hand with Novocain and still try to work on his teeth.
Harvey never saw what I was going to do until he was actually doing the sketch. As a matter of fact in the dentist sketch you can actually see Harvey wet his pants from laughing.
----------------------------------
Writers Block Presents Tim Conway With Carol Burnett
When: Tuesday, 7:30 p.m.
Where: Saban Theatre, 8440 Wilshire Blvd., Beverly Hills
Tickets: $25
Information: https://www.writersblocpresents.com
Barnes & Noble book signing
When: Wednesday, 7 p.m.
Where: 189 the Grove Drive, Suite K 30
---
Get our L.A. Goes Out newsletter, with the week's best events, to help you explore and experience our city.
You may occasionally receive promotional content from the Los Angeles Times.