Networks send SOS to Michael J. Fox, Robin Williams and other stars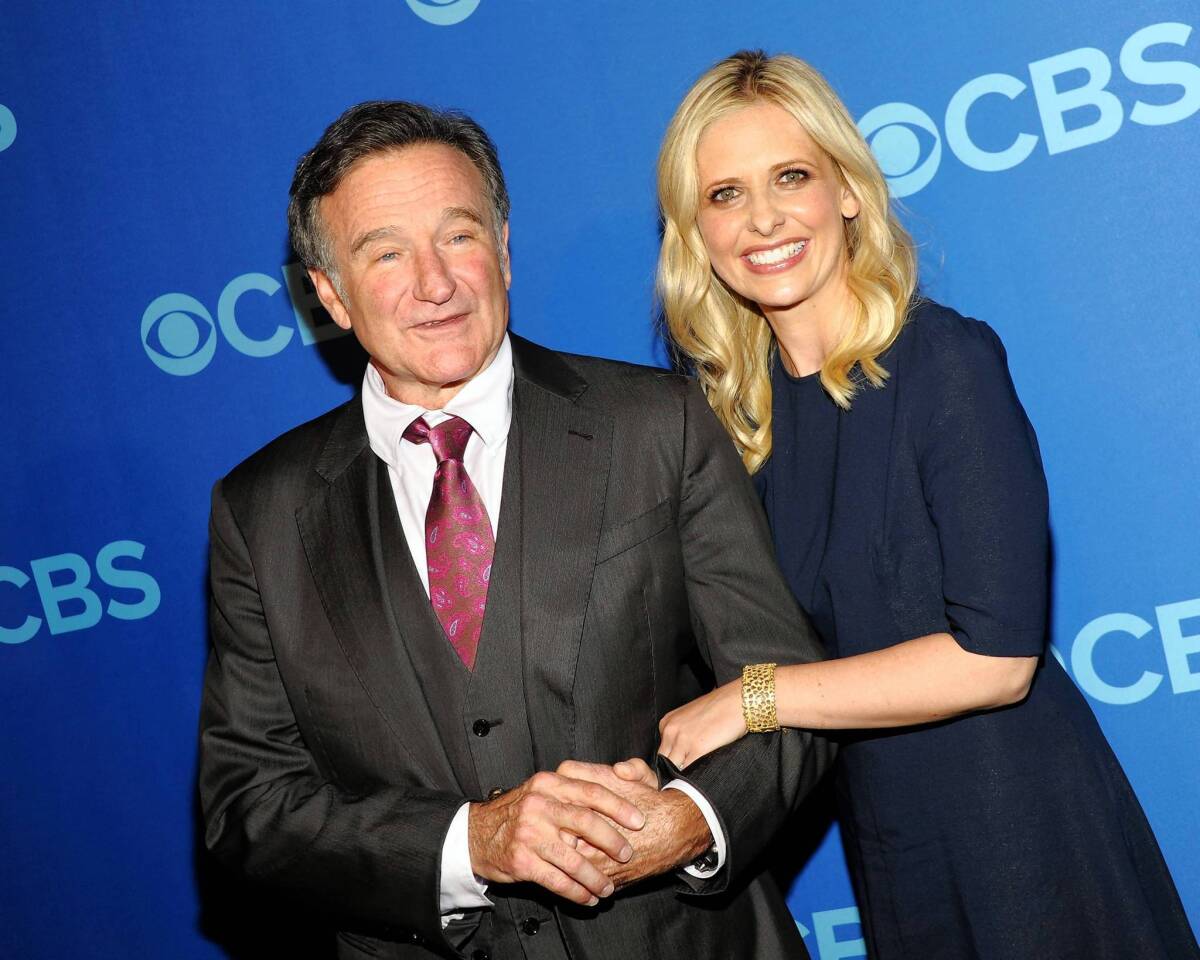 If viewers are losing interest in broadcast TV, what can lure them back? Executives hope they have an answer: stars.
Lifting the curtain on their 2013-14 schedules at the "upfronts" in New York this week, the networks behaved like smartphone-toting fans crashing a red carpet. Stars they craved, and stars they got:
There was James Spader, the former "Boston Legal" headliner tapped for NBC's crime thriller "The Blacklist." Greg Kinnear plays a troubled lawyer on Fox's midseason drama "Rake." Andy Samberg and Rebel Wilson are favorites among millennials and now Fox is touting their comedies "Brooklyn Nine-Nine" and "Super Fun Night." Sitcom wizards of yesteryear Michael J. Fox and Sean Hayes? NBC has built vehicles for both.
CBS programming chief Nina Tassler crowed about "the biggest 'get' of the season" — Robin Williams, who rocketed to fame in "Mork & Mindy" a generation ago, returning to TV as an eccentric ad exec in "The Crazy Ones."
Williams, a reminder of the networks' glory days, joked to ad buyers about how much things have changed: "It's been a long time since I've been on TV, 30 years, when there were much simpler upfronts — and a mound of coke," he said.
Of course, there isn't any boldface name powerful enough to resurrect that era, and TV executives know it. Not a single hit emerged this season, and the audience trends are dismal, with viewers defecting to cable, Netflix, Amazon and their smartphones. Reliable ways of measuring viewers for new media — and hence adjusting ad rates accordingly — have proved a long time in coming.
Executives are so panicked about the future that they devoted large portions of their presentations in New York barraging ad buyers with pitches about their digital strategies, including ABC's new streaming app, ABC Watch, that allows viewers to see live broadcasts on their devices. But even that development may get upstaged by Aereo, Barry Diller's service that will allow viewers with a tablet or phone to catch live signals from any network.
The looming threats have sparked defensiveness in some quarters, as the industry struggles to maintain its primacy in a world crammed with new media.
"Broadcast is not an old medium being left behind by new ones — far from it," CBS chief Leslie Moonves declared to media buyers Wednesday at Carnegie Hall. "We're at the center of it all.... [The] media landscape … would be barren without us."
At the very least, there would be a lot less to watch. The four major broadcasters will unleash 13 new comedies and nine freshman dramas this fall, with more to come in midseason. "Repeats" has become a dirty word — the audiences for them are shrinking to hash-mark ratings territory — so executives are focused on keeping the pipeline filled with as many fresh episodes as possible.
VIDEO: Fall 2013 TV preview trailers
The fixation on stars may be a way of marking time until the dust settles in the industry. The new series seem for the most part to promise familiar faces in familiar settings and shun the prickly antiheroes and high-concept plotlines increasingly found on cable.
Inspired by ABC's smash "Modern Family," programmers are heavily pushing one of TV's oldest genres, the family comedy. NBC's "Welcome to the Family" owes a direct debt to its ABC progenitor, with bickering Anglo and Latino clans blending into one oversize ensemble.
Fox, the former star of "Family Ties" and "Spin City," will play a TV newsman coping with fatherhood and Parkinson's disease — not a typical comic pairing — on NBC's "The Michael J. Fox Show." Hayes will play a newly divorced gay dad on NBC's "Sean Saves the World."
ABC, trying to rebrand Tuesdays as a comedy night, will hunt for living-room jokes in "The Goldbergs" and "Trophy Wife." And CBS has "The Millers," which stars Margo Martindale and Beau Bridges as parents who torment their recently divorced son, played by Will Arnett.
With the exception of "The Michael J. Fox Show" — featuring a star who has witnessed little audience rejection — media buyers greeted the new comedies with polite applause during the formal presentations this week.
The reaction was not much more enthusiastic on the drama side, although a couple of breakouts grabbed attention. Writer-producer Joss Whedon, a deity among fanboys since his "Buffy and the Vampire Slayer" days, is back with ABC's "Marvel's Agents of S.H.I.E.L.D.," about the fictional law-enforcement agency in the comic-book superhero universe.
"Given the success of the Marvel film franchises and 'The Avengers' in particular, it's tough not to bet on this spinoff," Brian Hughes, a senior vice president at ad firm MagnaGlobal, wrote in an analysis this week. But the show's high cost will increase the pressure to deliver high ratings, he added.
NBC is giving "Blacklist" — with Spader as a master con who mysteriously turns himself in to help the authorities solve other crimes — the plum spot after "The Voice" on Mondays. The network is also banking on two more stars in Friday costume dramas: Jonathan Rhys Meyers in a retelling of "Dracula," to be replaced in midseason with John Malkovich as the pirate Blackbeard in "Crossbones." Both are planned as limited series, at least initially.
With "American Idol" and "Dancing With the Stars" getting sharply lower ratings, reality TV seems to have staggered into one of its occasional fallow periods. ABC is trimming back "Dancing" to one night instead of two. Fox is in the middle of remaking its "Idol" judging panel for the second straight year.
"The singing competition show has reached saturation," noted Brad Adgate, an analyst for ad firm Horizon Media. Nor do the networks seem eager to trot out new unscripted concepts. Reality "was glossed over" at the presentations, Adgate added.
Given online replays and the use of DVRs in roughly half of U.S. TV homes, prime-time schedules play a somewhat diminished role in determining the fate of series. But there are still key battlegrounds. One is 10 p.m. Mondays, where ABC's durable crime drama "Castle" will square off against NBC's "Blacklist" and CBS' latest Jerry Bruckheimer thriller, "Hostages," starring Toni Collette.
Thursdays will be a comedy slugfest between CBS and NBC, with Williams' "Crazy Ones" battling Hayes' "Sean Saves the World" at 9 p.m. In an unusual twist, both shows will also have untested freshman comedies as lead-ins, making it even harder to predict a winner. But CBS has a strong advantage because its overall lineup draws many more viewers.
But for the new TV season, "winner" might prove a relative concept. The industry is on the verge of a precipice, and major changes are on the way. Executives will have to respond — in future seasons. For now, however, they are content to gaze upon the stars.
---
Get our L.A. Goes Out newsletter, with the week's best events, to help you explore and experience our city.
You may occasionally receive promotional content from the Los Angeles Times.