Cannes' accessory du jour: the '#Bring Back Our Girls' sign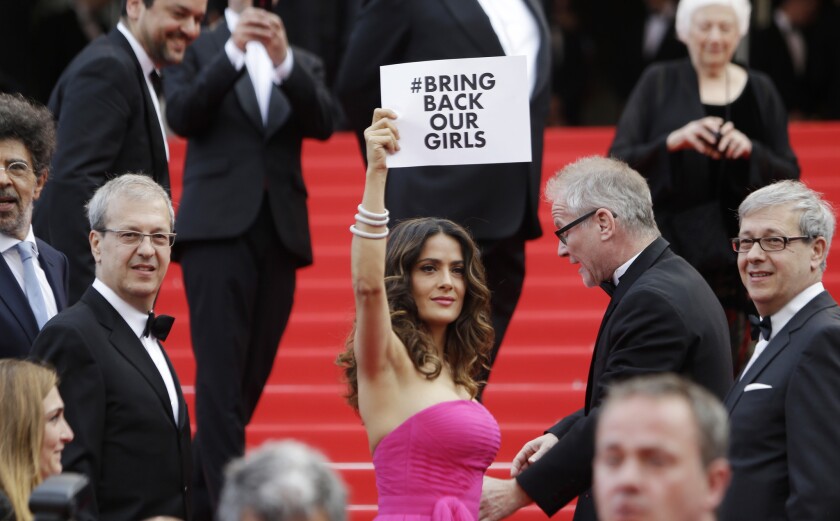 Usually, hitting the red carpet wearing -- or carrying -- the same thing as another celebrity at the same event is a fashion faux pas. But many of the high-profile attendees at the Cannes film festival have chosen to accessorize their fashionable finery with the exact same item: a white piece of paper printed with "#Bring Back Our Girls." Part of a campaign calling for the release of nearly 300 abducted Nigerian schoolgirls being held by Islamic extremist group Boko Haram, those spotted clutching, holding and waving aloft the signs included Sylvester Stallone, Kellan Lutz, Mel Gibson, Antonio Banderas and Salma Hayek (whose strapless pink dress was Saint Laurent, according to reports we've read -- which would be appropriate as she was attending a screening of the "Saint Laurent" biopic.).
Among the other stylish happenings at Cannes? A party thrown by Giorgio Armani and Vanity Fair editor Graydon Carter. Described as "an intimate cocktail party and dinner," the soiree took place at the Hotel Du Cap-Eden-Roc in Antibes. Among the notable attendees -- dressed in Armani naturally -- Cate Blanchett and Naomi Watts in Giorgio Armani Privé dresses and Kellan Lutz, Russell Crowe and Harrison Ford representing the men's side in Giorgio Armani suits.
Up the coast from Cannes, French luxury brand Louis Vuitton showed its 2015 cruise collection in Monaco. According to fashion industry trade paper WWD, it was the first -- and last -- time the principality "would allow a fashion show to be held on the square in front of the Prince's Palace of Monaco, home to the Grimaldi family for more than 700 years." [WWD, subscription req'd.]
Closer to home, well-heeled celebrities strutted their stylish stuff at the Billboard Music Awards. Lorde wore feathery Lanvin, Jennifer Lopez wore fire red Donna Karan, Iggy Azalea wore a strangely similar side slit red gown by Zuhair Murad. And Michael Jackson came back to life as a hologram on the stage. In case you're curious, holo-Michael was kitted out in a gold military jacket and red pants. [L.A. Times]
Influential Central Saint Martins professor Louise Wilson, who mentored Alexander McQueen, Stella McCartney and Christopher Kane, among others, has died at the age of 52, according to the U.K. Independent. The longtime director of that college's MA fashion degree, Wilson was described by the Independent as having "a reputation for pushing her students to their creative limits." Wilson is said to have died in her sleep. [U.K. Independent]
Los Angeles Times fashion critic Booth Moore contributed to this report.
---