'Einstein on the Beach' opera that inspired Marc Jacobs hits L.A.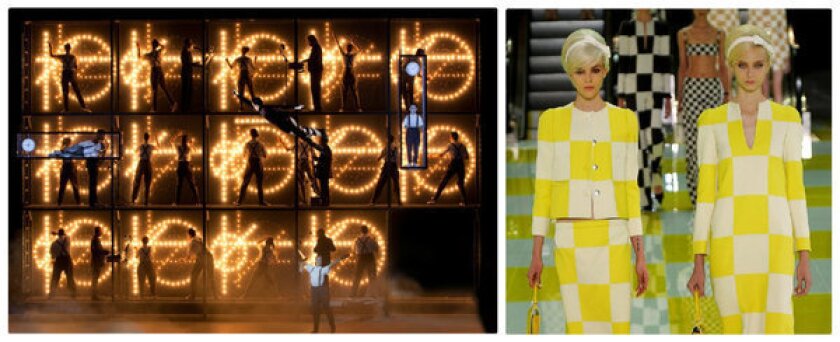 Los Angeles Times Fashion Critic
"Einstein on the Beach," the avant-garde 1976 opera by Phillip Glass, hit the fashion radar last year when it was one of the inspirations for Marc Jacobs' monumental spring-summer 2013 Louis Vuitton show, a moving spectacle of ordered geometry.
Now, you can see the opera in Los Angeles, where it will be performed in collaboration with the original creators Oct. 11 through 13 at the L.A. Opera.
The Louis Vuitton show was elegantly choreographed with models in pairs, dressed in column-like silhouettes with neat-and-tidy graphic checks, descending and ascending escalators on the runway.
(The runway set was created by French conceptual artist Daniel Buren, an abstract minimalist known for working with graphic forms, as seen in the famous installation of striped columns in the courtyard of the Palais Royal in Paris.)
It's easy to see how "Einstein on the Beach" appealed to Jacobs. The opera is non-traditional, in that it doesn't tell a linear story. But it does depict Einstein's scientific process through repeating musical structures, numbers and syllables, which were the perfect score for Jacobs' sartorial expression of visual logic and geometry on the runway.
The L.A. production is the last time "Einstein on the Beach" will be produced by the three original creators, including composer Phillip Glass, choreographer Lucinda Childs, and visual artist-director Robert Wilson, the latter of whom, incidentally, collaborated with Jacobs on a collection of accessories for Louis Vuitton in 2002.
"Einstein on the Beach" ends its North American tour in the Southland, where, appropriately enough, Einstein lived when he was a visiting professor at Caltech from 1931 to 1933.
And since he was a man of numbers, here is "Einstein on the Beach" by the numbers:
86: Costumes in the production.
60: Minutes it takes in the makeup chair to transform violinist Jennifer Koh into the gray Nobel Prize-winning physicist (this is the first time in the production's history that Einstein is being played by a woman).
3. Age Koh started playing violin.
707. Street number on South Oakland Avenue in Pasadena where Einstein lived with his wife, Elsa, when they arrived at Caltech.
4 1/2. Hours long the production is, and that's without intermission. But unlike other operas, the piece was created to allow for coming and going. There will even be special "Einstein relativity" snacks.
"Einstein on the Beach," Oct. 11, 12 and 13, at the Dorothy Chandler Pavilion, 135 N. Grand Ave., Los Angeles, (213) 972-8001 or https://www.laopera.com.
ALSO:
Paris Fashion Week Spring 2013: Louis Vuitton's moving spectacle
Violinist Jennifer Koh turns physicist for 'Einstein on the Beach'
Phillip Glass' 'Einstein' is opera because 'that's where the stuff was'

booth.moore@latimes.com
---