How Keith Richards' jacket and Tom Waits' left boot are helping fight addiction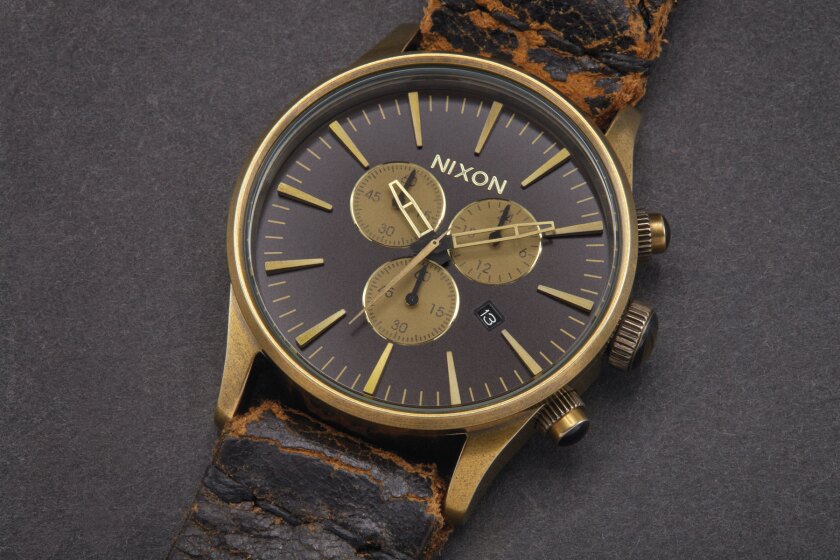 This holiday shopping season, a handful of the most high-profile rockers on the planet (including Keith Richards, Ozzy Osbourne and Steven Tyler) are giving the shirts off their backs — make that the leather jackets out of their closets — to help fellow musicians fight addiction.
Thanks to a partnership between the Recording Academy's MusiCares charity and Encinitas-based watch brand Nixon, items donated from the musicians' personal wardrobes have been repurposed into chunky leather watchbands that will benefit the MusiCares MAP (Musicians Assistance Program) Fund, which helps members of the music community get access to addiction treatment and recovery services.
------------
FOR THE RECORD
Nov. 11, 11:05 a.m.: An earlier version of this post incorrectly described the partnership as between the Grammy Foundation and Nixon. It is between MusiCares and Nixon.
Nov. 13, 11:58 a.m.: An earlier version of this post misspelled Pete Townshend's last name as Townsend.
------------
Dubbed the Rock Ltd. collection, the offering also includes watchbands crafted from guitar straps (donated by Pete Townshend and Eddie Van Halen), drum kit scraps (courtesy of Ringo Starr) and one well-worn brown leather boot from Tom Waits, who is quoted as vowing to wear the other boot, solo, "until everyone is clean and sober just like me."
The resulting watchbands — bearing the cracks, abrasions and wear marks that come with rock-star living — are paired with one of three Nixon watch styles (the Time Teller, the Sentry Chrono or the 51-30 Chrono) to create an 84-piece collection that will sell in the $900 to $1,600 range with 100% of proceeds going to the MusiCares MAP Fund. Each hand-numbered watch has a custom case back bearing the name of the donor artist and is accompanied by a certificate of authenticity.
Among the highlights of the collection are the Nixon Sentry Chrono 42mm timepieces (14 total) with watch bands made from a black, crocodile-textured leather jacket from the closet of Rolling Stone Richards ($1,500 each), the 51mm 51-30 Chrono watches (19 in all) with straps crafted from a black leather Armani Collezioni trench coat donated by Ozzy Osbourne ($1,500 to $1,600) and the three 42mm Sentry Chrono watches with antiqued brass cases and super-scuffed leather bands fashioned from Waits' left boot ($1,500).
The debut Rock Ltd. collection is scheduled to hit retail Saturday, and local stockists include Ron Robinson at the Fred Segal Center on Melrose Avenue, and Westime and Barneys New York in Beverly Hills. And if you don't manage to land one of this season's watches, there's always next time (see what we did there?) since plans are already in the works for a second collaborative collection, featuring different artists, for spring 2016.
No word yet on what rock and roll closets will be contributing their contents to the cause then, but we're betting that if the people behind the partnership could get their hands on, say, a fringed leather jacket from the estate of Jim Hendrix or a jumpsuit once worn by Elvis Presley, the MusiCares MAP Fund, and the members of the music world it helps fight addiction, will say: "Thank you — thank you very much."
For the latest in fashion and style news, follow me @ARTschorn
ALSO:
San Francisco start-up aims to make any watch a smartwatch
Jeremy Scott and Longchamp celebrate a decade of collaboration
Surfer Laird Hamilton launches a menswear line for Generation X
---