L.A. hatter's handiwork headed on tour with Kanye West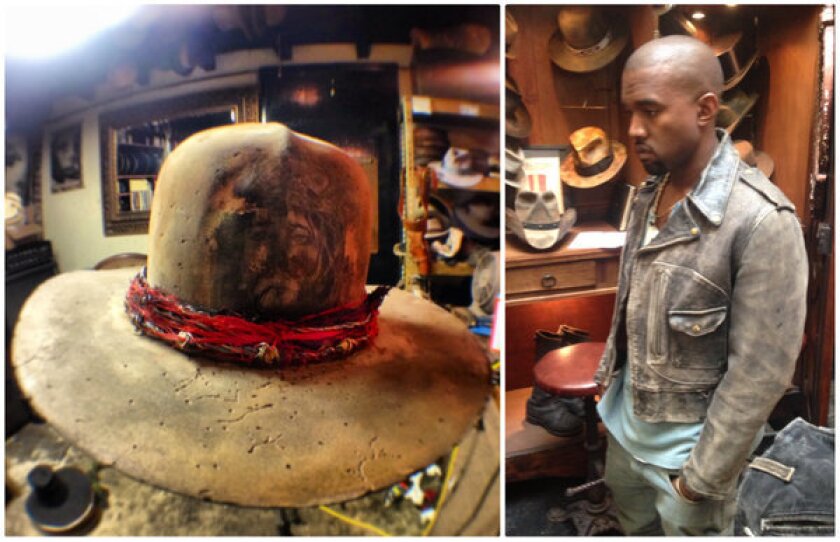 While I was researching Hollywood hatmaker Gunner Foxx for the upcoming issue of Image magazine (which drops Dec. 1), the 29-year-old mentioned to us that he had recently been crafting custom hats for Kanye West -- many of which are destined for the rapper's 'Yeezus' tour wardrobe.
According to Foxx, West in September ordered 14 of the hatmaker's one-of-a-kind, open crown, wide-brim felt hats -- including one (above, left) for which Foxx hand-burned an image of Jesus' face into the crown. Foxx said West picked that particular one up in person while he was in town for his recent Staples Center show.
He said West also ordered six high-end Montecristo Panama straw cowboy hats for new fiancée Kim Kardashian -- whose look, in our opinion, has been evolving along with her relationship with West.
By his own count, the top-hatted, tattoo-covered one-man hat factory has crafted more than 5,300 hats and contributed to more than 400 films over the course of his career.
Look for more about Foxx -- including his impressive celebrity clientele -- in Image magazine next month.
Gunner Foxx House of Hats is located in Schaeffer's Garment Hotel, 7517 W. Sunset Blvd., Los Angeles, hats start at $650.
ALSO:
Review: Kanye brings 'Yeezus' to Staples Center
Kanye West postpones three shows after gear is damaged
Kanye West's 'Yeezus' wardrobe includes custom Maison Martin Margiela
---