An only-in-L.A. Fourth of July hostess gift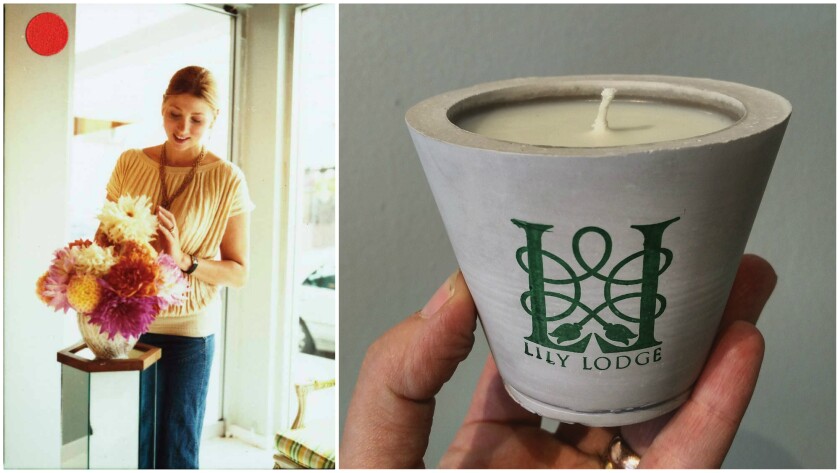 If you are looking for a chic hostess gift to give this Fourth of July weekend, this new, only-in-L.A. item caught my eye.
Ariana Lambert Smeraldo, proprietress of the Robertson Boulevard floral design studio Lily Lodge, has launched her first product line with two candles, one geranium-scented and the other bergamot-scented.
Made in L.A. from organic essential oils, packaged in cement vessels forged by a local potter and stamped with the shop's understated "LL" logo, the candles are an extension of Smeraldo's vision of personalized floral design. No two are exactly alike, and the handmade process reveals slight imperfections, such as a fingerprint lightly pressed into the side of the vessel.
"We are all different. Why would we all want the same floral designs?" says Smeraldo, who since 2005 has specialized in creating personalized arrangements in vintage vases sourced online and from estate sales, ranging from 1940s Murano glass to 1970s art pottery. Regular clients include jewelry designer Irene Neuwirth, the Sunset Tower Hotel and the principals at Commune Design.
"Some of my best clientele are interior designers," she says. "They'll call and describe the house where the arrangement is going, I'll shoot them photos of eight vases and we'll go from there. I want to create a sense of bespoke service."
Smeraldo's appreciation for packaging and a personal touch comes from her background in fashion. (Her family owned Blum's Vogue in Chicago, which was the first store to import French couture to America in the 1920s. In the 1990s, Smeraldo worked as a fashion stylist and then as the West Coast director of stores and public relations for luxury brand Bottega Veneta.)
"No one was using packaging in floral design back then. I wanted to make it a branding tool," she says, citing several floral delivery mishaps, including accidentally sending a dead bouquet to Cameron Diaz, as inspiration for starting her own business. "I didn't understand why you couldn't get what you wanted."
The candles are the first of what she hopes will be more products to come. The scents don't have names per se, but the geranium is more feminine and the bergamot more masculine.
Taking a cue from a brand statement on the value of individuality made famous by her former employer, Bottega Veneta, she jokes, that her candles are "for when your own fragrance is enough."
Lily Lodge candles, $55 for small size, $80 for large size at 644 N. Robertson Blvd., Los Angeles, (310) 360-9400.
For the latest in fashion and style news, follow me @Booth1.
---