Pharrell Williams, Jeremy Scott and others bring A-game to MOCA gala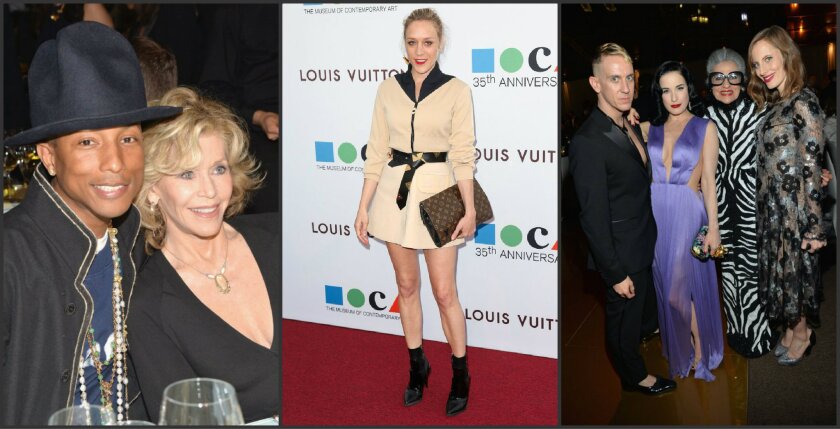 <i>This post has been corrected. See the note below for details.</i>
Pharrell Williams and Vivi Nevo sporting the same Vivienne Westwood Mountain hat. Socialite Joy Venturini Bianchi in a wonderfully wild Tom Ford zebra gown with a bristly mane. And designer Jeremy Scott playing the haute Chippendale dancer in a Moschino tuxedo, worn shirtless with a skinny patent leather necktie.
The art, music and film crowds brought their fashion A-games for the Museum of Contemporary Art's 35th anniversary gala at the Geffen Contemporary at MOCA in downtown L.A. on Saturday night.
The fundraiser celebrating the museum's new director, Philippe Vergne, netted $2.4 million, organizers said, and drew a high-wattage crowd, including Katy Perry, Jane Fonda, Ryan Seacrest, Dita Von Teese, China Chow, Rachel Zoe, Liz Goldwyn, Gela Nash-Taylor, Rodarte designers Kate and Laura Mulleavy, as well as museum patrons Lilly Tartikoff-Karatz, Eli Broad, Maurice Marciano and others.
Guests mingled over cocktails and toured the new Mike Kelley retrospective in the Geffen museum space downtown before filing into a tent for dinner and a performance by diva supreme Diana Ross.
Williams was a major point of interest, chatting up seatmate Jane Fonda. (What ever could they be talking about?) So was Nevo, the Israeli American venture capitalist and art collector, sitting at the head of the same table in the same hat that's become a Williams signature.
I asked Williams what he thought about another man stealing his look. "That's a question you should be asking Vivienne Westwood, who created the hat 30 years ago," he replied.
I'm sure she's thrilled Williams has renewed interest in that. But considering the occasion, I wondered if we were in the midst of some kind of mirror image performance art.
The gala was sponsored by Louis Vuitton, which makes sense, since crosstown museum LACMA has luxury goods rival Gucci as its patron.
Several ladies wore pieces from Marc Jacobs' spring 2014 collection for Vuitton, his last for the French luxury house before leaving to focus on his own namesake brand. "I didn't know if I'd have the courage to wear the headdress," said NJ Goldston, one of the evening's dinner chairs. But she did, pairing the black feather accessory with a beaded dress from Jacobs' show-stopping, showgirl-inspired collection.
A few wore looks designed by Jacobs' successor, designer Nicolas Ghesquiere, whose first collection for Vuitton came down the runway in Paris just weeks ago. Chloe Sevigny looked casual and cool in a cream knit cardigan dress with an embellished belt, accessorized with a single gold earring, just as the look came down the runway.
"The photographers kept telling me I'd lost an earring," she said. "They didn't realize it's supposed to be worn like that."
Sevigny, a friend of Ghesquiere's who sat front row at his first Vuitton show, was positive about the first collection. "It's very wearable," she said. "And I'm happy they are letting him be himself and giving him freedom and resources."
Also in dresses by Ghesquiere for Vuitton? "Glee" actress Dianna Agron and Haley Bennett.
Elsewhere among the fashion crowd, I caught up with Jeremy Scott, the L.A.-based designer who is now spending a lot of time in Milan, Italy, as the new creative director of Moschino. Scott is a regular at MOCA galas, "And I never seem to wear a shirt," he joked of his ensemble.
Decades' co-owner Cameron Silver was wearing a colorful silk foulard jacket by Belgian designer Walter Van Beirendonck, complete with vase's worth of beaded flowers overflowing from the breast pocket. Silver was introduced to Beirendonck through the curators of the Los Angeles County Museum of Art's upcoming "Reigning Men" exhibition. Silver is donating and lending several pieces from his own wardrobe for the show. "It's going to be great, and it's so important because it's the first time a major museum has focused an exhibition on menswear," he said.
"Mad Men" costume designer Janie Bryant was wandering the galleries dressed in a brown jersey gown by L.A. designer/vintage dealer Shareen Mitchell. Shoppers will soon by seeing Bryant's name in stores too, when her new Janie Bryant Couture Legwear collection arrives this fall, with tights and leggings priced from $18 to $35. Her favorite style? The "Glow," a pair of stockings that look like you're not wearing anything at all. "It's like the perfect suntanned, oiled leg," Bryant said.
Paris and L.A.-based handbag designer Sally Perrin looked statuesque in a floral column gown with a sway back detail. "Acne Studios opened a store in Paris near where I live on Quai Voltaire, and I saw this dress in the window," Perrin said. "It's from the ready-to-wear, and I thought it was beautiful in very Oriental way."
Joy Venturini Bianchi, a philanthropist and style icon who is the director of the Helpers charity in San Francisco (and its legendary House of Couture consignment stores), was wearing a slinky zebra stripe gown by Tom Ford with a bristly mane on the back. I asked her how she negotiated the car ride. "I have no idea, but it's a beautiful dress," she said. Indeed, she was one of the night's best dressed.
Then there was Aliona Kononova in an avant-garde asymmetrical white dress, a bulbous cap covered in a white flowers, and shoes with heels shaped like grenades. Kononova is a Russian-born fashion designer (her label is called MOE) who just moved to town from Milan. What brought her to L.A. and the MOCA event? "The artistic energy here," she said. "I find it very inspiring."
Looking at the crowd, I couldn't agree with her more.
[For The Record, 11:02 p.m. PDT April 1: An earlier version of this post stated that the Museum of Contemporary Art's 35th anniversary gala netted $1.2 million. Organizers say the gala netted $2.4 million.]
ALSO:
MOCA's fashionable 30th anniversary gala

Human centerpieces and performance art served up at MOCA gala
Dita Von Teese, Emmy Rossum, more celebrate Christian Louboutin
---