'Sound of Music' Von Trapp togs fetch $1.56 million at auction [Updated]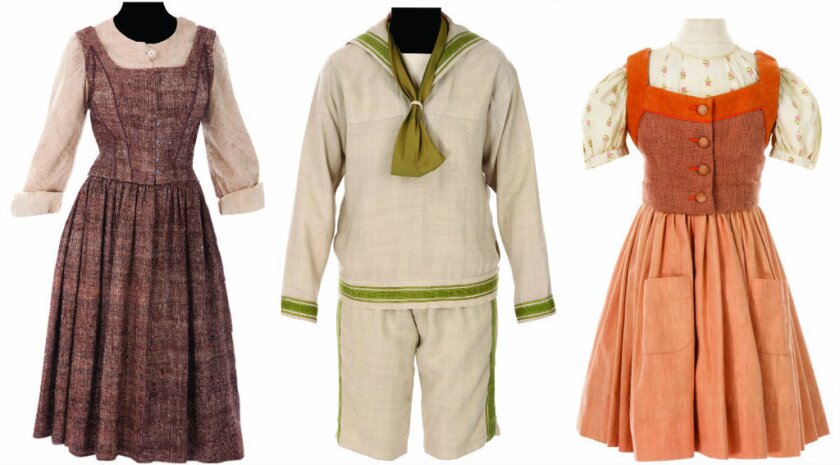 A cane from Charlie Chaplin's "Modern Times" sold for $420,000 and a collection of costumes from "The Sound Music" -- including the Von Trapp children's drapery outfits and the brown dress Julie Andrews wore while singing "Do-Re-Mi" -- fetched an eye-popping $1.56 million at a July 28 and 29 Hollywood memorabilia auction, according to Calabasas-based Profiles in History auction house.
Both of those bids (like the other figures here, the amount given is the final "hammer price," which includes fees paid to the auction house) exceeded expectations, with the cane selling for more than double its $120,000 to $150,000 pre-auction estimate and the "Sound of Music" costumes going for $360,000 above the $800,000 to $1.2 million estimate's high-water mark.
According to the final bid results announced by the company Wednesday, other wardrobe pieces that beat pre-auction estimates include one of Dorothy's dresses from "The Wizard of Oz" (which sold for $360,000), a polka dot dress Lucille Ball wore as Lucy Ricardo ($168,000) and an outfit worn by Jeff Bridges as the Dude in "The Big Lebowski" ($54,000 -- which would buy, as the Dude might point out, a lot of White Russians).
A brown tweed jacket worn by Steve McQueen in "Bullitt" (which we told you about last month) was expected to fetch somewhere in the neighborhood of $800,000 but failed to meet the minimum reserve bid and did not sell at the auction.*
ALSO:
'Vanity Fair' announces 2013 International Best-Dressed List
Marilyn Monroe's 'subway dress' sells for $4.6 million at auction
Von Trapp drapery costumes from 'Sound of Music' up for auction
[Updated 8/1/2013, 11:51 a.m.: Based on information provided by the auction house, an earlier version of this post stated that McQueen jacket sold for $720,000. We've since been told that the minimum reserve price was not met and the jacket did not sell.]
---