Style in the aisles -- and on screen -- at Disney's D23 Expo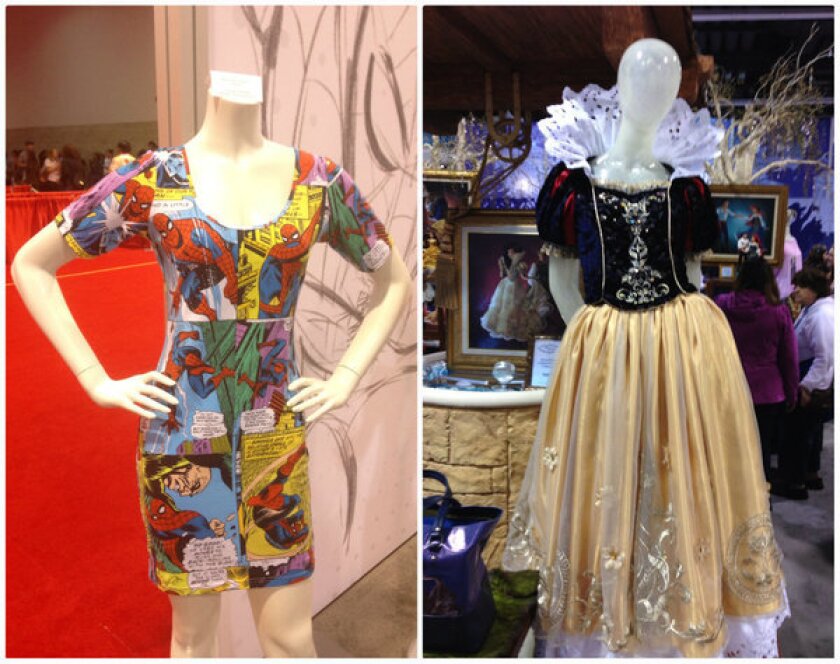 The recently wrapped D23 Expo at the Anaheim Convention Center proved to be more than a three-day biannual gathering of Disney fans. It was a mind-boggling testament to the pop culture juggernaut that Walter Elias Disney hath wrought.
Thanks to a stable of entertainment properties that now includes the Muppets, the Marvel comic book world and the Star Wars universe -- not to mention the namesake Disney brand -- the show floor of the expo was filled with enough bun-haired Princess Leias, lady Thors, spritely fairies, mouse-eared men and plush platypi to make the Mos Eisley Cantina feel like the slow line at the DMV by comparison.
Colorful characters aside, there were some noteworthy clothes, accessories and jewelry on display. One piece that caught our comic-book-loving eye was a Spider-Man dress (above, left) from the new Marvel Heroes line that recently hit Forever 21 (other pieces in the $6.80 to $22.80 juniors line feature the likes of Iron Man, Captain America and Wolverine cavorting on sweat shirts, T-shirts and leggings).
While there was no shortage of full-on Mickey and Minnie Mouse merchandise on display (including a sequin-embellished Marc Jacobs Mickey Mouse sweater from the designer's spring and summer 2013 runway collection) some of the soon-to-drop merchandise offered up more subtle interpretations -- like the leopard print Minnie Mouse handbags and clutches from Harveys set to hit retail next month that hide a stealth version of the iconic mouse ears silhouette in the leopard spots.
But the most covet-worthy item (for those seeking the fairy tale lifestyle, at least) was an adult-sized, velvet and satin Snow White costume with sequin and gold embroidery details (above right). Produced in a limited run of 100 and priced at $349.95, a Disney Consumer Products representative told us 10 had already been purchased from the Disney store on the show floor by 12:30 p.m. on Saturday.
The D23 Expo also marked the U.S. debut of 10 fashion designers' takes on Disney princess dresses that were originally part of a holiday 2012 window display at Harrod's in London. Among the dresses on display were gorgeous gowns by the likes of Versace (for Cinderella), Roberto Cavalli (Pocahontas), Mulan (Missoni) and Oscar de la Renta (Snow White).
The live-action presentation, which took place on the second day of the Expo, managed to give the fashion-focused fan a few things to look forward to on screen as well. In a clip from "Maleficent," (due in theaters July 2, 2014) Angelina Jolie's angular-cheeked, horn-sporting titular witch glides through a castle, a shimmering black cape rippling out behind her like an oil slick, making us hope upon hope that DCP's inevitable fashion designer merchandise tie-ins are as scary-good as the very bad witch.
The other film that caught my eye, stylewise, was "Saving Mr. Banks," (slated for a Dec. 20 release) starring Tom Hanks as Walt Disney and Emma Thompson as "Mary Poppins" author P.L. Travers. Set in Southern California in 1961, the clip screened at the D23 Expo served up lots of period clothing. Given the access to Disney's and Uncle Walt's archives (not to mention the fact that that Richard Sherman, who co-wrote the "Mary Poppins" songs with his brother Robert and is portrayed in the film by Jason Schwartzman was the film's musical advisor) we can only imagine the costumes are spot-on accurate, and can't wait for a chance to buttonhole the movie's costume designer, Daniel Orlandi, to discuss them in more depth.
ALSO:
'Oz' merchandising tie-in treasures
Disney takes fashion down rabbit hole for 'Alice'
Angelina Jolie arrives in Anaheim to unveil 'Maleficent'
---