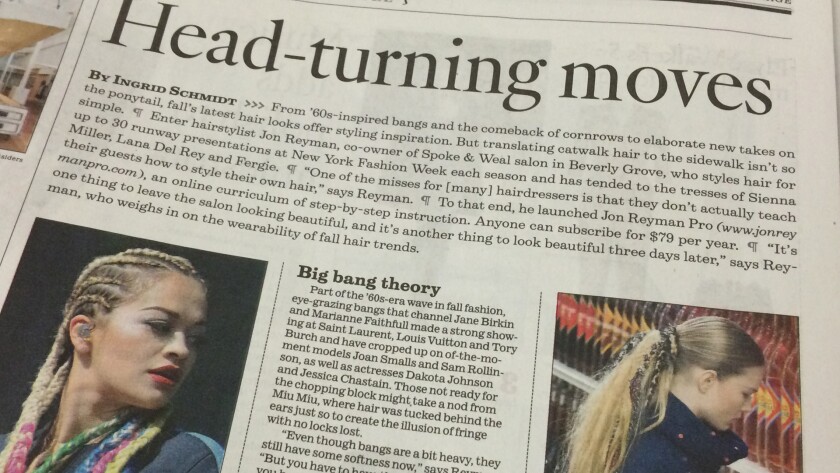 No, Bo Derek did not invent cornrows.
Many readers and some other media publications took issue with a story we recently published about three different fall hairstyles — cornrows, bangs and ponytails — coming from the season's fashion runways.
"Move over, Bo Derek," the story quipped as it referred to the "comeback of cornrows."
"Oh, here we go again," thought Noliwe M. Rooks, an associate professor at the Africana Studies and Research Center at Cornell University, when she saw the story.
Cornrows couldn't possibly make a comeback, Rooks and other critics said, because they never went away. Critics also said the article failed to acknowledge the hairstyle's long and rich history and overlooked its symbolic roots in African American culture.
To many in the African American community, it was one more reminder of the ways in which white culture co-opts black culture -- and is then rewarded for the theft.
"You insulted many people of color all over the world," a reader said in an online comment on the story. Another reader posted: "How is it possible to write an article about a hairstyle that black women (and men) have been rocking since long before this newspaper existed and well before Bo Derek, without mentioning a single solitary black person. Seriously?"
There was also a Twitter hashtag associated with the criticism of our story: #Columbusing. A scathing article in Jezebel carried the sarcasm-dripping headline: "The LA Times Covers Cornrows, the Hot New Trend for White Ladies."
Prof. Donna O. Kerner, chair of the Department of Anthropology at Wheaton College, Norton, Mass., said the article "was written completely from the perspective of white women. Bo Derek's cornrows were revolutionary only in the sense that this was a first foray of appropriation of the hairstyle by the white fashion world."
Rooks said cornrows can be traced back thousands of years. "You can find hieroglyphics in Egypt of people wearing what appears to be cornrows. It's a style that most black people the world over wore when they were young at some point....It's as deeply embedded in black culture globally as any kind of food or article of clothing."
"It is particularly galling," Rooks told the Los Angeles Times, "to have something that is part of black culture from Africa and in evidence in all parts of the known universe to be ascribed to Bo Derek."
Adding insult to injury, she said, is that many black women and children today can face criticism for wearing cornrows.
"But somehow... when white women do it, it's fashion-forward," Rooks said.
Join me on Twitter: @renelynch
---