Nobu Matsuhisa, the man who spiced up sushi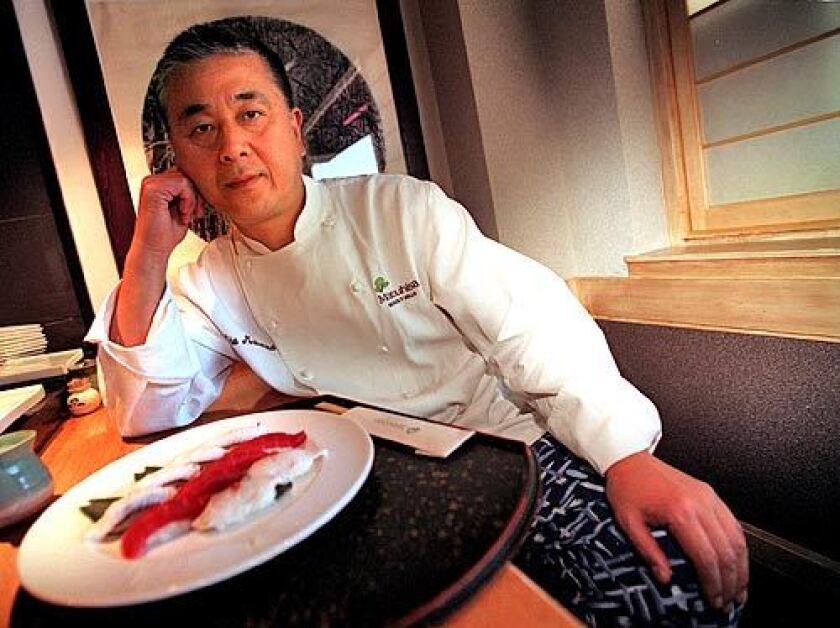 Times Staff Writer
In a wildly polyglot city — where Midwesterners live next to Oaxacans; Taiwanese, Armenians and Russians mingle with Hollywood hipsters; and Tongans live side by side with native Californians — is it any wonder that their various cuisines have blurred into each other too?
Los Angeles is fusion central and has been since its founding. Just look in anybody's pantry. Ingredients, techniques and recipes from far-flung places mingle throughout local kitchens. And what about our restaurants? By now, they've offered practically every combination you can think of — Korean-Creole, Oaxacan nouvelle, Franco-Japanese, pan-Asian, Filipino-Mediterranean, Thai-Italian … and on and on.
Most such marriages barely take a comet ride through the culinary skies before fickle gastronauts are off to chase the next new thing. But the one fusion that has stuck, and that Los Angeles has exported to the rest of the world, is Nobu Matsuhisa's revved-up sushi.
Before the now world-famous Japanese chef came to Southern California, he worked in Peru, where he began incorporating hot chiles into his sushi and sashimi dishes. In L.A., he used not only chile, but garlic, caviar, olive oil, even butter. His original restaurant, Matsuhisa, on La Cienega's restaurant row, was a runaway hit when it opened in 1987. He'd found a flavor profile that made sense to Angelenos craving ever more vivid food.
Matsuhisa's new-style sashimi, with warm olive oil poured over the raw fish, was a sensation. Angelenos swooned over yellowtail sashimi garnished with rings of fiery red pepper. He cut squid to look like pasta and tossed it in garlic and butter. He tried out all sorts of wacky ingredients and combinations. You never knew what would appear on that night's blackboard of specials. And with stars waiting in line for a seat in the inner sanctum, sushi was suddenly glamorous.
In 1994, when Matsuhisa opened Nobu in New York — financed in part by his biggest fan, Robert De Niro — the Los Angeles chef took Manhattan. He went on to open restaurants in Tokyo and London and Milan, Italy, essentially colonizing the world with his eccentric Latin American-Japanese fusion sushi.
Chefs who worked with Matsuhisa merely had to whisper his name, and backers came running. In L.A., we're already on the third or fourth generation of chefs influenced by his high-flying fusion and yet we're just as crazy about Matsuhisa's sushi as ever.
And in the chic, design-conscious setting of his various Nobus, it defines worldliness.
---
virbila@latimes.com
---