Faux fur, for real
An Alice and Olivia faux fur jacket, $330 at Saks Fifth Avenue in Beverly Hills.
(Katie Falkenberg / For The Times)
A Rachel Zoe faux fur jacket (with real leather trim), $450 at Saks Fifth Avenue in Beverly Hills.
(Katie Falkenberg / For The Times)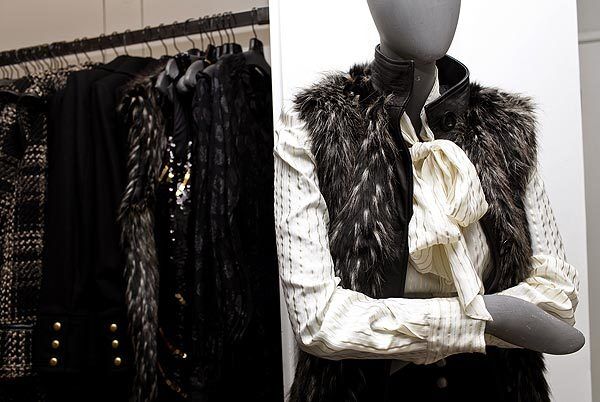 A Rachel Zoe faux fur jacket (with real leather trim), $225 at Saks Fifth Avenue in Beverly Hills.
(Katie Falkenberg / For The Times)
Aiko faux fur jacket in cream, $275 at Saks Fifth Avenue in Beverly Hills.
(Katie Falkenberg / For The Times)
Los Angeles Times
A funny thing happened on the way to the fur salon: The fur was forgotten. Designers instead turned to polymer chemists for a substitute that could please fur-coveting consumers and possibly assuage a few concerns of animal rights activists.
This fall, some of the most eye-catching jackets and accessories incorporate realistic fake fur or are made from other materials with textures reminiscent of fur.
"It's really about the tactile nature of the season," says Colleen Sherin, fashion director of Saks Fifth Avenue, speaking about the fall trend. "We're even seeing things happening in knitwear where the yarn is cut specifically for a furry effect."
Stores and online sites, including high-end designer brands and mass-market retailers, are full of garments with materials that look like mink, cheetah or beaver.
Even at the high end, fake fur is being used widely by designers who note the improved quality and realistic nature of materials coming from Europe and Japan. These imported materials allow for more versatility in design, not to mention lower costs compared with real fur. Consider: Designer Naeem Khan includes a full-length faux fur mink coat in his line for HSN that sells for about $900. The real thing would cost upward of $10,000.
Think of it as high faux.
The trend has been bubbling up for a couple of years. Chanel based its fall 2009 show around fake fur, producing getups reminiscent of woolly mammoths that seemed suitable for a dinner party at the North Pole. The Prada fall 2011 runway included a mix of real and faux fur adorning jackets in bold and offbeat colors such as yellow, teal and purple.
It's increasingly difficult to tell the difference between real and fake, says Dan Mathews, senior vice president of People for the Ethical Treatment of Animals, which has opposed the killing of animals and manufacture of fur in high-profile campaigns for many years.
Mathews cites a major uptick in fake fur sales over the last several years and says that fewer celebrities are choosing to wear real fur as more high-end designers offer garments made from synthetic material. Still, he is concerned that the look and feel of the new realistic fakes could perpetuate people's desire for the real thing.
Consumers will encounter the high-faux look on items including boots, bags, coats and vests. At the wholesale level, sales of fake fur reached $250 million in the United States last year and those sales are expected to increase by 30% over the next two years, according to Pell Research, a Washington, D.C., firm that identifies new markets and trends for major companies.
"The fur trend in the U.S. is toward fake," says Amy Lechner, an analyst with Pell Research. "The stigma of fake fur is rapidly decreasing."
Indeed, fake fur used to be known for its natty, matted quality, but today designers are seeing it as a desirable fabric, a category unto itself not solely meant to mimic real fur.
"It's all about a fashion statement and creating a look, just like you would with any other fabric," says designer Dennis Basso, who works with real fur in his ready-to-wear line, but also creates a robust faux fur collection for his Dennis by Dennis Basso Collection for QVC. "You're able to do some things with faux fur you can't do with real fur. Like, you would never make something in real leopard or cheetah. Women will buy something in faux not just for how realistic it seems but because of the look and design. It was originally made to imitate fur, but today it stands on its own."
Macy's is planning to stock more fake fur this fall than in seasons past, including from top-selling brands such as INC and Michael Kors, says Caprice Willard, vice president and regional planning manager for the department store chain. "We're introducing [fake fur] not just in ready to wear, but also with shoes, boots, belts and handbags," says Willard, who adds that this season's garments are cut to look more modern and less boxy than traditional real-fur items. Coats are slimmer, waists are nipped in or belted and silhouettes are more flattering overall.
Faux fur vests and accessories have been bestsellers on HSN, according to the direct response retailer's fashion director, Lauren Wilner. "Vests do really well, as do cropped jackets," she says. "Leopard is the biggest seller. Actually leopard print across the board is really great for us."
Khan's fake fur collection, which HSN will start marketing in November, will include "mink" coats with shawl collars and "cheetah" vests, all made from fake fur from Tissavel, a French manufacturer that has been making it since the '50s and is known within the textile industry as having high-quality fiber and finishing techniques, as well as an anti-shed technology to keep "fur" from shedding.
"The impact of how many designers were showing [fake fur] in their fall collections was huge," says Anna Lemessurier, senior product developer of handbags for Aldo, which has used fake fur on boots, bags, ear muffs, gloves, belts and hats for fall.
Judging by the wide array of fake fur items hitting stores for fall, this season faux is the real deal.
---