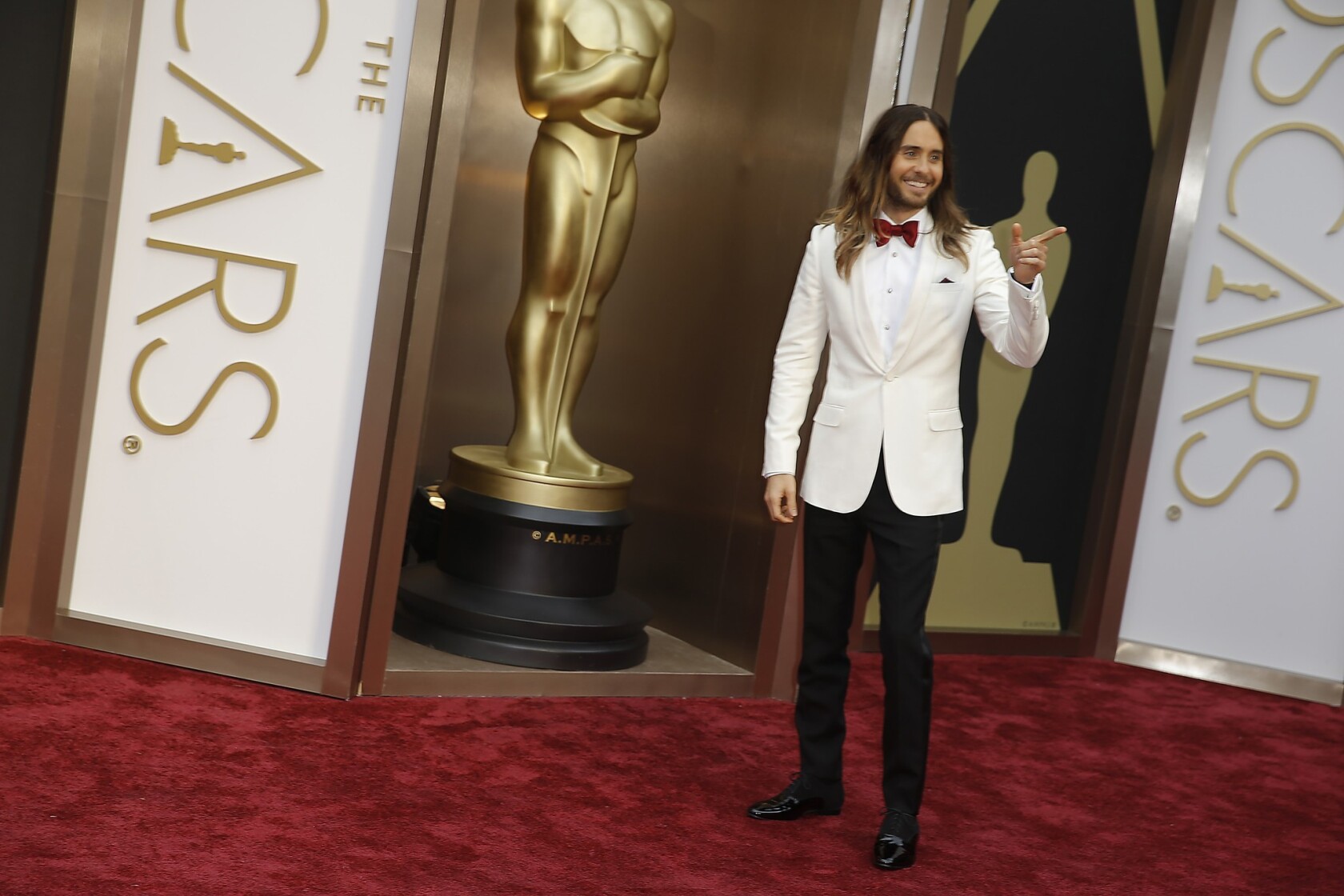 Jared Leto in an ivory-colored shawl collar tuxedo, burgundy bow tie and hint of a pocket square.
(Jay L. Clendenin / Los Angeles Times)
Pharrell Williams, a nominee for his original song "Happy," in a Lanvin shorts tuxedo.
(Jay L. Clendenin / Los Angeles Times)
TV personality Ryan Seacrest in a Burberry tux.
(Jay L. Clendenin / Los Angeles Times)
Bradley Cooper, best supporting actor nominee for "American Hustle," went with a classic look.
(Jay L. Clendenin / Los Angeles Times)
Kevin Spacey in a navy tuxedo.
(Wally Skalij / Los Angeles Times)
Brad Pitt and Angelina Jolie, who is wearing an Elie Saab gown.
(Jay L. Clendenin / Los Angeles Times)
Matthew McConaughey in a white tux.
(Michael Buckner / Getty Images)
Michael B. Jordan in Givenchy tux.
(Wally Skalij, Los Angeles Times)
The off-white ivory tuxedo jacket was the standout trend on the men's side at the Academy Awards -- worn by just a handful of fellows but ones who turned out to be among the night's most high profile -- starting with E! Entertainment's Ryan Seacrest, who stuck with his traditional label (Burberry) but went with the less traditional choice of pairing an ivory-colored, shawl collar tuxedo jacket with his black tuxedo trousers, capping off the look with a black bow tie and a hint of white pocket square.
Jared Leto, who won the supporting actor Oscar, also won points in the style department for his Saint Laurent by Hedi Slimane ensemble that also paired an ivory shawl collar jacket with tuxedo trousers, a burgundy silk bow tie at his neck accented by a point of burgundy pocket square (accessorized with a 25-carat platinum and diamond set of shirt studs and cuff links designed by Neil Lane). Matthew McConaughey opted for the same look -- in a peak lapel jacket -- but managed to make the Dolce & Gabbana ensemble his own by adding a black waistcoat to the mix, and a horizontal sliver of black pocket square.
More Oscar fashion galleries: Best and worst dressed | Stars on the red carpet | Makeup and hair | Men's fashionThe rest of the evening's notably dressed men fell into two camps -- the new old guard and the adventurers. The first is epitomized by the likes of Bradley Cooper and Brad Pitt's evocations of classic Hollywood in their Tom Ford tuxedos (the former in a peak lapel grosgrain tuxedo and grosgrain bow tie, the latter in a shawl collar version of same), the second by Michael B. Jordan, who was kitted out in a custom Givenchy by Riccardo Tisci grain-de-poudre tuxedo with grosgrain and satin details, a white poplin shirt, black silk tie and a collar chain that added five-pointed stars to each shirt collar point. But the most eye-catching detail were the black nappa leather derbies with shiny metal straps that looked like something that could've been borrowed from RoboCop's wardrobe.
But the man who gets our vote for truly making the evening his own wardrobe-wise -- while still pretty much hewing to the basic rules of formal wear -- was Pharrell Williams. While the world was waiting for Williams to lay another high-hat moment on them, the man with mad swagger showed up bare-headed -- and bare-legged -- in a custom head-to-toe Lanvin ensemble that consisted of a black wool shawl collar one-button tuxedo with matching shorts, a black satin bow tie, and dark gray calfskin derbies. The fashion focus-puller extraordinaire (as Times fashion critic Booth Moore referred to him early in the evening) immediately touched off a flurry of Twitter commentary including what, exactly, to call the look ("Bermuda tuxedo" and "shux" -- a contraction of "short tux" were two suggestions). But those lamenting the missing millinery wouldn't end the night disappointed -- for his performance of "Happy," Williams took the Oscars stage in a leather Adidas track jacket -- and a black version of the Vivienne Westwood Mountain Hat, making the battered hillbilly hat's legions of fans very happy indeed.
---