Oscars 2019: Why Lady Gaga won this awards season's fashion gold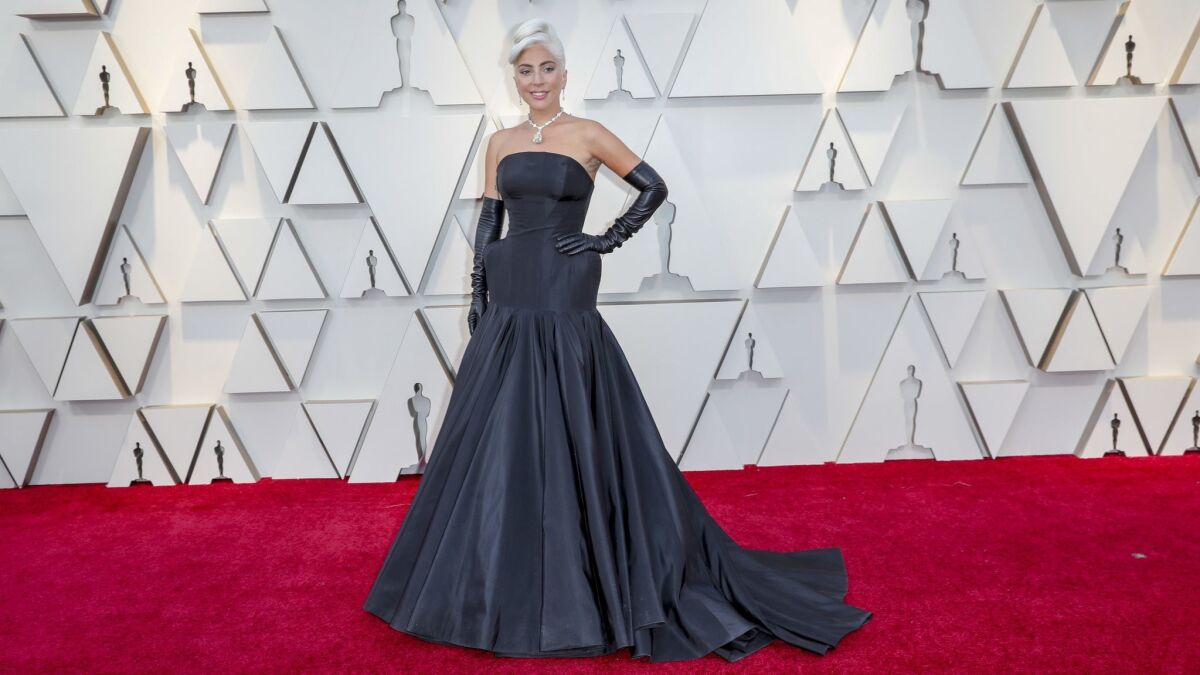 During the nearly three-month red carpet season, which ends tonight with the Oscars, Lady Gaga has dispelled any doubts that she's a genuine movie star.
Working with stylists Sandra Amador and Tom Eerebout, Gaga has toned down the theatrics that she brazenly displayed in the past.
In lieu of a meat dress and a galactic gown accessorized with a sharp-pointed star and gravity-defying platform shoes, Gaga often opted for classic yet youthful silhouettes for her appearances at awards shows and soirées to support her Oscar-nominated leading role in "A Star Is Born" and her original song nomination for "Shallow" from the same film.
Check out our Oscars coverage including the arrivals photo gallery »
Gaga's dare-to-wear attitude has won over red-carpet veterans. "I think we're all having fun watching Gaga this awards season," said Elizabeth Stewart, the stylist who's dressed Oscar winners Julia Roberts, Cate Blanchett and Viola Davis. "I love seeing people who have such fun with fashion."
Gaga's awards-season style has been more in line with her elevated 2016 Oscars red-carpet look from designer Brandon Maxwell, which was a variation on a jumpsuit from his fall/winter 2016 collection.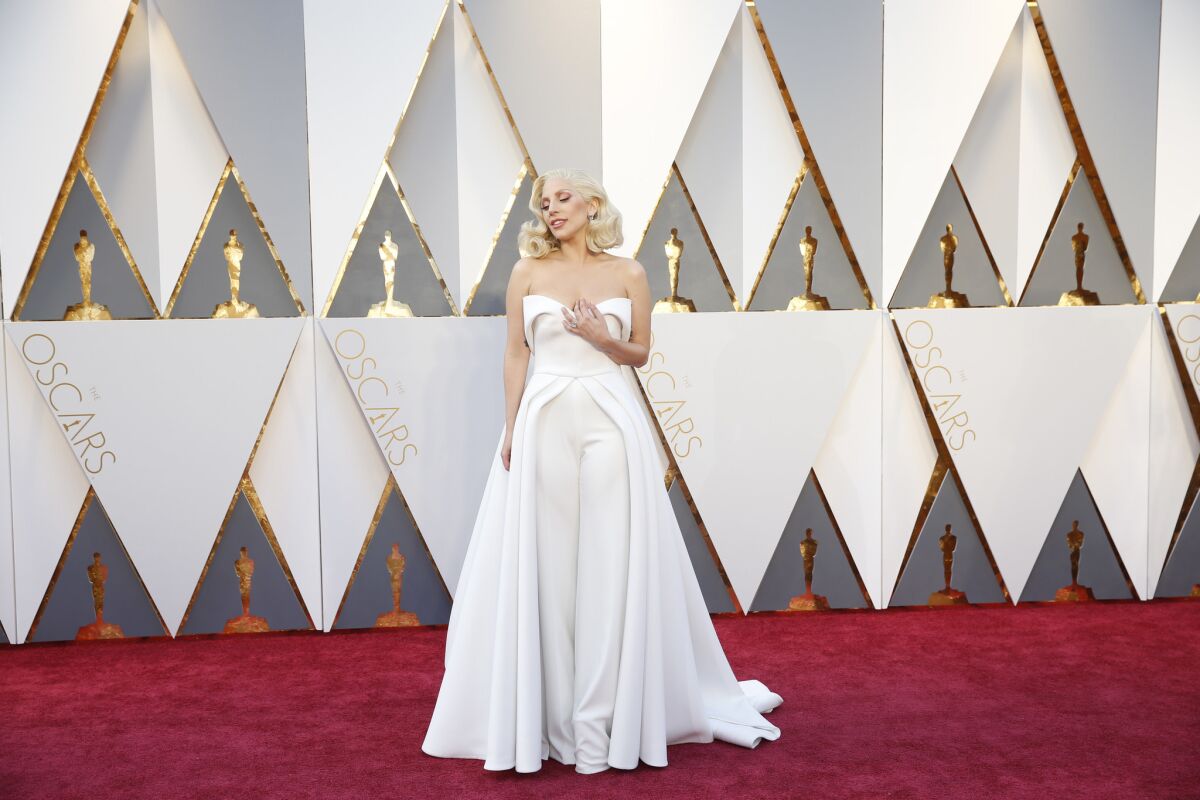 A rundown of her style
Gaga wore a custom periwinkle-colored strapless ballgown by Valentino to the Golden Globes in January that echoed, even if not intentionally, a gown worn by Judy Garland in the 1954 version of "A Star is Born."
Immediately after the Globes, the fashion chameleon changed her hair color from blue to platinum blonde, wearing the shoulder-length locks in ways that evoked screen sirens Marilyn Monroe and Veronica Lake.
With her clothing palette, however, she has been steadfast with certain shades, choosing between silver and pastels, white and black.
For co-star and fellow nominee Sam Elliott's ceremony memorializing his hand and footprints in Hollywood, Gaga paired a light blue leather trench coat by Italian label Fay with black patent leather pumps from Christian Louboutin.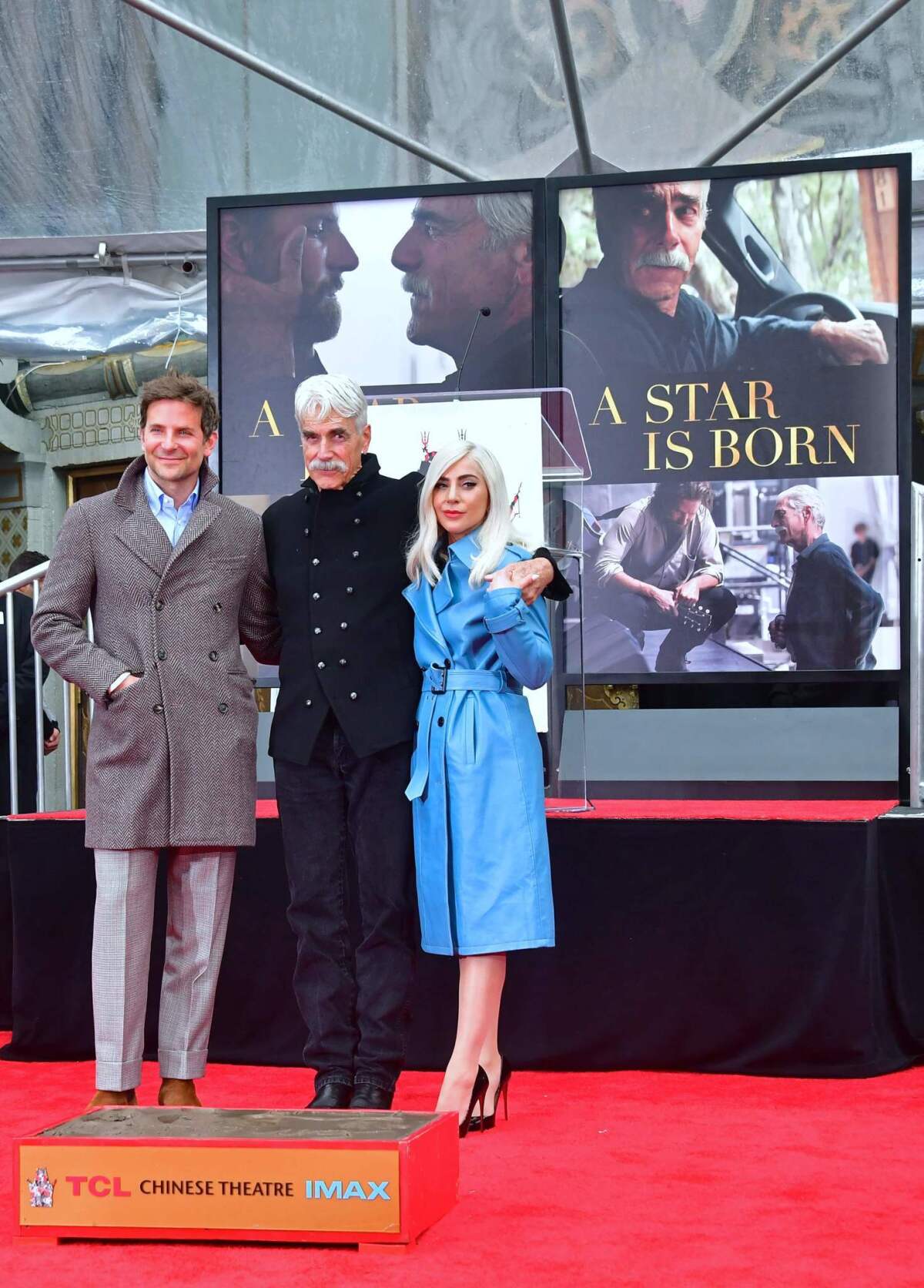 The following day, at the National Board of Review Gala in New York, she braved the winter chill in a custom halter-neck tuxedo gown and feather shrug by Ralph Lauren. ("So elegant," commented one fan on Instagram. "Class," wrote another.)
For the Critics' Choice Awards, Gaga glided onto the stage to accept her award for best actress in a strapless silk pale pink crepe dress with a softly gathered train by Calvin Klein By Appointment.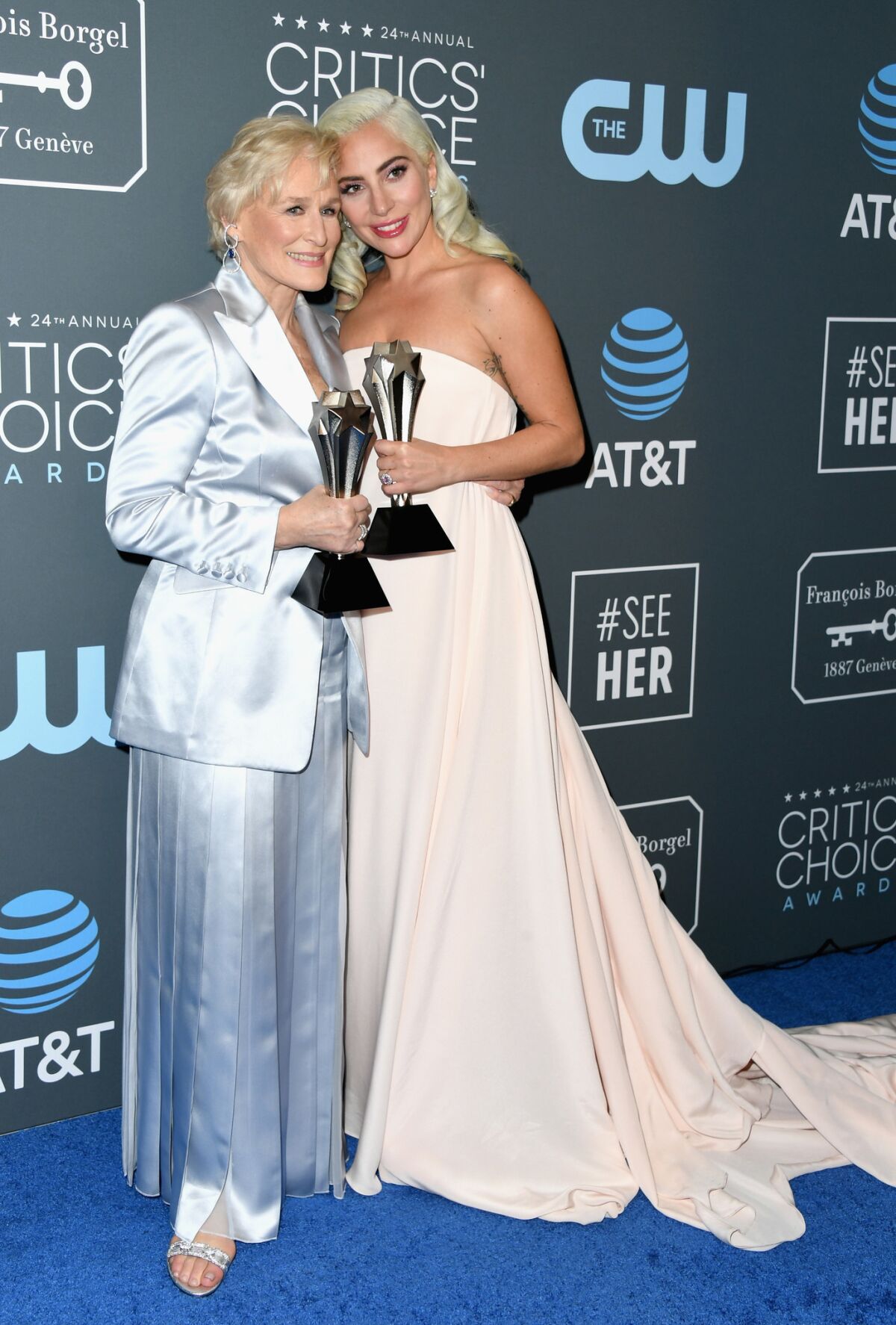 Two weeks later, at the Screen Actors Guild Awards, Gaga wore an ivory gown from Dior's spring/summer 2019 couture collection, which the French brand had presented on the runway only six days earlier. The one-of-a-kind look was Gaga-worthy with raw edges, a plunging neckline that stopped inches above her navel and a hip-high slit that was blocked by hot pants.
Days later at the Oscars Nominees Luncheon, she covered up completely for the class photo. Her white dress, designed especially for her by Louis Vuitton's women's artistic director, Nicolas Ghesquière, featured tiers of ruffles on the long sleeves and a line of buttons extending from the rounded collar to her waist.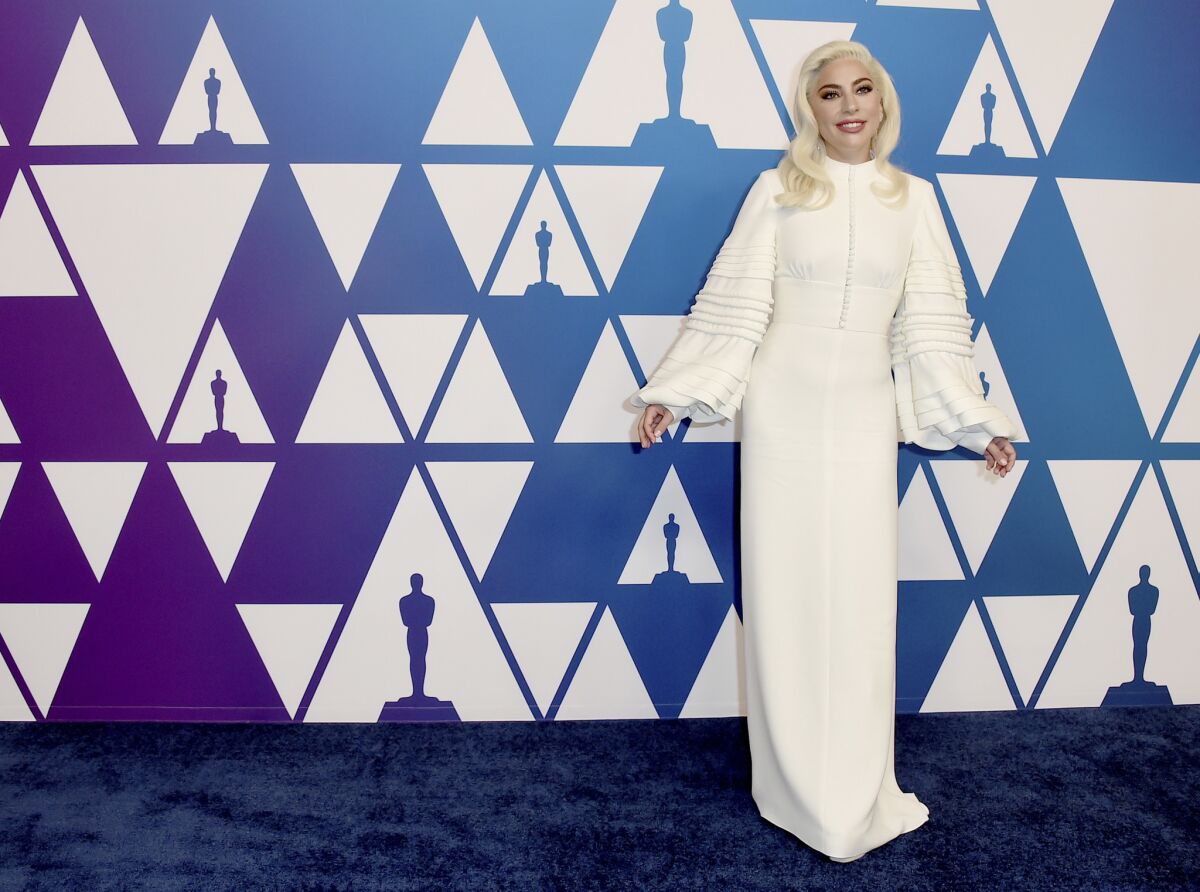 Then, at the Grammy Awards, she redefined glam rock thanks to Hedi Slimane from Celine. Her silver strapless column gown was crafted from silk taffeta, embroidered all over with sequins and beads, and trimmed with a dramatic ruffle that at times obscured part of her left arm.
Also, the constant in Gaga's parade of finery over the past two months has been her diamond jewelry by Tiffany & Co. At the Grammys, her platinum earrings were made with more than 10 carats of princess-cut diamonds, valued at $580,000.
For Gaga's appearance at the Golden Globes, Tiffany created a custom necklace named the Aurora (an homage to "A Star Is Born"). The 80-carat creation comprised 300 pear-shaped and round brilliant diamonds flanking a diamond drop that alone accounted for a quarter of the necklace's total weight.
For fashion news, follow us at @latimesimage on Twitter.
---