Oscars 2019: Gender-bending fashion scores on the Oscars red carpet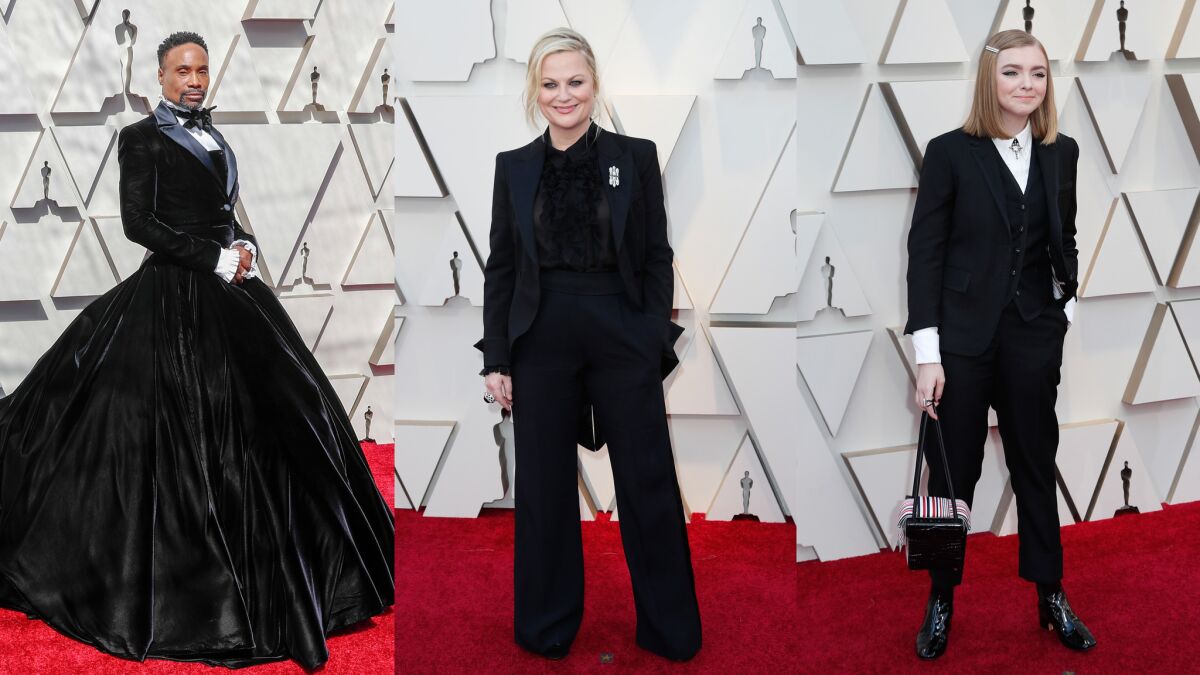 Of the many styles on the red carpet at the 91st Academy Awards, there was one that was embraced by celebrities including Billy Porter, Awkwafina and Amy Poehler, and it sent social media a flutter Sunday night.
That was gender-bending fashion. For the awards ceremony, a number of women decided to wear men's-inspired suits and tuxedos. And at least one man on the red carpet flipped the fashion script.
Porter nearly broke the Internet in a tuxedo gown. Porter, the 49-year-old actor who plays the emcee on the groundbreaking TV series "Pose," donned a custom velvet and satin tuxedo jacket over a strapless ball gown, all by Christian Siriano.
On E! Network on Sunday, Siriano said they started to work together a week ago. "I fit his stylist's assistant in this dress," the New York-based designer said, because Porter was on the West Coast. "[Porter] wanted to push the boundaries. I don't think any man has worn a gown on the Oscars red carpet before."
Others stood out as well. Awkwafina shimmered in a pink-tinted suit by Dsquared2 with a big bow tied under her neck. Amy Poehler selected a custom black tuxedo jacket with coattails, trousers and a silk button-down shirt with ruffle by Alberta Ferretti Limited Edition.
Diane Warren, who wore a Saint Laurent tuxedo adorned with crystal strips on the shoulders to last year's Oscars, maintained a rock 'n' roll edge for her 10th nomination from the Academy of Motion Picture Arts and Sciences. Designed without lapels, her white suit was striped on both the sleeves and pant legs, and she accessorized with a giant chain-link necklace.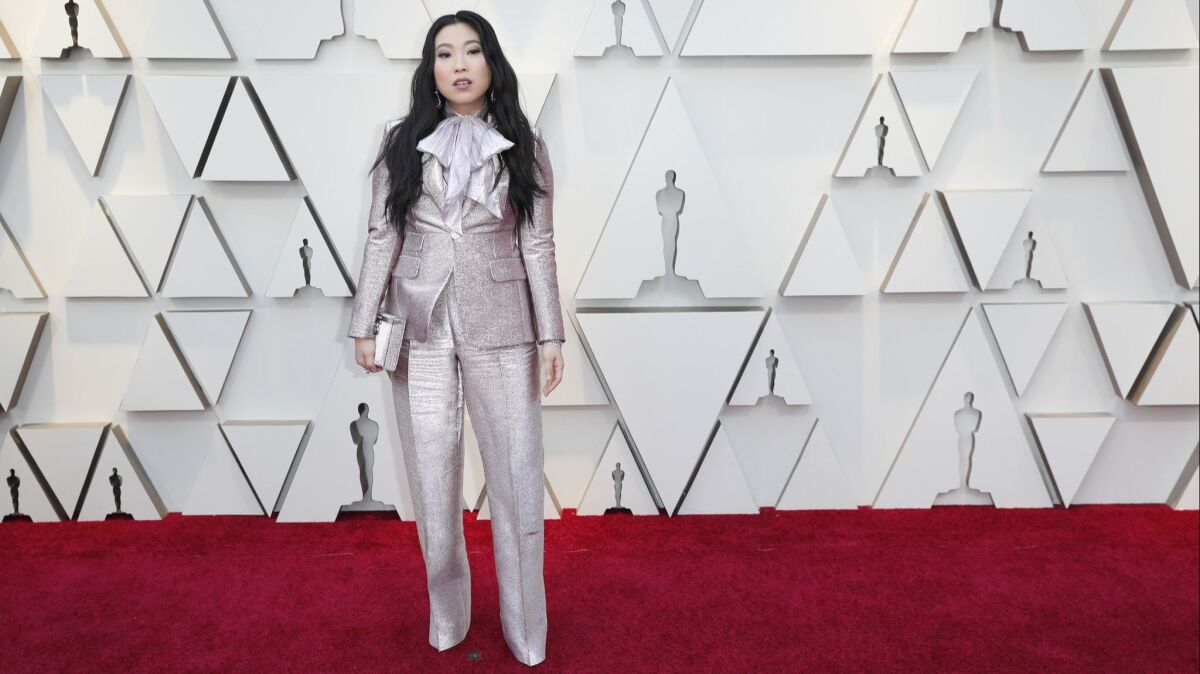 Elsie Fisher, the 15-year-old lead from "Eighth Grade," wore a shrunken black suit from Thom Browne along with vintage Art Deco cufflinks from Beladora on her extra-wide shirt cuffs. She had little glittery touches such as a choker and ring from Sarah Jane Wilde Jewelry and hairpins by Jennifer Behr.
According to Fisher's stylist, Mary Inacio, the inspiration was "Johnny Cash with a touch of Bianca Jagger." As for her hair and makeup, Inacio said, inspiration came from none other than Margot Tenenbaum, Gwyneth Paltrow's character from "The Royal Tenenbaums."
It was as if the high school sophomore had heeded Siriano's advice: "Put on whatever you want that makes you feel good."
Oscars: Why Lady Gaga won this awards season's fashion gold »
For fashion news, follow us at @latimesimage on Twitter.
---