The 2016 VMA arrivals: fantasy frocks, cause awareness, and the shirt gets kicked to the curb
The arrivals at the 2016 MTV Video Music Awards on Sunday night seemed to have something for everybody — except the dress-shirt industry.
There were over-the-top fantastical ensembles like the ones worn by early arrivals Beyonce and daughter Blue Ivy, the former as an angel-winged ice queen in a strong-shouldered, see-through pale green and metallic fall 2016 couture gown by Maison Francesco Scognamiglio, the latter in full princess mode thanks to a Mischka Aoki dress called the Grand Royalle, complete with a tulle skirt, tiara and pair of peach-colored kicks on her feet. (Should you want to buy one for your own little princess, you can find it at Bergdorf Goodman in New York, where a label representative tells us it retails for a cool $10,950.)
As in past years, there was plenty of bared skin to be seen though decidedly not in the familiar configurations. Britney Spears was a perfect example of that, she of the eternally bared midriff wore what might have passed for a run-of-the-mill black, one-shouldered, side-zip cocktail dress with an asymmetrical hem — but for the narrow triangle of exposed flesh running diagonally from right shoulder to left hip in the Julien Macdonald number she wore — and Nicki Minaj managed to somehow be both covered up and over-exposed thanks to a cobalt blue fishtail-hemmed Bao Tranchi gown that hugged her curves like a kid on Christmas but left little to the imagination thanks to sheer side panels, cutouts over the hips and decolletage criss-crossed in more straps and ties than a Cirque du Soleil safety harness.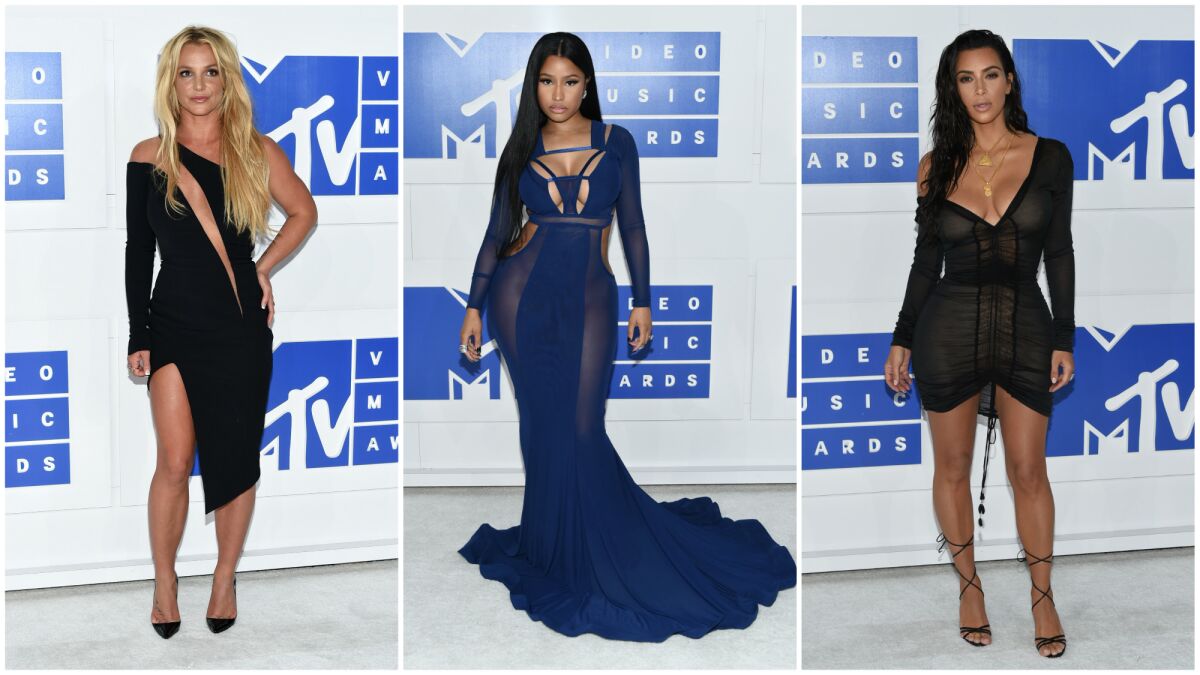 Skin wasn't all that got exposure either, several celebrities took the opportunity in front of millions of impressionable eyeballs to make political statements or highlight causes near and dear to their hearts. Among those were Lance Bass, who hit the white carpet wearing a turquoise-colored bomber jacket designed by Rey Ortiz with the words "Love Trumps Hate" in black appliqued letters across the back, and Beyonce, who posed on the white carpet with mothers whose children were victims of gun violence — the same women who had also appeared in her "Lemonade" visual album holding photos of their deceased sons.
Actress Holland Roden wasn't wearing her cause as much as sharing it via social media; she turned out in a white jumpsuit and floor-length cape by Kayat shortly after sharing news (and the #squadless hashtag) of an anti-smoking video she'd done with the Truth Orange organization.
If there was one takeaway trend — for both men and women — at this year's VMAs, it was the noticeable wearing of jackets and blazers with little or nothing underneath. Among the men going sans dress shirt were designer Jeremy Scott who wore a suit from his spring 2017 Moschino collection, best new artist nominee Desiigner who showed up in a smartly tailored salmon-colored suit (provenance unknown — but rumored to be Maison Martin Margiela) with a four-button notch lapel jacket layered over nothing but his tattooed torso.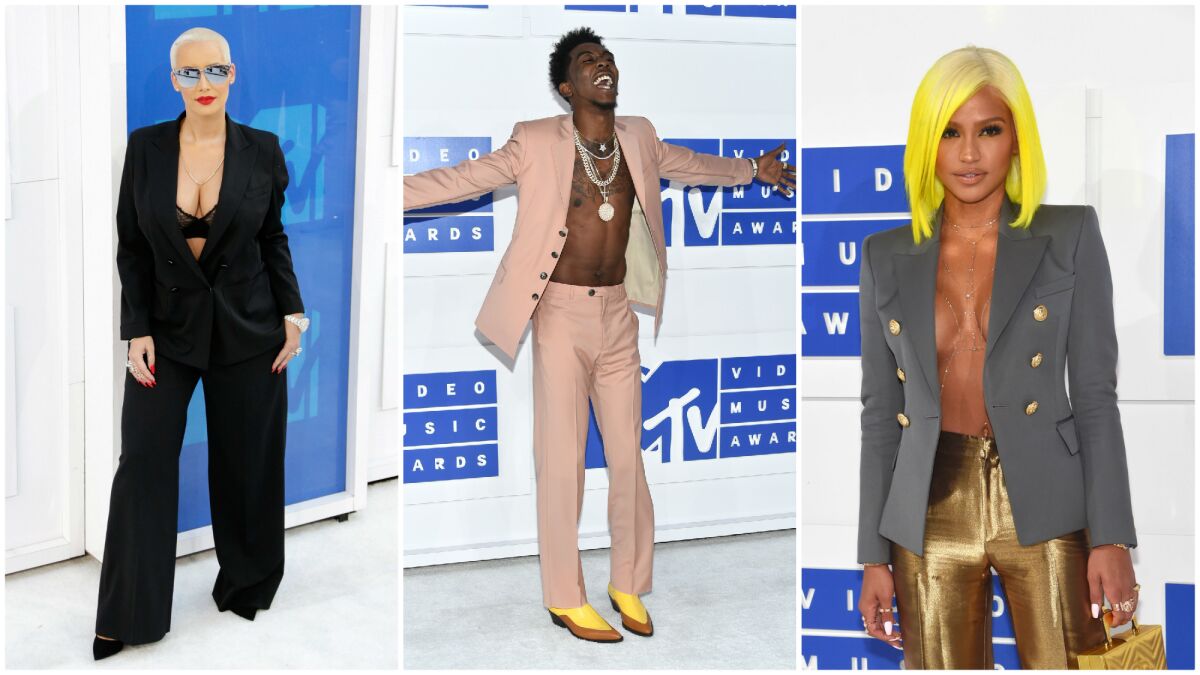 On the women's side, standouts of the jacketed-but-shirtless contingent included Amber Rose in a black Tom Ford suit with wide-legged pants and a double-breasted peak-lapel jacket worn over a lacy black bra and Cassie (she of the highlighter-colored hair) who went one better in the exposure category by wearing a gray, double-breasted jacket with nothing at all underneath.
But credit for the most memorable shirtless-yet-jacket-wearing moment of the VMA arrivals would have to be the arrival of the very pregnant Laura Perlongo, who arrived on the arm of boyfriend Nev Schulman (star of MTV's "Catfish") in an olive-colored, zip-front varsity jacket accessorized with nothing more than necklaces with two silver links of chain that criss-crossed her chest.
Love it or hate it, style-wise we're pretty sure it's the red-carpet baby bump to which generations of future ones will be judged.
For more musings on all things fashion and style, follow me @ARTschorn.
---
UPDATES:
10:02 p.m.: This post has been updated with more information on Blue Ivy's dress.
---