Emma Watson, Meryl Streep and Michelle Williams bring black dresses and female activists to the Golden Globes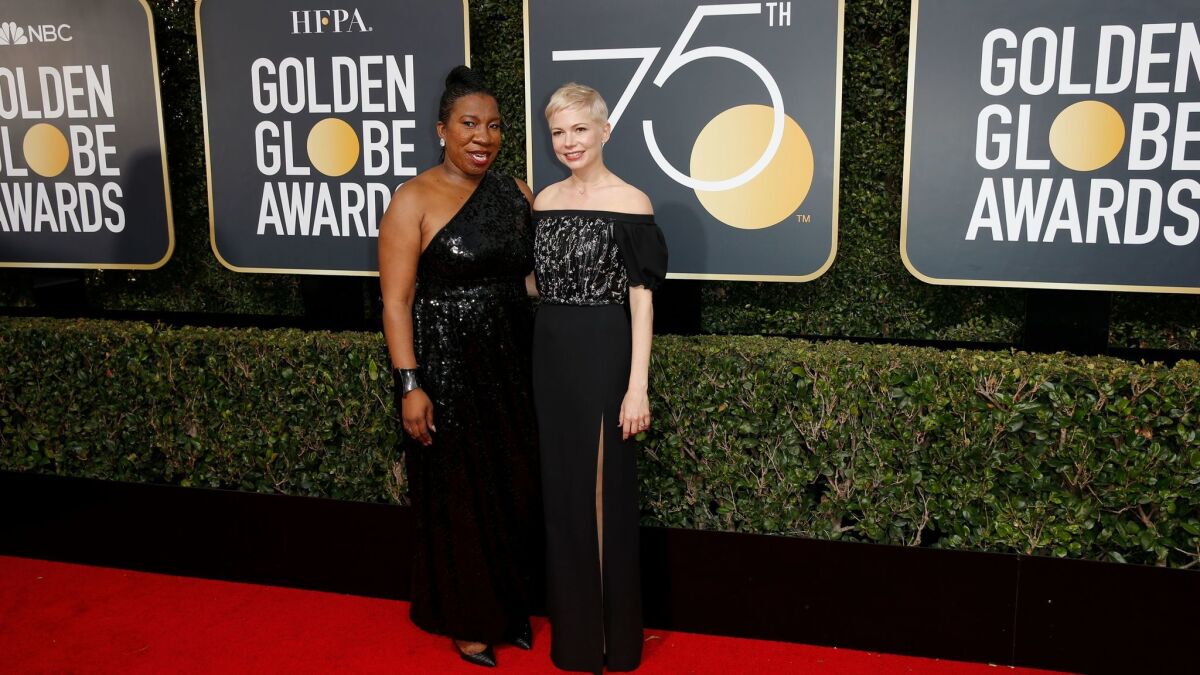 In addition to the black palette on the 75th Golden Globes red carpet, several A-list actresses brought female activists as their dates.
On the red carpet, Michelle Williams commented that she wasn't at the awards show because of her film ("The Greatest Showman") but because of Tarana Burke, her companion for the night. Burke founded the Me Too movement in 2006 to raise awareness about the pervasiveness of sexual abuse and assault in society, which the recent hashtag #MeToo amplified.
Power is the new black on the red carpet at the Golden Globes »
"For me, it's about unity. It's about solidarity, and what can be born of women speaking to each other, empowering ourselves," said Emma Watson, who attended with friend Marai Larasi, executive director of Imkaan, which the actress described as "an amazing black feminist organization that fights violence against women and girls."
On the red carpet, Larasi, also the co-chair of the End Violence Against Women Coalition, commented, "There is a wall of silence against women and girls, [and] every time women [in Hollywood] speak out it creates a crack in that wall. We're saying women in Hollywood have an opportunity to amplify the issue and shine a light on things." She added, "We're saying enough is enough."
Meryl Streep's activist date was Ai-jen Poo, director of the National Domestic Workers Alliance and co-director of Caring Across Generations campaign. "We all deserve workplaces where we're safe and our work is valued and we can live and work with dignity — that's the future," Poo said.
Amy Poehler arrived at the Golden Globes with Saru Jayaraman, whose platform is advocacy for restaurant workers. Jayaraman is the co-founder and co-director of the Restaurant Opportunities Center United and director of the Food Labor Research Center at UC Berkeley.
Laura Dern's date was Monica Ramirez, co-founder of Alianza Nacional de Campesinas, "who wrote the beautiful letter of solidarity in Time magazine," said Dern of how she connected with Ramirez, representing female farmworkers. "We have a long history of combating sexual violence," said Ramirez, who says her organization wanted to send a message to women in the entertainment industry that they stand with them.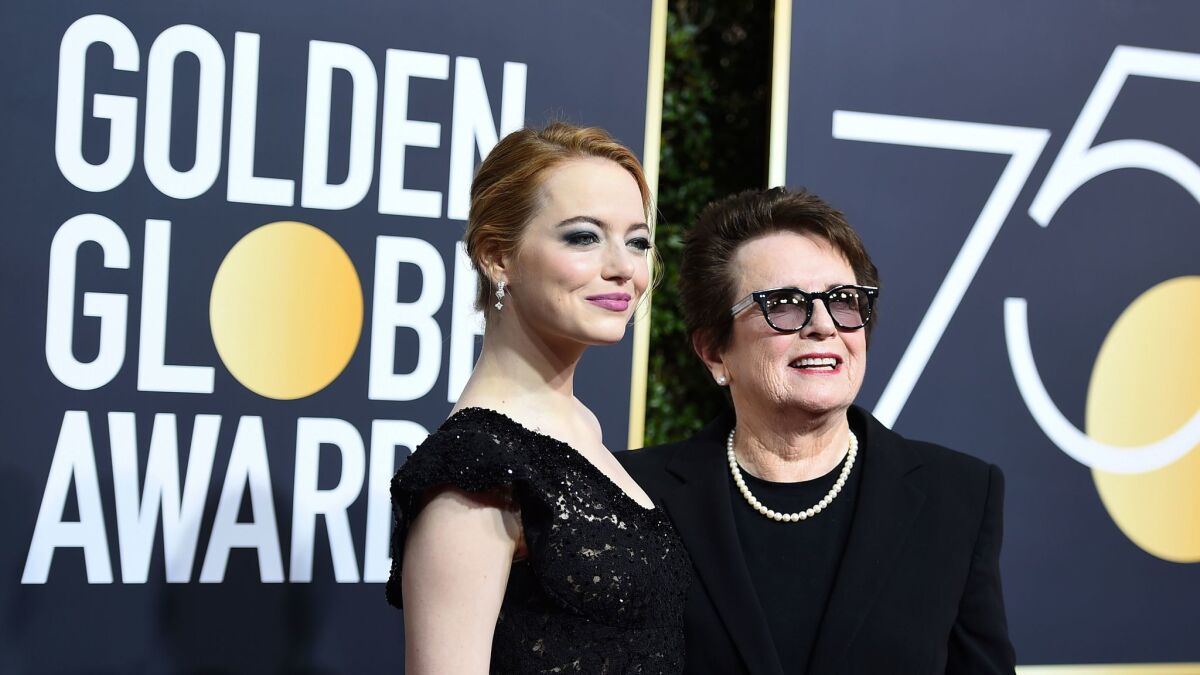 Emma Stone brought Billie Jean King, whom she portrayed in "Battle of the Sexes." King is also the founder of the Billie Jean King Leadership Initiative and has received the Presidential Medal of Freedom.
Susan Sarandon tweeted that she was honored to attend the awards show with Rosa Clemente, a Puerto Rican activist and journalist who "has come to remind us that PR is still in crisis."
And Shailene Woodley brought Calina Lawrence, a member of the Suquamish Tribe and an advocate for Native Treaty Rights, the Mni Wiconi movement and #NoLNG253 movement.
For fashion news, follow us at @latimesimage on Twitter.
---