A favorite moment from 2018: The elaborate style of Afropunk fashion
Tahjana McCoy of London
Occupation: Fashion and travel blogger
Instagram: @tahjana_mccoy
"My nickname is Black Panther, but I dressed in pink and went for the Pink Panther look. I wanted to go for a cluelessly kind of look too. I dyed this wig myself."
(Kailyn Brown )
Darryl McPherson of New York
Occupation: Aspiring filmmaker
Instagram: @_thejournee_
"My look was inspired by last year's Afropunk. Seeing all of these beautiful people. They gave me the inspiration. I ordered the durag but I placed the diamonds on it myself. It took me two days to finish."
(Kailyn Brown )
Darius Goldsmith of Ohio
Occupation: Model and stylist
"I just wanted to play on traditional festival wear like tie-dye and fringe, and make it work for me. My style is very gender-neutral and androgynous so I wanted to play off those elements."
(Kailyn Brown )
Kai Paii of New York
Occupation: Entreprenuer
Instagram: @kaipaii
"WXYZ jewelry is the company I'm representing. I kind of wanted to go with a solid color today. I was thinking it's bold but I don't have to be over the top."
(Kailyn Brown )
Denzell Jones of Philadelphia
Occupation: Customer service
"This is my first time attending Afropunk. I was just in a place in my life where I was feeling really liberated and self-love, so I felt like this was the perfect festival to celebrate all of those things. I think that with time and age you gain wisdom, and you gain confidence and you go through [things]. So you gain a perspective for yourself."
(Kailyn Brown )
Troy Landry of Louisiana
Occupation: Artist, creative director and hair designer
Instagram: @theheirstyles
"I actually was trying to contradict my previous looks. I always do horns but I was getting a lot of negative feedback of people thinking it was demonic. I just really thought of it as dark and majestic, so I decided to combat that with the halo."
(Kailyn Brown )
Moss Levenson of New York (left)
River Levenson of New York
Hero Levenson of New York
Rachel Webster of New York (back)
Moss: "I like a good music festival and this is one of the few where it's like, this is my neighborhood and it represents the neighborhood well."
Hero: "I like this festival because of [the] outfits. I think they're awesome! My mom helped me with my outfit today."
Moss: "The kids saw people dressed up while we were at our neighborhood deli earlier today, and they were like, 'Oh, we have to step our game up.'"
(Kailyn Brown )
Shanique Johnson of New York
Occupation: Artist, designer and model; works for Afropunk
Instagram: @iamshanique
"I'm working the festival, and we have to wear dark colors. So I was like, I have to slay black apparel. I had to pop it out with my hair and makeup."
(Kailyn Brown )
Thaddeus Coats of New York
Occupation: Graphic designer and model
Instagram: @hippypotter
"My look is black royalty and heavy metal reflective. The first thing I bought were the shoes from Buffalo Exchange. [My outfit] says that I'm very powerful as a black man."
(Kailyn Brown )
Megan Griffin of New York
Occupation: Cocktail waitress and communications coordinator
Instagram: @im_megang_bueno
"I'm wearing WXYZ jewelry. I just wore this dress because I feel like it hasn't worn out yet. I wanted to be comfortable today and to stay cool. And we're always about crowns because we're all queens."
(Kailyn Brown )
Malique Payne

Emme Irys Payne

Elisa Gomera of New York
Occupations: Office manager/photographer and educational assistant/photographer
Instagram: @bleekaluchi, @lisagee12
Malique Payne: "Emme picked out her outfit herself. We purchased a few outfits last minute on Etsy by a local artist by the name of Ethnic Brooklyn and we just went with it. We wanted to have something African-inspired."
Gomera: "We support our local seamstress that we have in Harlem. He has an African shop so we constantly go to him. Then the rest is vintage pieces that we put together."
()
Jessica Jackson of New York

Jahmai Harvey of Massachusetts

Occupations: Writer and model/photographer
Instagram: @_jees @iron_zion, @iron_zion
Jackson: "Afropunk means acceptance. I feel beautiful here whether I'm dressed up or not. I'm just all-around happy. It's everything positive here."
Harvey: "So many of us are outsiders. We're awkward. We're ostracized. We come from places where we're not like the normal people, so to come to a place where you feel that love and you feel and you see so many beautiful people, there's representation, and you feel a part of something bigger."
(Kailyn Brown )
Vincent Marc of Philadelphia (left)
Occupation: Photographer/ Coffee shop supervisor
Malcolm Kyle of Philadelphia

Instagram: @marcmystyle, @0rtist
Marc: "I was supposed to have a Persian-inspired look with the high waist and everything kind of tailored. I was going to have a beret for a Black Panther effect, but I ditched it at the last minute because I wore it yesterday. It took a lot to bleach this hair."
Kyle: "My look kind of came from his first look. Our friend designed our harnesses, so I found a piece to go with my second-day [outfit]."
(Kailyn Brown )
Laura Dee of New York

Rasu Jilani of New York

Instagram: @theelauradee, @rasupreme

Dee: "We've been coming to Afropunk ever since the very beginning. We've never missed one. [We continue to come] because of the diversity, the entertainment, of course, just beautiful people, and it's become such a show."
Jilani: "In the beginning it was punk, and punk by definition is anti-everything. I grew up punk. … [But Afropunk] looks different now. When we were here [13 years ago], we were out here mosh-pitting. Now, people are out here peacocking. [But] beyond the phenomenon of Afropunk, [I'm interested in knowing] how authentic are you in black life? How often are you decolonizing your mind, body and spirit every day and not just at Afropunk."
(Kailyn Brown )
Kojo Ade of New York
Occupation: Cultural anthropologist
"I always dress like this. This was a gift that was brought to me from the country of Niger, West Africa."
(Kailyn Brown )
Jordan Brooks of Philadelphia
Occupation: Sales
Instagram: @imjbrooks
"My look is all about a statement. Don't look over there. Look at him. He's making a moment. [Also], I'm naturally a blond, so I was like, let's try pink today."
(Kailyn Brown )
Jewel Jones of New York
Occupation: Model
Instagram: @_doublejaay
"I was going for a monochromatic look. Bright green and very vibrant to match my personality."
(Kailyn Brown )
Jazmin Wilson of Minnesota
Occupation: Wardrobe Stylist
Instagram: @shaebyday
"I just went to coachella and I loved the outfits and everything, so I knew this was going to be another opportunity to dress up. It's different because with the fashion you can tell that this is true authenticity. With Afropunk you can tell everyone comes with their own individual style. As for Coachella, I felt like people were trying to fit into a look. I'm a wardrobe stylist so this for me is very inspiring. I felt like my outfit was going to show out the most, but there's so many ideas here. I can't wait to come back next year to bring it even better."
(Kailyn Brown )
Jahsiah Belle of Florida
Occupation: Fashion marketing student
Instagram: @jahsiahx
"I don't even know what inspired my look. The skirt started it all. I bought it from a thrift store. I like to come to Afropunk to see everyone's outfits. I love fashion."
(Kailyn Brown )
Watson Mere of Florida
Occupation: Painter
Instagram: @artofmere_
"When we gather in celebration like this, our ancestors are celebrating as well because their descendants and children are gathered together and are taking away the European side of them that has been molded into their brain. They are able to express themselves in the way that they originally did in our African culture."
(Kailyn Brown )
Gabsoul of New York
Occupation: DJ and Afropunk performer
Instagram: @gabsoul_
"Afropunk is like the black Woodstock, so to speak. It's like a mecca. I'm from New York and this is a very unique festival with a core of black people.
"I'm wearing a brand called Uniquely Wired. I was going for freeness, obviously there's a lot of crystals, so there's energy flowing through me right now."
(Kailyn Brown )
Akira Rush of New York
Occupation: Yoga instructor
Instagram: @organicroyalty
"When Mother Nature gave birth to a unicorn. That's what I'm going for. I made these earrings, this bouquet and I did my hair.
"I've been wanting to come here for five years. It's the first time I've seen this much black excellence in one place. It's exceptional."
(Kailyn Brown )
Donovan Vega of New York
Occupation: MTA conductor
Instagram: @santovoodoo
"I'm Puerto Rican. This is a cultural mask that has Taíno and West African influence. The story goes, they used to wear this in the carnival in the 1700s in Spain to celebrate when they got rid of the Moors. When they came down to the islands, they started wearing it as a ... you to the Spaniards. I wanted to do this and put more of a contemporary touch on it."
(Kailyn Brown )
JaQuam Mitchell of Louisiana (left)
Kenneth O'Veil of Texas

Occupations: Fashion designers
Instagram: @mitchellbyjaquam, @the_malibu_ken
Mitchell: "My look is inspired by water. [I wanted] to be fluid."
O'Veil: "I was inspired by Afrofuturism."
(Kailyn Brown )
Viorel Tanase of New York
Occupation: Model
Instagram: @classin_
"My outfit was last minute but I kept it fashion. I found this crown on the floor and I was like, 'You know what? I'm going to put this on and act like I planned it.'

I dress very simple, but I really like my hair to pop. I want people to focus on my hair more than anything else."
(Kailyn Brown )
Deja Singh of New York
Occupation: Student
Instagram: @superafrosaiyan
"Many people refer to me as a beam of sunlight like my energy. So I just wanted to make sure that I was that image."
(Kailyn Brown )
Wanda Grant of Washington, D.C.

Chauncey Moore of Washington, D.C.

Moore: "I usually come with my son, and his friends who used to have a tent here called Very Black, but they're not doing it this year. I'm wearing their button. This is the first cross, which was a perfect four … This is out of Ethiopia, Africa."
(Kailyn Brown )
David Webb of New York (left)
Errol Haase of New York
Kimani Mitchell of New York
Instagram: @davidwebb84, @callmeerry
Occupations: Private baker, stylist/tailor and entrepreneur
Webb: "My look is African royalty-themed. I actually took inspiration from Lil' Kim in '97 when she had the boob out, and since Errol likes to wear mesh and Kimani likes to wear pretty much see-through, I brought them together. It was a last-minute look. My pants were custom made. I saw these joggers, and I went to fabric store and made this. It's all inspired by Lil' Kim. That's mother."
(Kailyn Brown )
Soulflower Amn of Massachusetts (left)
Saraphym Wright of Massachusetts
Occupations: Artists
Instagram: @soulflower777, @saraphymmm
Amn: "It means everything to me having my daughter here. My joy comes from her joy, so I think her answer would be the same as mine. She wants to see reflections of herself in beauty, spirituality and culture. It empowers her."
(Kailyn Brown )
Yaaserwaah Akuoku of New York
Occupation: Designer
Instagram: @haus_of_yba
"I design a piece every Afropunk and I focus on a new topic each time. This piece is actually inspired by my thoughts around just womanhood and overt sexiness because I feel, like, for a long time, even though things are changing, there was this stark distinction between women who are intelligent and classy and just quality and women who are comfortable in their sexuality. Growing up and becoming a woman myself, I feel like I don't understand that because women are human beings, and we're hormonal. And it's natural and beautiful. It's really sad when some women feel like they have to hide that side of them to be respectable women."
(Kailyn Brown)
Cynthia Wells of New York
Occupation: Works in child welfare
Instagram: @iamcwells
"I love wearing vintage pieces. I already owned this jumpsuit. I enjoy the fashion at Afropunk because you can see everything. It's on a continuum and things you don't see every day. People express themselves to the fullest."
(Kailyn Brown )
Crystal Anderson of South Carolina
Occupation: Operations manager
Instagram: @beerbottles_chainsaws
"In this climate, Afropunk is the one time that black folks can do what they want to do and be appreciated, and if I'm going to do it, I'm going to do the most. A really beautiful designer, Emily Ridings, who won Parsons school of design contest this year, created this dress for me and shipped it from Kentucky. I saw something similar she created, so she made another one for me just for Afropunk. Afropunk is everything. It's our Met Gala."
(Kailyn Brown )
Corwin Joseph of New York
Occupation: Freelance model and makeup artist
Instagram: @corwinofthrones
"I am into kink, so I feel, like, in the spirit of Afropunk, this is always a festival for queer blackness and unapologetic blackness, and I shouldn't feel the need to be hindered or feel some type of way."
(Kailyn Brown )
Patrick Chen of New York

Shenzi Udell of New York

Occupations: Photographer/videographer and illustrator
Instagram: @purtypat, @silkymami
Udell: "Being from the Dominican Republic and seeing how detrimental racism is within the country, I just really wanted to grasp my Afro roots. I designed this pattern. My look was inspired by hibiscus flowers."
Chen: "I was just trying to match her. She surprised me with tickets on Friday."
(Kailyn Brown )
Britt Fillmore of Ohio
Occupation: Retail manager
Instagram: @brittrfillmore

"My look was inspired by body positivity. I love the fact that my body isn't perfect, and it's not ideal. But I just embrace it. I don't really do anything to stress myself out about my body. I'm also about embracing, expressing yourself and showing off your personality.
(Kailyn Brown )
Amanda Cunningham of New Jersey (left)
Erin Mclin of New York

Occupations: Engineer and executive assistant
Instagram: @eccentric_beauty

Mclin: "Each year we have a theme for our outfits. This year, the theme of the festival is the People Resist. So, her [outfit] represents the past, the pain, the struggle and the blood and tears. Mine represents the future, which is the light and the clearness. We're connected because you can't have the future without the past."
(Kailyn Brown )
Ali Stewart of Florida
Occupation: Designer
Instagram: @alithecreator
"This is my fourth time attending Afropunk. There's great networking opportunities for creatives and I just love it. You get a lot of opportunities coming out here."
(Kailyn Brown )
Reporting from New York —
A sea of guests garbed in floral crowns, traditional African prints, elaborate DIY accessories, sheer veils and other unique styles flooded into the year's 13th Afropunk festival at Commodore Barry Park in New York.
The festival, which took place Aug. 25-26, was inspired by the release of the 2003 documentary "Afro-Punk" by James Spooner, though the director has since split ties from the event.
Afropunk celebrates the diaspora of black culture through art, fashion, music and skateboarding.The festival is also held in Atlanta, Johannesburg, Paris and London. In 2016, company brought its Fancy Dress Ball to Los Angeles (and the West Coast) for the first time.
Although the sold-out Brooklyn show, which attracted more than 60,000 guests, had an all-star lineup of entertainers including Erykah Badu, Janelle Monáe, Tyler, the Creator and Pusha T, those who were dressed the most elaborately often stole the show. The style rebels were seen posing for professional photographers and admirers throughout the park at every turn.
For some attendees, dressing extravagantly didn't require the special occasion. However, for others, Afropunk served as an opportunity to express themselves in a new way. Whether it was for sexual liberation, cultural pride, political protest or personal expression, each person showed off their style for this year's theme: "The People Resist."
Sorry, Coachella attendees, but Afropunk guests took their fashion game more seriously this year. The Times caught up with attendees at the festival, and here's a look back at some of the festival's most eye-catching outfits.
A family affair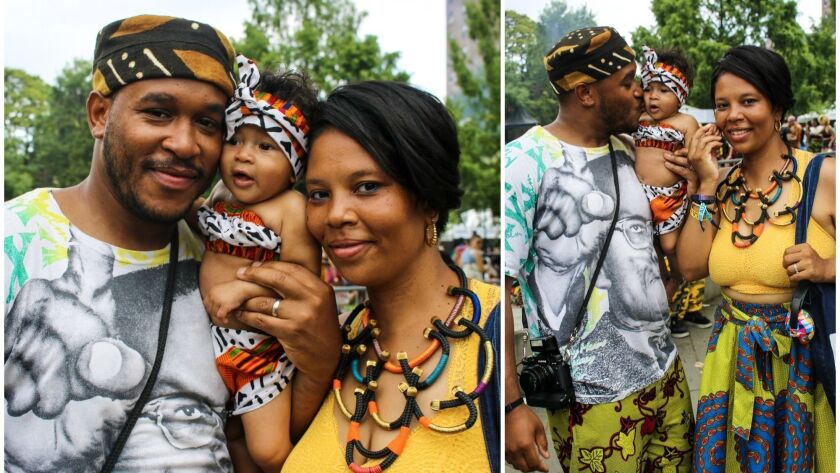 Malique Payne and Elisa Gomera brought their daughter Emme Irys Payne to Afropunk for the first time to expose her to black culture.
"We came for the culture, style, blackness and for exposure for our baby as well," Gomera said. "We think it's important just so she knows where she's from, and has an open mind about different people."
"Emme picked out her outfit herself," Payne said jokingly. "We wanted to have something African-inspired."
Royal style
Jessica Jackson of New York and Jahmai Harvey of Massachusetts collaborated on a regal outfit for their couple's look.
"It's my first time at Afropunk, but she's been before," Harvey said, before adding with a laugh: "I couldn't be a king here without my queen."
"For me, Afropunk means acceptance," Jackson said. "I feel beautiful here whether I'm dressed up or not. I'm just all-around happy."
"So many of us are outsiders," Harvey said. "We're awkward. We're ostracized. We come from places where we're not like the normal people, so to come to a place where you feel that love and you feel and you see so many beautiful people, there's representation and you feel a part of something bigger."
Designer look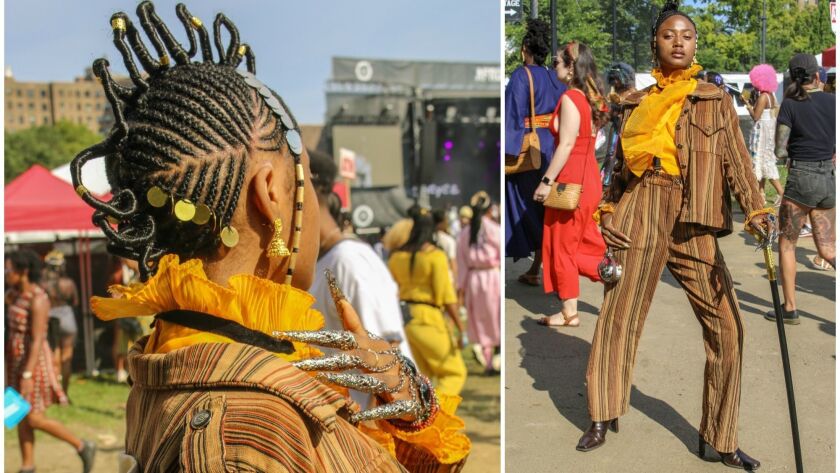 Akua Shabaka of New York wore designs from her fashion brand, House of Aama, to Afropunk.
"I just wanted to encompass one of the characters that we portray in our brand and I just wanted to bring this Haitian voodoo [vibe]," she said. "For me, Afropunk is like a masquerade ball at this point. I think it's just about bringing black people together and showing black essence and black beauty. This is me every day, and I feel like I can just go full out and not be judged or anything."
The newbie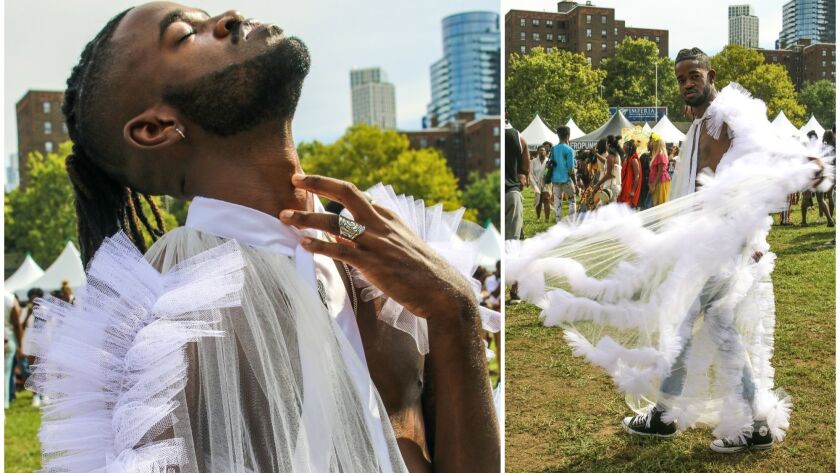 Denzell Jones of Philadelphia attended Afropunk for the first time in 2018.
"I was just in a place in my life where I was feeling really liberated and had self-love, so I felt like this was the perfect festival to celebrate those things," he said. "I love seeing people be fearless [at Afropunk]. I've always been bold in fashion, even since, like, middle school. So now that I'm an adult, I have the money to do it even more."
The elevated look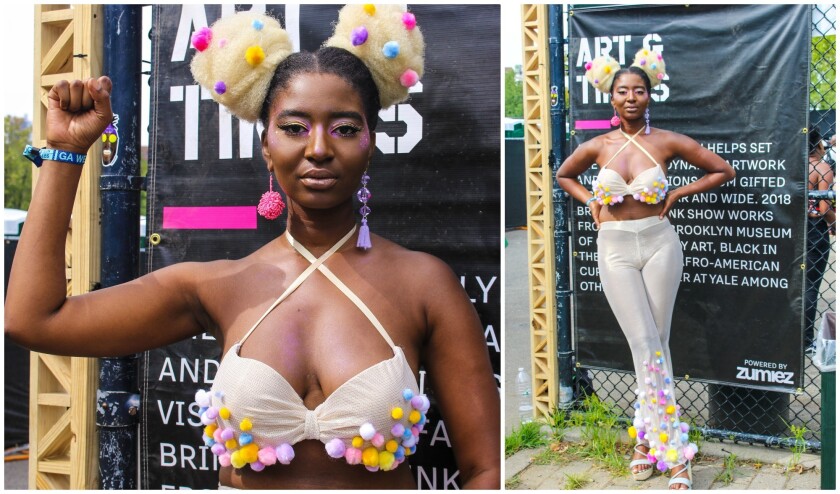 Photos of Nicole Gordon wearing huge ponytails adorned in flowers appeared in several major publications for 2017's Afropunk, but for 2018 she decided to elevate her look.
"Last year, I felt like I was in my full form of blackness," Gordon said of her 2017 festival look. "I feel like it shouldn't take a festival for me to realize that, but there's such a cultivation of spirit, culture and Afrocentrism here that I love. This time, I wanted to look like an end of summer celebration. I really love pastels and spring colors, so I really wanted to incorporate that. I drew everything out, and my mom made it. I glued the pompoms on. I feel like they're just fun. I also love dots. That's one of my signature things with makeup. I love to put little dots everywhere."
Inspiration from Beyoncé
Jazmin Wilson of Minnesota wore an outfit inspired by a Beyoncé photo shoot.
"I just went to Coachella and I loved the outfits, so I knew this was going to be another opportunity to dress up," she said. "It's different because with the fashion you can tell that this is true authenticity. With Afropunk, you can tell everyone comes with their own individual style. As for Coachella, I felt like people were trying to fit into a look. I'm a wardrobe stylist so this for me is very inspiring. I felt like my outfit was going to show out the most, but there's so many ideas here. I can't wait to come back next year to bring it even better."
---
Inside the business of entertainment
The Wide Shot brings you news, analysis and insights on everything from streaming wars to production — and what it all means for the future.
You may occasionally receive promotional content from the Los Angeles Times.