A favorite moment from 2018: The elaborate style of Afropunk fashion
Reporting from New York —
A sea of guests garbed in floral crowns, traditional African prints, elaborate DIY accessories, sheer veils and other unique styles flooded into the year's 13th Afropunk festival at Commodore Barry Park in New York.
The festival, which took place Aug. 25-26, was inspired by the release of the 2003 documentary "Afro-Punk" by James Spooner, though the director has since split ties from the event.
Afropunk celebrates the diaspora of black culture through art, fashion, music and skateboarding.The festival is also held in Atlanta, Johannesburg, Paris and London. In 2016, company brought its Fancy Dress Ball to Los Angeles (and the West Coast) for the first time.
Although the sold-out Brooklyn show, which attracted more than 60,000 guests, had an all-star lineup of entertainers including Erykah Badu, Janelle Monáe, Tyler, the Creator and Pusha T, those who were dressed the most elaborately often stole the show. The style rebels were seen posing for professional photographers and admirers throughout the park at every turn.
For some attendees, dressing extravagantly didn't require the special occasion. However, for others, Afropunk served as an opportunity to express themselves in a new way. Whether it was for sexual liberation, cultural pride, political protest or personal expression, each person showed off their style for this year's theme: "The People Resist."
Sorry, Coachella attendees, but Afropunk guests took their fashion game more seriously this year. The Times caught up with attendees at the festival, and here's a look back at some of the festival's most eye-catching outfits.
A family affair
Malique Payne and Elisa Gomera brought their daughter Emme Irys Payne to Afropunk for the first time to expose her to black culture.
"We came for the culture, style, blackness and for exposure for our baby as well," Gomera said. "We think it's important just so she knows where she's from, and has an open mind about different people."
"Emme picked out her outfit herself," Payne said jokingly. "We wanted to have something African-inspired."
Royal style
Jessica Jackson of New York and Jahmai Harvey of Massachusetts collaborated on a regal outfit for their couple's look.
"It's my first time at Afropunk, but she's been before," Harvey said, before adding with a laugh: "I couldn't be a king here without my queen."
"For me, Afropunk means acceptance," Jackson said. "I feel beautiful here whether I'm dressed up or not. I'm just all-around happy."
"So many of us are outsiders," Harvey said. "We're awkward. We're ostracized. We come from places where we're not like the normal people, so to come to a place where you feel that love and you feel and you see so many beautiful people, there's representation and you feel a part of something bigger."
Designer look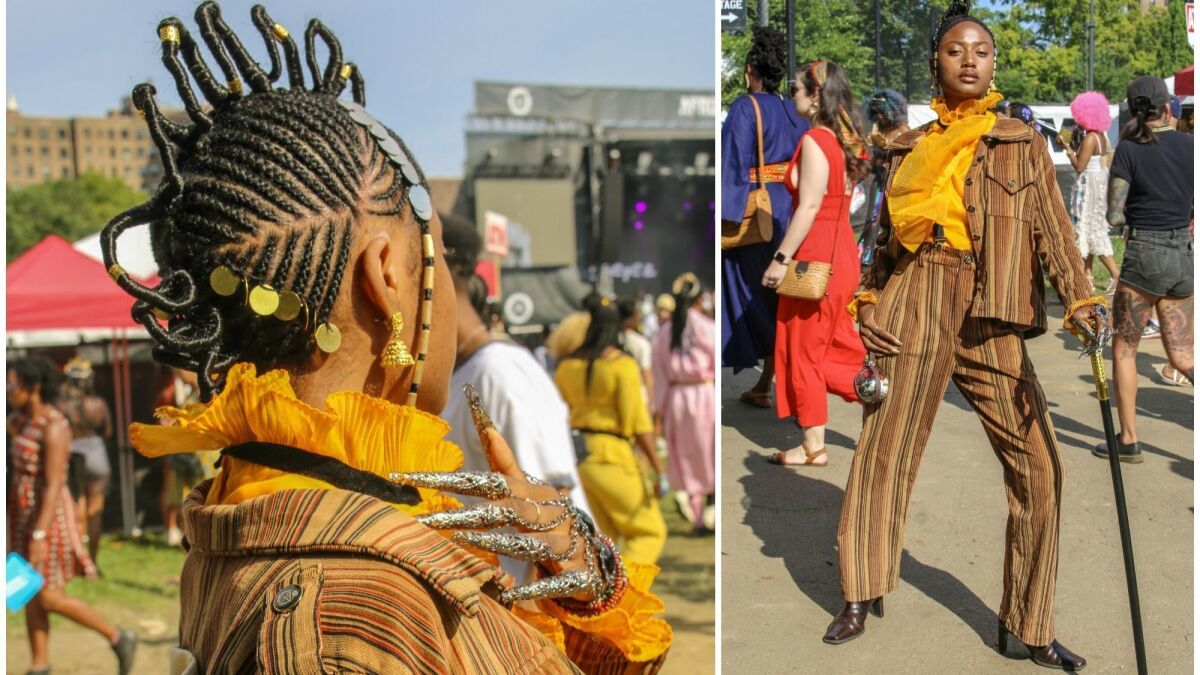 Akua Shabaka of New York wore designs from her fashion brand, House of Aama, to Afropunk.
"I just wanted to encompass one of the characters that we portray in our brand and I just wanted to bring this Haitian voodoo [vibe]," she said. "For me, Afropunk is like a masquerade ball at this point. I think it's just about bringing black people together and showing black essence and black beauty. This is me every day, and I feel like I can just go full out and not be judged or anything."
The newbie
Denzell Jones of Philadelphia attended Afropunk for the first time in 2018.
"I was just in a place in my life where I was feeling really liberated and had self-love, so I felt like this was the perfect festival to celebrate those things," he said. "I love seeing people be fearless [at Afropunk]. I've always been bold in fashion, even since, like, middle school. So now that I'm an adult, I have the money to do it even more."
The elevated look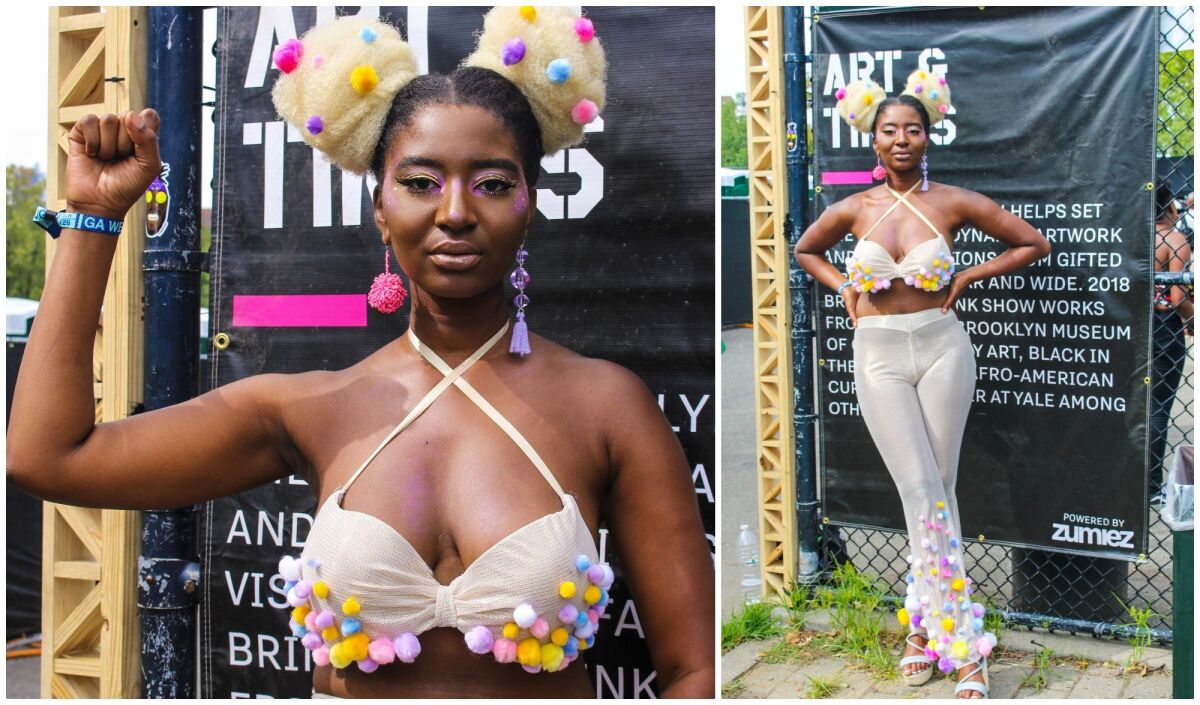 Photos of Nicole Gordon wearing huge ponytails adorned in flowers appeared in several major publications for 2017's Afropunk, but for 2018 she decided to elevate her look.
"Last year, I felt like I was in my full form of blackness," Gordon said of her 2017 festival look. "I feel like it shouldn't take a festival for me to realize that, but there's such a cultivation of spirit, culture and Afrocentrism here that I love. This time, I wanted to look like an end of summer celebration. I really love pastels and spring colors, so I really wanted to incorporate that. I drew everything out, and my mom made it. I glued the pompoms on. I feel like they're just fun. I also love dots. That's one of my signature things with makeup. I love to put little dots everywhere."
Inspiration from Beyoncé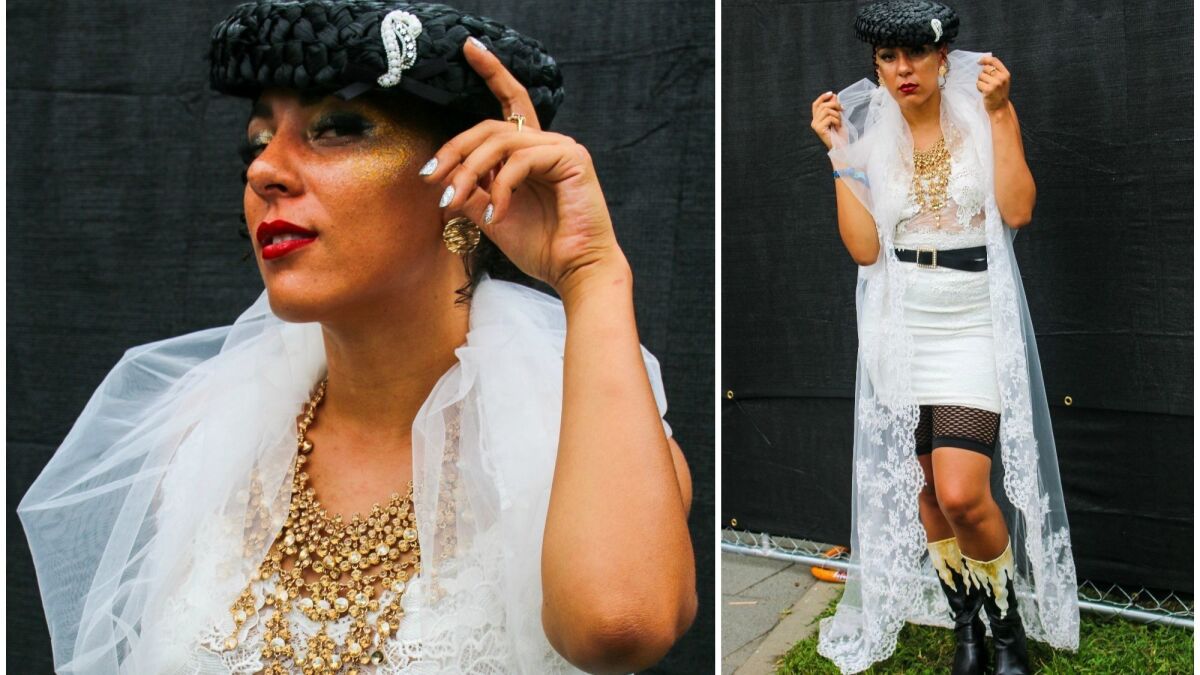 Jazmin Wilson of Minnesota wore an outfit inspired by a Beyoncé photo shoot.
"I just went to Coachella and I loved the outfits, so I knew this was going to be another opportunity to dress up," she said. "It's different because with the fashion you can tell that this is true authenticity. With Afropunk, you can tell everyone comes with their own individual style. As for Coachella, I felt like people were trying to fit into a look. I'm a wardrobe stylist so this for me is very inspiring. I felt like my outfit was going to show out the most, but there's so many ideas here. I can't wait to come back next year to bring it even better."
---
Get our daily Entertainment newsletter
Get the day's top stories on Hollywood, film, television, music, arts, culture and more.
You may occasionally receive promotional content from the Los Angeles Times.