Beauty chain Bluemercury is placing its bets on L.A.'s skin-care-obsessed culture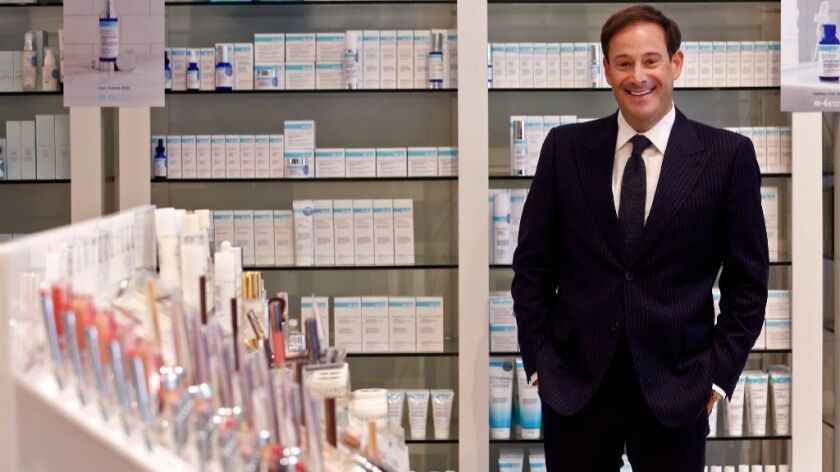 In the age of digital shopping, Barry Beck, co-founder and chief operating officer of upscale beauty chain Bluemercury, is going another route. He's betting big on brick and mortar — and Los Angeles plays a starring role in all of it.
In 1999, Beck opened the first Bluemercury store in Washington, D.C., where the company is based. Bluemercury, now owned by Macy's Inc., has 153 stores in 25 states, competing with beauty brands such as Sephora and Ulta Beauty.
Beck says he believes there is major potential for the chain to become a ubiquitous upscale neighborhood drugstore. Think a fancy 7-Eleven for Angelenos looking to pick up a Tom Ford lipstick or Acqua di Parma aftershave balm on the go.
"I'm going to blanket Los Angeles with stores," says Beck, citing the City of Angels as a key market for growth, on a fall morning from the pristine, product-filled interior of Bluemercury's Sunset Plaza location. "I'm in the neighborhood business, and there are so many incredible neighborhoods in L.A. I think I could open 100 stores here."
There are 12 Bluemercury locations in Los Angeles with two more scheduled to open by early 2018, including a flagship location at 8500 Melrose Ave. in West Hollywood next month.
And what's behind Beck's desire to expand in L.A.? Turns out the prestige cosmetics industry is thriving regardless of the dramatic shifts in how people are shopping. In 2016, prestige beauty products purchased in specialty or department stores totaled $12.8 billion in sales nationwide, according to a report by market research company NPD Group.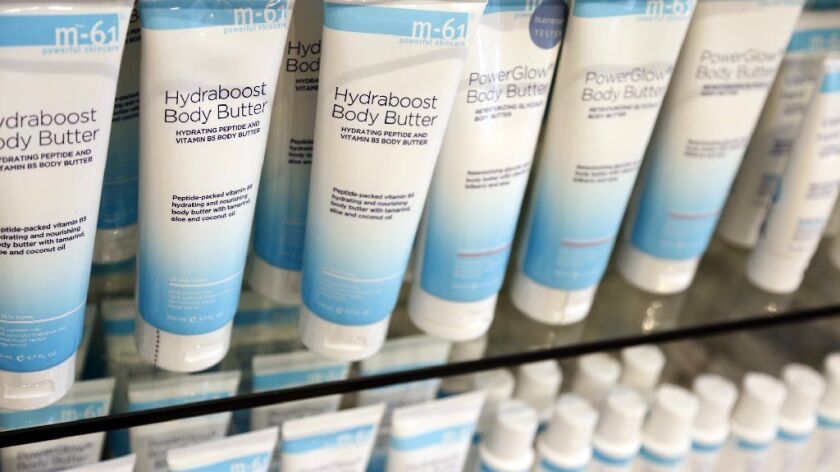 For Bluemercury, clean beauty and men's grooming and cosmetics are particularly strong areas of growth in the L.A. market. In 2012, Beck created a clean skin-care line called M-61 in part because of the buying power and interest in natural products of L.A. shoppers. In addition to M-61 and the brand's in-house makeup line, Lune + Aster, there are designated sections in Bluemercury stores dedicated to clean beauty, or chemical-free products. Currently, the PowerGlow Peel pads from M-61 are Bluemercury's most popular item with one box sold every eight seconds, according to Beck. They are used for blemishes and usually next to La Mer and Jo Malone products in most Bluemercury stores.
Beck says having a curated prestige beauty store on as many corners as there are Starbucks locations might appear aggressive. However, he thinks L.A. residents are forward-thinking customers with an advanced knowledge of clean beauty and men's grooming. Also, he says, the needs of many Angelenos vary because of the city's unique culture, which includes beach life, entertainment and technology industries.
"Seventy-five percent of our Los Angeles customers all live within a one-mile radius of the store they frequent," Beck says. "I'm always studying the data to see where the California clients are. They're actually a little bit further ahead than the New York client. They're chic like the New York client, but they're always a little bit ahead of the curve. Clients here are trendsetters."
Los Angeles shoppers are also leaders in the men's beauty space. Beck says the new flagship store on Melrose will have an increased offering of men's-related products beyond shower gel and shaving cream.
"For the first time in history, men are actually purchasing in the makeup category in a significant way, and it's happening here in L.A.," Beck says. "They used to come in for shower gel, shaving cream, shampoo, but now they're buying bronzers, concealer, eyebrow gel."
He attributes the surge to the strong selfie culture as well as the film and technology industries that thrive in the city. "They're in the movie business," Beck says. "They are doing a TED Talk. They're going on CNBC. They're going on Fox Business, and they know that they've got to purchase the makeup category. This is a big trend. … We're going to be pioneering men's in a big way at our flagship. We're going to have a flagship men's facial, which includes a beard treatment for guys." Each Bluemercury location has a spa with various services featuring an extensive facial menu and waxing, microdermabrasion and makeup application.
The 2,500-square-foot Melrose flagship will feature a robust men's section as well as naturals. According to Beck, it will also be a hub for digital innovation for finding and socially sharing beauty products.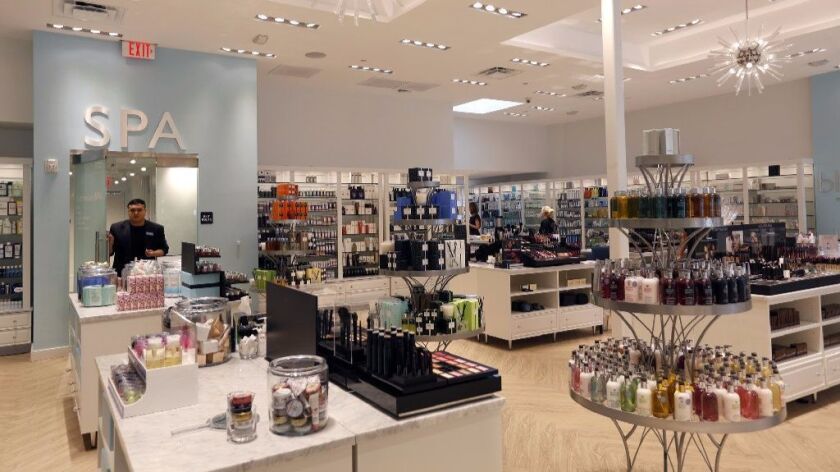 Mirrors called Bluemercury Connect, he says, will be set up in the new flagship location. They are equipped with technology to tell a customer everything about a product including price, reviews and how-to videos. The mirror can also sync up to a smartphone and text customers product information so they can order items to be delivered to their home.
Beck says Bluemercury will be able to make mobile deliveries in L.A. in an hour or less similar to Amazon. Also, if customers allow a beacon to be placed in their mobile devices, their location for delivery can be tracked, and products will be brought directly to them.
"You might be in a situation where you say, 'I'm at Melrose and Knoll' or 'I'm at the Beverly Hills Hotel and I need a fresh lipstick,'" Beck says.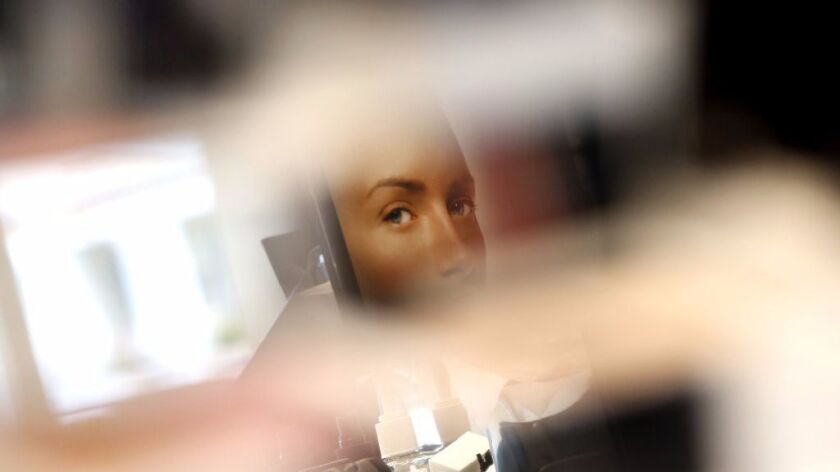 For fashion news, follow us at @latimesimage on Twitter.
ALSO
Fergie, Chris Martin, James Corden perform at amfAR Gala honoring Julia Roberts
Sophia Bush, Laura Dern, Tracee Ellis Ross, Jamie Foxx take in annual Veuve Clicquot Polo Classic
Sarah Jessica Parker, Priyanka Chopra, Zachary Quinto mix fashion and art at Hammer Museum gala
---