Busy Philipps is throwing a party. You're invited
On a recent Friday afternoon, Busy Philipps sat by the window of a Mexican restaurant in West Hollywood, dressed in an orange crop top, orange skirt and a jean jacket, her back to the sidewalk as a steady stream of passersby slowed to catch a glimpse of the actress and late-night talk-show host.
As Philipps ate her lunch — salad, chips, salsa, guacamole and a skinny margarita — she mused that, despite roles in the notable TV shows "Dawson's Creek," "Freaks and Geeks" and "Cougar Town," she might be best known to the public as the BFF and sidekick to better-known celebrities. Inside Hollywood, though, it's a different story.
"I … know everyone," Philipps, 39, said before laughing. "I've been here for a really long time. And I've managed to carve out this super-weird career that spans 20 years, and in those 20 years, I'm a person that's able to maintain relationships, both at work and in my personal life. You know, I'm like a gatherer. I'm a keeper."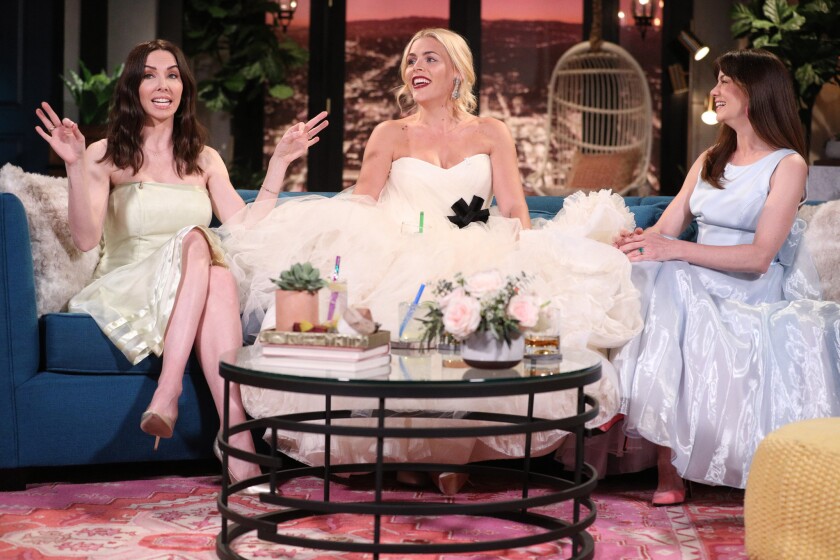 Those friendships have not gone unnoticed to viewers of her talk show. "Busy Tonight," which airs 11 p.m. PDT/EDT Monday through Thursday on NBCUniversal's E! network, is taped in front of a live audience inside a tiny studio in a stretch of Hollywood near a James Perse store and a Buzzfeed office. It's a quirky 30-minute interview show similar to sister channel Bravo's "Watch What Happens Live" with host Andy Cohen.
After debuting in October to mostly lukewarm reviews, the show has evolved into what feels like the best party in town, largely because of the good rapport Philipps seems to have with her guests.
They join her on the large, dark-turquoise sofa on the set of her talk show and in the faux kitchen, sipping cocktails during the taping, and they are encouraged to swear if necessary as they chat with Philipps. (She said that early on she reached out to friends to appear on the show.)
Philipps' list of guests has included her (truly) best friend Michelle Williams, the four-time Oscar nominee, whom she knows from their "Dawson's Creek" days; Julia Roberts; Courteney Cox, who worked with Philipps on "Cougar Town"; Kim Kardashian West; Mandy Moore; and Tracee Ellis Ross. Philipps also recently staged a reunion with her former cast mates from the 2004 Keenen Ivory Wayans film "White Chicks."
"I adore you, @BusyPhilipps," Moore recently tweeted after taping her appearance on "Busy Tonight." "You've also ruined me ever doing another talk show again (margaritas and surprises). No one can compete."
Philipps said her team's goal is to make the show easy and enjoyable for guests. "Press can be exhausting, and doing talk shows and publicity for your projects can take a lot out of a performer, when the energy that you really want to spend is like making the … you know?" she said.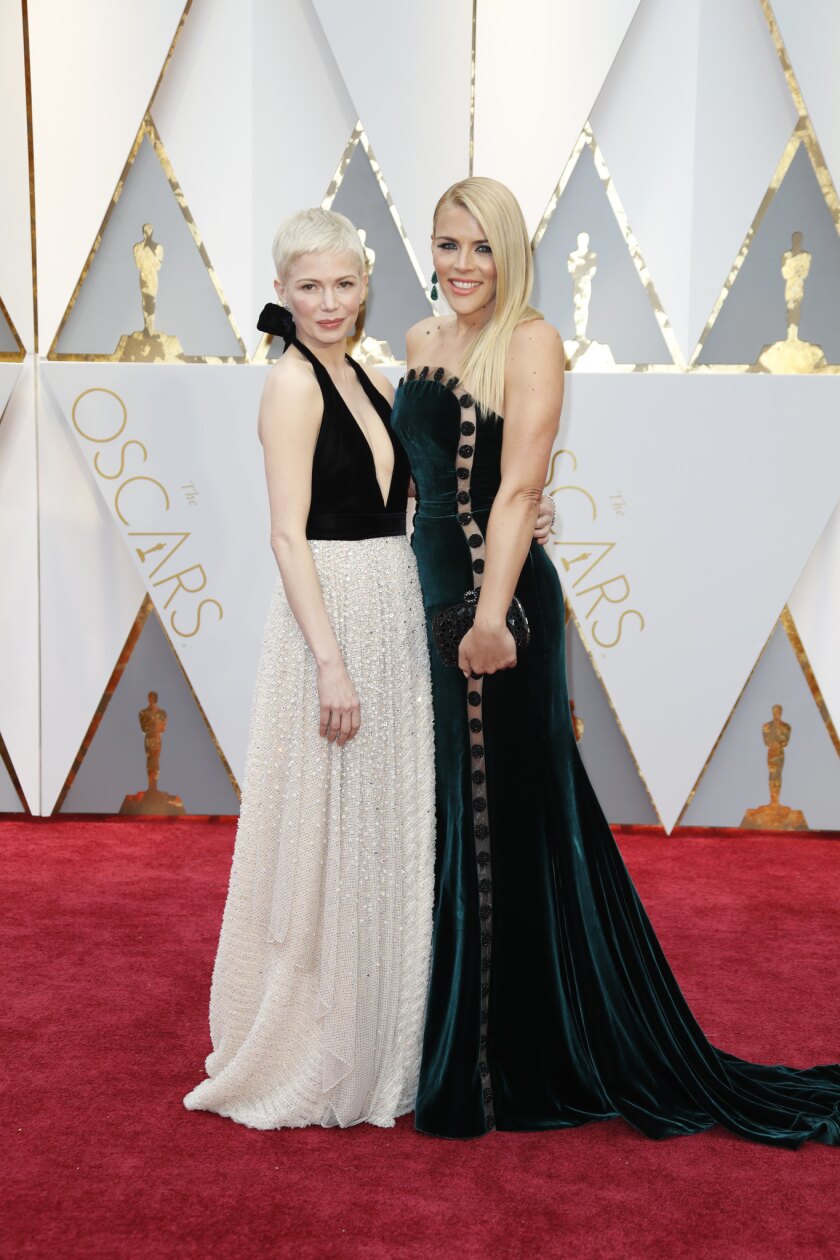 "Busy Tonight," which came together after a Tina Fey-backed pilot Philipps was involved with didn't get picked up at NBC, was inspired by her chatty Instagram feed (currently 1.7 million followers) and arrived on the heels of her 2018 tell-all memoir, "This Will Only Hurt a Little," in which she discusses, among subjects, being raped at age 14; being shoved to the ground by actor James Franco on the set of "Freaks and Geeks"; and coping with postpartum depression while raising her two daughters — Birdie, now age 10, and Cricket, 5.
Philipps' creative team might be a little unusual by Hollywood standards. It's mostly women, including her sister, producer Leigh Ann Dolan. The TV host, who grew up in Scottsdale, Ariz., and went to L.A.'s Loyola Marymount University, said having a female-led team was important to her, especially because the entertainment industry has been run by men for decades. ("Busy Tonight" is co-produced with Fey's Little Stranger production company.)
Although she might comment on in-the-news moments or take a stand on an issue she believes in, Philipps often takes a more lighthearted approach with "Busy Tonight." For example, she wears a boho-style Natalie Martin nightgown, which her daughter Cricket fondly named Mr. Nightgown, and closes her show by singing a song, composed by Fey's husband, Jeff Richmond, that starts off with the line, "There's no more tequila … ." In the final seconds, she looks into the camera and says, "I love you." (Philipps said, "Sometimes it's [to] particular people, and sometimes it's truly the audience.")
A recent guest, Karley Sciortino, a sex and relationship columnist for Vogue and founder of the website "Slutever," applauded Philipps for doing something different than what's happening on the current roster of talk shows. "Which, I think, is nice," she said. "I was really excited that she wanted me to come on the show. … The show feels pretty happy. She sings during it. The guests come on and are very relaxed. What is distinct about her show is that it has this sweet, relaxed, sitting-on-the-sofa-with-your-friends vibe."
For the show that aired Thursday, Philipps welcomed her former "Dawson's Creek" costar Chad Michael Murray, who's appearing on the CW series "Riverdale." (The two had a falling out years ago, Philipps said, but have made up.) Also, in the studio mix was Philipps' husband, screenwriter Marc Silverstein ("Never Been Kissed," "I Feel Pretty"), accompanying daughter Cricket to the set to take part in a hairstyling competition between Philipps and Murray. (She declared her mom the winner.)
Asked which celebrity she most wants on her show, Philipps quickly said, "Ops," as in Oprah Winfrey, who had a successful daytime talk show that ended in 2011 after a 25-year run. There are set decorations at "Busy Tonight" in Winfrey's honor, and in December, the former daytime TV queen called in to the show to surprise Philipps. "I'm so happy that you're on late night. It's so good to see a woman on late night," Winfrey told a teary-eyed Philipps.
Our show is political. ... But things like having a woman on television in late night is inherently political.
Busy Philipps, host of "Busy Tonight"
Jenni Konner, co-showrunner and writer for the HBO series "Girls," has attended a few tapings of "Busy Tonight." She met Philipps on the set of Judd Apatow's short-lived early 2000s Fox comedy "Undeclared" and describes Philipps as one of Hollywood's hardest workers. "She's extremely confident and extremely wise," Konner said, adding that Philipps' personality and strong writing skills make her a force to be reckoned with in the industry. "She's just as she seems. She's completely authentic. We're lucky enough to have her sharing it with us."
The two have become closer friends in recent years, sharing text messages through the day and sometimes meeting up for late nights of tequila. "She has an incredible voice," Konner said. "She's the most determined person I know. It's not blind ambition. It's a result of knowing who she is. She has so much charisma. I think she said to me once, 'I'm used to being underestimated.' "
Konner said Philipps is coming into her own in the late-night space. "I think she's perfect for it. "She always has great guests. She makes you feel like she's your best friend, even if you're not. … That's the magic of Busy."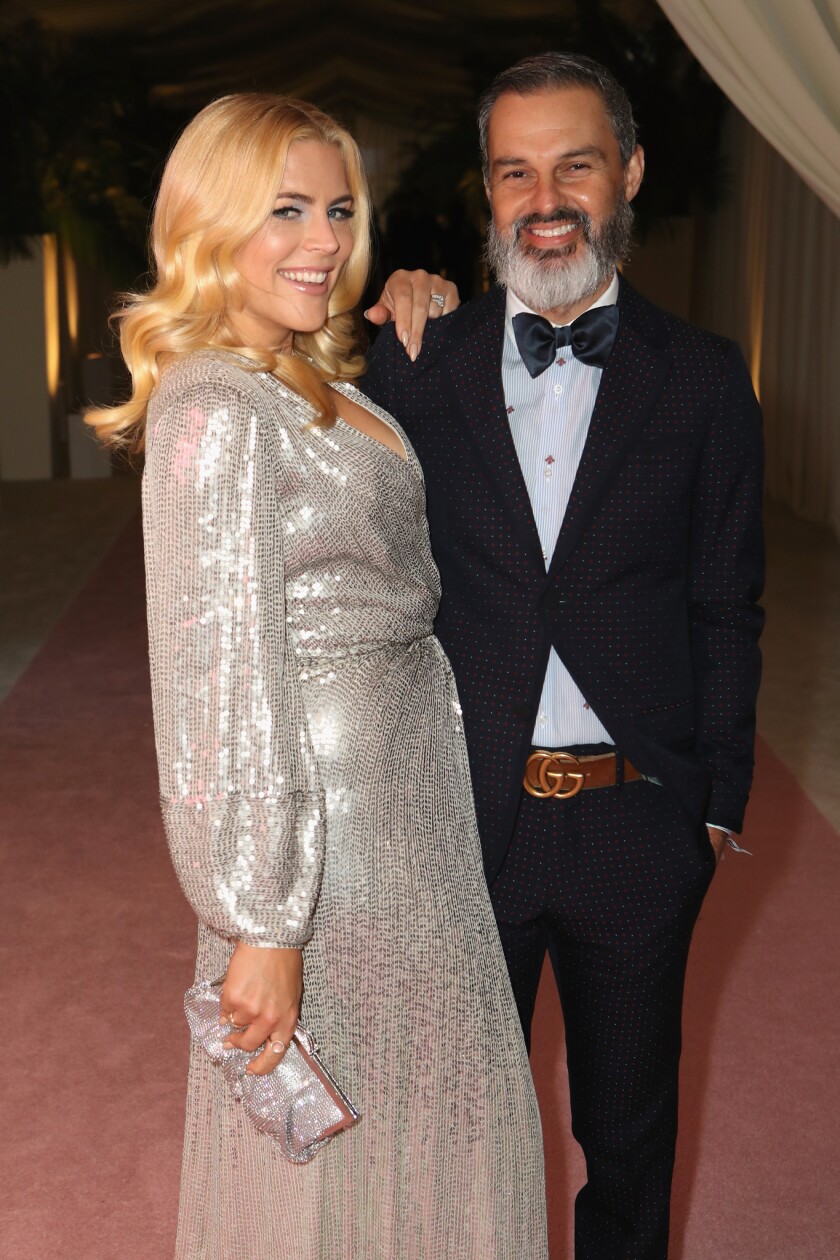 Celebrity stylist Karla Welch, who first worked with Philipps about a decade ago on an InStyle magazine shoot, agreed, saying she wasn't surprised by Philipps' move into late night. About a year before "Busy Tonight" happened, Welch said she recalls Philipps telling her, "I want to be a nighttime talk-show host." "I got to be at the beginning of the manifestation of it all."
Welch said Philipps is suited for this job because she's gregarious and knows how to throw a good party. "She is completely in charge of her own destiny," said Welch, who works with Philipps on her red-carpet looks and advertising campaigns. "I think it's also because she's a good people connector. It makes sense to me."
In a TV space that's been largely a boys' club for decades, Philipps is on a fluctuating list of women who are the hosts of late-night shows. Philipps has joined Samantha Bee, host of "Full Frontal With Samantha Bee" on TBS, which premiered in 2016, and Christiane Amanpour, host of public-affairs show "Amanpour and Company," which began airing on PBS in 2018. This fall, YouTube star Lilly Singh, who's taking over a television slot long occupied by NBC's Carson Daly, will be added to the list of late-night shows hosted by women.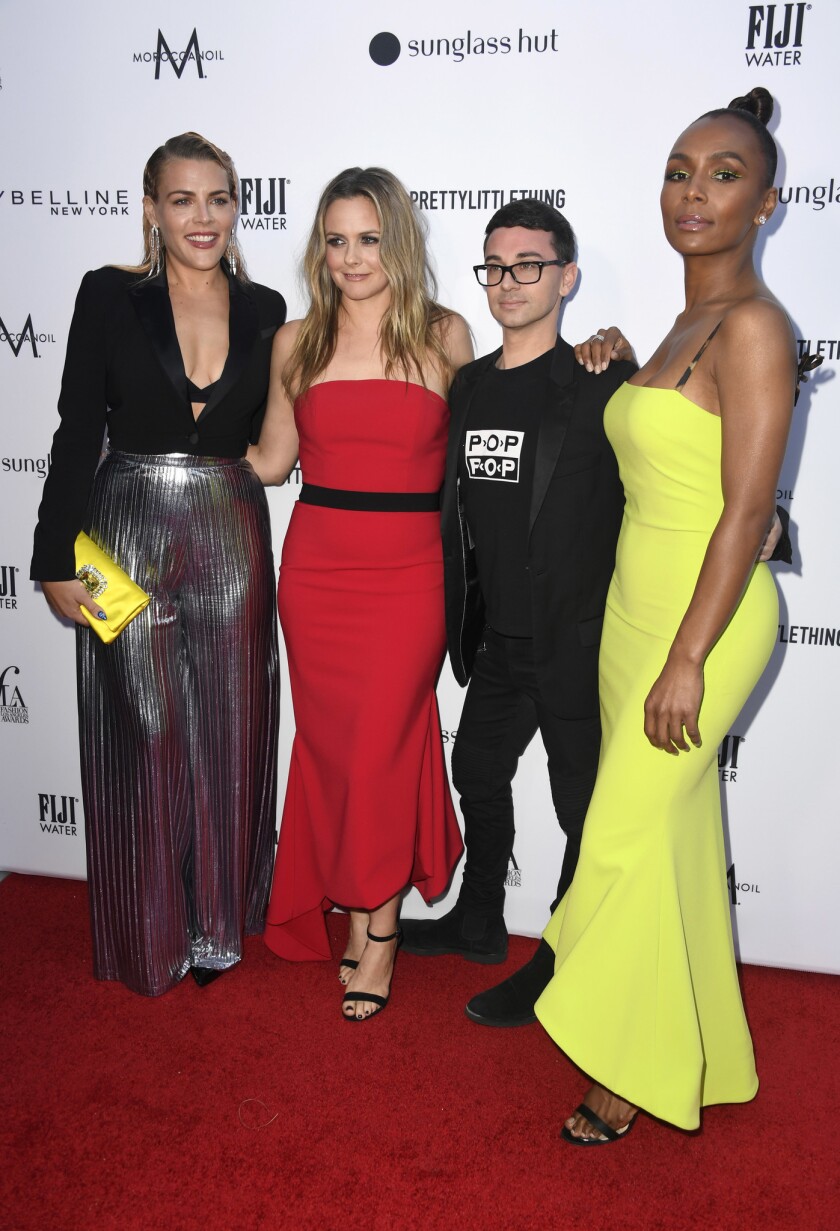 However, there have been recent TV casualties. In 2017, Chelsea Handler's weekly talk show, "Chelsea" (a return to late night several years after she left her own talk show on E!), was canceled by Netflix after two seasons, and earlier this year, Hulu announced it was scrapping actress-comedian Sarah Silverman's talk show, "I Love You, America With Sarah Silverman," after 21 episodes.
What puzzles Welch is why the late-night TV world centers on an old model with a male host from one of the major broadcast networks. "I don't see why Busy isn't fully in the conversation with 'The Tonight Shows' and 'The Late Shows,' " said Welch, adding that Philipps has built a connection with her existing fans and made new ones through platforms such as Instagram Stories.
Philipps said she views having her talk show as an opportunity to entertain an audience and connect with new fans. Plus, it gives her an added platform to offer support to women, LGBTQ people and people of color working on her show and in the entertainment industry. And the outspoken television host is also able to introduce causes she's fighting for to Middle America.
"Our show is political. It's just not necessarily partisan, and we don't talk about the president right now, you know?" Philipps said. "But things like having a woman on television in late night is inherently political. And my body is political, and me talking casually about bleeding and my period … and talking freely about sexuality and women's bodies is an act of defiance. And it's something I feel really strongly about, especially as the mother of two girls."
Follow me at @marquesharper on Twitter.
---