Cardi B makes fashion moves again with Vernon-based brand Fashion Nova
Rap star Cardi B stopped the show at the Metropolitan Museum's Met Gala in New York on Monday, wearing a sprawling burgundy Thom Browne gown complete with a glittering breastplate (including 44-carat ruby nipple covers from jewelry brand Stéfère), an opulent headpiece, an unfurling train and a sprinkling of feathers.
Lucky for her fans, she isn't finished making sartorial moves for the week. Cardi is anticipating the release of "Season 2" of the Fashion Nova X Cardi B collaboration, which she mentioned during her acceptance speech at the Billboard Music Awards last week.
Pieces from the collaboration with the Vernon-based fast-fashion retailer will drop online at 9 tonight Pacific time on Fashion Nova's website. The new women's collection, which features 107 pieces and is '80s- and '90s-inspired, follows the initial fashion drop that sold out almost as quickly as it landed late last year.
In a phone interview with The Times, Cardi said she had been intrigued by Fashion Nova's astronomical success, which reminded the 26-year-old Grammy Award winner and Bronx native of her own fortune, especially after the release of her hit song "Bodak Yellow" in 2017.
"I like how they came up from Instagram, and that's the same way I came up," Cardi said of Fashion Nova. "I like the whole business-minded thing that they do. They became rich so fast off of social media. That's something I'm attracted to."
Fashion Nova, which was founded in 2006, is known for catching a whiff of trends on social media and then quickly turning them into in-real-life apparel. Its prices are largely less than $100.
Along with its relationship with such influencers as Cardi and Kylie Jenner, Fashion Nova's sexy designs — often reminiscent of items recently seen on Hollywood red carpets or stars' Instagram feeds — have fueled the company's explosive sales growth, which, according to the fashion brand, is up 600% over the last four years.
Last year, Fashion Nova, which has 15.4 million Instagram followers, was the most-searched fashion brand on Google, beating luxury labels Louis Vuitton and Versace. (In 2017, it held the No. 4 spot in the category.) Fashion Nova, which has retail stores in the L.A. market, also has a robust plus-size business, sells menswear and features models on its website who reflect multiculturalism, which likely appeals to younger, "woke" consumers.
Richard Saghian, Fashion Nova's chief executive and founder, said he first discovered Cardi B on Instagram before she achieved mainstream fame, back when she was an influencer with 1 million followers. (Today, she has 44.6 million followers on Instagram).
"She caught our eye because not only was she a huge fan of Fashion Nova, but her style and personality matched ours," he said in an email to The Times. "We started a relationship with her, and as our brand grew, her career evolved; and we have been loyal to each other over the years. It just made perfect sense that we would grow our partnership with our respective brands, and a collection was the natural progression. … Here we are with the second season."
Although Cardi's outspoken personality may be a roadblock for luxury brands, it's exactly what endears her to Fashion Nova consumers, also known as #Novababes.
"I think people really respect and relate to how real she is," Saghian said. "She isn't hiding anything. She speaks her mind and doesn't apologize for being herself. We know from our success with social media that authenticity resonates with the digital generation, and that's why Cardi has become an icon."
When it came to working on the collection, Cardi didn't hold back. "When the idea of designing with them came up, I told them I don't just want you to put my name on it," she said. "If it's a collaboration with Cardi, if my name is on it, I have to design my own pieces. They have to represent me. I have to take my time doing it. It has to be well-tailored [and] everything well-done. I put a lot of time and effort into this."
During work on her first collection with Fashion Nova, Cardi was pregnant, but now that she has her post-baby body, she's ready to offer more provocative pieces.
For the second collection, the rapper said consumers will see sexier designs and boudoir-inspired touches such as corsets, lace, sleek faux leathers, cut-outs and cinched-in waists. ("Season 2" pieces are primarily black with touches of red, cobalt blue and fuchsia in the mix.)
She also took feedback about the first collection and applied it to this latest round. "I'm real hands-on," Cardi said. "I'm always listening to what people want. This collection is more open. You know how Fashion Nova shows a lot skin, a lot of curvy bodies; that's what I wanted to embody with this collection."
Cardi, a.k.a. Belcalis Marlenis Almánzar, has made a name for herself rapping about Balenciaga sneakers and "red bottoms," a reference to Christian Louboutin shoes. She also has become a serious fashion standout this year after wearing a series of internet-breaking looks by French designer Thierry Mugler, including a half-shell-inspired gown, at the Grammy Awards in February.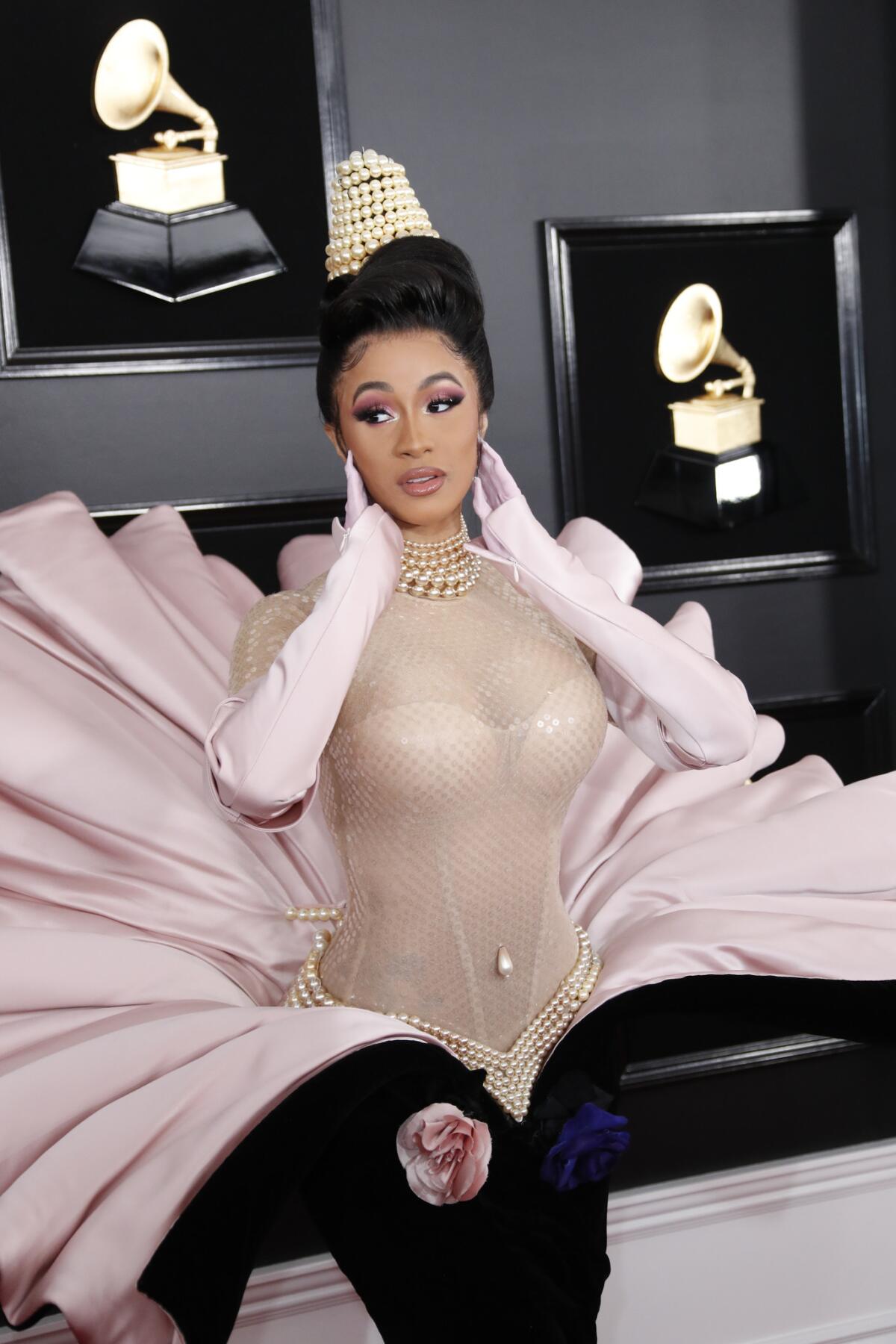 However, she said she's all about mixing it up when it comes to her style and likes to pair her Fashion Nova pieces with "expensive jewelry, expensive shoes."
The release of the new collection with Fashion Nova will coincide with a major media push, including a Wednesday event in Los Angeles.
"I'm throwing an extravagant party, and everybody is going to be there," Cardi said, teasing that a "special guest" is going to be in attendance. (The soiree will be livestreamed on Fashion Nova's website.)
If she has any big hopes for this sophomore fashion effort, she said it's directed toward the customers and her fans. "I want them to feel sexy," Cardi said. "I want them to feel confident. I want them feel like me every time I do something."
For fashion news, follow us at @latimesimage on Twitter.