At Paris Fashion Week, Dries Van Noten and Kenzo make looking back look good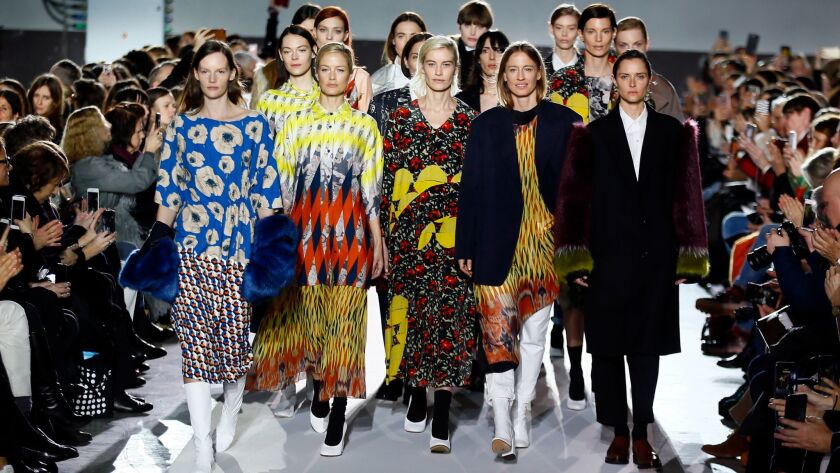 Reporting from Paris —
Referencing a label's history and creative DNA is certainly nothing new — not even this week. Even Anthony Vaccarello's Tuesday night breast baring, laser-cut leather and slouchy boot party at the Saint Laurent show was intended as "rereading" (in the words of the show notes) of the namesake founder's "subversive approach to clothes."
But the two standout collections that came down the catwalk on Wednesday were even more deeply intertwined with the past than that.
The notes accompanying Dries Van Noten's show read as follows, "This is the 100th Dries Van Noten fashion show. To mark this occasion, Dries has revisited some of his favorite prints from past collections. Each has been overprinted or embroidered with geometric shapes in vivid colors." At each seat was a half-inch-thick booklet with 32 pages of archival designs on one side and the tweaked fall/winter 2017 version on the other.
Those dexterous enough to flip through the book during the runway show would have been able to see that an orange-and-white floral pattern from the Belgian designer's spring/summer 2006 collection made a return engagement — this time, on a dress with an overprint of wavy black-and-purple geometric lines and a silk double-breasted three-quarter-length coat with blue-and-white triangle overprinting.
Likewise was a red-and-white floral pattern plucked from spring/summer 2000 and used in a tailored jacket and trouser outfit with pairs of blue-and-black semicircles the size of coffee saucers printed along the jacket hem.
The pairs of semicircles also appeared as embroidery on a range of outerwear pieces including puffer jackets and colorful quilted coats.
Kenzo's collection, which wasn't technically a fall/winter collection at all (more on that later), was also heavy on florals and quilted pieces from brand archives, though, in this case, creative directors Humberto Leon and Carol Lim pulled references from the early '80s with a dash of 1971 thrown in for good measure.
The event (well, happening, really) took place at the Kenzo corporate headquarters/showroom space on Rue Vivienne in the form of a seated dinner, with models wearing men's and women's looks winding their way among tables of diners between appetizers and main course.
The dinner, a traditional Syrian feast prepared by a 36-year-old chef named Mohammad Elkhaldy was, all by itself worthy of review. (Alas, we'd forgotten to pack our travel-sized Jonathan Gold to hold forth on the plates of sambusk lihma, halaweit aljaben and other delicacies delivered family-style to each table. Elkhaldy, according to the show notes, had run several restaurants in Damascus before fleeing the dangers of war with his family. He's such a recent arrival in Paris, he has yet to open a brick-and-mortar restaurant in the City of Light. "Right now, I just have a couple of kitchens around town where I prepare food," he told us after dinner. "But hopefully soon.")
Since Lim and Leon had presented their women's fall/winter 2017 Kenzo collection alongside the men's here in January (and plan to present both in the same show moving forward), the big question was what, exactly, they'd be showing between courses at the dinner. The answer? A new line taken pretty much directly from the Kenzo brand archives, with minimal updates.
"I'm a historical nerd," Leon told us at the event, "and imagined what it would feel like going into a fashion museum and being able to buy archival pieces from Yves Saint Laurent or brands like that."
Leon said that after his and Lim's stewardship of the Kenzo brand hit the five-year mark, they'd proved that they could evolve the label forward with the regular collection and thought the time was ripe to add a collection that celebrated its past.
"The silhouettes are the same. The fabrics are the same, and we've tweaked little things," Leon explained. "For example, the jumpsuit silhouette is the same, but we've just removed some padding from it."
Christened La Memento Collection No. 1, the debut men's and women's collection pulled floral patterns from a fall 1983 collection, knitwear and dresses from 1981 and a wool beret from fall 1971 and threw it into the fashion blender and gave it a whirl.
The result was a playful field of florals, set against a background of red or blue, appearing on cropped trousers, skirts, trench coats, puffer jackets and shearling-trimmed bomber jackets. Other memorable pieces included quilted kimonos, a knit vest that looked like it could have come right off the Partridge Family tour bus, and the aforementioned jumpsuits in blue or khaki.
In a masterful bit of thematic weaving, the collection managed to touch on the political climate (as if a dinner catered by a Syrian refugee didn't) by including a couple of models sporting the face-obscuring ski-mask-like hats known as balaclavas. Although the show notes cited the inspiration of an early '70s ad campaign, they also happened to include an essay by Pussy Riot's Nadya Tolokonnikova titled, "Why We Put on a Mask."
The essay included the activist and conceptual artist's observation that she'd noticed how some of those attending the Women's March in January in Washington, D.C., had turned their pussy hats into balaclavas. "Every big movement needs a sign," she wrote at the end of the essay. "Balaclavas, pussy hats, pick whatever you want but just fight against misogyny and racism."
Later, as we were leaving the Kenzo headquarters, we passed Lauryn Hill and her entourage on the way in to provide some post-dinner entertainment (and no doubt launch a thousand social media posts) and we found ourselves thinking of Tolokonnikova's call to arms.
That's when it struck us that the Leon and Lim had pretty much taken a page out of Tolokonnikova's playbook by using the most powerful tool at their disposal, their high-profile fashion week time slot, to draw attention to issues they cared deeply about.
And, if you see that the balaclava, pussy hat version or not, starts to trend sometime after September (when the La Memento Collection No. 1 hits retail), you'll know just who to thank.
For more musings on all things fashion and style, follow me at @ARTschorn.
ALSO:
Saint Laurent serves up supple leather and slouchy boots
A look at the sketches behind your favorite Oscar gowns
Calvin Klein's new ad campaign features the cast of 'Moonlight'
---