Accessories label Edie Parker gets into the cannabis game
Edie Parker, a New York-based accessories line known for its signature acrylic clutch handbags, is the latest fashion brand to tap into the upscale marijuana movement thanks to a colorful, fruit-themed collection of smoking accessories — and three strains of stylishly packaged cannabis flower.
The Flower by Edie Parker hard goods channel the brand's cheery, irreverent vibe into a range of smoking accouterments that includes hand-blown glass pipes shaped like bananas, strawberries and grapes (which, yes, technically makes them "fruit bowls"), floral-print rolling papers and chunky acrylic stash boxes, rolling trays and matchbox covers. Refreshingly, there's nary a pot leaf to be seen.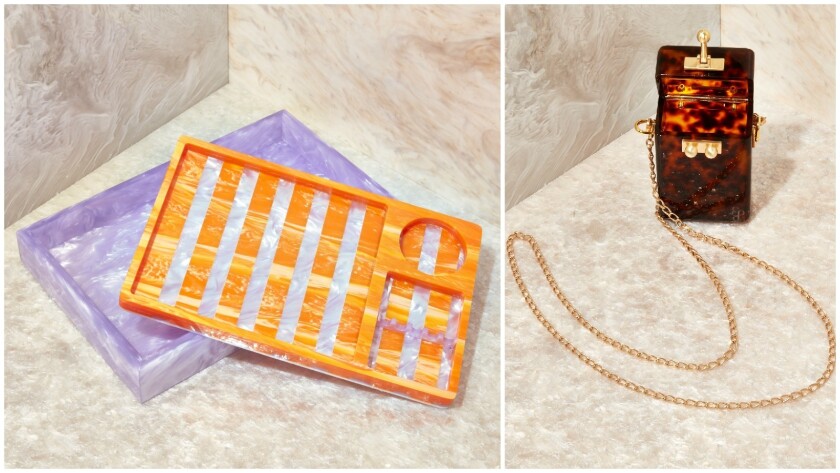 Retailing from $20 to $500, the inaugural collection of paraphernalia is currently available at the brand's Madison Avenue flagship in New York and on edieparkerflower.com. In July, it is set to launch at Barneys New York, which in April launched a luxe headshop concept at its Beverly Hills store called the High End.
What makes Edie Parker's move into the cannabis space notable is the combustible consumable part, created in partnership with Northern California cannabis brand Flow Kana. (It's not totally novel though; in April an upstart smokewear label called Sundae School made a similar move into branded cannabis.)
Starting Wednesday, tiny, thoughtfully designed jars — each containing slightly more than a gram of cannabis flower — will be available for purchase to Los Angeles customers 21 and older through the recently launched delivery service Emjay.
The three strains being offered ($20 each) continue the fruit theme of the collection; Cherry Cheesecake (an indica), Pineapple Rising (a sativa) and a hybrid called Banana Jam. The relatively small amount of weed (about the amount you'd find in a pre-rolled, dispensary-purchased joint), certainly won't make this every smoker's cup of cannabis. But the gold metallic jar tops and brightly striped boxes make them a thoughtful hostess or host gift option for the fashion-forward cannabis enthusiast in your social circle.
For more musings on all things fashion and style, follow me at @ARTschorn
---
The essential weekly guide to enjoying the outdoors in Southern California. Insider tips on the best of our beaches, trails, parks, deserts, forests and mountains.
You may occasionally receive promotional content from the Los Angeles Times.