Sexy meets positive thinking in shoes that speak of power, passion and kindness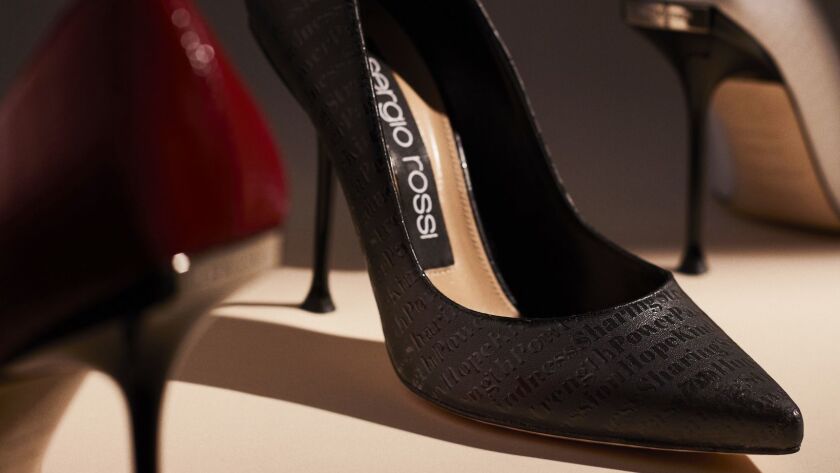 As a stylist who dresses Julia Roberts, Cate Blanchett, Viola Davis and other leading ladies for the red carpet, Elizabeth Stewart prides herself on being what she dubs "super-practical." Her new shoe collaboration with Sergio Rossi exemplifies her pragmatism, seamlessly combining fashion, philanthropy and positive thinking.
"The concept is really this — the embossed words," Stewart said, gesturing to the $795 red pumps on her feet, during a cocktail party hosted by the Italian shoe brand last month at a pop-up shop at Westfield Century City shopping center. The shoes' streamlined shape packs a punch with words such as power, passion, hope, kindness, sharing and strength embossed on the smooth leather.
"Say you have an interview and you wear your lucky charm shoes," Stewart said. "I also thought they could serve as a reminder to be the person you want to be."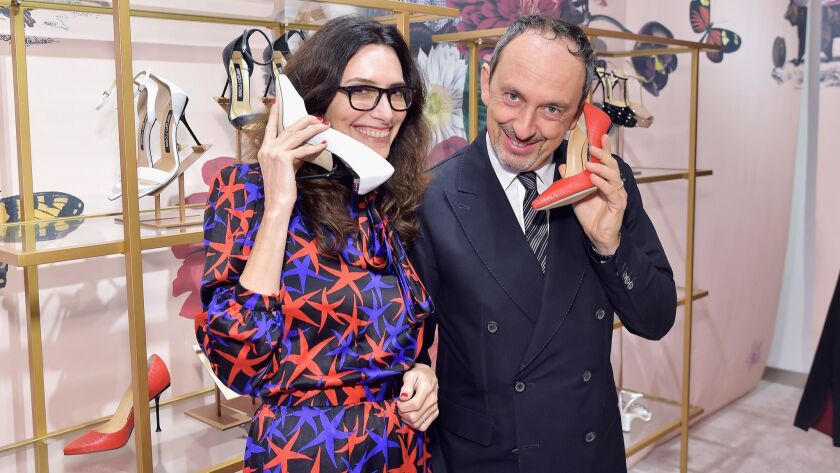 Sergio Rossi was committed to fulfilling Stewart's vision for its first stylist collaboration. "We printed all the words that she wanted," Sergio Rossi Group Chief Executive Officer Riccardo Sciutto said, pausing from greeting party guests, who included actresses Jameela Jamil, Molly Sims, Lindsay Price and Fuschia Kate Sumner. Plus, Sciutto didn't hesitate to donate the collection's profits to Time's Up, the organization that aims to increase women's safety, equity and power at work. As Sciutto recalled telling Stewart, "You support the ladies. We support the ladies."
In addition to the bright red tint, the power pumps with 4-inch heels are also available in black and white. There are $795 ankle-strap stiletto sandals in black and white as well. The shoes are sold exclusively at the pop-up, which is open through March 6.
"Those are the go-to styles in a fitting," Stewart said. "I wanted to be able to use these in my red-carpet styling."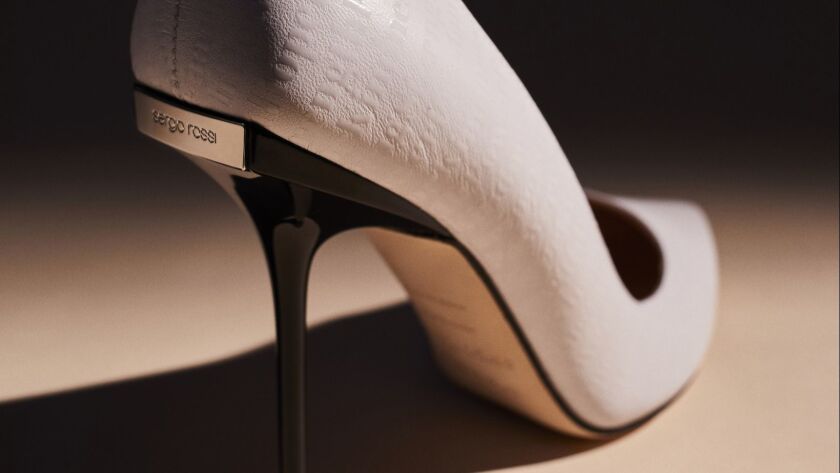 This awards season, Stewart said she hopes to elevate "a couple of young designers in Paris that I adore: Esteban Cortázar and Yacine Aouadi." And she continues to advocate repeating dresses on the red carpet, as she did with Blanchett, who wore the same black lace gown by Armani Privé Couture to the Cannes Film Festival's opening ceremony in 2018 and to the Golden Globes in 2014.
"It's important to demonstrate that clothes need to be cherished for a lifetime," Stewart said of recycling outfits for high-profile occasions, adding it's a habit that "a lot of my clients want to do."
At the pink-walled pop-up shop, "Westworld" actress Angela Sarafyan relished her chance to try on Sergio Rossi designs for the first time.
"I love what's written on them," she said. "We as women should always feel good about ourselves. It's a really subtle and beautiful way of reminding us to feel powerful and to be kind."
The notes of empowerment also resonated with Skai Jackson, the "Bunk'd" actress who, at 16, is penning a book "about my life and having a positive message for young girls and to uplift people," she said. The petite teen sought a lift of her own, eyeing the red pumps for her wardrobe. "They really stand out and are different from any other shoe," she said.
Later that night, at a dinner hosted by Sergio Rossi at Maude in Beverly Hills, Kelly Rowland made quite an entrance in a white fedora. The singer arrived right after the plates of squash ravioli were cleared from the tables. She settled into her seat at the bar just in time to enjoy the rest of the five-course meal and to receive a leather pouch embossed with Stewart's words of encouragement as a take-out treat.
Sergio Rossi Pop-Up, the Atrium at Westfield Century City, 10250 Santa Monica Blvd., Los Angeles
For fashion news, follow us at @latimesimage on Twitter.
---