Essentials: Pink powers the new fashion season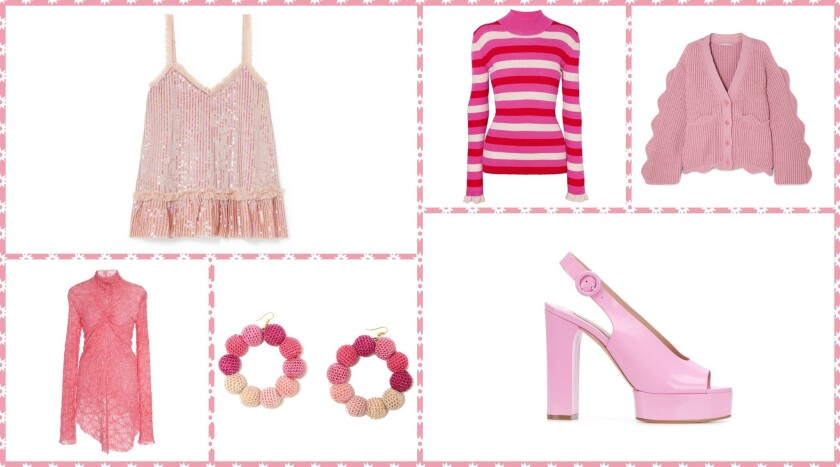 Shades of pink appear to be everywhere right now. The think-pink trend popped up at the Oscars last month, where it was on display in full force thanks to Julia Roberts, Gemma Chan, Angela Bassett, Jason Momoa and others. And in recent weeks, the color has turned up on fashion runways.
"I feel like pink is a symbolic embracing of femininity," said stylist Jeanne Yang, who dressed Momoa in a custom light pink, shawl-collar, velvet Fendi tuxedo for the Oscars. "Rather than the strong blacks and reds we have seen in the past [on the red carpet], I feel like women and men are starting to acknowledge and feel comfortable with being feminine. And there are so many shades to pink that can flatter every skin tone."
Here's how designers and brands have had fun re-imagining the power of pink for spring and summer.
Current/Elliott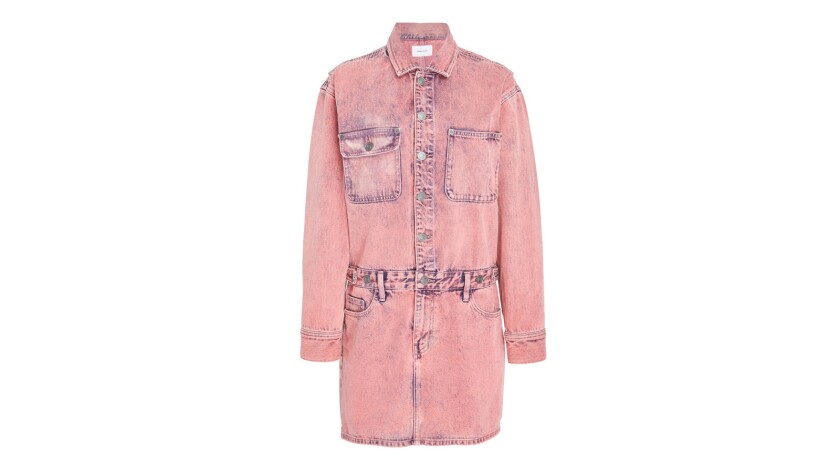 Current/Elliott's '80s-inspired, acid-pink, cotton denim jumpsuit dress has metal buttons and tinges of purple detailing. $328. Available at currentelliott.com.
Stella McCartney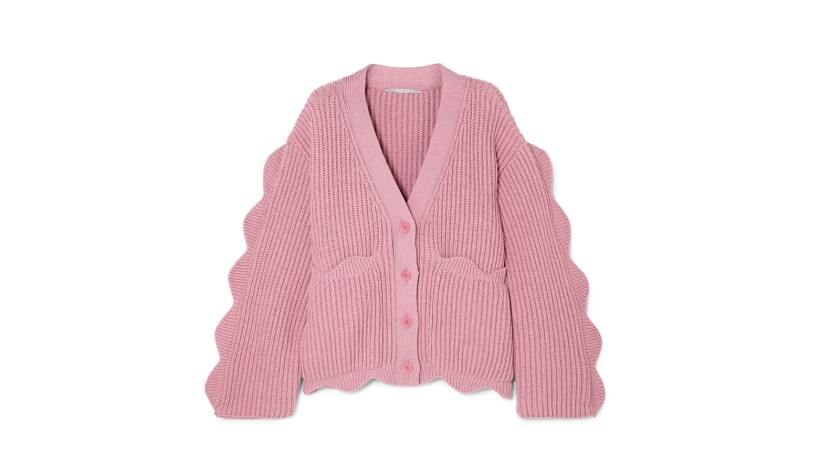 This relaxed-fit, ribbed, rose-pink, chunky cardigan sweater from Stella McCartney is spun from a cotton-and-wool blend and has scalloped sleeves and pocket details. $1,095. Available at net-a-porter.com.
Maggie Marilyn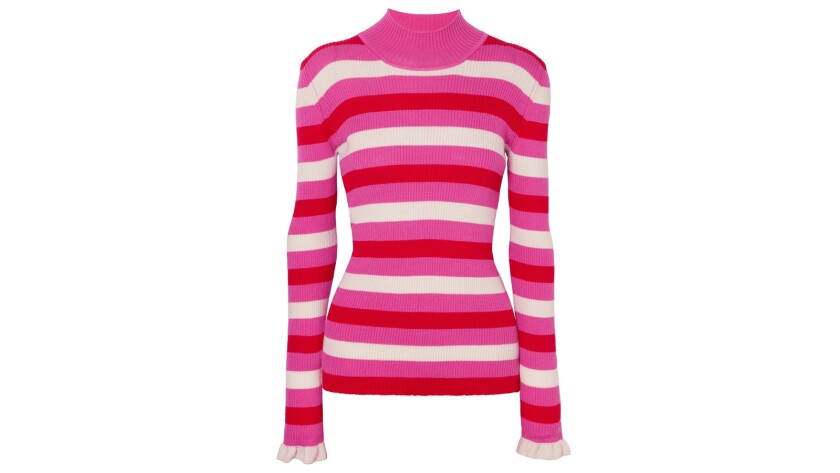 British designer Maggie Marilyn's You Make Me Happy merino-wool, long-sleeve sweater is spun with bold pink, red and cream stripes with a touch of ruffles at the cuff. $595. Available at maggiemarilyn.com.
Needle & Thread
This blush-rose quartz, chiffon camisole has rows of iridescent sequins and is trimmed with tulle ruffles at the neckline and on its gathered hem. $225. Available at needleandthread.com.
Prada
Prada offers a wisteria-pink, ruffled men's slim-fit shirt in nylon with a button-down collar and button cuff details. Also comes in other colors. $690. Available at farfetch.com and prada.com.
Alice McCall
Australian designer Alice McCall's bubbly pastel-pink stretch cotton Real Thing minidress has long sleeves and cut-out and tie-front details. $175. Available at farfetch.com.
Gucci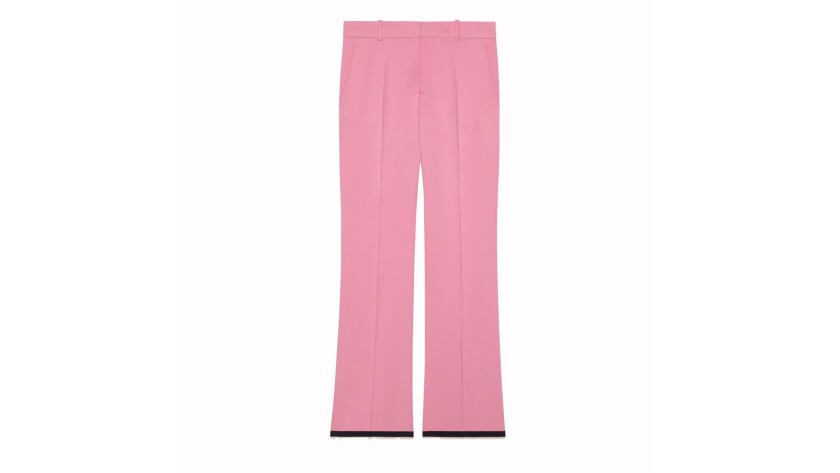 Gucci's '70s-inspired, pink stretch viscose boot-cut pants have a cropped design and navy and ivory grosgrain ribbon at the hem. $980. Available at gucci.com.
Sensi Studio
Sensi Studio's rose-hued Toquilla straw mini-bag is hand-woven with circular handles and fringed with colorful pink-shaded beads. $385. Available at modaoperandi.com.
MISA Los Angeles
MISA Los Angeles offers plucky pink Crochet Dots Fleur Ombre hoop earrings. $150. Also in other colors. Available at misalosangeles.com.
Emporio Armani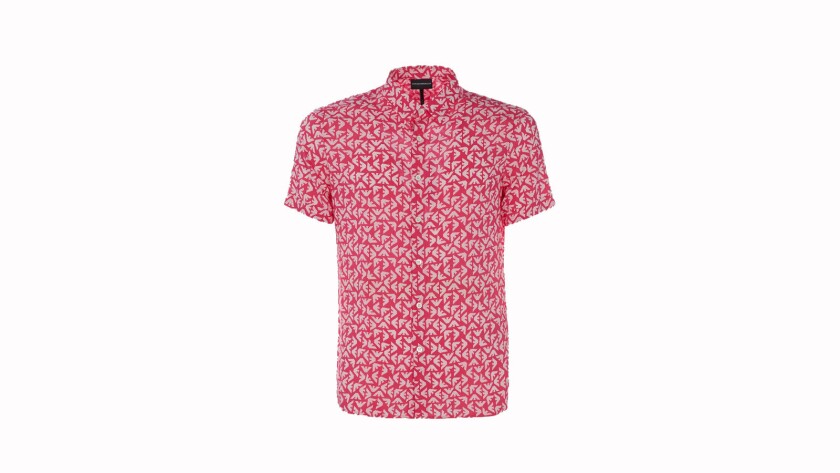 Emporio Armani offers a fuchsia, white logo-designed short-sleeve men's button-front shirt. $225. Available at armani.com.
Sies Marjan
Sies Marjan's uber-feminine, lace pink Willie cotton-blend, high-neckline, long-sleeve blouse has ruched details through its center and an asymmetrical hemline. $695. Available at modaoperandi.com.
Stine Goya
Stine Goya's exuberant pink organic-silk, one-shoulder Lila dress has large top ruffles and is covered in happy-colored sequin polka-dots. $4,240. Available at modaoperandi.com.
Casadei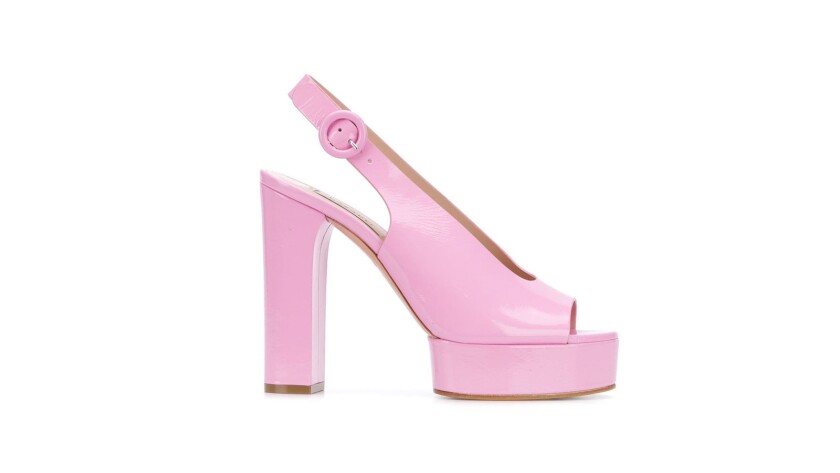 Italian shoemaker Casadei's bubblegum-pink platform sling-back shoes have a side-buckle ankle strap and a high block heel. $775. Available at farfetch.com.
Khaite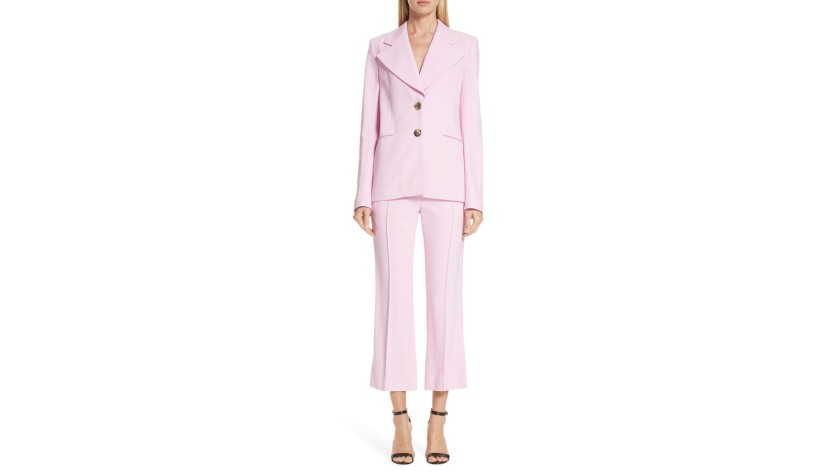 Khaite's tulip-pink Alexis Italian twill blazer has oversize lapels with water-buffalo-horn buttons, and the label's matching Marianne cropped pants have a slight flare. $1,380 for the jacket and $680 for the pants. Available at Nordstrom Space and shop.nordstrom.com.
For fashion news, follow us at @latimesimage on Twitter.
---