An intimate affair in Venice on Monday evening attracted a group of notable attendees, including Michelle Monaghan and Busy Philipps, clad in pieces from L.A. fashion brand Dôen, which is known for its relaxed, boho-chic aesthetic.
The label's delicate cotton pieces appeared to fit in well at Gjelina, where Dôen's founders, sisters Margaret and Katherine Kleveland, celebrated their new 15-piece capsule collection with retail partner Net-a-Porter. The capsule dropped on Net-a-Porter's website Tuesday.
"I'm literally misty eyed," Katherine Kleveland said of seeing attendees in Dôen designs. "I think that sometimes it feels like we have a look and a feel, but to see everybody style it their own way and feel confident and feel like they're expressing themselves in a really authentic and inspired way is beyond [thrilling]."
The collaboration
The capsule collection features cotton floral dresses and blouses, which retail for $138 to $305, as well as additional pieces for young girls, ages 2 to 10.
"It's the most feminine, romantic collection we've done," Katherine Kleveland said of the designs, which include a watercolor pink poppy inspired by artists Georgia O'Keeffe and Helen Frankenthaler; a petit jardin design; and a print featuring royal blue and poppy orange blossoms. "I was pregnant through a lot of the concept, and then, I had a newborn through a lot of the development. It was my first daughter. I have two boys. It was a moment in my life that was bursting with femininity, and that can really be seen."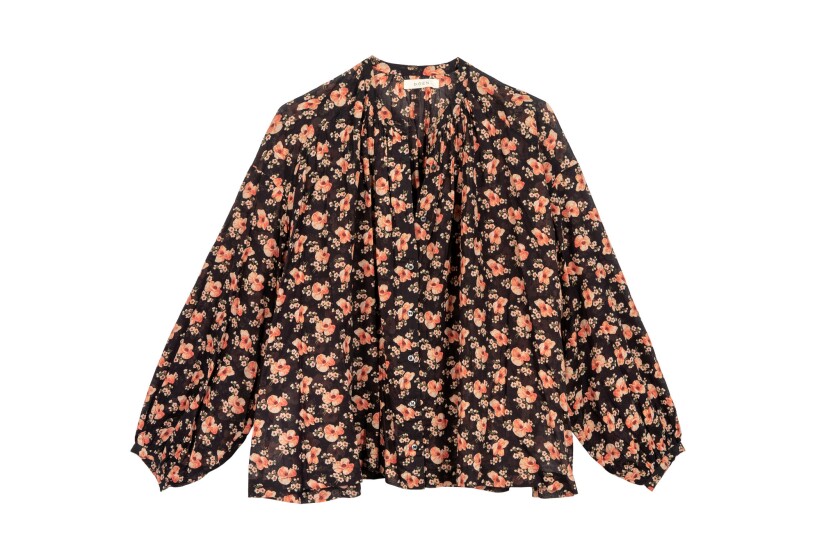 "We always knew we wanted to partner with the best," said Margaret Kleveland, who was approached by her sister in 2015 about starting Dôen. "The timing is really right because we're ready to reach a broader audience. It's super exciting to me to think of the global capabilities and reach through Net-a-Porter."
The crowd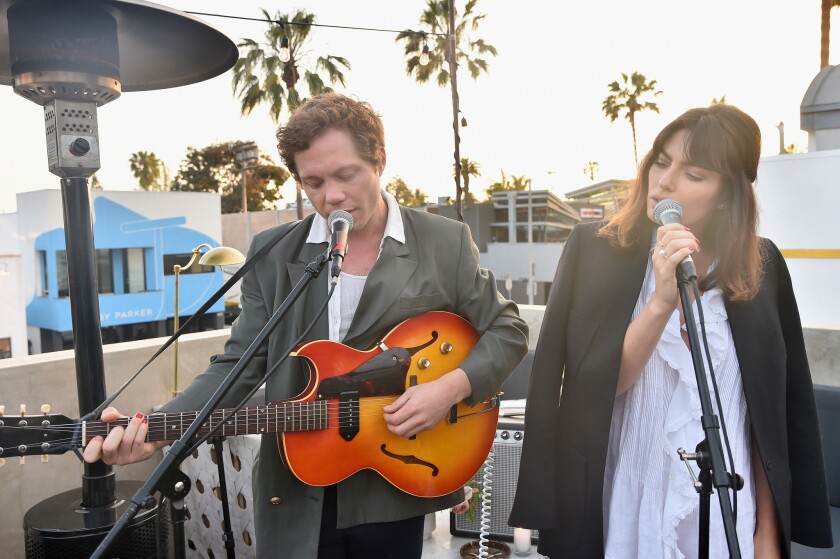 Perched atop the restaurant's roof, which overlooks Abbot Kinney Boulevard, model-turned-singer Alyssa Miller performed a three-song acoustic set with her Primrose Forever Sanctuary bandmate Korey Dane. "It's a quiet, captive audience," Miller cooed between songs.
Others guests included Odette Annable, Shiva Rose, Christine Symonds, Mara Roszak and Alex Noiret.
The food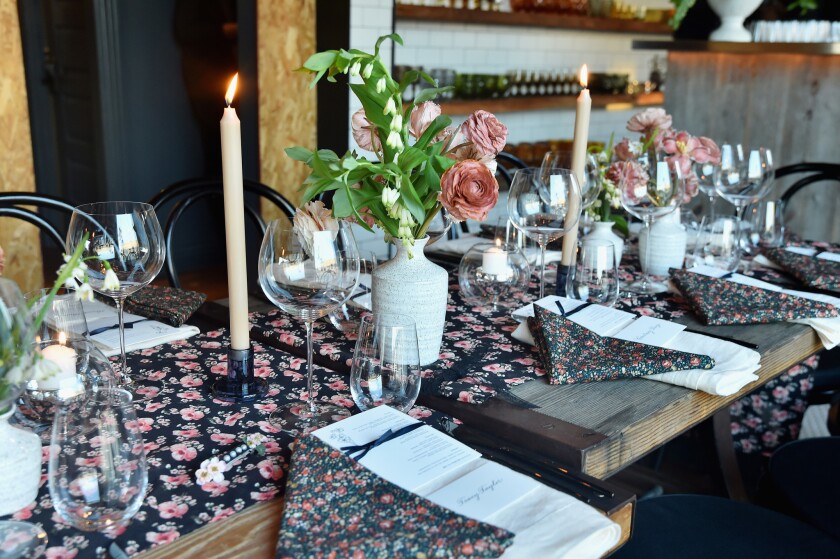 Guests dined on a five-course, family-style meal of coal-roasted leeks with burrata; pomodoro and guanciale burrata pizzas; gemelli and orecchiette duck bolognese; grilled kanpachi; Strauss grass-fed porterhouse; and chocolate pistachio tarts and butterscotch pot de crème with salted caramel.
The scene
Philipps, Monaghan, Annable and Symonds quickly formed a girl squad during cocktail hour as they talked about their Dôen connections. "I'm obsessed with it," Philipps said of her floral dress, which she paired with a black leather jacket. (The "Busy Tonight" host said her look for the evening was "feminine and easy.")
"I remember when they launched Dôen," Philipps said. "I went on the website and was like, 'This is different. What's this?' I've been a customer for years and then I just finally met them at Tracey Cunningham's [Meche Salon in Beverly Hills]. We were all getting our hair colored. Tracy was like, 'I can't believe you guys don't know each other. This is insane.' I was like, 'I'm going to your dinner next month.' "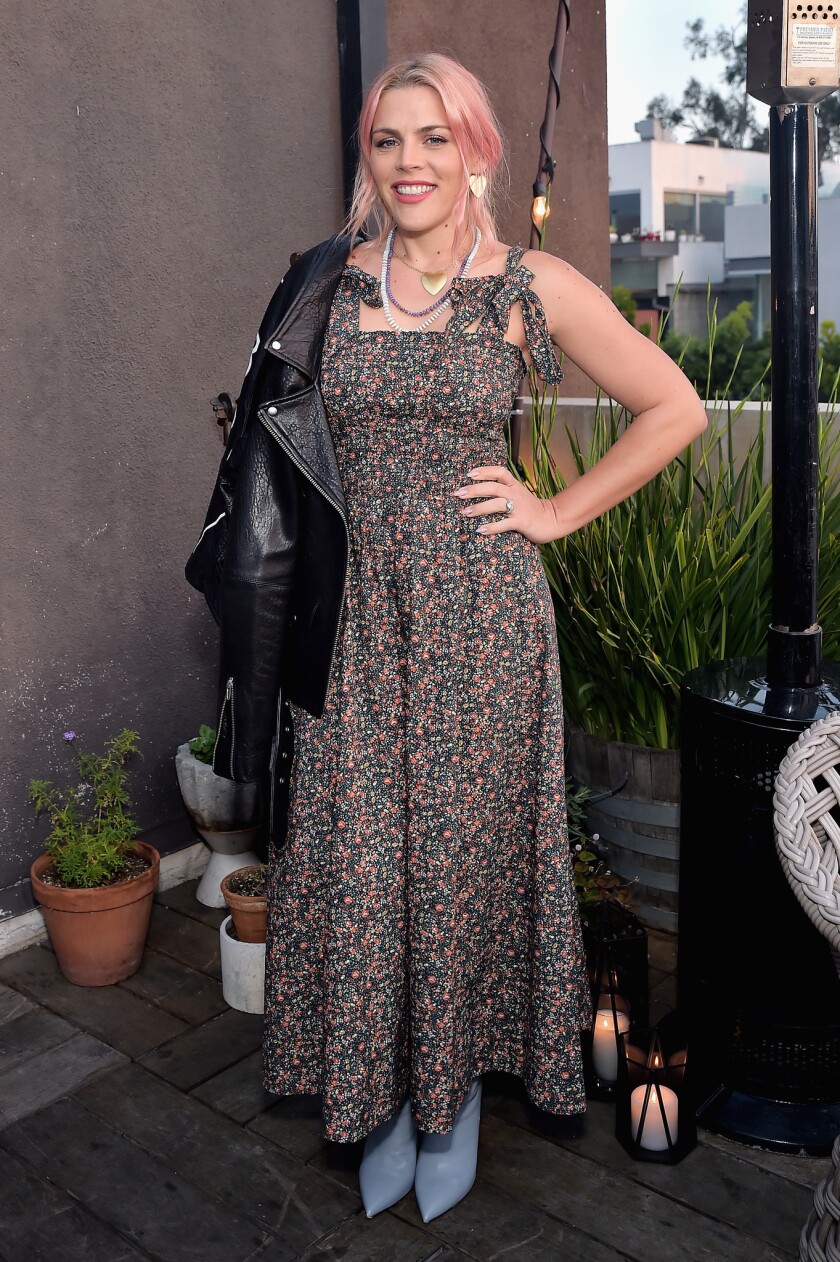 Monaghan first met the Dôen founders four years ago when she was asked to appear in a feature on their site, shopdoen.com.
"We met through a stylist friend about four years ago shortly after Margaret had her son Julian, and they'd asked if they could come over and do a photo shoot of me at home," Monaghan said, explaining that she was featured under the brand's journal section, which highlights a few of line's muses. "I was so blown away because they were all women. It's designed by women, created by women, and the photographer was a woman. I felt like it was such a unique dynamic of women in their new business. We ended up having a ball and we hung out all day with the kids and took some beautiful photos. They're so effortless, and it comes through in their clothes. They're beautiful people inside and out."
Annable said she met Katherine Kleveland through mutual friends more than 10 years ago. "She's so effortless and such a girl's girl," she said. "They said, 'Would you wear this dress?' I was like, 'Girl, I'll wear anything you send me. Done.' Everything fits perfectly."
"It's like this sisterhood of Dôen," said Symonds, who attended the dinner with Annable. "You can spot it from across the room. You're like, 'I know you. You're my kind of girl.'"
The quote
Monaghan said she was a fan of her white floral dress' puffy sleeves and that her husband was also a big fan of what she and Philipps playfully called a "ren-fair vibe," as in Renaissance fair.
"My husband and I just started watching 'Game of Thrones,' " Monaghan said, alluding that her husband liked the bustline of her dress. "He looked at me and was like, 'Oh, it's on.' "
Imagining Monaghan's response, Philipps said, laughing, 'We're getting into some hot cosplay. Just don't rip the dress, babe. Just don't rip the dress."
For fashion news, follow us at @latimesimage on Twitter.
---