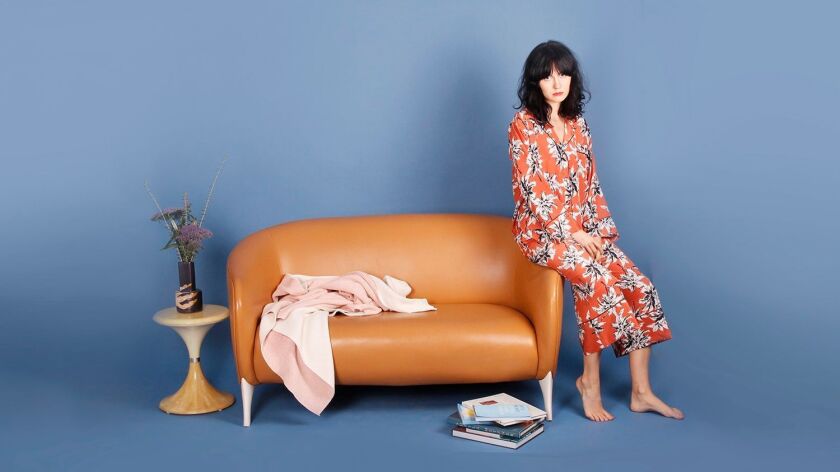 The holidays are a time for consuming copious amounts of calories while wearing your best. So what better way to treat yourself than to invest in clothes that are stylish and flattering enough to entertain houseguests, Netflix and chill or simply walk to the end of the driveway to grab the paper?
First, toss your old pajamas, those coffee-stained sweatpants and not-on-purpose hole-ridden hoodies, and get ready to restock your closet drawers with comfortable and re-imagined tops, shorts, robes and lounge pants.
The Glad Hours X TenOverSix pajama set in rust, $396 at thegladhours.com.
(The Glad Hours X TenOverSix)
Desmond & Dempsey Brushed Cotton Collared Short Men's PJ set in gray, $187 at desmondanddempsey.com.
(Desmond & Dempsey)
CLC by Corey Lynn Calter Shana Slip Dress in floral, $132 at coreylynncalter.com.
(Lindsay George)
Sleepy Jones Henry Pajama Shirt, $158 at sleepyjones.com.
(Sleepy Jones)
Sleepy Jones Marcel Pajama Pant, $138 at sleepyjones.com.
(Sleepy Jones)
Sleepwear designers and labels are offering classic silhouettes in bold patterns (see Recliner's newspaper-print kimono gown or the Glad Hours' bold floral PJs, a collaboration with TenOverSix). Or they're putting a fresh spin on fabrics (check out Lunya's made-in-L.A. washable silks or the label's new washable cashmere merino collection).
As sleepwear edges closer to streetwear designs, keep an eye out for shapes and styles that look remarkably similar and chic — in bed or on the town. Fleur du Mal's silk jumpsuit recently had its paparazzi moment when Gigi Hadid wore the piece to a store opening in London. (That's probably more than you can say for your oversized, comfy tee.)
And men are getting in on the fun as well, with tailored separates from brands including Sleepy Jones, host of a holiday pop-up shop, the Robertson Rest Stop, at 108 S. Robertson Blvd.; British import Desmond & Dempsey, which introduced its men's collection this fall; and Tommy Bahama, which rolled out a print-heavy line of lounge pants and shorts that go far beyond the expected — think ikats and birds-of-paradise prints rather than dad-plaid.
Tommy Bahama birds-of-paradise-print lounge pants, $48 at tommybahama.com
(Tommy Bahama)
Lunya washable silk set, $168 at lunya.co
(Lunya)
Sleepy Jones Henry pajama shirt and Marcel pajama pant, $158 and $138 respectively at sleepyjones.com
(Sleepy Jones)
Desmond & Dempsey brushed cotton collared short men's pj set in gray, $187 at desmondanddesmpsey.com
(Desmond & Dempsey )
CLC by Corey Lynn Calter Shana slip dress in floral, $132 at coreylynncalter.com
(Corey Lynn Calter )
Fleur du Mal silk pajama jumpsuit in black, $595 at fleurdumal.com
(Fleur du Mal )
The Glad Hours x TenOverSix pajama set in rust, $396 at thegladhours.com
(The Glad Hours x TenOverSix )
Recliner kimono gown in newspaper, $95 at recliner.nyc
(Recliner )
Minnie Rose cashmere slippers, $143 at minnierose.com
(Scott Goldberg / Minnie Rose)
---