Harlem's Fashion Row event ends with a surprise reveal: LeBron James' next Nike shoe is for women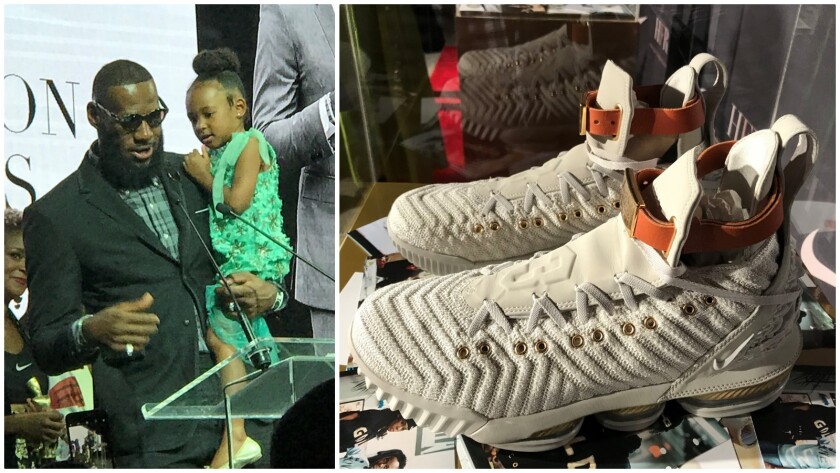 Reporting from New York —
The night before New York Fashion Week officially got under way, the Harlem's Fashion Row collective threw a "black tie and Nikes" event in Manhattan that started with dinner and a fashion show, morphed into an awards ceremony and ended with the surprise reveal of LeBron James' latest Nike signature shoe — his first for women and the first co-designed by a trio of female fashion designers.
Those designers — Kimberly Goldson, Felisha Noel and Undra Celeste-Duncan — kicked off the evening by sending their most recent collections down a runway at Capitale in the Bowery neighborhood. That was followed by an awards ceremony that recognized Jason Rembert (as stylist of the year); model and fashion activist Bethann Hardison (who received the Iconic Trailblazer Award); Dapper Dan (recipient of the Maverick Award); and freshly minted Los Angeles Laker LeBron James, who was honored with the fashion collective's Icon 360 Award for his philanthropic efforts.
James took to the stage to receive his honor in a dark-colored, short-pants suit and sunglasses with 3-year-old daughter Zhuri in his arms. He mentioned his daughter, as well as wife, Savannah, and his mother in an acceptance speech that focused on the strength of African American women.
"I had the example of my mother every single day," James said. "I couldn't image being 16 years old and having a kid, being a sophomore in high school and having to raise a kid by myself without the means, without the support system — without anything — and giving that kid a sense of pride, a sense of strength. … Because of you, Gloria James, I'm able to receive this award, to be in a position today to be able to give back — and showcase why I believe African American women are the most powerful women in the world."
Harlem's Fashion Row founder, Brandice Daniel, closed the evening by bringing the showcased fashion designers back to the stage to make a surprise announcement — the three of them had partnered with James and Nike (the evening's title sponsor) on a limited-edition sneaker: the Harlem's Fashion Row X LeBron 16, which she described as "the first signature men's shoe designed for women by women."
Several pairs of the collaborative kicks were on display in vitrines in the lobby so that departing guests could see them up close. They appear to have white textured knit uppers, a strip of gold where the upper meets the sole and a brown leather ankle strap that threads through the top of the tongue and a loop at the heel that can be detached and worn as a bracelet.
Despite Nike's newsworthy last 24 hours (the company's decision to ink a multiyear deal to make Colin Kaepernick one of the faces of its 30th anniversary "Just Do It" campaign touched off an online firestorm), there were but two references to the controversy over the course of the evening. The first came early in the evening — during a Courvoisier-sponsored toast — and the second came toward the end from King James himself.
"And last, but not least, I stand for anybody that believes in change," James said at the end of his remarks. "I stand for anybody that believes in a positive attitude and a positive manner. And I believe [in] and I stand with Nike every day, all day long."
The HFR X LeBron 16 women's sneaker ($250) drops Sept. 7 at 7 a.m. Pacific Daylight Time in limited quantities as an exclusive on Nike's SNKRS app in North America and on nike.com.
For more musings on all things fashion and style, follow me at @ARTschorn
---