This is why Hollywood Foreign Press Assn. President Meher Tatna didn't wear black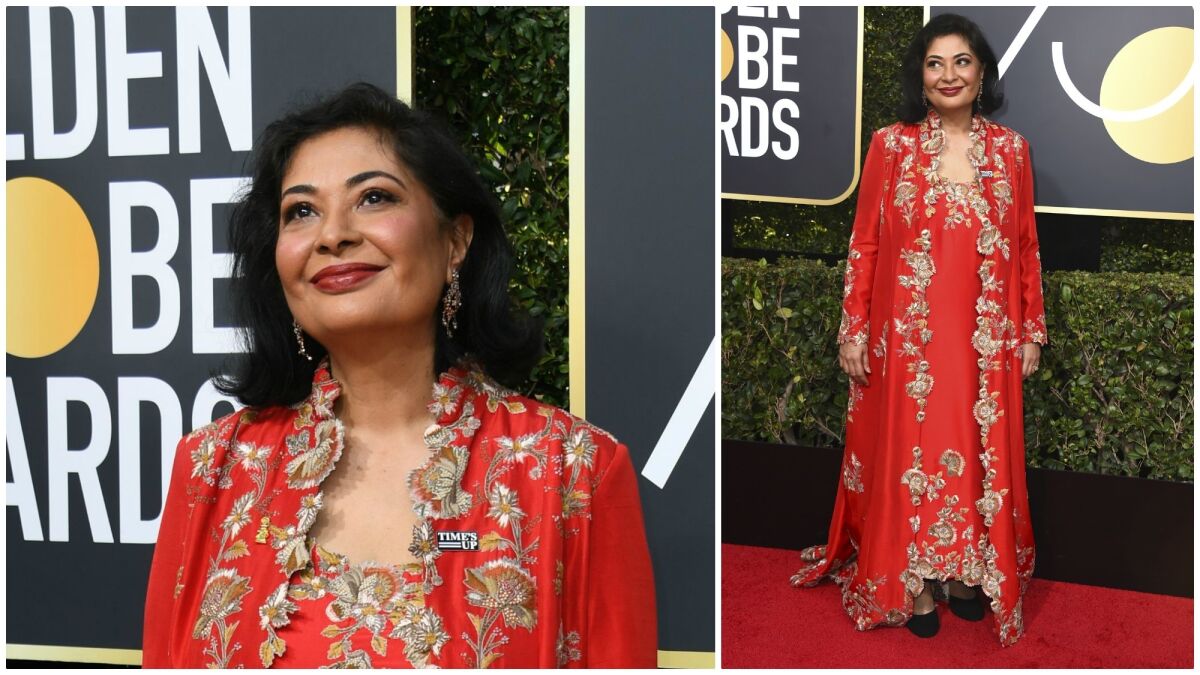 With an all-black dress code prevailing on the red carpet at the 75th Golden Globes on Sunday, Hollywood Foreign Press Assn. President Meher Tatna went against the tide in an embellished red ensemble — and for good reason.
"It's a cultural thing," the Indian journalist told "Entertainment Tonight" on the red carpet, explaining her conscious decision to wear a brightly colored gown and overcoat on an otherwise somber red carpet. "When you have a celebration, you don't wear black."
What's more, Tatna, who assumed the presidency of the entertainment journalist organization last June, told "ET" that she had also picked out the dress with her mother, who would be watching the show in Mumbai. "So she would be appalled if I were to [have] worn black. And so this is for my mom."
Meet the designer behind Connie Britton's 'Poverty Is Sexist' sweater »
And lest anyone question Tatna's support for Hollywood's Time's Up movement against sexual discrimination and harassment, a glance at the initiative's pin on her lapel on Sunday served as evidence of her support.
"I am really glad that women are finally feeling safe enough to come forward and talk about their experiences," Tatna told Vanity Fair earlier in the week. "I am totally in solidarity with them. It's not just in Hollywood that this happens. I was a waitress — the groping and pinching happened … Back then, nobody felt safe enough to say anything. You thought you'd be fired; you thought you would be ostracized. So yeah, I'm really glad that they found that power, and I hope that this is a time of profound change."
For fashion news, follow us at @latimesimage on Twitter.
---