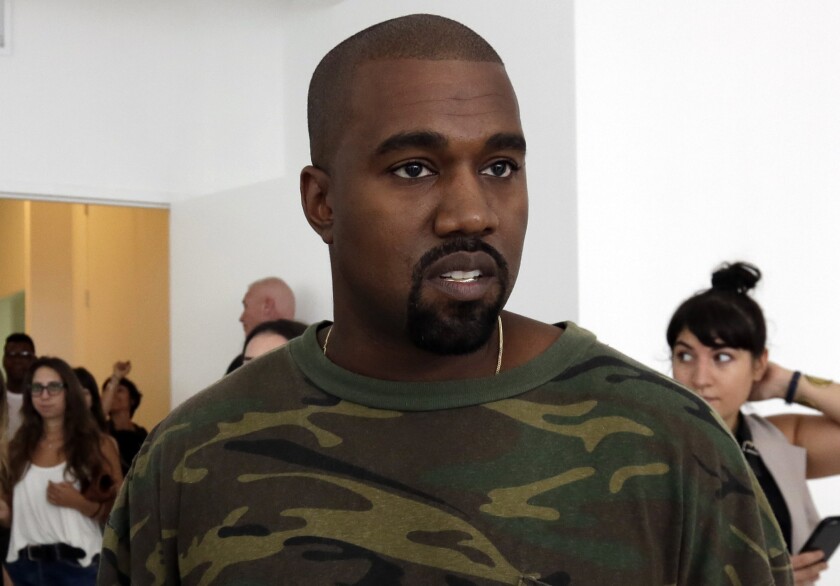 Looking back
The Kanye West X Adidas Originals collection's debut during New York Fashion Week in February would have been a high point for its star-studded front row alone, which included notable fashion designer Alexander Wang; pop stars Rihanna, Diddy, Jay Z and Beyoncé; and Vogue's powerful editor, Anna Wintour. Kanye's celebrity wife, Kim Kardashian West, was there with baby North babbling at her knee. The event began with a minute-and-a-half pre-show rambling monologue by West — a defensive voice-over from backstage that included snippets like: "There are a series of people who, like, just write negative comments" and "You know, if I see something, if I see opportunity, I'm going to go for it, I'm going to crack the pavement and make new ground." That, and the military-meets-athleisure apparel and footwear collection that followed, made it one of the most buzzed-about shows of the year.
In March, Ben Stiller and Owen Wilson — in character as models Derek Zoolander and Hansel, respectively — gave us the most memorable runway moment from the Paris ready-to-wear shows when they closed the Valentino show with a surprise "walk-off," effectively announcing to the world that a sequel to 2001's model-skewering movie "Zoolander" was going to happen.
The biggest game-changer in wearable technology to date — the Apple Watch — finally hit stores in April and, in a nod to the luxury consumer, one version boasted 18-karat gold watch cases and a price tag of $17,000. The Cupertino, Calif.-based company still seemed to be chasing the fashion customer in September with the announcement of a partnership with Hermès that would put the French luxury brand's strappy, wrappy leather bands on Apple watches. Will that kind of collaboration help propel the Apple Watch to the level of must-have fashion-flock status symbol? Only time will tell.
The theme of the 2015 Metropolitan Museum of Art gala in New York City in May was "China: Through the Looking Glass," which resulted in a lot of East Asian-influenced outfits (Lady Gaga's Balenciaga rose velvet net evening coat, hand-embroidered with black rhinestones and 14,000 sheared feathers was one standout; Parker's custom H&M gown with the towering Treacy headdress that resembled flames was another). But it was Rihanna in Guo Pei's canary yellow cape with a train so long it required four attendants that won the evening's triple crown: managing to make a spectacle, honor a Chinese designerand create an Internet meme all at the same time.
It would be hard to find a fashion designer whose star burned as brightly in 2015 as Jeremy Scott's. In addition to dressing Katy Perry for the Super Bowl halftime show (February), giving the MTV VMA Moonman statuette a rainbow-hued makeover (August), becoming the first fashion designer to place his handprints in cement at TCL Chinese Theatre (September) and collaborating with Madonna on tour costumes, he was the subject of a documentary, "Jeremy Scott: The People's Designer," released in September. That's in addition to presenting seasonal collections in New York for his Jeremy Scott collection and in Milan for Italian luxury label Moschino.
And, before finally closing the book on 2015, let us all agree that the man bun should be shown the door by the time the clock strikes midnight, if not before.
Looking ahead
The revolving door of designer departures in 2015 — Alber Elbaz abruptly left Lanvin, Raf Simons departed Dior and Alexander Wang bolted Balenciaga — means that 2016 will be defined by a slew of second acts. The most-buzzed-about move would be for Elbaz, reportedly now in the middle of a pitched legal battle with his former employer, to eventually land the top job at Christian Dior, a job he was rumored to be a top candidate for after John Galliano's dismissal in 2011.
If last year's Valentino walk-off put the world on notice that "Zoolander 2" was on its way, the movie trailer — viewed more than 15.3 million times since it hit YouTube in mid-November — is a pretty good indicator that a lot of people really, really, really want to catch up with their favorite posturing male model. Joining the returning cast (Will Ferrell as the nefarious Mugatu and Nathan Lee Graham as his hapless assistant Todd) are newcomers Benedict Cumberbatch as an eyebrowless androgynous model, Penélope Cruz as an Interpol agent, Kristen Wiig as a mysterious character named Alexanya Atoz and a comic catwalk of confirmed cameos that include Kim and Kanye West, Justin Bieber, Demi Lovato, Billy Zane and Lenny Kravitz. After "Zoolander's" 15-year hiatus, during which high fashion has occasionally veered into "Zoolander"-level parody all by itself, you won't be able to keep fashion folk away with a selfie stick once the sequel hits theaters in February.
The Olympics are always an opportunity for fashion, athleticism and national pride to come together on the world stage. (Who could forget the vitriolic reaction to Ralph Lauren's star-spangled sweaters at the 2014 Winter Games?) The 2016 Summer Olympic Games, coming up in August in Rio de Janeiro, happen to coincide with the golden age of athleisure, so it's reasonable to expect that even the more technical garments could influence the way the world dresses. Throw in the inevitable slow drip of designer collaborations and uniform reveals that will start shortly after the beginning of the year and, style-wise, the first eight months of the year will belong to the Olympics.
The presidential election isn't until November, but the current crop of contenders has already shown promise when it comes to taking sartorial missteps, with Donald Trump's ossified orange whip of a coif and sloppy-looking, too-long necktie rocketing him to an early lead in the fashion faux pas polls — even after factoring in Sen. Bernie Sanders perpetually rumpled vibe and Hillary Clinton's pantsuit pride.
Shout it into your wrist-based communication device: 2016 might be the year that wearable technology actually becomes wearable. The Apple Watch (see above) gets a lot of credit for serving up new technology in a device that felt very familiar (unlike Google Glass, which was downright alien). So does Ralph Lauren's biometric-sensing T-shirt (but for the black box at the rib cage). In the new year, expect Wearables 2.0 to push that under-the-hood approach to the next level. One example of that, due to hit retail in the spring, is the super-subtle Chronos, a half-dollar-size disc that can convert any watch into a smartwatch. Another is Project Jacquard, a Google initiative announced in 2015 that focuses on the textile threads themselves, with the goal of making fabric, from coats to couches, as reactive to taps and swipes as any smartphone screen. Although no specific products have been made public, the project in May announced its first official partner, denim company Levi Strauss & Co., so maybe by the end of 2016, answering the phone will be as simple as a swipe of the sleeve or a flick of the wrist.
---