It's haute harlequins and ringmaster chic at Moschino's circus-themed Burbank runway show
The finale of Moschino's circus-themed runway show presented on June 8, 2018, at the L.A. Equestrian Center in Burbank, the third time creative director Jeremy Scott has presented the collections together in Southern California.
(Kirk McKoy / Los Angeles Times)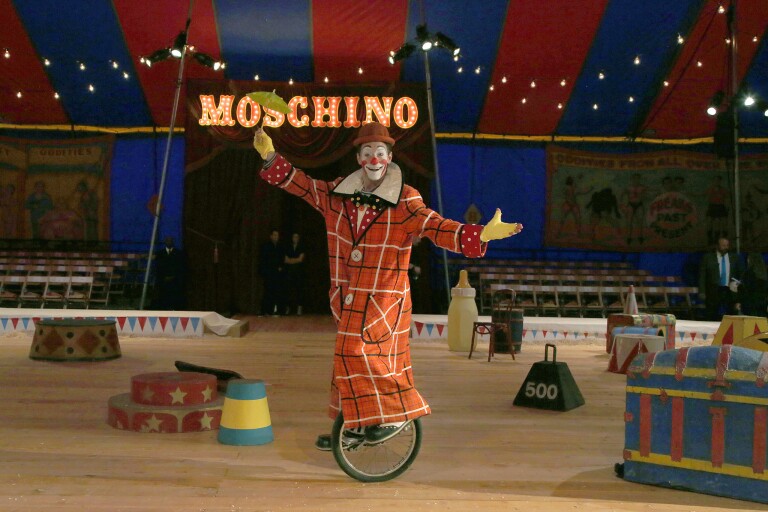 A unicycling clown was just one of the many circus acts under the big top for the Moschino show.
(Kirk McKoy / Los Angeles Times)
Women's looks from the Moschino show presented at the L.A. Equestrian Center in Burbank on June 8, 2018.
(Kirk McKoy / Los Angeles Times)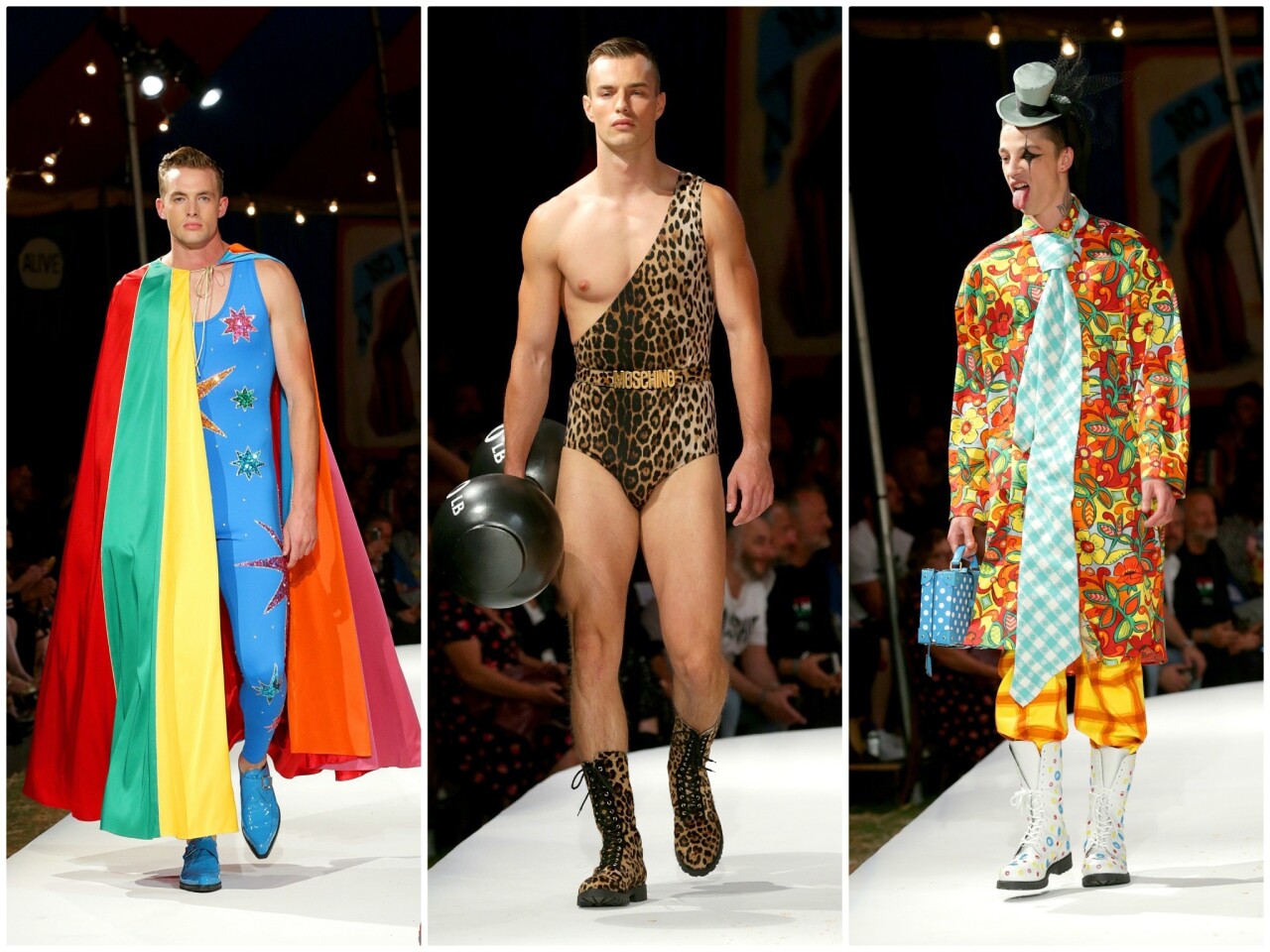 Spring and summer 2019 men's runway looks from Moschino presented on June 8, 2018, in Burbank.
(Kirk McKoy / Los Angeles Times)
What's a circus without some wild animals -- or at least some prints and patterns that pay homage to the beasts of the wild?
(Kirk McKoy / Los Angeles Times)
A range of pieces in the men's and women's collections riffed on the diamond-shaped harlequin pattern, which is named for the mischievous clown character in commedia dell'arte.
(Kirk McKoy / Los Angeles Times)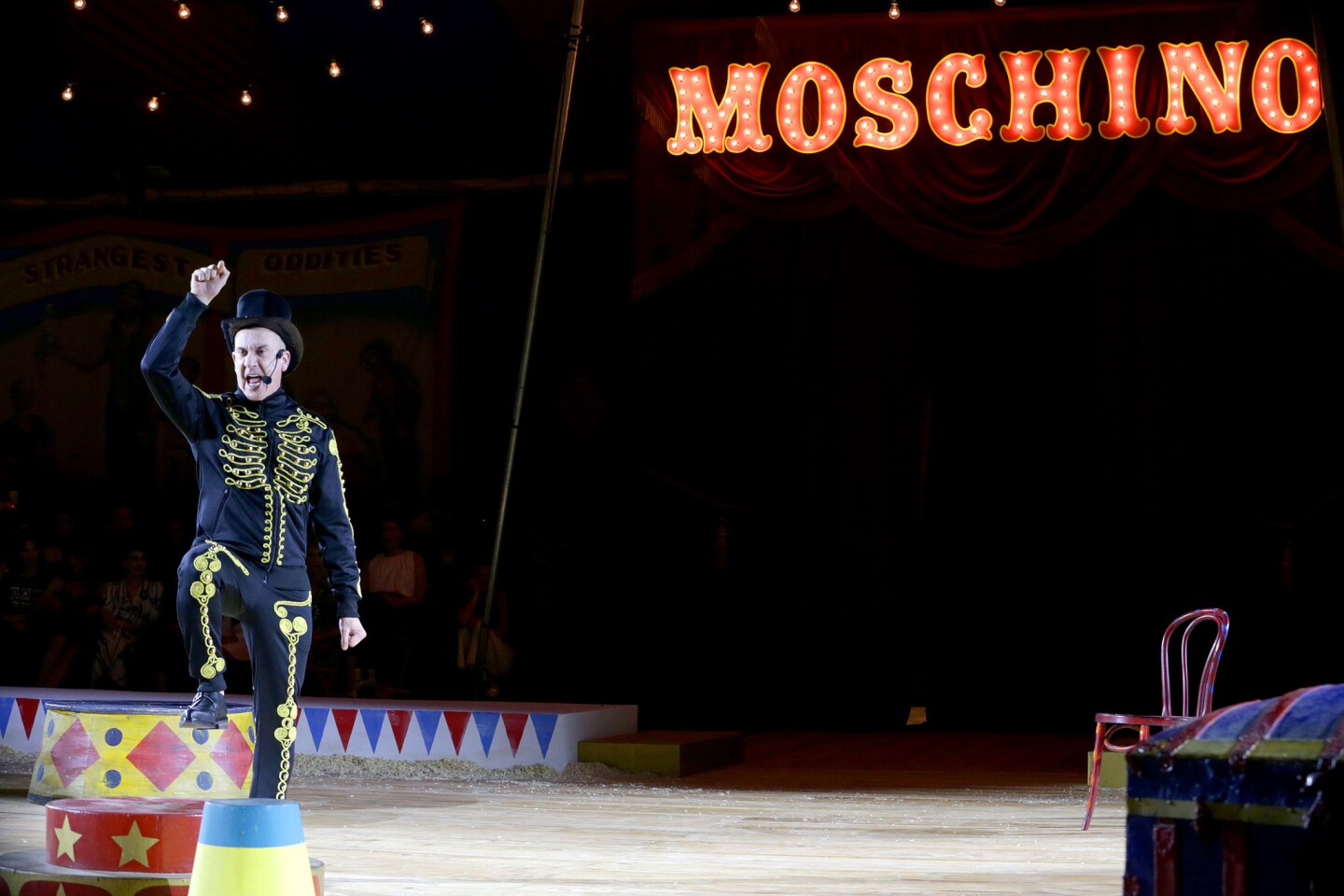 Moschino creative director Jeremy Scott served as ringmaster of the fashion circus at the L.A. Equestrian Center in Burbank. The June 8 show, which presented Moschino's spring and summer 2019 men's collection along with the resort 2019 women's collection, marks the third time Scott has brought the Moschino shows to L.A.
(Kirk McKoy / Los Angeles Times)
Riffs on the ringmaster's top-hat-and-tails look added to the fashion-circus vibe of the June 8 show.
(Kirk McKoy / Los Angeles Times)
What's a circus-themed show with a ringmistress or three? These are a few of the women's resort 2019 looks that paid homage to the big-top ringleader.
(Kirk McKoy / Los Angeles Times)
Peppy polka dots helped take clown shoes to a whole new level.
(Kirk McKoy / Los Angeles Times)
Despite all the fun and frivolity of the Moschino show, several of the looks hinted at something dark lurking just beneath all the greasepaint.
(Kirk McKoy / Los Angeles Times)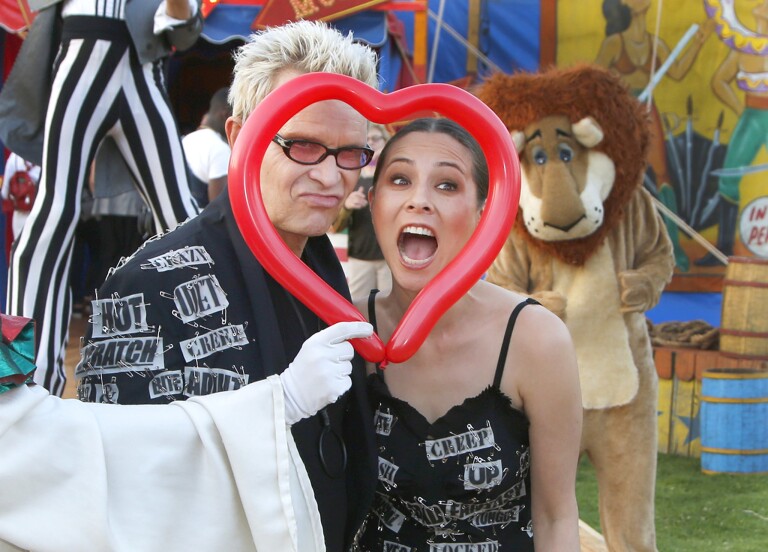 Billy Idol and China Chow clown around before the Moschino runway show in Burbank on June 8, 2018.
(Kirk McKoy / Los Angeles Times)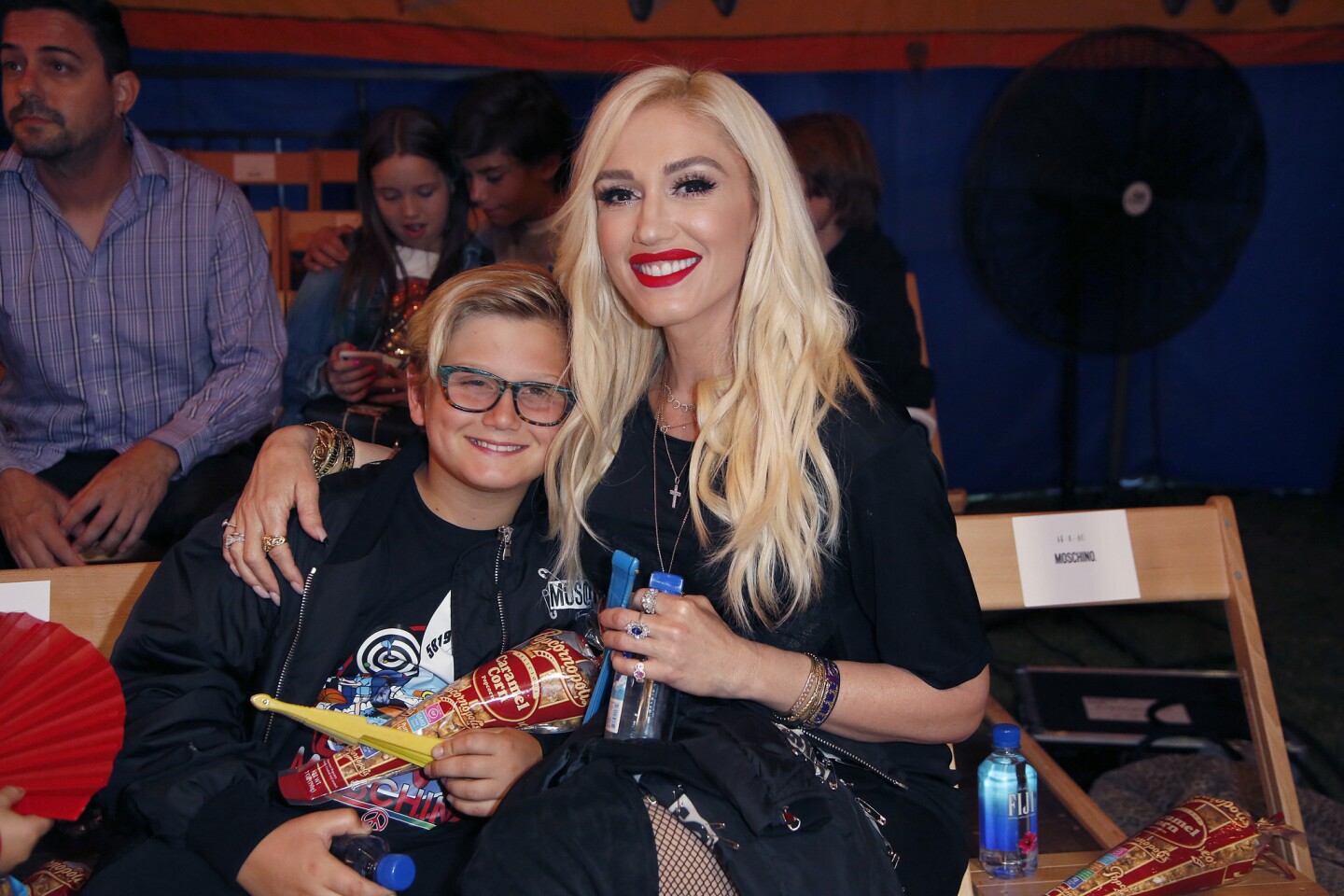 Gwen Stefani and son take in the circus-like atmosphere at the Moschino show at the L.A. Equestrian Center in Burbank on June 8, 2018.
(Kirk McKoy / Los Angeles Times)
Front-row celebrities at the Moschino runway show on June 8 in Burbank included, from left, January Jones, Jaime King, Emma Roberts and Aubrey Plaza.
(Kirk McKoy / Los Angeles Times)
Jeremy Scott cemented his reputation as fashion's clown prince Friday night with the presentation of Moschino's men's spring and summer 2019 and women's resort 2019 collections under a big top tent at the L.A. Equestrian Center in Burbank. It was a circus-themed affair complete with trapeze artists, stilt-walkers, balloon animals and a pratfall of clowns that could be seen as pure escapist fun or pithy social commentary on the state of world affairs — or perhaps both.
Scott, the L.A.-based creative director for the Italian luxury label, was definitely emphasizing the former backstage before the show. "I think we need fun, and that's kind of my role in fashion — bringing the fun," he said. "And I thought, 'How much more fun could you have than the circus?' And the circus really has every kind of look you really want: suiting elements, sparkly stage costumes and party dresses. And I loved the idea that [people] could take away elements like maybe the big bow or the giant tie or the little top hat …"
What followed was, indeed, fashion-show fun at its finest; from the opening moments that saw Scott (as the top-hatted ringmaster, naturally) promising "death-defying acts of glamour" to the fluttering fish-scale embroidered dress and towering feathered headdress of the final look.
As a designer who has always leaned a bit toward the carnival aesthetic (and we mean this in the best possible way), the circus theme afforded Scott the opportunity to incorporate many of his signature design elements. Animal prints, for example, came by way of one-shouldered zebra-stripe dresses for women and double-breasted suits for men; leopard spots dotted tuxedos and dresses; and sparkly multicolored tiger stripes prowled the runway on mini-dresses and over-the-knee boots.
Trippy '70s-era florals and riotous all-over prints turned up on luxe clown clothes. The standout looks here — peony pink ruched tulle dresses with giant daisy appliqués and trompe l'oeil tops — offered an elevated take on the tuxedo-and-bow-tie T-shirt. Clown-appropriate accessories included sparkly shoulder-width bow ties, cheery polka-dotted purses and parasols, and ties knotted at the neck but hanging nearly to the floor.
A slightly more subtle reference to the theme came by way of riffs on the harlequin print that included leather skirts, trousers and motorcycle jackets covered in large, color-blocked triangles and Lurex brocade suits, dresses and bubble skirts in a smaller multicolored version of the diamond pattern. Its inclusion here was appropriate not only because the harlequin was a mischievous clown character in Italy's 16th to 18th century commedia dell'arte, but also because it's a callback to earlier Moschino collections that employed the varicolored harlequin pattern on handbags and apparel in the '80s and '90s.
Also in the mix was a range of pieces that might be called ringmaster chic. Men's and women's looks referenced the tailcoat and top hat traditionally worn by that circus performer. For women that meant tailcoat bodysuits worn with fishnet stockings and and for men that meant tuxedos with cutaway jackets accessorized with floppy bow ties. And for both it meant red jackets trimmed in gold braid.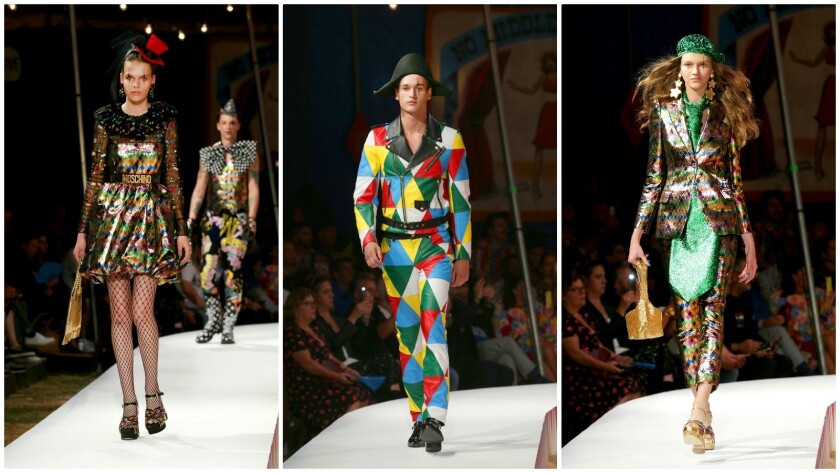 The ringmaster look also meant seeing multiple variations of the top hat, with full-sized toppers on some models and pint-sized versions on others in a variety of fabrications, including, but not limited to, gold metallics, florals and stripes. Other headgear in the mix included conical clown caps and slouchy sparkly beanies. And if that wasn't enough, a range of colorful, eye-catching footwear took the idea of clown shoes in a whole new direction.
Despite all the frivolity afoot, there was definitely an undercurrent of something darker and more sinister too. The gold-cord soutache embroidery that, at first glance, gave tuxedos, track suits and jumpsuits a bold, bandleader feel created skeleton-like outlines on their wearers. Blood-red beading across a nude tulle gown evoked the notion of an open wound. Also, a haunting — and nearly show-stealing — look consisted of a blue bodysuit festooned with a half-dozen doves frozen in mid-flight. Whether it was a momentary meditation on mortality, a snide aside at the state of politics — or fashion — or something else entirely, it came and went from the tent as quickly as a clown shot from a cannon, all but forgotten by the runway finale.
High-profile FOJ (Friends of Jeremy) and supporters of the brand under the big-top included Gwen Stefani (who told The Times that Scott was going to create the finale look for her soon-to-start Las Vegas residency), Billy Idol, Kris Jenner, January Jones, Aubrey Plaza, Jaime King and Emma Roberts, many of whom decamped to the other side of the Hollywood Hills for the official after-party, which doubled as the opening party for the Houston Brothers' new nightspot Madame Siam Sideshow Emporium.
This marks the third year in a row that Scott has presented his men's spring and summer and women's resort collections together in Los Angeles. (The first two years, the show was part of Made LA, the short-lived WME/IMG fashion, music and art partnership with AEG).
"What I love about having my show in L.A. is that it's just so light and fun, and we feel the love [here]," Scott said. "It's not like Milan or Paris or New York where people are kind of jaded and over it.… I was originally tempted to do the circus in Milan but I wanted to do it at home where I could really have grass and a tent and a little Ferris wheel and all [that] my heart desires."
For more musings on all things fashion and style, follow me at @ARTschorn.
---