On Friday, a week out from the start of the 2016 Olympic games in Rio de Janeiro – and a day after Hillary Clinton took the DNC stage in a white Ralph Lauren pantsuit – Polo Ralph Lauren and the U.S. Olympic Committee took the wraps off Team USA's opening ceremony parade look.
The uniform, which consists of white selvedge denim trousers paired with a red, white and blue horizontal-striped T-shirt worn under a navy blue blazer feels like the dressier cousin of the athletes' closing ceremony outfit (white shorts and striped tees layered under button-down oxford shirts) and, in fact, appears to incorporate the red, white and blue color-blocked calfskin boat shoes the athletes will wear on the final evening in Rio.
The key piece here is the deep navy blazer, a three-button, notch-lapel jacket with repp-stripe trim, Lauren's polo pony logo embroidered in white on the left breast pocket and a circular United States Olympic Team patch on the right breast. We can't be 100% sure, but the gold blazer buttons appear to sport the five interlocked rings of the Olympic logo. The back of each jacket is proudly emblazoned with a red, white and blue USA across the shoulder blades.
The jacket worn by the flag bearer – the yet-to-be-named athlete who will troop the colors and lead the American delegation into Maracanã Stadium – will take that patriotic pride up a few volts thanks to electroluminescent panels and a battery pack that will light up the Olympic patch on the front and the letters across the back.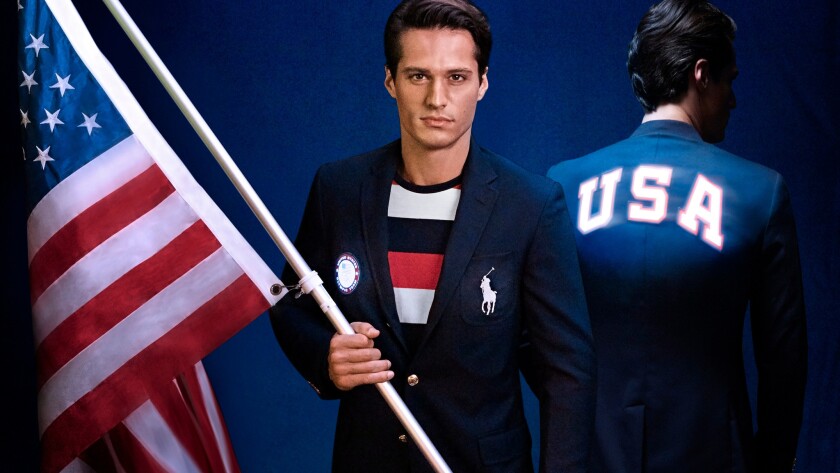 At first blush, that techno-flourish feels a few light bulbs short of "The Electric Horseman," but we're willing to withhold judgment until we've seen the light show in action. Why? Because we remember all too well the vitriolic public response to the patchwork knit cardigans that were the centerpiece of the Sochi opening ceremony uniforms in 2014 (also designed by the company, which has been the official outfitter of the U.S. Olympic and Paralympic teams since 2008) that might have been a fish hook in the eye on Main Street USA but created a kind of patriotic tapestry during the parade of nations itself.
So we'll be eager to see how the flag-bearer's glowing blazer fares in the context of the full-on parade of nations – and what sort of reactions it gets.
A note to armchair fashion critics across Southern California: Since NBC has decided to broadcast the opening ceremony on a four-hour tape delay on the West Coast, you won't be able to start watching the global fashion parade until 8 p.m. on Friday.
Which undoubtedly means the East Coast – and those with boots on the ground in Rio – will have formed their opinions long before we've seen the first boat-shoe-clad footfall.
For more musings on all things fashion and style, follow me @ARTschorn.
ALSO
Hillary Clinton picked a Ralph Lauren pantsuit for her DNC speech
A look at some of the 2016 Olympics opening ceremony uniforms
The Polo Ralph Lauren Olympic closing ceremony uniforms: four things to think about
---