Tommy Hilfiger to show in Paris, Rodarte in L.A.
For the upcoming round of fashion weeks, which traditionally kick off in New York in early February and wrap up in Paris in early March, there are a couple of notable switch-ups involving high-profile brands.
The PVH Corp.-owned Tommy Hilfiger label announced that its runway-meets-retail road show, which has unspooled in cities across the globe in recent seasons including Shanghai (fall 2018), Milan (spring 2018), London (fall 2017) and Los Angeles (spring 2017) is headed to Paris Fashion Week for the first time.
According to Tuesday's announcement, the see-now, buy-now collection will be presented in Paris on March 2 and will mark the debut of the brand's collaboration with pop star and global brand ambassador Zendaya.
"TommyNow has become an integral part of our brand story, celebrating our optimistic and inclusive energy with audiences globally," said Hilfiger in the announcement. "For spring 2019, we can think of no better place to premiere the first Tommy X Zendaya collaborative collection than Paris."
As with the previous in-season fashion shows, all the runway looks will be made immediately available for purchase at Tommy Hilfiger stores globally, online at tommy.com and at select retailers.
While Hilfiger heads to the City of Light, Kate and Laura Mulleavy's L.A.-based Rodarte label, which has recently done a bit of globetrotting itself (temporarily showing in Paris rather than in New York), is planning to stage its next runway show right here in the City of Angels in the not-too-distant-future. Although details, including show venue and date, have yet to be announced, it seems clear from the statement issued by the sisters Mulleavy (which first appeared on vogue.com a couple weeks back) that there will be drinks.
"Kate and Laura Mulleavy are excited to announce they will be showing the Rodarte FW19 collection for the first time in Los Angeles," read the statement in part. "California is one of our most important influences and having our first show in Los Angeles is a dream we've long wished to make reality. We are proud to bring our show to L.A. with our amazing team and our collaborators Alex de Betak and Bureau Betak, and Brian Phillips and Black Frame, and to be presenting the show with JNSQ Wines as they introduce an elegant Rosé Cru."
Logistically, it would make the most sense for an L.A. show to take place in advance of the run of New York women's shows, slated to kick off with traditional week-opener Tom Ford on the evening of Feb. 6 and wrap up with Marc Jacobs on Feb. 13, for two reasons.
First, the major show circuit heads eastward from there to London, Milan and finally Paris, which means the vast majority of the fashion media will do the same. Second, and perhaps most important, the awards-show season that runs from the the Golden Globes in early January and the Academy Awards (which this year take place Feb. 24) has long made Los Angeles an attractive place for designers to stage one-off fashion events that are virtually guaranteed to attract high-profile attendees.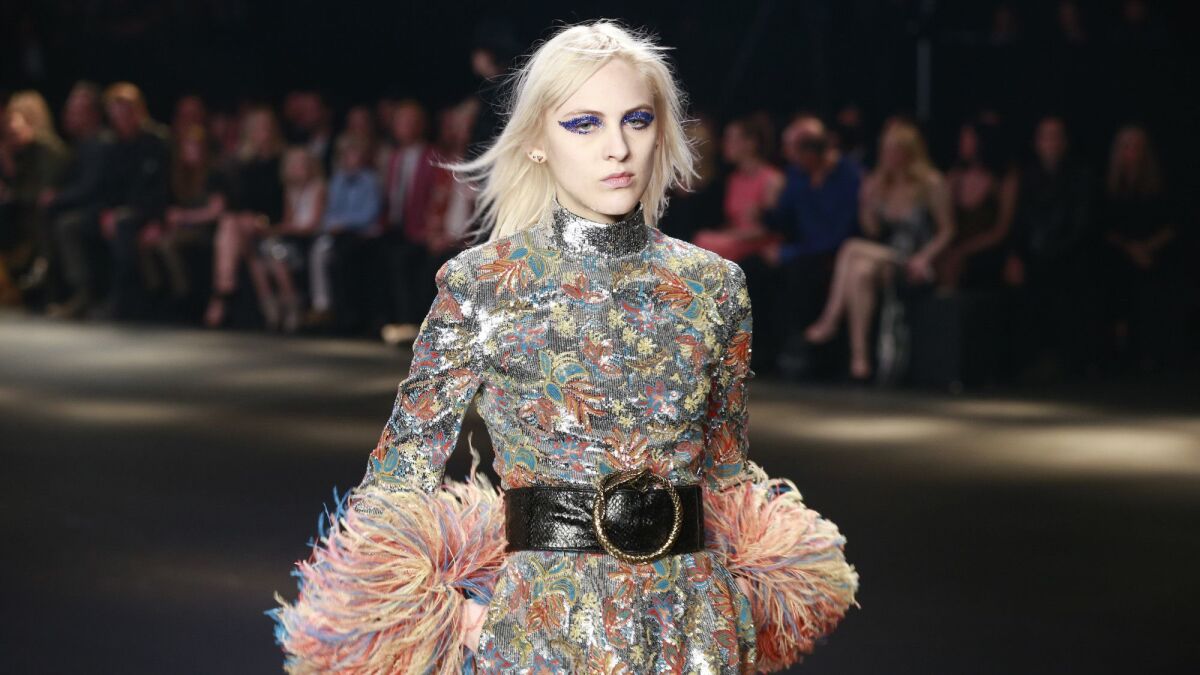 Designer/director Tom Ford employed that strategy at the start of Oscar weekend 2015 when he sent his women's fall/winter collection down a rose-petal-strewn runway at Milk Studios. The next year, Stella McCartney took advantage of the awards-show hammock time by presenting her pre-fall 2016 women's ready-to-wear collection at Amoeba Music on Sunset Boulevard in mid-January.
Designer Hedi Slimane did too — just a few weeks later — when he presented his penultimate collection for Saint Laurent at the Hollywood Palladium just five days before the 2016 Grammy Awards here. (And yes, there was plenty of Saint Laurent on that year's Grammy red carpet.) In 2017, the honor belonged to the aforementioned Tommy Hilfiger label, which staged a Venice Beach runway show extravaganza on the eve of New York Fashion Week.
In other words, news of a high-profile fashion show in L.A. in the first couple of months of the new year doesn't mean there's suddenly a brand new fashion week in town (we've got several of those). It just means that savvy luxury labels have found a perfect way to leverage the extreme level of celebrity saturation that naturally occurs here this time of year.
For more musings on all things fashion and style, follow me at @ARTschorn
---