From onstage at Wednesday's ASCAP Screen Music Awards, after "Wicked" composer Stephen Schwartz presented the Vanguard Award to Benj Pasek and Justin Paul, the young composers talked about the time back in college when they first reached out to Schwartz.
While meeting Schwartz at an event, Paul handed the composer a CD of the duo's music. "We're studying musical theater, and we're huge dorks and we worship you," he recalled saying. "And if you ever listen to this CD, we would lose our minds and we would be forever grateful just to know it went in and out of your ears for 15 seconds."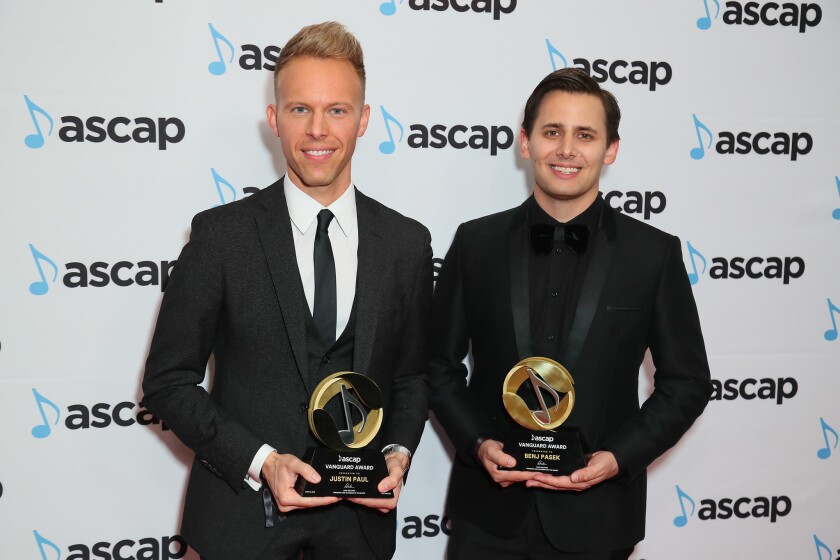 "[Schwartz] seemed untouchable, unreachable," said Pasek during a conversation earlier in the evening. "And yet, months and months later, we got an email, and it went on for 14 pages. He sent us a song-by-song analysis, which illuminated so many things in this craft. … It was our first deep-dive into a master class of many master classes."
Since then, Pasek and Paul have composed the score for six-time Tony winner "Dear Evan Hansen" in addition to winning an Oscar and multiple Grammys for songs in the films "La La Land" and "The Greatest Showman." The Vanguard Award recognizes ASCAP members whose work is helping to shape the future of music.
The event
Hosted by actor Richard Kind at the Beverly Hilton Hotel, the American Society of Composers, Authors and Publishers' gala honored the artists behind the year's top film, television and video-game music.
The by-invitation affair for 800 VIP composers and top music industry insiders took place during a week that also included Thursday's Pop Music Awards and the Musical Theatre Workshop for aspiring composers on Saturday and Sunday at the Wallis Annenberg Center for the Performing Arts in Beverly Hills.
The awards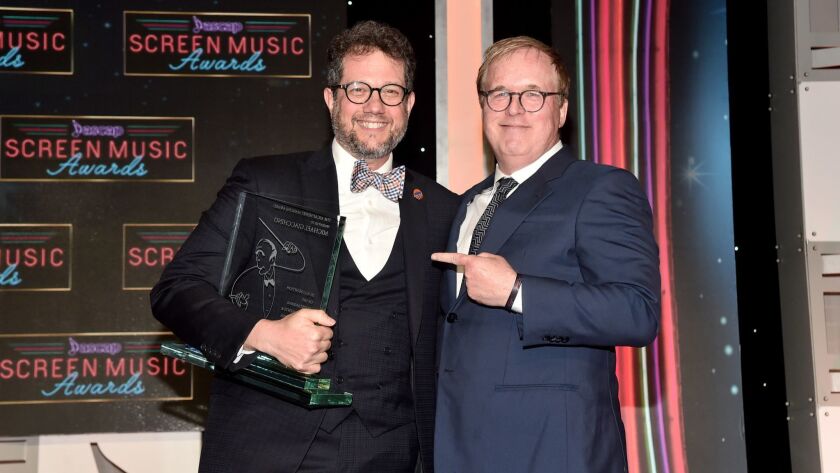 The Henry Mancini Award for outstanding achievement in film and television music went to Oscar, Emmy and multiple-Grammy winner Michael Giacchino, known for his scores for "The Incredibles," "Jurassic World," "Doctor Strange," "Spider Man: Homecoming" and other blockbuster films. The award was given for Giacchino's body of work.
"Captain Marvel" composer Pinar Toprak received the Shirley Walker Award, named for an early — and at-the-time-rare — female Hollywood composer. The award honors contributions to diversity in film and TV music. Toprak, the first woman ever to score a billion-dollar film, also created the music for the video-game sensation, "Fortnite."
The awards recognized many other composers and songwriters for their work during the past year. Here's a complete list of winners.
The scene
To punctuate the awards presentations, Keala Settle and Tim Davis, respectively, belted out "This Is Me" and "Come Alive" from "The Greatest Showman." Settle starred in the film as the bearded lady, and Davis is the noted vocal arranger for Fox's "Glee," Lady Gaga's Super Bowl show and Barbra Streisand's 2017 concert tour.
Before the evening ended, the orchestra played Toprak's theme from the animated short "Purl" and a medley of Giacchino's many scores.
The quotes
On the subject of "Fortnite," Toprak said, "When my agent told me about the game, I thought she just misspelled the name. I thought it was a cool game but had no idea how big it was going to get. It's been one of the best surprises in my career."
In a conversation during dinner, Emmy-winning composer Bear McCreary called video games "the medium where today's young people discover orchestral music. When I was growing up, it was in film where you heard orchestral music. But today, films are little bit more homogenized and have a certain sound.
"So, you may not hear many flute solos, oboe solos or a classical choir," he continued. "Yet you hear that in games, where more chances are taken, where there's less oversight and a more open, creative environment and more crucially … it's not two hours. A game can last 100 hours. Rather than getting tired of this music, fans and young people fall further in love with this music."
The week
The Screen Music Awards came in the midst of a week of ASCAP events that began with a May 13 fundraiser to benefit the ASCAP Foundation's music education programs.
Staged at the home of Tita Cahn, widow of Academy Award-winning songwriter Sammy Cahn, the evening featured Schwartz at the piano, serenading the crowd with a five-song set.
---