Sean Penn and celebrity friends help raise a record $37 million for Haitian relief efforts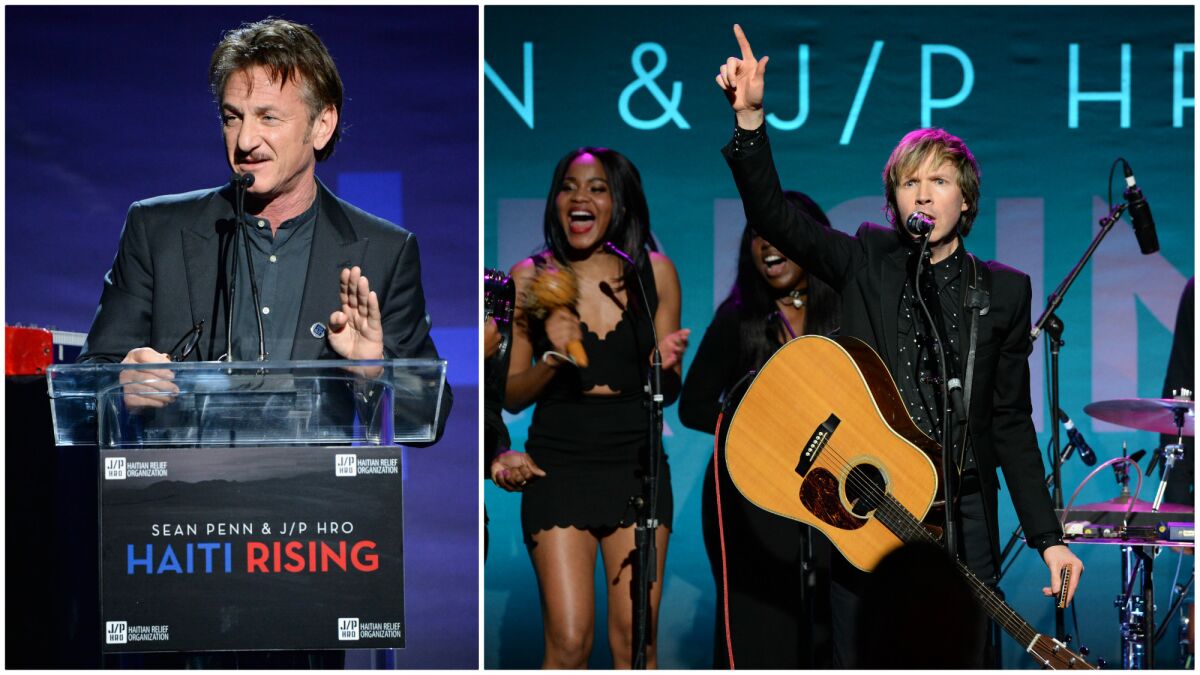 Sean Penn had no intention to rabble-rouse when he took to the stage at the Montage Hotel in Beverly Hills on Saturday night. Instead, the actor and activist, who has thrown his considerable clout behind the J/P Haitian Relief Organization, quoted Thomas Jefferson, fondly introduced his children Dylan and Hopper, and spoke from his heart at the charity's annual Haiti Rising Gala.
"This is a weird year," said Penn. "I didn't write much of a speech because I didn't know what speech to write. This is post the age of reason. I've never lived here."
Founded in the aftermath of the 2010 earthquake, J/P HRO has gone from 30 Americans on the ground to 160 Haitians running the operation today. They were were able to kick into action when Hurricane Matthew struck last year.
On a jam-packed Golden Globes weekend, the event — at which tables cost up to $100,000 — drew the likes of Jeremy Renner, Jason Segel, Ed Norton, Connie Britton and Nick Jonas. The scene at the sixth event included Leonardo DiCaprio bidding $100,000 for a 1967 Toyota Land Cruiser once owned by Julia Roberts and a surprise performance by Beck, who capped off the night by performing his song "Where It's At."
"Tonight is important because it's helping my country," said Haitian native Garcelle Beauvais, who will be in the upcoming movie "Spider-Man: Homecoming," as she looked for her table inside the Montage's ballroom. "The fact that Sean Penn has been this committed for this long is really remarkable. He's stayed true to Haiti."
Master of ceremonies Bill Maher joked about Penn's apparent ubiquity when there is a disaster.
"He truly is a man of action," said Maher. "When you need someone to show up in a rowboat when there's a flood, or interview El Chapo … He went to Damascus last year. Syria. Even Mormon missionaries won't go to Syria."
Actor Rainn Wilson and his wife went to Haiti immediately after the earthquake, stayed in tents and did art workshops with young girls.
"We fell in love with the organization," he said. "There's a giant chunk of Port-au-Prince that they have utterly transformed."
J/P HRO's biggest goal now was to fortify the country's infrastructure, said its chief executive, Ann Lee.
"We're moving away from the traditional charity model," she said. "We want to focus on systems rather than symptoms, and to tackle issues of vulnerability that create these conditions."
On the red carpet, Soleil Moon Frye, actress and a co-founder of organic children's clothing label the Little Seed, told us has she has been to the country several times since the earthquake, and, on her first visit, saw 60,000 people living in tents.
"The fact that I can go back now and see that they've moved into sustainable homes … I love that I get to be a part of this."
In an age where there is so much need, donors to any philanthropic cause should do their research, and commit, said Wilson.
"Find out what organization is making the biggest difference, and then support the hell out of it. One of the things about giving internationally is that it's cost-effective — in Haiti, you can send someone to school for a year on $500. If you want to make the best possible impact, give to education."
This year's gala is certain to have an impact; organizers said that thanks to the live auction proceeds — along with financial commitments from the French government, the World Bank and the Parker Foundation — the event raised a record $37 million to fund J/P HRO's initiatives in Haiti.
ALSO:
Golden Globes 2017 red carpet: necklines plunge and metallics shine
A tale of two after-parties: Lithgow talks 'The Crown,' Tracee Ellis Ross swaps the gown
Beyoncé, pussy bows and a Paris Fashion Week jewelry heist: 2016's top fashion moments
---