Beyoncé, pussy bows and a Paris Fashion Week jewelry heist: The top fashion moments of 2016
Someone in our Facebook feed recently referred to 2016 as "a Dumpster fire of a year," a characterization we'd be hard-pressed to disagree with on many, many levels. Even the fashion world — an industry built on feel-good escapism and aspirational luxury — wasn't wholly immune to the slings and arrows of the last 365 days (particularly in the notable-passings department). But, at least to us, it felt like every death, designer departure and red-carpet fashion fail was counterbalanced by a freshly minted style standout (Priyanka Chopra, we're looking at you), bold, new experiment (see the "see now/buy now" fashion show format), eye-catching dress (three words: "Beyoncé" and "awards show") or brand renaissance.
So, before slamming the dumpster lid down once and for all, here's a quick look back at some of the things that had the fashion flock talking (and us scribbling furiously) in 2016:
Pantsuit vs. pussy bow
Each presidential election cycle has its share of memorable fashion moments, but this year's seemed to serve up a bumper crop of topics. Among them: the Hillary Clinton supporters who rallied under the banner of "Pantsuit Nation," Donald Trump's signature red "Make America Great Again" cap (offered in a $99 Christmas tree ornament version), the possible hidden meaning of Melania Trump's pussy-bow blouse, and endless meditations on what will likely go down as the single strangest hairstyle in U.S. presidential history.
See now / buy now
Fashion designers' experimentation with presenting in-season collections (clothes available for purchase right away as opposed to the traditional six-month wait from runway to retail) made for some of the year's buzziest fashion happenings, from Tommy Hilfiger's New York Fashion Week party at the pier (a format he'll be bringing to Venice Beach in February, btw) to Tom Ford's celebrity-studded dinner-and-a-runway-show attended by the likes of Jon Hamm, Gina Gershon, Rande Gerber and Cindy Crawford (just one table's worth of star power, by the way).
New blood
Five months after Hedi Slimane's departure from Saint Laurent, his successor, Anthony Vaccarello, sent his first women's collection down the Paris catwalk, officially signaling a new era for the house that Slimane had helmed for four years, and making for one of the year's most talked-about personnel changes. Another was Maria Grazia Chiuri's first at-bat for Dior, a fencing- and feminism-influenced collection also presented during the Paris ready-to-wear shows in the fall.
The Paris heist
One of the biggest stories coming out of Paris Fashion Week this year — perhaps ever — had nothing to do with the clothes on the catwalk and everything to do with Kim Kardashian West. Sometime in the hours after she attended the Givenchy show in early October, the reality television star and wife of Kanye West was robbed of $10 million worth of jewelry by five masked men in the private residence she'd been staying in.
Beyoncé
It didn't take long to realize that Beyoncé was pretty much going to run the table — fashion-wise anyway — in 2016. (In fact, we put you all on notice in May.) What we didn't know then was what some of Queen Bey's most memorable looks would be. With the year firmly in the rear-view mirror, we can point a few in particular: the lemon-yellow Roberto Cavalli number (accessorized with a baseball bat) from her visual album "Lemonade," the Francesco Scognamiglio couture angel-winged gown she wore to the VMAs in August and the floral appliqued Zuhair Murad gown she wore to the Country Music Awards in November.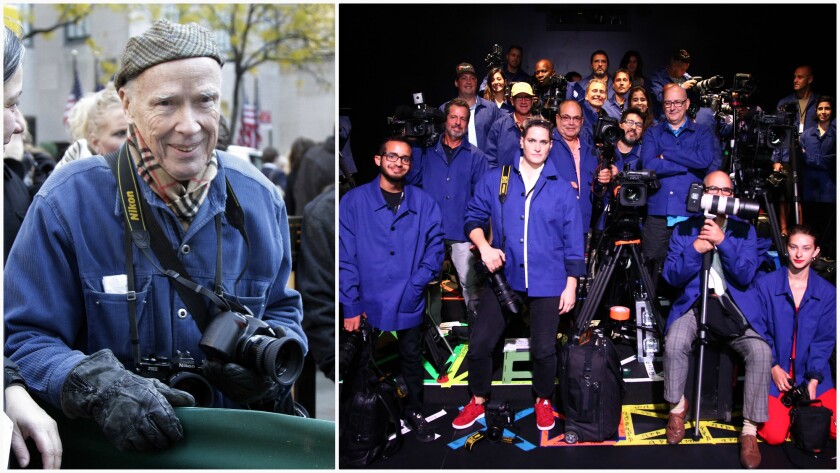 Gone with the windbreaker
The fashion constellation dimmed by a few stars this year in 2016, losing designers (Sonia Rykiel and James Galanos, to name just two ), trend-setting style icons from the music world (David Bowie, Prince) and legendary retailer/entrepreneur Fred Hayman, whose work shaping Beverly Hills' luxury landscape earned him recognition as "the Godfather of Rodeo Drive."
But the loss that seemed to hit the fashion community the hardest was the passing of New York Times fashion photographer Bill Cunningham. Easily identified by the bright blue windbreaker he always wore and the bike he seemed to pedal all over Manhattan, Cunningham was a fixture on the fashion-week scene for decades (and the subject of a 2011 documentary "Bill Cunningham New York") before passing away in June at the age of 87. By the time the September New York Fashion Week shows had rolled around, an homage had been arranged: On the first day of the first fashion week without him, all the fashion-show photographers who traditionally inhabit the media riser at the end of the runway donned blue jackets en masse — a touching sartorial symbol to the beloved photographer.
For more musings on all things fashion and style, follow me @ARTschorn
---