Jewelry designer Sheryl Lowe wants her pieces to create a sense of adventure for the wearer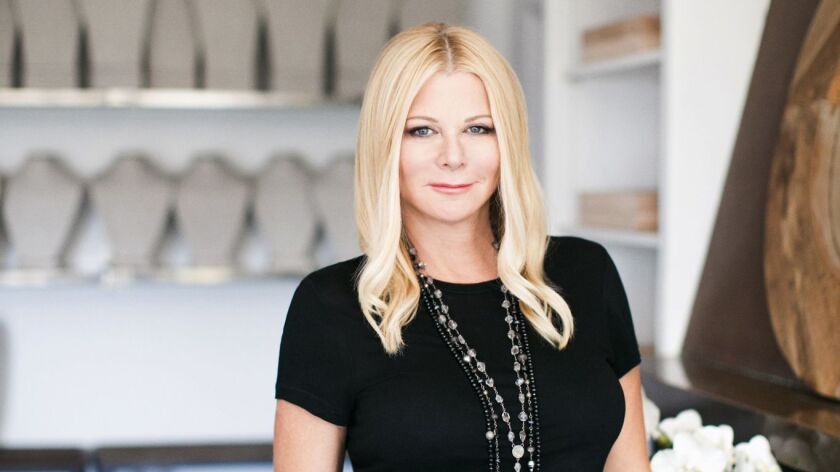 As a makeup artist working on movie sets in obscure towns around the country, Sheryl Lowe would be invited to accompany colleagues on antiquing trips. While her friends rhapsodized about prewar quilts and other treasures, Lowe's interests were elsewhere.
"For me, it was beads," she said. "I collected bowls and bowls of beads."
For years, Lowe didn't do much with the beads as she busied herself with other things. She had her own makeup line; accompanied her husband, actor Rob Lowe, on shoots around the world; and developed a secondary career in real estate by flipping houses. Whenever she had time, she'd take a class in jewelry-making.
Then in 2006, California first lady Maria Shriver asked Lowe if she wanted to contribute "a lipstick or something" to a gift bag that would be given to participants in a women's conference Shriver was organizing. The event's keynote speaker was the Dalai Lama.
I want everything in my jewelry to come out as experiential.
Jewelry designer Sheryl Lowe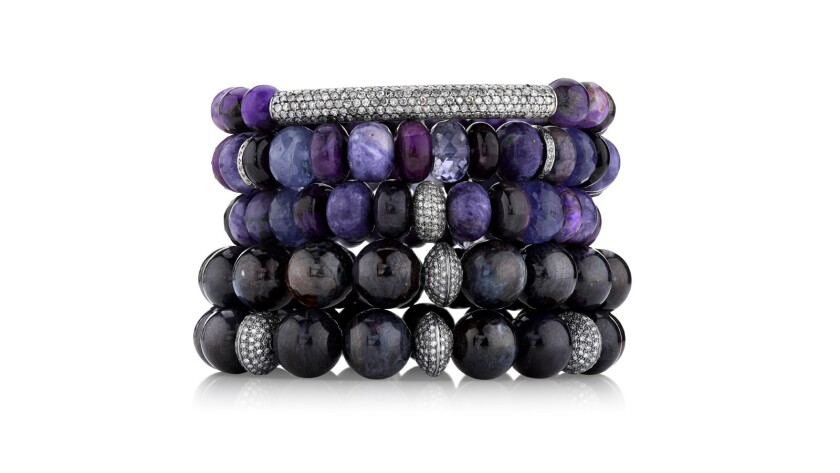 "I decided to follow my love for gemstones, beads and spirituality and create something around that," Lowe said recently, sitting in her West Los Angeles office. She made 55 unisex necklaces of ebony beads with a pave diamond head inspired by Minerva, the goddess of wisdom. The necklaces were tucked into goodie bags for speakers that included Martha Stewart and Suze Orman.
Almost instantly, Lowe received 500 orders for the necklace. Then she decided to invest some of the money she'd earned from real estate and went to India to source stones. She came home and turned her dining table into a jewelry workshop, subsequently moving into the basement and then finally to an actual office because she needed "a place that had ventilation," she said.
Twelve years later, Lowe brought on Katherine Schwarzenegger, daughter of Shriver and her ex-husband, actor and former Gov. Arnold Schwarzenegger, this fall as the face of the brand. Lowe also will launch her men's line, Mr. Lowe, for which the ambassadors will be her husband and their two sons, John Owen and Matthew. She recently launched her line in Bergdorf Goodman and at nordstrom.com. Her collection is also available at her website, sheryllowejewelry.com.
Her brand of uplifting, meaningful jewelry — prices start in the low hundreds and stretch to upward of $30,000 — is designed to cut across a swath of cultures. A gold Buddha is surrounded by a halo of sapphires. Prayer bead bracelets are strung with smooth Australian opal, moonstone or bone. In the mix are slender diamond-studded Gothic crosses, the symbol for om, crescent moons and traditional motifs protecting against the evil eye. With her collections, Lowe wants to challenge the belief that women wear jewelry to be more attractive to others and instead invites them to choose pieces that resonate with who they are.
"I want everything in my jewelry to come out as experiential," she said, adding that she is motivated by her own struggles when younger. "I worked two jobs at 14 to put myself through school and was brought up by a single mother and a single grandmother. So there was a lot of female bonding in my home. I've always been drawn to the meaning of what stones are. And even now, when I create, I think of an era that means something to me."
Lowe's recent inspirations have included "French Morocco in the 1960s and the Beatnik version of the South of France or what Jackie Onassis would have worn when she was with Aristotle Onassis," the jewelry designer said. (New pieces include inside-out diamond hoop earrings, chunky charm bracelets that spell out the word "love" and a square stack ring in sterling silver.) Woven into some of the mystical themes embedded in her jewelry is her love of the ocean, said Lowe, a self-professed "Valley surfer girl."
"I love the informality of silver, dressed up with diamonds, and mixing elements of the earth and ocean, pale blue sapphires, aquamarine, topaz," she said. "I want my pieces to create a sense of adventure in anyone who wears them."
For fashion news, follow us at @latimesimage on Twitter.
---